Nicaragua
Nicaragua Sex Guide advises where to find sex, working girls, prostitution, street hookers, brothels, red-light districts, sex shops, prostitutes, erotic massage parlors, strip clubs and escorts in Nicaragua, Central America.
Nicaragua is a country in Central America. It has coastlines on both the Caribbean Sea, in the east, and the North Pacific Ocean, in the west, and has Costa Rica to the southeast and Honduras to the northwest.
Sex Scene and Prostitution
There are about 5.6 million Nicaragüenses in Nicaragua. The majority of the population is mestizo. Nicaraguan culture has strong folklore, music and religious traditions, deeply influenced by European culture but enriched with Amerindian sounds and flavors. The main language is Spanish, which is spoken by about 90% of the population.
In Nicaragua, prostitution itself is legal, but it is heavily discouraged by the law (brothels and other forms of procurement are illegal).
Prostitution is common in Managua. Prostitutes work on the streets, in nightclubs and bars, or in massage parlors.
Prostitution is widespread, particularly in Managua, port cities, along the Honduran and Costa Rican borders, and near highways. According to Casa Alianza, between 1,200 and 1,500 girls and young women work in the brothels of Managua. Every night, hundreds of teenage girls line the Masaya Highway commercial corridor on the capital's south side. Street youngsters engage in prostitution, often to support a drug habit.
Regions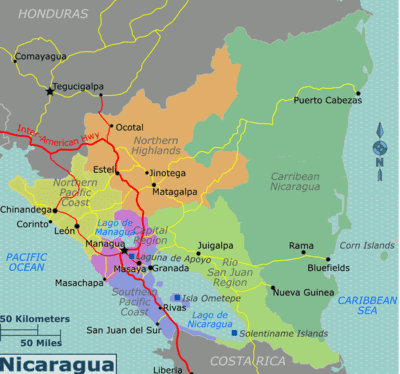 Capital Region
Nicaragua's most populous region, centered on the capital, Managua
Caribbean Nicaragua
Here travel is mostly done by boat and the rich mixture of Nicaraguan, Caribbean, Miskito Indian and Garifuna cultures makes this region seem like another country.
Northern Highlands
Visit cigar factories and see how coffee is grown in a region filled with remnants of the revolution.
Northern Pacific Coast
At the collision point between two tectonic plates, this region has some of the highest volcanic activity on Earth and is also home to two national icons : rhum Flor de Caña and poet Rubén Darío.
Rio San Juan Region
An almost forgotten part of the country with its hidden treasures like the car free Solentiname Islands or El Castillo, and gateway to the pristine rainforest of the Indio Maiz reserve.
Southern Pacific Coast
A narrow stretch of land bordered by the Pacific Ocean and Lago Nicaragua. Surf remote spots along the coast, party in San Juan del Sur or ride a motorbike around iconic Isla de Ometepe.
Cities
Ports and harbors
Live Sex Cams
Can I watch Live Sex Cams in Nicaragua? - Yes, you can! Basically you can watch our online live sex shows for free anywhere in the world if you're connected to internet. You can choose any girl from our trusted WikiSexLive.com! Join to get 10 free private teasers and 9.99 credits for free!
Live Sex Cams are booming at the moment. Webcam models can be found from all over the world and you can find girls, guys, trannies, couples and groups of different ages performing to you. Watching live sex shows is free, but if you buy some credits, you will have much better chances to see adult action as desired! It's possible also to hire a webcam model to a private chat room where you can ask the person to fulfill your fantasies. Try now! WikiSexLive.com
Dating
Dating in Nicaragua can be a bit tricky due to cultural differences, so your best bet is to sign up for a dating site before your trip so you can meet a few locals ahead of time. AdultFriendFinder.com lets you meet local members in Nicaragua and get to know them on a personal basis before you arrive. Take advantage of site features like live chat and member to member webcams so you can begin flirting before arranging a face-to-face meeting. Since your time in Nicaragua may be limited, get to know each other's desires beforehand, so that when you meet you can start having some real fun.
How to find Sugar Babies & Sugar Daddies
If you are looking for an alternative to escorts in Nicaragua with a girl who doesn't charge by the hour, sugar dating is the ideal solution. There are thousands of beautiful young women at SecretBenefits willing to do anything for a man who will help them pay their bills.
Often referred to as the "Tinder for Older Guys", SecretBenefits matches hot young women interested in pampering older gentlemen. You don't have to be a millionaire at SecretBenefits.com, you just need to be a respectful gentleman who knows how to treat a woman.
Gay & Lesbian
Nicaragua has made great strides in advancing gay rights and gay resources, while at the same time maintaining what makes Latin America hot! Of all of the countries in Latin America, we believe Nicaragua has the sexiest men and women.
The men of this country are macho and the women are feminine and beautiful. In contrast to usual western gay culture, gay and lesbian couples tend to have much more of a defined-role in their relationships, such as macho-feminine. This is true for both male-male relationships and female-female relationships. Even with the gains this culture has made in modernization, there is still a very traditional veiw of relationships, even gay relationships.
As always be careful and use discretion. There are generally straight men outside of the gay bars at night that will gladly go back to your hotel to have sex for money. We don't recommend it. There is too great of a chance of theft. If you do pick someone up in the bar, make sure that you have little cash on your person and in your hotel room and that you have any jewelry guarded someplace safe. The threat of violence is low but theft is very common. Remember that you are dealing with a very poor country and people do what they have to for survival. If you want to help someone with a little money, give them $20. Don't accept stories of family problems/medical issues/etc at face value and give money based on the stories that you hear. This is a very common in Nicaragua, straight and gay communities. (This information is repeated twice on this site because we feel it is very important).
Escort Services
Finding an escort when you're travelling can be a bit tricky. An ideal solution for having an alternative for escorts is Ashley Madison. There are thousands of horny girls waiting for you. Find all the beautiful young women at AshleyMadison.com!
Escorts in Nicaragua can be found from the escort websites such as: https://distintas.net/nicaragua/
Stay Safe
Nicaragua has made considerable strides in terms of providing police presence and order throughout the country. Crime is relatively low. However, starting in 2008, reports of low-level gang violence began coming in from Honduras and El Salvador. The National Nicaraguan Police have been successful in apprehending gang members and reducing organized crime.
Do not travel alone at night. Pay for a taxi to avoid being assaulted in dimly-lit areas. Tourists are advised to remain alert at all times in Managua. Although gang activity is not a major problem in Managua nor Nicaragua, caution should be exercised. Tourists are advised to travel in groups or with someone trusted who understands Spanish. There are local organizations that offer translator or guide services. One of them is Viva Spanish School Managua.
It is also advised that tourists refrain from using foreign currency in local transactions. It is best to have the local currency instead of having to convert with individuals on streets or non-tourist areas. Banks in Nicaragua require identification for any currency conversion transactions. Use ATM machines that dispense the local currency. When using ATM machines, follow precautions and be aware of your surroundings.
Buses can be extremely crowded and tight in terms of space. An overhead rack tends to be provided for the storage of bags and other items, but tourists are recommended to keep their bags at hand, in their sight, at all times and maybe to put a lock on your bag.
Collective taxis are also risky as organized crime has flourished in this transportation sector because of fixed passengers. In other words, drivers already know who they pick up and thus can mug the one extra passenger. This crime, however, is not common. When riding taxis, tourists are strongly recommended to close their windows.
Although extensive demining operations have been conducted to clear rural areas of northern Nicaragua of landmines left from the civil war in the 1980s, visitors venturing off the main roads in these areas are cautioned that there is still a the possibility of encountering landmines.
You will need a little bit of money to go over international borders. Nicaragua charges a border toll of US $10 to $13 (depending on the "administrative tax"). This is on top of a CA-4 visa that's good for crossing the borders between Nicaragua, Honduras, El Salvador, and Guatemala. Under the treaty establishing that visa, the border guards are not supposed to check people with such a visa, but they do so anyhow and charge tolls, which they claim are border crossing visa fees.
See Also