Washington, D.C.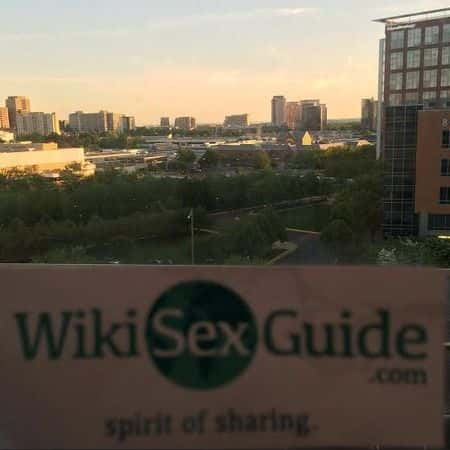 Washington, D.C. Sex Guide advises where to find sex, working girls, prostitution, street hookers, brothels, red-light districts, sex shops, prostitutes, erotic massage parlors, strip clubs and escorts in Washington, D.C.
Washington, D.C., the capital of the United States and the seat of its three branches of government, has a collection of free, public museums unparalleled in size and scope throughout the history of mankind, and the lion's share of the nation's most treasured monuments and memorials.
Sex and Prostitution in Washington, D.C.
WikiSexGuide Does Not Support Any Illegal Actions.

Prostitution is illegal in the vast majority of the United States, except some rural counties within the state of Nevada. Due to a US law FOSTA/SESTA, WikiSexGuide doesn't publish any ESCORT, MASSAGE or BROTHEL ads in the United States.
It is unlawful for anyone in Washington, D.C. to engage in prostitution or to solicit for prostitution. "Prostitution" means a sexual act or contact with another person in return for giving or receiving a fee. According to this definition, both the person offering the services and the person receiving the services could be convicted of the offense. "Soliciting for prostitution" is defined as inviting, enticing, offering, persuading, or agreeing to engage in prostitution.
In Washington, DC Prostitution is a misdemeanor punishable by up to 90 days in jail and or a $500 fine. The penalty for a 2nd offense is up to 180 days in jail and or a $1000 fine. A 3rd offense may be charged as a felony with a maximum penalty of $4000 and up to 2 years in prison. While it is not common to get convicted of felony prostitution, you may be setting yourself up for such a problem by taking quick plea deals to first and second offenses as discussed above. It should be noted that this may or may not apply to your actual situation and you should contact an attorney for advice on your case.
Washington Female Escorts
Check out WikiSexGuide Adult Classifieds!
Red Light Districts
In the 1980s, a portion of 14th Street became very well known primarily for its red-light district. Many nude bars, adult movie houses, seedy stores and erotic massage salons were concentrated roughly between New York Avenue and K Street, while prostitutes sold sex around Logan and Scott Circle. Later, most of the adult businesses was pushed away by rising land values.
Prostitution was still wild in these D.C. areas back in the 1990s, but then it faded away. These days some people consider K Street a major red-light district of Washington D.C., although only street prostitution is mainly concentrated on this street as strip bars, Asian massage parlours and adult shops are spread across the other parts of D.C.
Prostitutes and Sex Workers
Most prostitutes (even the cheap drug users) advertise online these days. Hookers have less chance of getting robbed or busted by the police. Even the clients would prefer a more discreet rendezvous where they don't have to humiliate themselves in public by cruising the streets. The clients and sex workers meet up in apartment units, cheap motels or up-scale hotels leased by the pimps or the self-employed prostitute.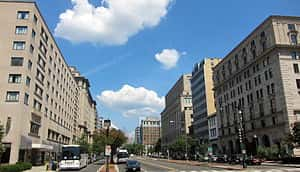 Street Hookers
K Street on Friday and Saturday nights is still a D.C.´s prostitution hotspot. Average cost for BJ is $40-$60 and sex costs $50-$100, but you can always negotiate for a better deal and often the girls ask much more if you have a nice looking car and look like you have loads of cash. There are many TS/TV/TG & CD street prostitutes in the area, and if you prefer a "real woman", you should read the following guide: How to Spot a Ladyboy.
Another good advices can be found from here: How To Pick Up Hookers in North America
Washington D.C. Area´s know for Street Walkers
Capital Hill
14th Street NW
11th and K Streets in NW
K and L Streets between 11th and 14th
5th and Eye (I) Streets NW
5th and K NW
New York Ave NE
Eastern Avenue at MD State line
Florida Ave NE
Brentwood, Deanwood and Trinidad areas of Northeast Washington
Logan Circle
Rhode Island Ave NE
Minnesota Ave SE
Hookup and Pick Up Local Girls
Meeting local girls and getting laid for free is fun! Read more on how to pick up girls in Washington, D.C.: https://hookuptravels.com/wiki/Washington,_D.C.
Live Sex Cams
Can I watch Live Sex Cams in Washington, D.C.? - Yes, you can! Basically you can watch our online live sex shows for free anywhere in the world if you're connected to internet. Join to get 10 free private teasers and 9.99 credits for free! You can choose any girl from our trusted Live Sex Cams!
Live Sex Cams are booming at the moment. Webcam models can be found from all over the world and you can find girls, guys, trannies, couples and groups of different ages performing to you. Watching live sex shows is usually free, but if you buy some credits, you will have much better chances to see adult action as desired! It's possible also to hire a webcam model to a private chat room where you can ask the person to fulfill your fantasies.
Where to Get Sex Now
It is easy to get sex online in Washington, D.C.. You just need to find the best available girls. See Girls Online Here!
Adult Locations

Escort Services and Agencies
Escorts in Washington, D.C. who provide sexual services for money are considered as prostitutes. Prostitution is illegal in the United States, except some rural counties of Nevada.
WikiSexGuide Does Not Publish Any Escort Ads in USA.

Due to a US law FOSTA/SESTA, WikiSexGuide doesn't publish ESCORT ads in the United States. WikiSexGuide respects the FOSTA and SESTA Acts.

Finding an escort when you're travelling can be a bit tricky. An ideal solution for having an alternative for escorts is Ashley Madison. There are thousands of horny girls waiting for you. Find all the beautiful young women at AshleyMadison.com!
Erotic Massage Parlors
Massage parlors in Washington, D.C. are illegal if they are offering sexual services or happy ending, such as hand job, blow job or full service.
WikiSexGuide Does Not Publish Any Massage Ads in USA.

Due to a US law FOSTA/SESTA, WikiSexGuide doesn't publish MASSAGE ads in the United States. WikiSexGuide respects the FOSTA and SESTA Acts.
Brothels and Sex Clubs
Brothels in Washington, D.C. are illegal. Many massage parlors, saunas, spas, and similar otherwise-legal establishments which serve as fronts for prostitution, are also considered as brothels. With the exception of some rural counties of Nevada, brothels are illegal in the United States.
WikiSexGuide Does Not Publish Any Brothel Ads in USA.

Due to a US law FOSTA/SESTA, WikiSexGuide doesn't publish BROTHEL ads in the United States. WikiSexGuide respects the FOSTA and SESTA Acts.
Strip Clubs and Striptease
Some of the strip bars in D.C. area are very cheap. You can get a lap-dance as cheap as $5, but most of the time it will cost you a $20-$30 for a lapdance. Cover charge is usually $5-$20 to these clubs. Most strip bars are also great places to host an bachelor party or similar events.
1819 Club 1819 M St NW, Washington DC, District of Columbia United States (202) 296-2191
The 1819 Club is the best gentlemen's club in Washington DC. Totally nude strippers with serving a full beer, wine, and champagne menu. A true gentlemen's club, the 1819 Club follows a long, find tradition of providing a discreet, elegant setting where both girls and gentlemen can enjoy live, total nude entertainment
Archibald's 1520 K St NW Washington DC, DC
Club Type: Nude Table Dance: N/A Min Age: 21 Private Dance: N/A Cover: $0.00 Bar Service: Full Bar VIP Area: No Food Service: Full Menu Dress Code: Casual Couples Welcome: Yes Club Hours: Mon-Thu 11:30am-2am, Fri-Sat 11:30am-3am
Bound U-turn bar 11th and U Street NW, Washington DC, District of Columbia United States
Industrial, Rubber/Latex Fetish dance party Cover $5 if you are dressed B & D which means fetish gear or, at a minimum, basic black. All others people pay $10. 21 and over 80s-style industrial, Goth Friday: 9PM - 3AM Fashion shows, whipping demonstrations, toe licking and other displays from the world of S & M, B & D. Not recommended for the weak. Good for stag parties.
Camelot Show Bar 1823 M St NW Washington DC, DC
Topless & Nude Full Bar
Clancy's 2840-B Alabama Ave. SE Washington DC, DC
Nude Full Bar
Club 55, 55 K St SE, Washington, DC, (202) 488-0555
Edward's Restaurant, 912 Rhode Island Ave NE, Washington, DC (202) 832-4509
Foxys, Georgia Ave, Washington, DC
Good Guys 2311 Wisconsin Ave NW Washington DC, DC
Nude Full Bar
JP's, 2412 Wisconsin Ave NW, Washington, DC (202) 333-7607
Louis' Rogue 476 K St NW Washington DC, DC
Nude Full Bar
Macombo Lounge 5335 Georgia Ave. NW Washington DC, DC
Topless & Nude Full Bar
Majestic Rosa Nautica 2922 Annandale Road, Falls Chu, Washington DC, District of Columbia United States 703-538-8885
Nexus, The Gold Club, 900 First St SE, Washington, DC (202) 488-3666
Royal Palace Nightclub, 1805 Connecticut Ave NW Washington DC, DC
Nude Full Bar
Skylark Lounge, 1943 New York Ave NE, Washington, DC (202) 832-7490
Cloakroom Gentlemen's Club, 476 K St NW, Washington, DC, tel.: +1 202-909-5600
Ace All Male Entertainment, 1629 K St NW Suite 300, tel.: +1 301-580-5472
Mpire Club, 1819 M St NW, b/t N 19th St & N 18th St., Downtown, tel.: (202) 808-8300
The House, 3530 Georgia Ave., b/t N Newton Pl & N Otis Pl, Park View, tel.: Phone number (202) 882-2014
Stadium Club DC 2127 Queens Chapel Rd. NE Washington DC, DC
Nude Full Bar
The House, 3530 Georgia Ave NW, Washington, DC (202) 882-2014
Karaoke and KTVs
KTVs (hostess karaoke bars with beautiful female staff) are popular in some parts of Asia but you cannot find any of them from Washington, D.C..
Swinger Clubs and BDSM
ALT.com is the best place for local singles, swingers, and couples in the BDSM community to connect with those interested in submissive sex, power exchange, locating persons for new slave roles, erotic BDSM, bondage & fetish sex, as well as live sex dates. Find thousands of play partners for whatever your fetish may be; bondage, foot, cockold, spankings, role-play, electric or water play, sadism and masochism. So whether you have the desire to explore your unrealized fetish fantasies, or you are extremely experienced and would love to train someone new, ALT.com is a community designed for people with like-minded interests to find and connect with each other.
Crucible, Washington, 1816 Half St SW, DC, (202) 554-1310
The Crucible is a for-profit Pansexual Alternate Lifestyles play event. http://swingersclubslist.org/shorturl/1173/
Sinn-Ergy, Washington City, DC 20005, United States
Sinn-Ergy organizes regional (MD/VA/DC) & (inter) national, higher-end, sensual, sexy, fantasy themed events, hotel parties, M&G & vacations. Our events are for select, classy, sexy, fun couples that take care of themselves & want a night out where they can feel free, playful, flirtatious and/or experimental in a safe, non judgmental, non-pressured environment with other couples that enjoy "Living Sexy"™. Sinn-Ergy...embrace the extraordinary. [email protected] http://sinn-ergy.com/wpress/
T A S T E Social Club, Washington, DC 20001, DC
This is a swing lifestyle social club for the sexy people. Hosts BYOB and home donation parties.
The DMV Social Club, Washington, DC 20001, DC
A free club where you can meet and greet other open minded individuals.
Sex Shops and Adult Stores
If you don't feel like visiting or cannot find any local sex shops in Washington, D.C., you can easily order adult products from Online Sex Shop.
1063 Wisconsin Ave NW (at Blues Aly) Washington, DC 20007 Neighborhood: Georgetown (202) 333-8570 pleasureplace.com/home.html
They have an array of products - a shelving section of massage oils and flavored lubricants, an impressive stock of vibrators, and some men stuff. The vibrators are actually very well priced.
They also have a great little selection of bachelor/bachelorette party favours. Penis ice cube trays, boob pasta, you name it.
5625 Leesburg Pike Falls Church, VA 22041 Neighborhood: Bailey's Crossroads (703) 379-8666 mvcboutique.com
They have practically everything for the perfect sexual experience. Also, practically everything comes in a vibrating form. Vibrating condoms are a must get. Service is great. I have been satisfied with everything I have bought. Prices are fair and reasonable. This store is a bit addictive.
Bite the Fruit, 1723 Connecticut Ave NW, Washington, DC, tel.: +1 202-299-0440
Capitol Video Sales, 1108, 1729 Connecticut Ave NW, tel.: +1 202-265-9226
Wide choice of sex toys and DVDs, nice atmosphere and helpful personnel.
Harts Desires, 2408 18th Street NW, 2nd Floor, Washington, DC, tel.: +1 202-864-6985
Secret Pleasures Boutique, U Street Corridor, 1510 U St NW
Washington, tel.: (202) 664-1476
Love Hotels and Short Time Hotels
Love hotels are popular in some parts of Asia, especially in Japan. There are also many love motels and short-time hotels in South America. Unfortunately you cannot find any real love hotels in Washington, D.C..
Nightclubs and Bars
There are many nice nightclubs and bars in Washington, D.C. where you can try your luck to find sex for free. You can try hooking up with female visitors at nightclubs if anyone over there seems to be interested. Take a look below to check out few names of nightclubs and bars in Washington D.C.
DC9, 1940 9th St NW, Washington, tel.: +1 202-483-5000
Bliss Nightclub, 2122 24th Pl NE, Washington, DC, tel.: +1 202-808-8600
Ultra Bar, 911 F St NW, Washington, DC, tel.: +1 202-638-4663
Heist Night Club, 1802 Jefferson Pl NW, Washington, DC, tel.: +1 202-688-0098
Gay and Lesbian
Gay modeling in internet is getting more popular all the time and it's a big market alongside with gay porn. You can watch gay live sex also in Washington, D.C. as long as you are connected to internet. Check it out: Gay Live Sex Video Chat
With a great mix of diverse bars situated in few different neighbourhoods, Washington, DC, has a vibrant and active gay nightlife scene. Few bars in the nation's capital have been going strong for more than 30 years. Here in Washington you can find erotic dance clubs, seemingly secret neighborhood bars tucked down back alleys, racially and socially diverse clubs, some great lesbian hangouts - there's pretty much something for everyone. Much of the gay action is centered near or around Dupont Circle and nearby Logan Circle and the U Street Corridor, but you will find few good gay bars in other parts of the city, notable Capitol Hill. Keep in mind that DC is less than 40 miles from Baltimore, which has more than a dozen gay clubs and bars of its own.
Gay Clubs, Bars & Parties
Cobalt, 17 Street and R Street, NW
Three level gay bar, lounge and dance complex in the center of Gay DC. Different events each night attract a different crowd. Open mon-sun 15:00– late
Fireplace, 22nd and P Street, NW
Two level bar (with a real fireplace). Video bar downstairs; house/hip-hop/rap/R&B divas music upstairs; primarily black men and those that love them. Open mon-thu 13:00–02:00, fri-sat 13:00–03:00, sun 13:00–02:00
Green Lantern, 1335 Green Court, NW
Not easy to to find, but fun Leather/Levi bar; primarily older men. Shirtless men drink for FREE on Thursdays from 10 pm. Open mon-sun –02:00
Nellie's Sports Bar, 900 U Street, NW
Nellie's is a popular gay bar in DC. It is a great place to visit before dancing at Town or going to a concert at the 9:30 Club. Open mon-sun 17:00–02:00
The Crucible, 1816 Half (1/2) Street, SW
Hardcore fetish, leather, levi, uniform, bondage, master/slave, dungeons, slings and toys. Gay cruise bar.
Town DanceBoutique, 2009 8th Street, NW
The best and most recnt space in DC for gay dancing right now. A two level venue. Video bar down stairs and large dance floor upstairs -- complex with great dj´s and sexy looking staff. open mon-sun 21:00– late.
Ziegfeld's/Secrets, 1824 Half Street, SW
Drag Shows downstairs and sexy completely naked Go-Go boys upstairs. One of the few places in the U.S. for fully naked dancing.
Gay Saunas & Bathhouses
The Crew Club, 1321 14th St NW (N St), Washington, DC 20005 Dupont (202) 319-1333
Open daily 24 hours. The Crew Club is a gay sauna facility where you can meet other men on the prowl. It's smoke, alcohol, and drug free (a smoking area is provided), and sports an all-American, clean-cut atmosphere with, well, a bit of an sexy twist. The club boasts two TV lounges with scads of channels, a video lounge, a reading lounge, weightroom, and a tanning bed. It's 18-and-over, and membership is not necessary. http://www.crewclub.net
Glorious Health Club, 2120 West Virginia Ave NE (Just off New York Ave, next to Shell gas station), Washington
Tel: +12022690226 http://www.ghcdc.com Open: 24hrs; prices: US$ 10.- to US$ 20.-; Gay. Exclusively or almost exclusively gay men Showers Outdoor seating, terrace or garden Dry sauna Steam bath Work-out equipment available Darkroom Glory holes Video shows
Gay Cruising Areas
Anacostia Park
Black Forest On Rock Creek
Japanese Cultural Center
Lincoln Park
Malcolm X Park
P Street Beach
Union Station
Other Adult Services
BDSM
There are couple clubs in Washington D.C. where people with BDSM interest like to spend time. If you do not prefer to visit any BDSM venues, you can just hire an dominatrix escort. These ladies charge around $200 to $300 an hour for their services.
The crucible, 16 M St NE, Washington, DC 20002, b/t N Capitol St & N 1st St
Nobody can simply walk up and get in off the street. MEMBERSHIPS ARE REQUIRED. You must get your membership prior to coming to an event. You may NOT walk up and get a membership. Operating hours generally are 9 PM - 2 AM. http://www.the-crucible.com
Dating
Dating in Washington, D.C. can be a bit tricky due to cultural differences, so your best bet is to sign up for a dating site before your trip so you can meet a few locals ahead of time. AdultFriendFinder.com lets you meet local members in Washington, D.C. and get to know them on a personal basis before you arrive. Take advantage of site features like live chat and member to member webcams so you can begin flirting before arranging a face-to-face meeting. Since your time in Washington, D.C. may be limited, get to know each other's desires beforehand, so that when you meet you can start having some real fun.
How to find Sugar Babies and Sugar Daddies
If you are looking for an alternative to escorts in Washington, D.C. with a girl who doesn't charge by the hour, sugar dating is the ideal solution. There are thousands of beautiful young women at SecretBenefits willing to do anything for a man who will help them pay their bills.
Often referred to as the "Tinder for Older Guys", SecretBenefits matches hot young women interested in pampering older gentlemen. You don't have to be a millionaire at SecretBenefits.com, you just need to be a respectful gentleman who knows how to treat a woman.
Transsexuals and Shemales
Finding someone for transsexual dating when you're on the road can be a bit tricky, so your best bet is to sign up for a dating site before you go so you can find locals ahead of time. TSdates.com is a dating site designed to help you find exactly what you are looking for in your hookup in Washington, D.C.. Take advantage of site features like live chat and member to member webcams so you can begin flirting before arranging a face-to-face meeting. With over 40 million members, and thousands of transsexual members around the world, TSdates.com is the world's largest site of sex-minded friends for discreet encounters and will help you find your next transsexual play partner.
Where can I find shemales in Washington, D.C.? You can watch transsexual live sex shows in Washington, D.C. as long as you are connected to internet. Check Now: Tranny Live Sex Video Chat
You can find TS/TV/TG or CD girl prostitutes from the most street prostitution areas mentioned above, but specially K Street or Eastern Avenue are your best options. Average cost for quick sex with a tranny street hooker is $50 to $100 and a blow job should never cost more than $50. Friday and Saturday nights are the best times to look transgender girls from the streets. It is never really safe to deal with the street level sex workers as muggings and robberies are not uncommon. You should always hide your valuables and bring only the amount of the money you are planning to use.
If you prefer a high-end shemale escorts or just do not want to cruise in the streets to search streetwalkers. You have a lots of options to choose from. Many transsexual escorts have ads online and sometimes in the newspapers classifieds section. Price to have sex with these trans-girls is $100 to $250 depending the time and looks of the t-girl. It is also much safer option as you get to have fun inside in a bed and take a shower after the sex, instead of doing it in the backseat of a car in a back alley.
Sexual Services for Women
Male gigolos in Washington D.C. charge between $100 to $250 for their services. There are many good looking and skilled male escorts in D.C., but also many untalented and not attractive rentboys. You should take your time when searching for a male escort and read the reviews abou them so you can get a good service.
Sleeping and Girl Friendly Hotels
Most tourists in D.C. look for accommodations close to the Smithsonian, and accordingly the East End is where most tourists wind up. There are lots of restaurants and nightlife options in the immediate area, you can walk to the Mall, and you'll feel like you're at the center of town.
But keep in mind that proximity to the Mall is really not so useful as proximity to a Metro stop. For a more authentic Washingtonian experience, visitors might prefer to stay in one of the numerous hotels just a little further north in Dupont Circle or Logan Circle, or just east in the historic Capitol Hill neighborhood. These neighborhoods are real hot spots among locals for their upscale dining and nightlife scenes. Moreover, you can actually find weekend street parking and avoid the $25-55 nightly fee hotels will charge you to keep your car downtown.
The West End also offers upscale hotels close to the Mall, catering especially to the business travelers who bustle along K St during the day. The downside to the West End is that the downtown commercial area is deserted after dark. A bit further west is Georgetown, which is perhaps D.C.'s most charming neighborhood, with a wealth of smaller, expensive hotels in the midst of a great dining and nightlife scene. Take note, though, that Georgetown lacks a Metro stop (to keep out the riffraff), so you'll find yourself taking taxis or buses to get to the Mall and to other neighborhoods.
It's worth noting that Washington is a relatively small city, acreage-wise, and it's very easy and quick to stay in the close-in suburbs and take the Metro into town. You can save meaningful cash this way; suburban hotels are often substantially cheaper and D.C.'s hotel tax is an eye-popping 14.5%. Parts of Arlington and Alexandria, as well as Bethesda and Silver Spring, have easy Metro access into the District, and are worthwhile destinations in their own right.
GF Friendly Hotels in Washington D.C.
Following hotels in Washington D.C. are known to be "Ho-Friendly" according to the reports:
Marriott
Hyatt
Hilton
Holiday Inn
Ritz-Carlton
Embassy Suite
Renaissance
Double Tree
Westin Grand Hotel
Willard Inter Contiental Hotel
Stay Safe
While Washington rivaled other U.S. cities for the Murder Capital of America title in the early 1980s-1990s, violent crime has since fallen dramatically. Certain neighborhoods in the less traveled parts of the city (especially near public housing projects) are the main contributors to D.C.'s high murder rate, but as a visitor to the city you are extremely unlikely to be victim of a homicide—the vast majority of homicide victims in the U.S. are acquainted with their murderer long before the crime, and there simply are not that many murders to begin with—robbery is a more travel-relevant problem.
The trickiest aspect of staying safe in D.C. lies in the fact that the most dynamic neighborhoods, sporting great nightlife, dining, and diversity, are home to the majority of the city's muggings. Muggings are a problem in the north central neighborhoods of Shaw/U Street and Adams Morgan-Columbia Heights, in stark contrast to the popular belief that "gentrification" has somehow made the area safer.
See Also