Nuremberg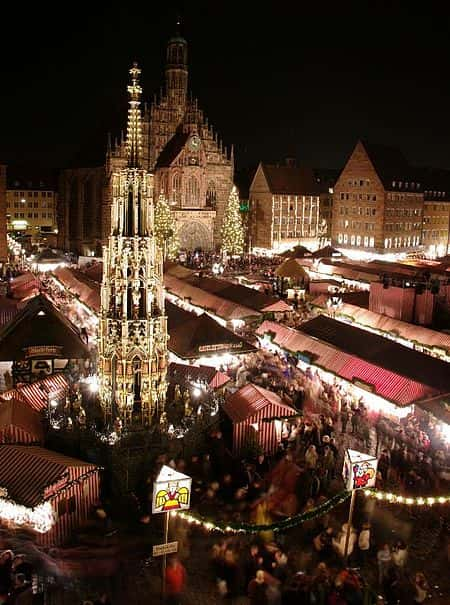 Nuremberg Sex Guide advises where to find sex, prostitution, hookers, brothels, erotic massage parlors, FKK Clubs and escorts in Nuremberg, Germany.
Nuremberg (German: Nürnberg) is a city in the German state of Bavaria, in the administrative region of Middle Franconia; it is Bavaria's second largest city after Munich.
Sex and Prostitution in Nuremberg
Nuremberg is a good city for sex tourists, although more expensive and on a much smaller scale than Frankfurt. Red-light district in Nurnberg is directly inside wall of the city. It is about a 12 minute walk from the main train station (leaving train station, turn left). Entrance to the Red-light district section through wall is at a high tower. You will see a sign for Eros 79 or something else similar on the corner building.
Red Light Districts
Red-light district of Nuremberg is located between Frauentormauer and Faerbertor / Spittertor
Sex prices in the red light area start at 25€ for full service, although most whores charge 50€ for FS. Some sex houses seem to have strict rules regarding pricing, while others seem to give the girls some flexibility. You can just walk from room to room, and try to negotiate.
You can stroll from one to another, with most having no cover. The places with covers charge 4€, but mostly it is good for at least 24 hours of entry-reentry. Alternative is to pay 30€ for a coupon/voucher. The hookers accept that the same as cash. Since it is likely that you can find a whore you like during the 3-day period of its validity.
Quality is mostly only average, but there is some top quality girls.
You may have to go back several times to find your ideal sex partner, but you can usually find someone suitable. If you don't find anyone on your first attempt, go back later. Ladies are independent contractors. so they are free to work/rest whenever they want.
One of the top redlight destinations in Nuremberg to check out is Laufhaus Eroscenter, Frauentormauer 74, 90402 Nürnberg.
Prostitutes and Sex Workers
Cheapest prostitutes can be found from the Red-light district and they charge about 25€. Girls who work for escort agencies are not much better looking but price is again much more than 25€, usually around 200€ for one hour.
Street Hookers
Regular street prostitution in Germany is often very well organized and sometimes controlled by pimps. Most German cities however established "Sperrbezirke" (off-limits zones) and charge the street prostitutes an amusement tax, that in the city of Bonn for instance is paid by the streethookers at parking meters, 6€ for a period of about 8 hours at nightime. The same fee is collected from sex workers in apartments and brothels, sometimes by municipal tax collectors in person. Some street whores have a nearby caravan, others use the customer's car, still others use hotel rooms. With recent economic problems, in some bigger cities "wild" street prostitution has started to appear: areas where prostitutes work temporarily out of short-term financial need. A "Sex drive-in", or "Verrichtungsbox", is a facility of structures to enclose cars to provide a safer place for sex workers using cars.
You can occasionally find some street hookers walking at the Red-light district, but there is no actual street hooker area in Nuremberg.
See Also: Tippelzone & Sex drive-in
Live Sex Cams
Can I watch Live Sex Cams in Nuremberg? - Yes, you can! Basically you can watch our online live sex shows for free anywhere in the world if you're connected to internet. Join to get 10 free private teasers and 9.99 credits for free! You can choose any girl from our trusted Live Sex Cams!
Live Sex Cams are booming at the moment. Webcam models can be found from all over the world and you can find girls, guys, trannies, couples and groups of different ages performing to you. Watching live sex shows is usually free, but if you buy some credits, you will have much better chances to see adult action as desired! It's possible also to hire a webcam model to a private chat room where you can ask the person to fulfill your fantasies.
Where to Get Sex Now
It is easy to get sex online in Nuremberg. You just need to find the best available girls. See Girls Online Here!
Adult Locations
Many brothels and sex clubs can be found from Nuremberg.

Escort Services and Agencies
Unfortunately we don't list in this category!
Finding an escort when you're travelling can be a bit tricky. An ideal alternative to escorts is a girl who is looking for a mutually beneficial relationship. There are thousands of horny girls willing to do anything for a generous guy. Click Here to hookup with a beautiful young woman now.
There are many beautiful escorts to choose from in Nuremberg. If you are not attracted to the street whores, brothels or Red-light districts, you can always place a call to individual escort or escort agency which will assign a girl to you for 150-300€ an hour. You can fuck escorts at your place or in their place as most escorts work from the private flats or hotels.
Escort agencies usually provide a room also if you need a one. Most Nuremberg escorts and escort agencies have their advertisements placed on internet and some advertise on newspapers also.
Erotic Massage Parlors
Unfortunately we don't list in this category!
City of Nuremberg has a good variety of erotic massages available. Average cost is 70-150€ for one hour massage including hand job. Some of the body rub salons also provide blow-job, sex, whipping, golden showers or role-play massages. Just relax while being pampered, enjoy the moment which will guide you to a dream world where you always wanted to be! Most workers at the massage salons come from Asia and Eastern Europe.
Where to find Massage Parlours in Nuremberg:
Club / Studio Exklusiv Massage Studio, Pirckheimerstrasse 80 90409 Nürnberg
http://www.exklusiv-massage-studio.de/ +49 (0) 162-7373722 or +49 (0) 911-7098988
Club / Studio Tarisha Massageinstitut, Roritzer Strasse 27 90419 Nürnberg
Working Girl Massagehexen, Kilianstrasse 102 90425 Nürnberg
http://www.massagehexe.de/ +49 (0) 911 24 29 59 or +49 (0) 170 6697998
Club / Studio Massageengel, Peterstrasse 71 90478 Nürnberg
Brothels and Sex Clubs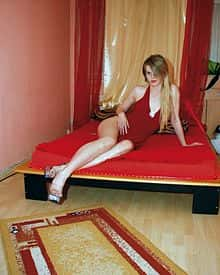 Germany has always had brothels and red light districts. About 30 years ago in a town called Lichtenberg outside of Bonn a man started the first FKK Club. The term FKK means "Frei Korper Kultur" Free Body Culture which translates best to "nudist". The difference between a normal brothel and an FKK Club was the presentation and system. The owner and inventor named "Bernd" got tired of the brothel system where price was negotiated, dark lighting, pressure sales and the workers bodies were hidden by clothing. Starting out in his basement he opened the first FKK Club with his own system. Women were totally nude, the club had normal lighting, prices and services were set Above all service was based on quality and customer satisfaction. Bernd's main customer base were local business men. The club is located in a small village in his basement. He charged an entry fee which included all you could drink beer, alcohol and snacks. Women were paid a flat fee for a session which averages about 30 minutes. The concept caught on and soon the club took over the entire home.
As the years went by numerous other clubs opened and used similar terms such as Sauna Club or FKK Club. The main difference is all the clubs offered a sauna but FKK Clubs meant the women were totally nude.
Years ago the clubs were not tourist friendly and one had to speak some German to enter. Today some clubs still limit visitors and forbid entry to some guests. Tour providers have opened many doors to tourists and convinced clubs that foreign visitors were another form of income. Guests are picked up from major airports, transported to the clubs and then to a hotel in the evening. Tours were provided in the English language as well as Japanese. Tour packages came in 6 or 8 day tours and visited 10-12 clubs during the duration. A guide is provided to the guests who explains rules, culture and history of the clubs in their own.
In spa town of Aachen, men may go window-shopping for sex; they can have unlimited sex with as many girls they liked for 99€ at a "flat-rate" brothel in Berlin; or they can visit Pascha, an eight-story "mega-bordello" in Cologne. Prostitutes in Germany all work freelance — instead of being paid a salary, they rent rooms from brothel owners who sometimes still do not question their health or see proof of insurance. The city of Stuttgart is home to high-class brothel Paradise, where girls were required to be completely naked at all times while men walked around in bath robes.
FKK Saunaclubs are very popular in Germany (and also in Austria and Switzerland). The guests pay entry fee (50-150€) and got several services for their money. The most commons services are: solarium, sauna cabin, bar, infrared cabin, showers. The most of Saunaclubs offer erotic or sexual services as well, from porn movies to private sex with girls.
Brothels, FKK & Sauna Clubs in Nurenberg:
Laufhaus Eroscenter 74, Frauentormauer 74 90402 Nürnberg
Club / Studio Michaela&Freundinnen I, Sulzbacher Strasse 71 90489 Nürnberg
Club / Studio Freudenhaus, Frauentormauer 90 90402 Nürnberg
Club / Studio Haus 100, Frauentormauer 100 90402 Nürnberg
Club / Studio Sündenparadies, Frauentormauer 102 90402 Nürnberg
Club / Studio Girl 4 Rent, Gärtnerstrasse 23 90408 Nürnberg
Club / Studio Villa Pompös Nürnberg, Horneckerweg 18 90408 Nürnberg
Club / Studio Saunaclub 54, Adam-Kraft-Strasse 54 90419 Nürnberg
Working Girl Zauberhafte Angelina Adolf-Braun-Strasse 6 90427 Nürnberg
Club / Studio Swingerclub Shangrila, Brettergarten Strasse 94 90427 Nürnberg
Club / Studio FKK Sylt, Lichtenfelser Strasse 2 90427 Nürnberg
Entrance: 60€ - Sex cost: 50€/30min www.fkk-sylt.de,
Club / Studio Salome Ladies, Deutschherrnstrasse 53 90429 Nürnberg
Club / Studio Erotikclub Neglige, Muggenhofer Strasse 24 90429 Nürnberg
Club / Studio Lustengel I, Edisonstrasse 7 90431 Nürnberg
Club / Studio Lustengel II, Edisonstrasse 7 90431 Nürnberg
Club / Studio Lustengel III , Edisonstrasse 7 90431 Nürnberg
Club / Studio FKK Club Heaven, Edisonstrasse 10 90431 Nürnberg
Club / Studio Claudias Dreamlight , Edisonstrasse 85 90431 Nürnberg
Club / Studio Erotica WG, Rosenplütstrasse 1 90439 Nürnberg
Club / Studio House of Love, Dieselstrasse 26 90441 Nürnberg
Club / Studio Korallen-Girls, Erlenstrasse 28 90441 Nürnberg
Club / Studio Haus Rendezvous, Platenstrasse 13 90441 Nürnberg
Club / Studio Adriana's Paradies , Schweinauer Hauptstrasse 149 90441 Nürnberg
Club / Studio Lover Girls, Ackerstrasse 17 90443 Nürnberg
Club / Studio Haus Nr. 11, Osianderstrasse 11 90443 Nürnberg
Working Girl Jenny, Jägerstrasse 25 90451 Nürnberg
Working Girl Nadine Rose, Sperlingstrasse 14 90459 Nürnberg
Working Girl Suesse Sofie, Sperlingstrasse 14 90459 Nürnberg
Working Girl Titania Wolke, Sperlingstrasse 14 90459 Nürnberg
Club / Studio Thai Beauty Studio, Voltastrasse 74 90459 Nürnberg
Club / Studio Magicplace , Annastrasse 8 90461 Nürnberg
Club / Studio Bordell Donaustrasse , Donaustrasse 105 90461 Nürnberg
Working Girl Lulu Sommer, Erdastrasse 6 90461 Nürnberg
Club / Studio FKK Saunaclub Palmas , Saganer Strasse 6 90475 Nürnberg
Club / Studio Katys Studio, Laufamholzstrasse 39a 90482 Nürnberg
Working Girl Claudia , Welserstrasse 90489 Nürnberg
Strip Clubs and Striptease
There are basic American style gentlemen´s clubs and nude bars in Nuremberg, where you can just sip drinks and watch pole dancing and once a while get a lap dance in a private booth. Then there are strip clubs where you can do both of those things and also have sex with the dancers in a private room provided at the strip joint, or take a stripper with you to your hotel room and fuck her there. It is always more expensive to have sex at the nude bar what it is in a Laufhaus Brothels. So if you just want to have sex in Germany, it is not recommended to go to the Strip club. Most girls who work as a strippers in Germany come from Eastern Europe and South America. Entrance fee to the nude bar is usually not much, drinks are usually affordable too, but if you order drinks or champagne to the strippers, you can get a huge bill!
Where to find Strip Clubs in Nuremberg:
Nightclub White Butterfly, Engelhardsgasse 22 90402 Nürnberg
Nightclub Caribic Bar, Luitpoldstrasse 12 90402 Nürnberg
Nightclub J's No.2 Bar , Luitpoldstrasse 12 90402 Nürnberg
Nightclub Live Time Tabledance, Klingenhofstrasse 58 90411 Nürnberg
Nightclub Princess, Witschelstrasse 71 90431 Nürnberg
Karaoke and KTVs
KTVs (hostess karaoke bars with beautiful female staff) are popular in some parts of Asia but you cannot find any of them from Nuremberg.
Swinger Clubs and BDSM
ALT.com is the best place for local singles, swingers, and couples in the BDSM community to connect with those interested in submissive sex, power exchange, locating persons for new slave roles, erotic BDSM, bondage & fetish sex, as well as live sex dates. Find thousands of play partners for whatever your fetish may be; bondage, foot, cockold, spankings, role-play, electric or water play, sadism and masochism. So whether you have the desire to explore your unrealized fetish fantasies, or you are extremely experienced and would love to train someone new, ALT.com is a community designed for people with like-minded interests to find and connect with each other.
Swinger clubs (lifestyle clubs), are formal or informal groups that organize sex-related activities or establishments where patrons can engage in sex acts with other patrons. There are some swinger clubs in Nuremberg.
Swinger Paradies XXL, Emmericher Straße 25, 90411 Nürnberg
Sex Shops and Adult Stores
If you don't feel like visiting or cannot find any local sex shops in Nuremberg, you can easily order adult products from Online Sex Shop.
Most Adult Shops (also called: Sex Shop, Erotic Shop, Adult Shop) in Germany have wide selection of dildos, butt plugs, fleshlights, sex films, condoms and other sex related items. Some of the adult stores also have a Adult Cinema (called: Sex Kino in Germany) or Adult Cruising Arcade attached to the sex shop. Most of these premises are used by straight, bi sexual and gay men, but occasionally there can be women on these places. Adult Arcades often have cinemas showing porn movies, private booths, gloryholes, darkrooms, sex slings and other kinky things.
Where to find Adult Shops and Sex Cinemas in Nurenberg:
Delphi Palast, Josephsplatz 14, 90403 Nürnberg
Many large cabins and two cinema rooms. Entry 12 EURO.
Inman, Luitpoldstraße 12 , 90402 Nuremberg
Erotic Boutique, Gay movies, daily 6-4 clock opened. 7 solo cabins with Glory Holes 2 private rooms, 1 with video; Darkroom Cab & Glory Holes; comfortable sitting area with leather sofas. 6,50 € entrance fee.
New Man, Luitpoldstraße 11, 90402 Nuremberg
Opn Mon-Sat 10-24 clock, summer / holiday 12-24 clock, videos, magazines, toys, video booths with 16 programs.
Video Club 32, Tafeleldstrasse 32, Nuremberg
Sex Shop and gay cinema's. The facility is open from 2pm until 10pm. Cinema has straight crowd masturbating and also gay people having sex.
City Man, Mostgasse 14, Nuremberg
This shop and cinema has a lot of activity in its dark screening rooms. The facility is open from 1:30pm until 11pm daily.
Love Hotels and Short Time Hotels
If there are short-time hotels near by, usually the working girls know all of these places.
Nightclubs and Bars
There are many nice nightclubs and bars in Nuremberg where you can try your luck to find sex for free.
The Cult - Nightclub & more, Dooser Str. 60, tel.: +49 911 311515
Mach1 Club Nürnberg, Kaiserstraße 1-9, tel.: +49 173 5275829
World of Nightlife, Regensburger Str. 334, tel.: +49 911 56903353
Gay and Lesbian
Gay modeling in internet is getting more popular all the time and it's a big market alongside with gay porn. You can watch gay live sex also in Nuremberg as long as you are connected to internet. Check it out: Gay Live Sex Video Chat
GAY BARS AND CAFES
Alt Prag, Hallplatz 29, 90402 Nürnberg
Open Mon-Thu: 11:00 to 24:00 clock, Fri-Sat from 11:00 till 03:00 clock and Sun: 15:00 to 24:00 clock. Small, cute, rustic restaurant. In the summer with outdoor seating.
Balazzo Brozzi, Hochstraße 2, 90429 Nürnberg
Breakfast table, lunch, Sunday Buffett, Alternative Cafe with a small beer garden and changing exhibitions, gayfriedly, opening times Mon - Fri 9-23 clock, Sat & Sun 9-21 clock, every first Monday of the month closed
Bar59, Johannesgasse 59, 90402 Nürnberg
Thurs - Sat: 21:00 to 2: 00/5: 00 clock before holidays 21:00 to 2: 00/5: 00 Clock Small bar in the city of Nuremberg. Formerly Smily and bubbly bar.
Bert's, Wiesenstraße 85, 90459 Nürnberg
Monday and Tuesday 19.00-1.00 clock Friday and Saturday 19.00-2.00 clock Sunday 15.00-01.00 clock Wednesday and Thursday closed. A meeting place for the man who is looking for a conversation in a friendly atmosphere with pleasant background music.
Bier-Bar Savoy, Bogenstraße 45, Nürnberg
Monday-Thursday 19-03, Friday / Saturday 19 - ??? and Sunday 15:00 bis 03:00 clock. Every Sunday from 15:00 clock homemade fresh cakes on offer. Interesting bar with nice staff and the public. Wide range of beverages and snacks.
Cafe Fatal, Jagdstraße 16, 90419 Nürnberg
Open 9:00-1:00. Bar / cafe / restaurant with garden, mixed crowd, daily
Cartoon, An der Sparkasse 6, 90402 Nürnberg
Cafe / Bistro with terrace, Mon-Sat 11-1h, So 14-1h U1 Lorenz Church Viennese coffee house pies Mon-Fri 12.00.14.00 clock to Lunchen delicious.
Confetti, Breite Gasse 76, 90402 Nürnberg
Café in the Gay & Lesbian Center Fliederlich, So 14-21h
Cramer 15, Hintere Cramergasse 15, 90478 Nürnberg
Mon-Thu 17-1 clock; Fri-Sat 17-3 clock; Thus 09-1 clock. Cozy bar on two levels with the idyllic beer garden.
Einfachso, Klaragasse 26, 90402 Nürnberg
Open Mon to Thu 11:00 bis 02:00 clock, Fri-Sat 11:00 bis 03:00 clock, Sun 17:00 bis 02:00 clock. Small beer bar with more younger audience.
La Bas, Hallplatz 31, 90402 Nürnberg
Long-established gay bar in the center of Nuremberg. Open daily 11-1 clock. Beer garden is open in summer to 0 clock.
Palais Schaumburg, Kernstraße 46, 90429 Nürnberg
Opening times: Sun - Fri 11.30 - 1.00 clock, Sat 14.00 - 1.00 clock gay friendly
Petit, Hinterm Bahnhof 24, 90459 Nürnberg
Small bar just behind the train station (South Exit). Wed - Sat: 22 -5 Clock, Sun: 6 -? After Hour
Savoy Bar, Bogenstraße 45, 90459 Nürnberg
Open Monday to Thursday 17:00 - 1: 00/2: 00 clock; Friday 17:00 - 2: 00/3: 00 clock; Saturday 18:00 - 2: 00/3: 00 clock; Sundays and holidays 14:00 - 1: 00/2: 00 clock. Comfortable Pup, in summer outdoor terrace. Mixed Gay audience. Young to old. Here everyone feels at home. Monthly changing theme parties. On Sundays and holidays from 14: 00h coffee and homemade cake !!
Switchboard-Cafe, Breite Gasse 76, 90402 Nürnberg
In Switchboard Gibt's every Wednesday and Friday from 16:00 to 21.OO coffee, cakes and homemade treats. Anyone interested can browse through various gay newspapers and information brochures. Ideal after shopping stress or before the scene spree.
Toy, Luitpoldstraße 14, 90402 Nürnberg
Cellar bar with video room, daily. 20-4h, Sat / Sun from 6h
GAY DISCOS, CLUBS & PARTIES
Adrian parties, 90408 Nuremberg
In a private setting for athletic / attractive to boys about 28 years Since 2001 he regularly held parties.
Desi - Gay & Lesbian Disco, Brückenstraße 23, 90419 Nürnberg
Self-governing community center with pubs, gay disco, Desi, once a month on Saturdays 21-3 Clock
Golden Limit, Klingenhofstraße 58, 90411 Nürnberg
Gay and lesbian party series.
Große Liebe Gay Clubbing, Engelhardsgasse 33, 90402 Nürnberg
In the "Big Love" to all gay revelers can express their love to party fully.
Loop Club & Bar, Klingenhofstraße 52, 90411 Nürnberg
Music from the 80s, Synthpop, New Wave, Indie, Wave Classics, Industrial, Electro
Mach1, Kaiserstraße 1-9, 90403 Nürnberg
Thurs-Sun: 22-5 clock. U1 Lorenz Church.
Resis Nachtklub, Klingenhofstraße 50 c, 90411 Nürnberg
Music from the 80s, Synthpop, New Wave, Indie, Wave Classics, Industrial, Electro
GAY SAUNAS & BATHHOUSES
ChirinGay Sauna, Comeniusstraße 10, 90459 Nürnberg
The Chiringay-gay sauna offers its gay guests a steam bath, Finnish sauna, relaxation rooms, video room, relaxation areas indoors and outdoors, internet cafe 'and much more. Times of Chiringgay sauna: Sun - Thu 14:00 until at least 1:00 Fri + Sat and before holidays 14:00 until at least 8:00
Sauna Club 67, Pirckheimerstraße 67, 90408 Nuremberg
Opening times: Monday to Thursday from 13:00 to 24:00 clock Friday & Saturday from 12:00 to 2:00 Sunday 12:00 to 24:00 clock clock on holidays 12:00 to 24:00 clock video room, TV lounge, Dark Room , glory holes, sling, cabins. Current price list on the homepage.
GAY INDOOR CRUISING & GAY CINEMAS
Look the "Sex Shops & Adult Stores" section below.
Other Adult Services
BDSM
The basic form of BDSM (Bondage & Discipline/ Dominance & Submission/ Sado-Masochism) is all about the erotic and sexual acts and mind-sets of dominating and relinquishing control.
In the past few years BDSM has got a pretty bad reputation, but the basic principles can be extremely liberating and in the long run if you engage with it, turn you on in a way that you would never even have thought about. The fact that the standard media representation of BDSM is of something seedy and weird and sometimes make it feel like a taboo.
"But if girl take the reins it can actually increase their sexual confidence and sense of agency, while giving men a break from having to be 'on top', psychologically as well as literally which is the standard dynamic for most lovers. The trick is to have an open mind to sexuality, obviously anything which causes harm to your loved one or yourself is not good, but we're all humans and exploring the parts that make us a little different is what can make a hugely beneficial relationship.
Germany has some of the most exceptional fetish practices that are often only found on Japan.
Amazonen Hochburg, Bismarckstraße, 90491 Nürnberg
Club, Party Location, Business (sonstiges)
Der Cult, Dooser Str.60, 90427 Nürnberg
Club, Party Location
Rock-Cafe FRivoli, Reindelstraße 11, 90402 Nürnberg
Club, Cafe, Restaurant, Party Location, Gastronomie
SMania, Schnieglinger Str. 264, 90427 Nürnberg
Club, Party Location
Dating
Dating in Nuremberg can be a bit tricky due to cultural differences, so your best bet is to sign up for a dating site before your trip so you can meet a few locals ahead of time. AdultFriendFinder.com lets you meet local members in Nuremberg and get to know them on a personal basis before you arrive. Take advantage of site features like live chat and member to member webcams so you can begin flirting before arranging a face-to-face meeting. Since your time in Nuremberg may be limited, get to know each other's desires beforehand, so that when you meet you can start having some real fun.
How to find Sugar Babies and Sugar Daddies
If you are looking for an alternative to escorts in Nuremberg with a girl who doesn't charge by the hour, sugar dating is the ideal solution. There are thousands of beautiful young women who are willing to do anything for a man who will help them pay their bills.
Often referred to as the "Tinder for Older Guys", Sugar Dating matches hot young women who are interested in pampering older gentlemen. You don't have to be a millionaire to meet a sugar baby. Click Here if you are a respectful gentleman who knows how to treat a woman.
Transsexuals and Shemales
Finding someone for transsexual dating when you're on the road can be a bit tricky, so your best bet is to sign up for a dating site before you go so you can find locals ahead of time. TSdates.com is a dating site designed to help you find exactly what you are looking for in your hookup in Nuremberg. Take advantage of site features like live chat and member to member webcams so you can begin flirting before arranging a face-to-face meeting. With over 40 million members, and thousands of transsexual members around the world, TSdates.com is the world's largest site of sex-minded friends for discreet encounters and will help you find your next transsexual play partner.
Where can I find shemales in Nuremberg? You can watch transsexual live sex shows in Nuremberg as long as you are connected to internet. Check Now: Tranny Live Sex Video Chat
You can find a Shemale and Transexual escorts in Nuremberg from internet and usually a Shemale or Transexual escort will charge 80-120€ for half hour or $150-$250 for one hour. Make sure you always negotiate before you pay, because some of the transexuals and transvestites are only active in the bedroom, meaning you can not fuck them, but they will fuck you.
Ts-Lucia in: Regensburgerstr. 39, 90478 Nuremberg (6th floor App. 34 in Süss right from the lift) (Tel:0049 15224854057)
Lucia has a big 22cm cock.
Sexual Services for Women
A comparatively small number of male prostitutes in Germany offer sexual services to females, usually in the form of escort services, meeting in hotels. Usual cost for evening with a male escort is 100-600€. Some of the male escorts also offer weekly rates such as 2000-6000€. Most male escorts in Germany come from Southern European countries, but there are some real Germans too.
In Germany, somewhere there are around 20 escort agencies cater to women. You can see the pictures of the men online: age, height, physique. Some of the men also list preferences: oral, anal, group sex. Some men set limits and some do not.
Most female customers are from early 30s through mid-50s, and are normal women. Most female customers like the feeling of being loved and not just sex like most male johns.
Sleeping and Girl Friendly Hotels
There are many good hotel options to choose around Red-light district and prices are quite fair.
Stay Safe
According to the state police, it has the lowest crime rate of the cities with more than 400,000 inhabitants.
See Also