Ko Chang
Ko Chang Sex Guide advises where to find sex, working girls, prostitution, street hookers, brothels, red-light districts, sex shops, prostitutes, erotic massage parlors, strip clubs and escorts in Ko Chang, Thailand.
Ko Chang (เกาะช้าง) is an island in Trat Province, Eastern Thailand.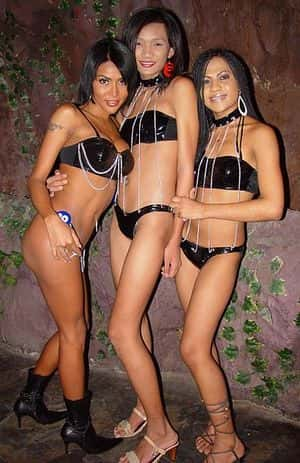 Sex Scene and Prostitution
Ko Chang is well known as one of the most idyllic islands in Thailand and Koh Chang also caters for young party people and elder sex tourists who like to chill a bit on the sand and occasionally party.
Ko Chang offers all kind of nightlife options for everyone ranging from a girlie bar to a nice restaurants.
Ko Chang is more like an ultimate full moon party destination and not the main sex vacation hot spot.
Thailand is a major sex tourist destination in the world. Estimates of the number of prostitutes vary widely and are subject to controversy. A 2004 estimate by Dr. Nitet Tinnakul from Chulalongkorn University gives a total of 2.8 million sex workers, but the figures for women were considered to be grossly inflated by most observers, and to have resulted from poor research methods. One estimate published in 2003 placed the trade at US$ 4.3 billion per year or about three percent of the Thai economy. It has been suggested for example that there may be as many as 10,000 prostitutes on Ko Samui alone, an island resort destination not usually associated with prostitution, and that at least 10% of tourist dollars may be spent on the sex trade. According to a 2001 report by the World Health Organisation: "The most reliable suggestion is that there are between 150,000 and 200,000 sex workers." A recent government survey found that there were 76,000 to 77,000 adult prostitutes in registered entertainment establishments; however, NGOs believed there were between 200,000 and 300,000 prostitutes.
The sex industry in Thailand is estimated to generate $6.4 Billion a year.
Although centres such as Bangkok (Patpong, Nana Plaza, and Soi Cowboy), Pattaya, and Phuket (Patong) are often identified as primary tourist "prostitution" areas, with Hat Yai and other Malaysian border cities catering to Malaysians, prostitution takes place in nearly every major city and province in the country.
Chiang Mai and Ko Samui (Chaweng and Lamai) are also major centers. In Bangkok, the so-called Ratchadaphisek entertainment district, running along Ratchadaphisek Road near the Huai Khwang intersection, features several large entertainment venues which include sexual massage. Even karaoke style bars in small provincial towns have their own versions, with women, in addition to singing traditional Thai music, sometimes engaging in prostitution.
Prostitution is illegal in Thailand, although in practice it is tolerated and partly regulated. Prostitution is practised openly throughout the country. Local officials with commercial interests in prostitution often protect the practice. The precise number of prostitutes is difficult to assess; estimates vary widely and are subject to national and international controversy. Since the Vietnam War, Thailand has gained international notoriety among travellers from many countries as a sex tourism destination.
Where to Get Sex Now
It is easy to get sex online in Ko Chang. You just need to find the best available girls. See Girls Online Here!
Red Light Districts
The hot nightlife spot in Ko Chang is the backpacker mecca at Lonely Beach. It is somewhat similar with Khaosan Road in Bangkok, parties here start in the late afternoon end end somewhere around dawn.
White Sand Beach (Hat Sai Khao) is playing host to a Bangkok and Pattaya style nightclubs and "loud" bars. Hat Kai Bae also has many go go bars and they even got a small bar district calling it "Walking Street" of Koh Chang.
Prostitutes and Sex Workers
The nightlife on Ko Chang is largest island is wild. All the adult action in Koh Chang after sunset is going on in the beach towns of the west coast.
Street Hookers
You'll find lots of hookers on a beach and near entertainment venues in the evening and at night. Usually these women work as waitresses or maids in the daytime and sell sex at night.
Hookup and Pick Up Local Girls
Meeting local girls and getting laid for free is fun! Read more on how to pick up girls in Ko Chang: https://hookuptravels.com/wiki/Ko_Chang
Go go Bars
You will find plenty of beer bars when you go down the main road from beach to beach. Almost every small town has at least a couple tourist-oriented bars with mostly young Isaan ladies waiting for guys to hang out with them, buy them drinks and go home together in exchange for paying the bar fine and some cash. There are always more girls than guys at the beer bars, so you will not be left without having a good time.
White Sand Beach (Hat Sai Khao) is the most developed beach on the island and has by far most of girly bars on Koh Chang.
Brothels
Brothels are very common and popular in Thailand. You will find both young girls and mature women here and services are provided 24/7! Brothel girls serve Thais, Malaysian men and tourists from all over the world! They are concentrated in the western part of the island.
Erotic Massage Parlors
Oil massages on Koh Chang are priced at around 200 to 500 Baht/hour in roadside massage salons. On the beach you can receive a thai-massage for around 200 to 5000 baht. You will pay lot more than that if you are going to have a massage at high-end holiday resort spa or massage center. At these places massage prices raneg from 500 to 1000 baht. Extra services in Ko Chang massage salons range from 300 to 1500 baht dependeing if you only want a happy ending or sex.
Transsexuals / Ladyboys
Thailand is a mecca for ladyboy lovers! You can find transsexuals in the Ko Chang's most favorite hang-out places like Lonely Beach and White Sand Beach. Sometimes you will see drag-queen shows at the Lonely Beach bars.
Gay and Lesbian
Gay modeling in internet is getting more popular all the time and it's a big market alongside with gay porn. You can watch gay live sex also in Ko Chang as long as you are connected to internet. Check it out: Gay Live Sex Video Chat
Koh Chang is not usually regarded as a gay tourist destination, but the locals are definitely welcoming and nice for LGBT crowd. Clubs and bars in Lonely Beach of Koh Chang are usually very gay-friendly and sometimes they even have drag queen shows.
Sexual Services for Women
There are many beer bars and other entertainment venues on White Sand beach. They don't work in the daytime, but in the evening they get filled with freelancers and horny men. You have a good chance of picking up a white tourist too.
Sex Shops and Adult Stores
If you don't feel like visiting or cannot find any local sex shops in Ko Chang, you can easily order adult products from Online Sex Shop.
Escort Services & Agencies
Finding an escort when you're travelling can be a bit tricky. An ideal alternative to escorts is a girl who is looking for a mutually beneficial relationship. There are thousands of horny girls willing to do anything for a generous guy. Click Here to hookup with a beautiful young woman now.

In Ko Chang you will find both restaurants with local girls and tourists and seedy night clubs and bars with hookers who are ready to please you for just 500 bat. Sometimes you can take her for a quickie to the bathroom or outside.
Sleeping
Koh Chang nightlife, whether it be in the bars, at a party or listening to some live music is located around White Sand Beach, Lonely Beach and Kai Bae Beach, with few other party hot spots along the west coast.
Koh Chang hotels are located long the west coastline. An average price for one night is around 50 dollars. For that price you get fee breakfasts, air conditioning and wi-fi. You can also rent a private apartment from a local citizen. The cheapest place to live in costs just 13 dollars per one night.
Stay Safe
Ko Chang is a relatively safe place. Petty crimes happen from time to time, so all tourists should be cautious and keep an eye on their valuables: lock your room's door, never leave money in your parked car. Be especially careful in public places and with cheap prostitutes.
See Also