Katowice
Katowice Sex Guide advises where to find sex, prostitution, hookers, brothels, erotic massage parlors and escorts in Katowice, Poland.
Katowice is the largest city in Upper Silesia in Poland with a population of about 320,000 in the city itself and over 2.1 million if the surrounding cities of the Upper-Silesian Metropolitan Union are taken into account. Located in the middle of Silesia on the banks of the river Rawa, Katowice's historical importance as Poland's main industrial centre has been indisputable in recent decades.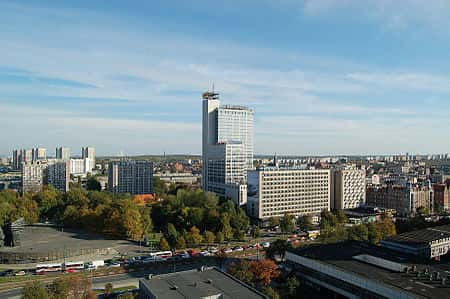 Sex Scene and Prostitution
Prostitution (Prostytucja) in Poland is legal, but operating brothels or other forms of pimping or coercive prostitution and prostitution of minors are prohibited.
The research, which refers to "Newsweek" that every fifth student in Poland regularly sells sex, is not completely true. Some of the girls in Poland want money directly, but other girls only want a sponsorship, so they can they will not be identified as a prostitutes
Finding sex in Katowice is very easy because there are many so many prostitutes all over the Poland. Street prostitution is slowly disappearing from the streets of Katowice, but it was very active back in 1990s. Sex can be purchased as cheap as 100zl (25€) from the independent escorts, but in the clubs it will cost more. Night clubs are also filled with young beautiful girls who are quite active sexually and open minded. These days it is also quite easy to score in the Katowice nightclubs and fuck girls for free of charge. You do not even need to be a player to do this.
Katowice Female Escorts
Check out WikiSexGuide Adult Classifieds!
Poland has some good looking escorts and they have mostly very reasonable prices. In Poland prices start from 150zl per hour, but high-class escorts charge up to 500zl per hour.
Where to Get Sex Now
It is easy to get sex online in Katowice. You just need to find the best available girls. See Girls Online Here!
Red Light Districts
There is no specified Red-light districts in Katowice. There are actually no red-light districts in any of the Polish cities.
Mariacka Street (ul. Mariacka) is the city's nightlife headquarters. A pedestrianised three-block stretch hasl strip clubs, shady gay saunas and many night clubs. Katofonia and Lemoniada clubs organize events with live music in here. You can also find prostitutes from here at nights.
See Also: List of red-light districts
Prostitutes and Sex Workers
Price to have sex with a prostitute in Katowice is around 200 złoty for an hour. Independent escorts can be even cheaper, but the brothels will often charge a couple of hundreds of Zloty, but quality is not always better in these places even though you pay more. Only the rooms and building may be fancier. Part of the prostitution business in Katowice also happens at the massage salons and gentlemen´s clubs.
Poland has a high number of migrant sex workers – the average estimate is 33 per cent – many of whom are from Ukraine, which has the highest HIV infection rate in Europe. And these numbers are not made up of heroin addicts or gay men, the hardest hit are young female sex workers.
Street Hookers
Polish law allows streetwalkers and escorts to trade independently, but prohibits the establishment of brothels and the practice of pimping.
Streetwalkers in Katowice ask 50 to 150 Zloty (12,5 to 37.5 Euro) for sexual favours. Drug users and older sex workers are always cheaper, but it is also much more riskier to have sex with them. It is recommended to use a car when picking up street walkers, but if you do not have one, you can also have sex with them in the back alley or bushes. Some of the street whores use cheap nearby hotels or their own flats if they have one nearby.
Where to find Street Prostitutes in Katowice:
Roadsides between Krakow and Katowice - This road is full of prostitutes. Mostly truck drivers use their services, but also regular folks.
There are reports of street prostitutes near the Katowice Train Station.
Route 81 Pulku Piechoty - Road between the train tracks ( GPS locations 50.223,19.004062 / 50.223,19.004062 / 50.228723,19.039059 ) - Prostitutes along the road on the side street corners, often sitting on a chair or a couch.
Route 86 towards Tychy - Often sex workers at parking lot in GPS location: 50.186609,19.036808
Hookup with Local Girls
Meeting local girls and getting laid for free is fun! Read more on how to pick up girls in Katowice: https://hookuptravels.com/wiki/Katowice
Strip Clubs & Lap Dance
Most strip bars in Poland are also brothels where you can buy sex for about 200zl per hour. Here is a list of the Katowice strip clubs.
Night Club Babylon, Ul. Staromiejska 10 (+48502171717)
Open 18-05:00. http://www.babylon.katowice.pl/
Queens, ul. Ceglarska 35, Gliwice (Ligota Zabrska) (+48) 32 305 30 20
This well known club features 2 bars, one wherein girls go-go dance on a table in the middle. There is also a jacuzzi and outdoor pool in the warmer months and a sauna and highly erotic massage services available year round. Queens also seems to operate an escort service, making their girls, who have been charmingly described as "no pros, simply girls of next door, study or are housewives". Open 18:00 - 05:00. http://www.queensnightclub.pl
FOLLOWING KATOWICE GENTLEMEN´S CLUBS MAY NOT BE OPERATING ANYMORE:
Afrodyta Klub Nocny / Player's Club, 3 Maja 34, 40-114 Katowice, Poland
Blue Velvet Night Club, 3 Maja 23, 40-097 Katowice, Polen
Genesis Club, Jana Matejki 3, Katowice, Poland Street View
Klub Pomarancza, Jana Matejki 3, Katowice, Poland
See Also: Poland Strip Clubs
Brothels
Those who visited Poland in the nineties and around the turn of the century may have lingering memories of a seriously mucky country.
Brothels still exist but not in the huge numbers that they once did. They're simple enough to find, just look for the flyers pinned to car windscreens or clogging up the gutters. Don't expect English to be spoken, and don't reckon on being greeted by the sirens pictured on the aforementioned flyers. You can also ask taxi drivers to take you to a brothel. Price for 1 hour of sex at the Katowice bordellos is 200 to 250 Zloty (50 to 62,5 Euro)euro).
Some of the brothels are located in basic studio apartments and others in more like club premises. Apartment whore houses keep changing the locations quite often and often the easiest way to find them is to ask from an experienced taxi driver. Prices range from 120 to 250 Zloty (30 to 62,5 Euro) at these brothels.
Many of the girls who use to work at the Polish bordellos, have gone working independently because it is so easy to post ads online and seek customers this way.
Where to find Brothels in Katowice:
Brothel, Klimczoka 2, 40-857 Katowice, Poland (MAY NOT BE OPERATING ANYMORE)
Erotic Massage Parlors
Here is some Katowice massage studios listed, where you can get a happy ending. Some of the massage salons offer just a basic sensual massage and a hand relief in the end. But the other erotic massage centers have specified in to the Tantric Massage, Lingam Massage, Nuru Massage and even on Prostate Massage.
ATURI - Orient Massage, ul. Kościuszki st. 182, 40-525 Katowice (tel. 796 628 171)
Open Monday – Saturday: 10.00 - 20.00 , Sunday: 11.00 - 19.00 http://www.salonaturi.pl/en/
Aturi Orient Massage-Passege of Hotel Monopol, Dworcowa st. 5 /enter on Dyrekcyjna st. 2, 40-012 Katowice (tel. 796 628 171)
Open Monday - Saturday : 12.00 - 21.00 & Sunday: 12.00 - 21.00
Dotyk dla Zdrowia. Gabinet masażu, Sowińskiego 19 Katowice, Poland Tel: +48 513 327 133
Gabinet Masażu, plac Wolności 3 Katowice, Poland Tel: +48 509 912 685
Havana. Gabinet masażu i kosmetyki, Sandomierska 4 Katowice, Poland Tel: +48 32 701 11 12
Moja Klinika Narządu Ruchu, Mikołaja Kopernika 8 Katowice, Poland Tel: +48 502 213 544
Nocoń Anna. Gabinet masażu, Wita Stwosza 6 Katowice, Poland Tel: +48 695 888 895
Oliwkowy Raj (Olive Massage) - ul. Adama Mickiewicza 22/5a, 40-092 Katowice (tel. 731 095 233)
Entrance to the building of the so-called. Promenade behind the cafe Coffee Haeven.
Escort Service & Agencies
Check out WikiSexGuide Adult Classifieds!
Live Sex Cams
Can I watch Live Sex Cams in Katowice? - Yes, you can! Basically you can watch our online live sex shows for free anywhere in the world if you're connected to internet. You can choose any girl from our trusted WikiSexLive.com! Join to get 10 free private teasers and 9.99 credits for free!
Live Sex Cams are booming at the moment. Webcam models can be found from all over the world and you can find girls, guys, trannies, couples and groups of different ages performing to you. Watching live sex shows is free, but if you buy some credits, you will have much better chances to see adult action as desired! It's possible also to hire a webcam model to a private chat room where you can ask the person to fulfill your fantasies. Try now! WikiSexLive.com
Dating
Dating in Katowice can be a bit tricky due to cultural differences, so your best bet is to sign up for a dating site before your trip so you can meet a few locals ahead of time. AdultFriendFinder.com lets you meet local members in Katowice and get to know them on a personal basis before you arrive. Take advantage of site features like live chat and member to member webcams so you can begin flirting before arranging a face-to-face meeting. Since your time in Katowice may be limited, get to know each other's desires beforehand, so that when you meet you can start having some real fun.
How to find Sugar Babies & Sugar Daddies
If you are looking for an alternative to escorts in Katowice with a girl who doesn't charge by the hour, sugar dating is the ideal solution. There are thousands of beautiful young women at SecretBenefits willing to do anything for a man who will help them pay their bills.
Often referred to as the "Tinder for Older Guys", SecretBenefits matches hot young women interested in pampering older gentlemen. You don't have to be a millionaire at SecretBenefits.com, you just need to be a respectful gentleman who knows how to treat a woman.
Swinger Clubs and BDSM
ALT.com is the best place for local singles, swingers, and couples in the BDSM community to connect with those interested in submissive sex, power exchange, locating persons for new slave roles, erotic BDSM, bondage & fetish sex, as well as live sex dates. Find thousands of play partners for whatever your fetish may be; bondage, foot, cockold, spankings, role-play, electric or water play, sadism and masochism. So whether you have the desire to explore your unrealized fetish fantasies, or you are extremely experienced and would love to train someone new, ALT.com is a community designed for people with like-minded interests to find and connect with each other.
Transsexuals / Shemales
Finding someone for transsexual dating when you're on the road can be a bit tricky, so your best bet is to sign up for a dating site before you go so you can find locals ahead of time. TSdates.com is a dating site designed to help you find exactly what you are looking for in your hookup in Katowice. Take advantage of site features like live chat and member to member webcams so you can begin flirting before arranging a face-to-face meeting. With over 40 million members, and thousands of transsexual members around the world, TSdates.com is the world's largest site of sex-minded friends for discreet encounters and will help you find your next transsexual play partner.
Where can I find shemales in Katowice? You can watch transsexual live sex shows in Katowice as long as you are connected to internet. Check Now: Tranny Live Sex Video Chat
It can be quite hard to find any TG/TS/TV or CD girls in Katowice, as it is hard in most Polish cities. You do have a higher chances to find t-girls in Warsaw.
Usual cost of an tranny escorts in Poland is 150 to 200 Zloty ( 37.5-50 Euro) per hour, which is quite cheap compared to the Western European trans-girl prices.
Gay and Lesbian
Gay modeling in internet is getting more popular all the time and it's a big market alongside with gay porn. You can watch gay live sex also in Katowice as long as you are connected to internet. Check it out: Gay Live Sex Video Chat
LGBT issues remain very controversial, still very much taboo (although decreasingly so), and routinely exploited by conservative politicians. Polish culture also has a long tradition of chivalry and strong, traditional gender roles. That said, in larger cosmopolitan areas, gays and lesbians shouldn't have a hard time fitting in, although trans visitors will immediately attract attention.
It is estimated that there are 2500 male working prostitutes in Poland.
Gay Cruising Bars & Clubs:
Blue Box, ul. Krzywa 2, Poland Katowice
Mirage Music Club & Gallery, ul. Warszawska 31, Poland Katowice
Gay Saunas & Bathhouses:
Tropicana Sauna Club, ul. Mariacka 14 (+48) 32 206 94 10
Probably the first clue that Tropicana is more than just a regular sauna is the fact that it looks completely shady. Minimally illuminated in dark blue, red and green colors, this otherwise straight-forward seeming 2-floor sauna club offers darkroom, Finnish sauna, massages, a steam bath, jacuzzi and a bar. Entrance fee is 30zł Mon-Thurs, 35zł Fri-Sun. Young boys 25 and under gets in for only 10zł before 19:00 if you bring a towel and flippers (16zł if you need to rent them). Open: Open 12:00 - 24:00, Fri 14:00 - 02:00, Sat 16:00 - 06:00, Sun 16:00 - 24:00. http://www.tropicana.katowice.pl
Therma Silesia, Leśna 10, 41-506 Chorzów, Poland +48 32 246 79 19
The sauna is open: from Monday to Friday from 15:00 to 24:00, Saturdays from 15:00 to 2:00, Sundays from 15:00 to 24:00. Finnish sauna (dry temp. 80-120stC), Roman sauna (bath temp. 30-50stC), jacuzzi for 8 people, sitting room with TV, cabin, sling, darkroom, bar & wi-fi free for customers sauna.
BDSM
There are no actual BDSM clubs in Katowice. Most escorts who work in Katowice, also do a soft dominating, role playing and other naughty things. There are also dominatrix escorts in Katowice and couple of them are actually very well experienced and have a good variety of BDSM items like whips, costumes and hand-cuffs. Expect to pay a little bit more for these Domina escorts.
There is one well known Dominatrix (Lady Dominacja) in Katowice. Lady Dominacja. She charges 250zl (62,5 Euro) per hour..
Swingers
There are no actual Swingers clubs in Katowice, but swingers parties are held occasionally, usually couple times a year and most of these parties can be hard to find. First you need to get in to the open minded couples groups which mostly can be found from internet.
Club Red Fox Swing (located in Czeladz a suburb to Katowice.)
Our Club is a private place for lovers of swing, naturism, group sex and couples who like to play erotic fantasies in here. Swingers are people who like to meet and have sex in a larger group. The Club invite people who want to fulfill their intimate dreams, or just to look around with curiosity, to discover, to inspire, to bring a little spice in your relationship. You can watch jointly have fun, but to anything you are not required, can be only with your partner. http://www.redfoxswing.pl/index.html
Swingers Club, Czestochowa, (692 073 290)
Our club is housed at centre of Czestochowa at Night Club El Diablo. This is a 3-floor building; the top storey is ours. Upon arrival of the last guests, the door is locked up and nobody else can gain access. A guarded 24h parking lot is sited 50 m from the club. Directions: http://www.swingersclub.com.pl/en/klub.htm
Sexual Services for Women
There is quite high prevalence of male prostitution in Poland, with 15% of prostitutes being said to be male, more than double the European average of 7% (the study states that "Austria, Finland, Denmark, Estonia and Lithuania report almost exclusively female sex workers, while Poland reports that 15% of its sex worker population is male"). However most of these estimated 2500 male sex workers only take male customers and only a small part of them take female clients.
However there are many good nightclubs in Katowice where single women can easily find sex partners for free.
Sex Shops and Adult Stores
If you don't feel like visiting or cannot find any local sex shops in Katowice, you can easily order adult products from Online Sex Shop.
Local sex shops in Katowice, if you looking for something special what you can't find in these shops so go to Kraków.
Pink Shop Sp. z o.o., Piastowska 3 Katowice, Poland Tel: +48 32 258 58 68
Sexshop DirtyDiana.pl, 3-ego Maja 23 Katowice, Poland Tel: +48 32 206 84 20
Ars Amandil, Ul. Poniatowskiego 19, Katowice
Sex Shop 69, Mickiewicza 6, tel.: +48 690 656 149
Jes-Shop Sklepy, Stawowa 4, tel.: +48 508 325 327
Sleeping
Some hotel receptionist in Katowice will give you trouble if you bring hookers to your room. If you act well and pretend they are just your friends you should be fine, but if you want to avoid any uncomfortable situations, you should rent an apartment.
Stay Safe
Katowice is a generally very safe city to stay in. Beware of the usual nuisance of petty theft (especially at Railway Station).
Important phone numbers: police: 997, fire department: 998, ambulance: 999, all three at common, universal number 112
Municipal guard: +48 32 986
Watch out for pickpockets in public transport and busy places.
Park your car in safe place, on a guarded parking if possible.
Most long-distance trains have compartments, choose the occupied ones so you don't ride alone. Also, during night - make sure that at least one person is not asleep.
The Facts
Prostitution is legal in Po- land, but operating brothels, pimping, coercive prostitution, the prostitution of minors and living off someone else's prostitution are all prohibited.
Prostitutes operating in illegal 'escort agencies' or 'massage parlours' are breaking the law, those operating independently are not.
Prostitutes in Poland do not have to pay tax.
NGOs estimate there are over 18,000 prostitutes in Poland and 15 per cent of these are male.
A 2009 US Human Rights Report says the police estimate there are 3,300 sex workers in the country.
See Also