Jacó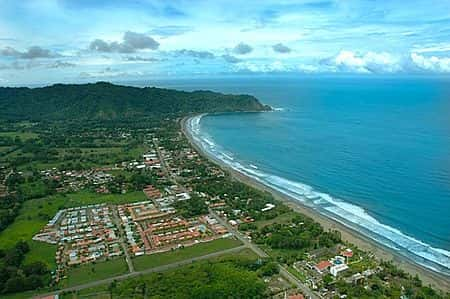 Jacó Sex Guide advises where to find sex, working girls, prostitution, street hookers, brothels, red-light districts, sex shops, prostitutes, erotic massage parlors, strip clubs and escorts in Jacó, Costa Rica.
Jacó is one of the two largest tourist towns of Costa Rica.
Sex and Prostitution in Jacó
For those who do not know the laws of Costa Rica, prostitution is a completely legal trade, and one that is quite prevalent, especially among foreign travellers. As long as a girl is of age, has proper identification listing when her last medical examination was, prostitution is a common, if not endorsed, trade in the country. What is illegal, however, is pimping, meaning that women have to freelance and lack what "security" a pimp can offer. Thus, the majority of women in the trade use massage parlours, strip clubs, and hotels like the Hotel del Rey as not only their office, but their source of protection.
When you go out shopping for sex, leaving your phone and other valuables back at the hotel is a good idea. Just take a copy of your passport and an amount of cash that wouldn't ruin you if it turns up missing. For Jaco, Costa Rica, $200 should be sufficient. $100 for the prostitute, $30 for a motel to do your business in and $70 for taxis and drinks etc.
Tico (feminine tica, plural ticos, ticas) is a colloquial term for a native of Costa Rica. Costa Ricans are usually called ticos by themselves and persons of other Spanish-speaking countries, in place of the more formal costarricenses.
Jacó Female Escorts
Escorts advertising online in Jaco is getting more popular all the time but it's still not very common. You can check the Escort Agencies from below of this article because they have English websites and so on.
Red Light Districts
There is no window type red light district in Jacó, but you will find a lot of prostitutes in Hotel Cocal & Casino. This is kind of a red light zone of whole Jacó.
Prostitutes and Sex Workers
There are working girls (Ticos) from Costa Rica and other Central American countries in Jacó. There are also some girls from South America. Most girls comes to Jacó just for finding rich tourist who can support them and their families.
Prostitutes are easy to find in Hotel Cocal & Casino. Just ask the bar tender where is the pool (it means where are the girls and action). Go through the small casino and the pool area. Boom usually they have around the pool 50 to 75 young women dressed like a hookers. Prices starts from $100 for a tourist, but can go low as $50. Remember to negotiate, mostly if there are not much customers so the girls can be very cheap (specially in the rainy season).
Having a room in the Cocal is very convenient and probably the safest way to go. The girl gives her id card to the parking lot attendant and goes to your room. She gets it back on the way out. Rooms at the Cocal parking lot area average $155 per night and are a half-minute walk from the pool. It is possible to negotiate better deals around 12-1am when the party is breaking up, if the girl has had a slow night and wants at least something to show for the evening.
Street Hookers
Night time all the streets of Jacó are flourishing. All the street walkers are trying to make living and are out for a reason. Prices with them are from $20 to $80, remember to bargain and watch out of pickpocketing. There are also girls trying to find drunk tourist customers and a blow job can be low as $5. At nightly try to avoid the beach, a lot of robberies takes place over there.
Live Sex Cams
Can I watch Live Sex Cams in Jacó? - Yes, you can! Basically you can watch our online live sex shows for free anywhere in the world if you're connected to internet. Join to get 10 free private teasers and 9.99 credits for free! You can choose any girl from our trusted Live Sex Cams!
Live Sex Cams are booming at the moment. Webcam models can be found from all over the world and you can find girls, guys, trannies, couples and groups of different ages performing to you. Watching live sex shows is usually free, but if you buy some credits, you will have much better chances to see adult action as desired! It's possible also to hire a webcam model to a private chat room where you can ask the person to fulfill your fantasies.
Where to Get Sex Now
It is easy to get sex online in Jacó. You just need to find the best available girls. See Girls Online Here!
Adult Locations
Jaco is more like a sex tourism place for a wealthy tourists and there are now cheap whore houses or other low priced adult locations.

Escort Services and Agencies
Unfortunately we don't list in this category!
Finding an escort when you're travelling can be a bit tricky. If you are looking for escorts in Jacó, Escort Directory is the ideal solution. There are thousands of beautiful young women at EscortDirectory.com waiting for your call!
Escort agencies are getting more popular in Jaco but the online competition is still quite young.
Erotic Massage Parlors
Unfortunately we don't list in this category!
There are a few massage parlours in Jacó. Try out Serendipity Spa I can not recommend the massage skills, but BJ and HJ were really good.
Several parlors now line the main street from the area of the Cocal down to KFC. Providers range from Far Eastern to Latina. Prices vary but usually are in the 20-40 per hour range. Most are trained masseuses and you will get a good massage. You are not likely to get anything other than a massage with a little teasing the first time you go. They have to get familiar with you. Service varies wildly from masseuse to masseuse, so if you find one you like, call ahead to the spa and making an appointment to see her, instead of just walking in. Also, get her to write her name on a flyer for the spa and bring that back next time. It helps to raise their comfort level with you to show prior contact with you.
Some massage providers will work outside the spa depending on the level of trust and familiarity you can establish with them over time.
Brothels and Sex Clubs
Costa Rica hookers tend to work in one two types of brothel. One caters to tourist travel, while the other serves locals and more experienced travelers. The better Costa Rica escort services and brothels excel in discretely serving their selective customers. In addition to catering to almost any fantasy, they also provide several advantages over the main street brothels. They are a starting point for most of the imported girls from Asia and Eastern Europe, with unbelievably low prices compared to the tourist brothels. But in Jacó most places are just for tourism.
Strip Clubs and Striptease
There is a strip club again in Jaco located at the old Pancho Villa restaurant 2nd floor. (Updated: January 2016)
Check out also the "Nightclubs and Bars" section from below.
Karaoke and KTVs
You cannot find any KTVs in Jaco.
Swinger Clubs and BDSM
ALT.com is the best place for local singles, swingers, and couples in the BDSM community to connect with those interested in submissive sex, power exchange, locating persons for new slave roles, erotic BDSM, bondage & fetish sex, as well as live sex dates. Find thousands of play partners for whatever your fetish may be; bondage, foot, cockold, spankings, role-play, electric or water play, sadism and masochism. So whether you have the desire to explore your unrealized fetish fantasies, or you are extremely experienced and would love to train someone new, ALT.com is a community designed for people with like-minded interests to find and connect with each other.
There are no swingers clubs in Jaco, but if you are in to that kind of stuff then it is recommended to try tinder or other social apps to find other swingers.
Sex Shops and Adult Stores
If you don't feel like visiting or cannot find any local sex shops in Jacó, you can easily order adult products from Online Sex Shop.
Some prostitutes and street vendors might sell viagra or cialis.
Love Hotels and Short Time Hotels
Nightclubs and Bars
There are many nightclubs and bars in Jaco where you can find independent working girls. These bars are usually called pick-up bars.
If you want to meet freelancer working girls, just go to the Beatle bar. It get's rocking around 7 p.m. and after that party moves on to the Monkey Bar. You will figure it out and all the girls will help you.
Another pickup bar is at the hookup restaurant in Los Suenos.
Also Claritas bar has girls inside at the end of the beach north side Jaco.
Gay and Lesbian
Gay modeling in internet is getting more popular all the time and it's a big market alongside with gay porn. You can watch gay live sex also in Jacó as long as you are connected to internet. Check it out: Gay Live Sex Video Chat
Gay modeling in internet is getting more popular all the time and it's a big market alongside with gay porn. You can watch gay live sex also in Jacó as long as you are connected to internet. Check it out: Gay Live Sex Video Chat
Jacó is so small place that all the gays and lesbians hang around every place. Best place is the beach. Some people say that in night fall you might find some cruising on the beach.
Other Adult Services
Dating
Dating in Jacó can be a bit tricky due to cultural differences, so your best bet is to sign up for a dating site before your trip so you can meet a few locals ahead of time. AdultFriendFinder.com lets you meet local members in Jacó and get to know them on a personal basis before you arrive. Take advantage of site features like live chat and member to member webcams so you can begin flirting before arranging a face-to-face meeting. Since your time in Jacó may be limited, get to know each other's desires beforehand, so that when you meet you can start having some real fun.
How to find Sugar Babies and Sugar Daddies
If you are looking for an alternative to escorts in Jacó with a girl who doesn't charge by the hour, sugar dating is the ideal solution. There are thousands of beautiful young women at SecretBenefits willing to do anything for a man who will help them pay their bills.
Often referred to as the "Tinder for Older Guys", SecretBenefits matches hot young women interested in pampering older gentlemen. You don't have to be a millionaire at SecretBenefits.com, you just need to be a respectful gentleman who knows how to treat a woman.
Transsexuals and Shemales
Finding someone for transsexual dating when you're on the road can be a bit tricky, so your best bet is to sign up for a dating site before you go so you can find locals ahead of time. TSdates.com is a dating site designed to help you find exactly what you are looking for in your hookup in Jacó. Take advantage of site features like live chat and member to member webcams so you can begin flirting before arranging a face-to-face meeting. With over 40 million members, and thousands of transsexual members around the world, TSdates.com is the world's largest site of sex-minded friends for discreet encounters and will help you find your next transsexual play partner.
Where can I find shemales in Jacó? You can watch transsexual live sex shows in Jacó as long as you are connected to internet. Check Now: Tranny Live Sex Video Chat
Night time the beach is the place to be. Remember that most of the robberies takes place on the beach. Also the streets around the main bars are good place to find t-girls. Some people say that most beautiful girls in Costa Rica are shemales.
Sexual Services for Women
Jacó is a paradise to women travelers. So many surfer guys seeking woman company for free.
It's also possible to hire a male escort from escort agencies.
Sleeping and Girl Friendly Hotels
Never take working girls or working guys, back to your personal hotel room or apartment in Jaco There are 24 hour motels for only $10 and up. Often they are having their boyfriends and pals come over and rob you for real (she now knows where you are living). This is a common thing in Jacó.
Stay Safe
Jaco is a fairly safe place but use common sense. Do not flash money or valuables and carry only what you need. For most people traveling to Jaco, it is a charming beach town with lots of options for fun and relaxation. At night is advisable to take taxis and avoid walking by yourself on the street, especially on the beach if you are drunk.
See Also