Edmonton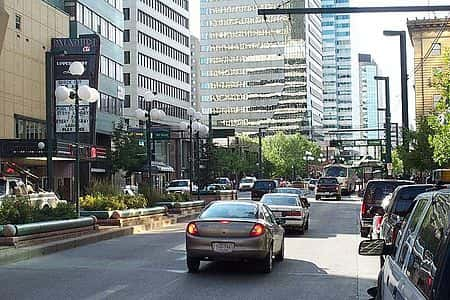 Edmonton Sex Guide advises where to find sex, working girls, prostitution, street hookers, brothels, red-light districts, sex shops, prostitutes, erotic massage parlors, strip clubs and escorts in Edmonton, Alberta.
Edmonton is the capital city of Alberta, Canada. Its metro area is home to 1.23 million people and is the northernmost city in North America of at least one million people.
Sex and Prostitution in Edmonton
There are more than 500 escorts and prostitutes in Edmonton and it is estimated there are more than 10,000 johns in Edmonton.
Edmonton is one of the best served cities in Alberta for the adult industry and has a host of licensed sensual massage centres providing full sex service. As well as nude bars and adult entertainment venues, Edmonton is a very well know with the gay and transgendered community around the Canada.
The Edmonton Police Service has chosen a "balanced" approach in targeting both the buyers and sellers of sexual services. This is intended to remove activity from the streets and reduce the inevitable violence associated with drugs and gangs.
In Edmonton, the massage parlors are a safe place to go. The city gives them licences so that the sex trade stays off the street. You do not want an Street prostitute anyway because they are usually high and want to rip you off. You can get Full Service in massage parlors in Edmonton. You also have the option of hiring an independent escort.
Private Escorts in Edmonton can be easily found on a number of internet sites and in the classified ads of local newspapers.
Edmonton Female Escorts
Check out WikiSexGuide Adult Classifieds!
Red Light Districts
Edmonton does not have Red-light district, but it has quite many massage parlours where you can get sex, located in the downtown. There is also couple of good strip clubs like in any major city of Canada.
Prostitutes and Sex Workers
Edmonton has very many hookers advertising online in different sites. Also the newspapers have advertisements every day for hookers. Average charge for fuck is $100-$200 for half-hour and $200-$300 for one hour.
Street Hookers
Remember, streetwalkers are not on a schedule. Sometimes it is hit and miss. You should prepare on spending sometime cruising in the Edmonton street prostitution areas at the daytime if you want to find a street whore. During the nighttime and especially late night/early morning hours, you can easily spot street girls.
Today most of the prostitution is moving online and there are less street prostitutes in Edmonton than 10 to 20 years afo.
It is not recommended engaging in any kind of street prostitution. Not only is it illegal, but it comes with huge risks since many of the street hookers are gang members or drug users.
Also since the picking up a street whore from the streets of Edmonton comes at a risk of being picked up by the local cops.
Street Prostitute Areas in Edmonton
Here are listed some areas where to find streetwalkers in Edmonton.
118 Ave, between 95 St to 82 St –Selection of streetwalkers, mostly of the low-end quality, but watch out for the gems. Cruise around Homemade Steak & Pizza, Shoppers Drug Mart. A lot of traffic and a popular are for vice to set up, watch out for LE. If active then early in the evening before sunset is best time. 118 avenue area has been almost completely cleaned up and you can not see streetwalkers there all the time.
95 Street, between 107Ave to 118 Ave – sometimes action around the Italian Centre (hit and miss). It is not so comfortable picking up a whore around a public place such as a shopping mall. Further up 95 Street on the north side of 111 Ave keep an eye of the east side of the road. The intersections of 112, 113 and 114 Ave will sport the odd hookers. Best to check out the area later in the evening after sunset.
107 Ave, between 116 St to 101 Street - good selection with a mix of ladies from crack heads to hookers with manicured nails. Easy area to cruise with lots of dark side alley streets. Good selection at anytime.
95 Street, between 102 Ave to 107 Ave – Once the most populated area, not so busy anymore. The odd aboriginal or crack head. Worth the occasional drive through, just don't waste your all day in the area.
Hookup and Pick Up Local Girls
Meeting local girls and getting laid for free is fun! Read more on how to pick up girls in Edmonton: https://hookuptravels.com/wiki/Edmonton
Live Sex Cams
Can I watch Live Sex Cams in Edmonton? - Yes, you can! Basically you can watch our online live sex shows for free anywhere in the world if you're connected to internet. Join to get 10 free private teasers and 9.99 credits for free! You can choose any girl from our trusted Live Sex Cams!
Live Sex Cams are booming at the moment. Webcam models can be found from all over the world and you can find girls, guys, trannies, couples and groups of different ages performing to you. Watching live sex shows is usually free, but if you buy some credits, you will have much better chances to see adult action as desired! It's possible also to hire a webcam model to a private chat room where you can ask the person to fulfill your fantasies.
Where to Get Sex Now
It is easy to get sex online in Edmonton. You just need to find the best available girls. See Girls Online Here!
Adult Locations
Edmonton is a very popular destination for hockey tourists who come to Canada to watch NHL. There are number of offers to keep these hockey fans entertained. Edmonton is packed with the nude bars, sex clubs, sensual massage parlors, escorts and active nightlife and bar scene, Edmonton also has a thriving sex and adults party scene. You can try and finding Sex on Edmonton's Classifieds and Personals pages or if you do not want to pay for the play, you can always hook up with the sexy local Edmonton girls.
Escort Services and Agencies
Unfortunately we don't list in this category!
Finding an escort when you're travelling can be a bit tricky. An ideal solution for having an alternative for escorts is Ashley Madison. There are thousands of horny girls waiting for you. Find all the beautiful young women at AshleyMadison.com!
Edmonton has quite many Escort Agencies. Most will charge $200-$300 for one hour. Many of the same escort who provide sex services in Calgary do also operate seasonally in Edmonton.
Erotic Massage Parlors
Unfortunately we don't list in this category!
Edmonton is one of the best cities in Canada to look for massage parlours. Lots of different options to choose from and you can also get white girls to rub you, not only girls from Thailand, China or Philippines. There are almost 50 Massage Parlours in Edmonton. Usually white girls work in the "studios". Average cost is $60-$100 for one hour and extras are usually $30-$60 handjob, $50-$100 blowjob and $100-$250 for sex. White ladies usually tend to be more expensive than the Asian girls. There are also many independent escorts in Edmonton who will provide Erotic massage as an additional service or sometimes even as a form of foreplay if you ask. Often you will need to pay extra for the massage. Edmonton Body Rub and Massage salons get away with the legalities of being a whore house by charging a entry fee for the use of a massage room. Once the door closes, the room is occupied by two consenting adults; what takes place is a 'four-walls' job and you can then negotiate for the services you like.
See Also: Massage Parlor Etiquette
Brothels and Sex Clubs
Edmonton does not have brothels like the ones in Las Vegas or Frankfurt. Basically massage parlours and studios do the thing in Edmonton and elsewhere in Canada what whore houses do in Germany.
Since the brothels are illegal in Edmonton, you can still get various extra services by using an erotic massage parlour which are also called as "body rub centres" or "Sensual Spas". These "licensed spas" offer the services of professional body rub practitioners which is skilled in the art of 'manipulating external soft tissue', these women provide basic rub and tug, as well as blow job or sex in some cases as a behind-closed-doors agreement between consenting grown ups.
In Edmonton you can find Massage Studios from just at the downtown. Mostly white girls operate the "Massage Studios" and "Asian Massage" or "Thai Massage" parlours are operated by asians.
Strip Clubs and Striptease
Edmonton has good adult entertainment clubs for young and older guys. Strippers are quite naughy and usually willing to do all kind of dirty things with you. Entrance is usually $5-$15, lap-dance $20-$40.
See Also: Alberta Strip Clubs
Karaoke and KTVs
KTVs (hostess karaoke bars with beautiful female staff) are popular in some parts of Asia but you cannot find any of them from Edmonton.
Swinger Clubs and BDSM
ALT.com is the best place for local singles, swingers, and couples in the BDSM community to connect with those interested in submissive sex, power exchange, locating persons for new slave roles, erotic BDSM, bondage & fetish sex, as well as live sex dates. Find thousands of play partners for whatever your fetish may be; bondage, foot, cockold, spankings, role-play, electric or water play, sadism and masochism. So whether you have the desire to explore your unrealized fetish fantasies, or you are extremely experienced and would love to train someone new, ALT.com is a community designed for people with like-minded interests to find and connect with each other.
There are three well known swingers' clubs in the Edmonton, 4-Play, Steamworks and Intimate Times although there is a very active social scene for anyone looking for a orgies or couple-swapping. There are many open-minded couples in Edmonton and a growing swingerscommunity. Since the Supreme Court ruling in 2005 deemed swinger's clubs were accepted to the society. Sex and swinging clubs in Canada have been able to breathe a sigh of relief over their future.
4-Play is private swingers club in which is a well-attended venue for open-minded members and offers 3 private play rooms, bar, a huge group play bed, a dungeon for BDSM lovers and dancing floor. 4-Play ib is open on Friday and Saturday nights plus Sundays with a full round up of upcoming events and theme nights available to view on the 4-Play website. Entries range from $5 to $40. The members only Sunday gangbang is free for girls but $30 for men. Single dudes are welcome to attend Friday night events but must call ahead to be placed on the guest list. On Saturdays single men have to accompany couples or a single girl to gain admittance.
Steamworks is a bath house, Steamworks is perfectly located in West Downtown on Jasper Avenue. Steamworks is open 24/7, 365 days a year but are coed only from 8.00am on Sundays to midnight on Tuesdays. Steamworks has been open since 2003 and has principally been a hangout for gay and bi-guys. Today the Steamworks runs mixed coed nights where girls and straight men are also welcome. As well as being open for general 'fraternizing', they also runs weekly and monthly special events which include fetish and theme nights. Always ask from the staff what is todays dress code when visiting. As a spa, the common areas include dry sauna, wet room and hot tub areas where most guys are either naked or wearing fetish outfits. There is also a central lounge for sex but most of the action takes place in private play booths some of which include BDSM equipment.
Intimate Times has a lot of special and themed events and Intimate Times hosts a range of themed sex parties each month with some evenings being dedicated to kinks and fetishes whilst others being aimed at voyeurs and exhibitionist. There are usually at least 1 or 2 events each month that are ideal for newcomers and the curious.The full list of all upcoming parties on their website including the very popular hotel parties which attract visitors from across Canada and further. Sale price room rates, these events are great mixers and have dinner and dancing plus plenty of private impromptu private room parties. Entries cost $30 to $50 and often the ladies get in for free. Intimate Times hosts a lot of special and themed events including a big Halloween party. Image via website.
Sex Shops and Adult Stores
If you don't feel like visiting or cannot find any local sex shops in Edmonton, you can easily order adult products from Online Sex Shop.
Edmonton is home to the largest mall in North America which offers a huge number of retail opportunities and also Love Boutique. Most Sex Shops in Edmonton carry all the basic needs. You can find condoms, sex toys, fake vaginas and porn movies. Some of the erotic shops also have an adult cinema attached to them, mostly frequented by straight and gay men.
In total, there are a maybe 30 adult shops in Edmonton some specializing in sex films and other are specialised general bedroom basics, condoms and some offering more kinky accoutrements.
Times Square Adult Bookstoret, 15539 Stony Plain Road NW (780) 484-9640
Opsn 11:00 AM to 11:00 PM. The large booths have peeping holes.
Centrefold Video Stoney Plain Roadt, 15108 Stoney Plain Road (780-426-2509)
About 20 booths and double booths full of suburban. Most booths have gloryholes on both sides. No membership, but entry cost $5. Open 24 hours.
The Passion Vault, 15239 111 Ave NW, Edmonton, AB T5M 2R1
780-930-1169
Hush Canada, 9876 63 Ave NW, Edmonton, AB T6E 0G6 - HUSH Canada is a well known retailer for adult products and has two stores in Edmonton each offering a similar range of upscale toys and sensual lingerie and clothing.t
Traveling Tickle Trunk The Inc, 9923 82 Ave NW, Edmonton, AB T6E 1Z1
780-469-6669
Love Boutique, 8157 99 St NW, Edmonton, AB T6E 3S9 - With 9 stores in Edmonton and further premises in Calgary, Red Deer, Grand Prairie, Lethbridge, Sherwood Park, the Love Boutique has a big presence in this area of Alberta. Love Boutique has been operating since 1980 and is wholly Canadian owned and operated.
Just For Lovers, 15116 Stony Plain Rd NW, Edmonton, AB T5P 3Y3
780-484-1474
Alluring Intimates Ltd, 18-9977 178 St NW, Edmonton, AB T5T 6J6
780-483-7831
T I L Sales, 17551 108 Ave NW, Edmonton, AB T5S 1G2
780-489-9562
Express Video, 11745 Jasper Ave #202, Edmonton, AB T5K 0N5 - a specialist gay adult store in the west of the city just north of River Valley Victoria.
Love Hotels and Short Time Hotels
Love hotels are popular in some parts of Asia, especially in Japan. There are also many love motels and short-time hotels in South America. Unfortunately you cannot find any real love hotels in Edmonton.
Nightclubs and Bars
There are many nice nightclubs and bars in Edmonton where you can try your luck to find sex for free.
Gay and Lesbian
Gay modeling in internet is getting more popular all the time and it's a big market alongside with gay porn. You can watch gay live sex also in Edmonton as long as you are connected to internet. Check it out: Gay Live Sex Video Chat
Gay Friendly Clubs
Buddy's, 11725B Jasper Ave, Alberta
New City Suburbs, 10081 Jasper Ave, Paladin Building
The Y Afterhours, 10028 102 Street, Downtown, T5J 0V6
Flash Night Club, 10018 105 St NW, Downtown, T5J 1C3
Gay Saunas
Steamworks, 11745 Jasper Ave, Edmonton, T5K 0N4
Down Under, 12224 Jasper Avenue, T5N 3K3
Gay Events
Kink Kamp, is an organisation run by men, for men, the Kink Kamp offers a place for leather aficionados to share their experience of bondage, leather and related kinks on a private retreat. The location for Kink Kamp is the picturesque and private Labyrinth Lake Lodge where men spend the weekend in the brotherhood of other guys. The Kink Kamp is run during July and tickets cost at $225 per person. www.kinkkamp.ca
Other Adult Services
BDSM
BDSM and fetish scene in Edmonton is mostly underground, but it is growing slowly and becoming more and more open. Many escorts in Edmonton however offer role plays, dominant, submissive and other similar fetish plays. In addition, there are a few of group sex - BDSM for men only.
For groups that offer Kink and BDSM Events and of particular interest to those who have an active fetish, you might find these links more to your taste.

Edmonton O Society is 21 years old and almost free club which meetings are held n the first Sunday of each month at 1.00pm and the then on a Wednesday, 10 days after the Sunday munch) at 7.00pm. They are providing a safe and discreet way for members to meet in the Edmonton area, the O Society meets 2 times monthly for social events. Edmonton O Society takes its name from the classic French erotic novel, 'The Story of O' and welcomes all types of members to its club including singles and couples, women and men and a variety of sexual orientations. Members meet at Rosario's, 11715 108Ave, Edmonton for these meet-ups. http://edmontonosociety.org/

Lupercalia is an annual feast celebrating desire, lust and love, the Lupercalia is based on the Ancient Roman festival by the exact same name. Lupercalia takes place over 3 days and offers plenty of social meetings and networking opportunities as well as presentations, workshops and forums. There are also play parties arranged around the whole event which embrace the themes of Lupercalia. www.lupercalia-edmonton.com
Dating
Dating in Edmonton can be a bit tricky due to cultural differences, so your best bet is to sign up for a dating site before your trip so you can meet a few locals ahead of time. AdultFriendFinder.com lets you meet local members in Edmonton and get to know them on a personal basis before you arrive. Take advantage of site features like live chat and member to member webcams so you can begin flirting before arranging a face-to-face meeting. Since your time in Edmonton may be limited, get to know each other's desires beforehand, so that when you meet you can start having some real fun.
How to find Sugar Babies and Sugar Daddies
If you are looking for an alternative to escorts in Edmonton with a girl who doesn't charge by the hour, sugar dating is the ideal solution. There are thousands of beautiful young women at SecretBenefits willing to do anything for a man who will help them pay their bills.
Often referred to as the "Tinder for Older Guys", SecretBenefits matches hot young women interested in pampering older gentlemen. You don't have to be a millionaire at SecretBenefits.com, you just need to be a respectful gentleman who knows how to treat a woman.
Transsexuals and Shemales
Finding someone for transsexual dating when you're on the road can be a bit tricky, so your best bet is to sign up for a dating site before you go so you can find locals ahead of time. TSdates.com is a dating site designed to help you find exactly what you are looking for in your hookup in Edmonton. Take advantage of site features like live chat and member to member webcams so you can begin flirting before arranging a face-to-face meeting. With over 40 million members, and thousands of transsexual members around the world, TSdates.com is the world's largest site of sex-minded friends for discreet encounters and will help you find your next transsexual play partner.
Where can I find shemales in Edmonton? You can watch transsexual live sex shows in Edmonton as long as you are connected to internet. Check Now: Tranny Live Sex Video Chat

You can find some sexy Shemales and Ladyboys from Edmonton. Some are located there all year, but most transexual escorts in Canada travel from city to city. Cost from quickie is $80-$150, 1 hour full service $150-$300.
She is hot Asian Ladyboy with smaller penis, but very stunning hot body. She looks gorgeous like the hottest girls in Playboy magazines.
Transsexual Escorts
Check out WikiSexGuide Adult Classifieds!
Sexual Services for Women
You can find nice local Canadian men from nightclubs, especially in weekends.
Sleeping and Girl Friendly Hotels
Edmonton has a good variety of hotels and motels to stay. Just be careful if you take a motel from the bad neighbourhood so you don´t get robbed. Most hookers like to hang out in the bad neighbourhoods, so it´s better just to fuck them in your car and get a safe place from some other area to sleep. Or you can just order an escort.
Stay Safe
There are some areas where increased caution is advised, particularly after dark:
The "inner city" area to the east of downtown (these neighbourhoods include: Boyle, Central McDougall, Chinatown, Little Italy, and Alberta Avenue)- a square bounded by Jasper Avenue (corresponds to 101 Avenue) on the south, 118 Avenue on the north, 97 Street on the west, and around 85th Street on the east - has parts that are best avoided. 118 Avenue and 107 Avenue feature numerous signs asking visitors to report prostitution by calling a 1-800 number. There is a large homeless and transient population in this area which has been followed with a serious drug and alcohol issue and gang violence. As well as the inner city, Stony Plain Road on the west side, 107 Avenue north of downtown, and a few areas in the city's northeast, particularly around 66th Street and Fort Road, and Abbotsfield (around 118 Ave and 34 Street) have higher crime rates and gang problems.
In recent years there has been an increase in alcohol-fueled disturbances on weekends near 82nd (Whyte) Avenue between 103 Street and 109 Street (the city's most concentrated party zone). Use caution and common sense here, be somewhat wary of the closing-time outflow after midnight on Friday and Saturday nights. Try to be out of the bar and on your way home by 1AM, or, at the very least, don't linger on the street after closing time, also travel in groups if possible.
Panhandling has increased in recent years, particularly downtown and in the Old Strathcona area. Just decline politely and it shouldn't be an issue. Try to avoid parking lots that aren't gated shut, as there is a clear entrance for panhandlers to get in and be more aggressive.
The murder rate in Edmonton has spiked during 2011, with a record number of killings that is being seen as an anomaly. In most cases, however, the killings have involved people who know each other, drug-related, and gang violence. Visiting Edmonton is otherwise no more risky than it is visiting any other large city.
See Also