Dar es Salaam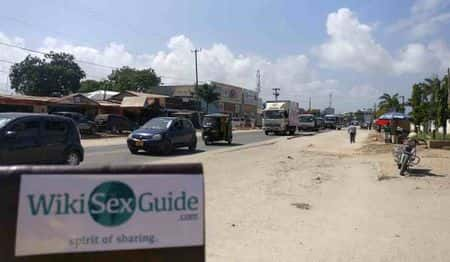 Dar es Salaam Sex Guide advises where to find sex, working girls, prostitution, street hookers, brothels, red-light districts, sex shops, prostitutes, erotic massage parlors, strip clubs and escorts in Dar es Salaam, Tanzania.
Dar es Salaam (Haven of Peace in Arabic) was founded in 1862 by Sultan Seyyid Majid of Zanzibar on the site of the village of Mzizima. Mzizima's history dates back to the time when the Barawa people started to settle and cultivate the area around Mbwa Maji, Magogoni, Mjimwema, Gezaulole and Kibonde Maji Mbagara.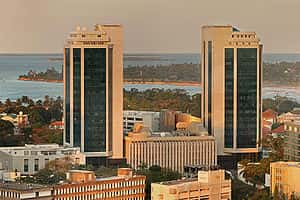 Sex and Prostitution in Dar es Salaam
Prostitution in Tanzania is illegal under Tanzanian law, but it is still widespread.
Some of the Dar es Salaam prostitues are sex workers at day time and housewives at the night time. They come back home from sex work just before their husbands get back from their jobs. Overall Dar es Salaam is not just a great place to pick up prostitutes. Dar es Salaam is also a great city to pick up girls and have sex with them for free. Daytime game in Dar es Salaam is great. You can just ask the girls phone number in the public and then invite her to your hotel in the evening. Many of the girls do not ask any money for this, but off course it is polite to pay their Uber or taxi (Taxi is very expensive in Dar es Salaam compared to Uber). Tinder and other dating apps are also great in Dar es Salaam. Most of the girls do live with their families, so you should definitely have your own place to have sex with them.
Red Light Districts
If Uwanja wa Fisi is said to be the reduced-price and dodgy red light district of Dar es Salaam, then those prostitutes who operate in the Uwanja wa fisi pubs and restaurants are said to be even cheaper than the rest and usually prefer beer or a meal as payment for their services. Often they are so far gone, that when they are seriously drunk or high, they have sex with more than two partners unconsciously.
Area around the Q-Bar and guest house is also a great place in Dar es Salaam to find girls to have sex with. Q bar and guesthouse could also be called a red-light district even thought it is just a sport bar with hotel rooms. Q bar and guesthouse has so many Dar es Salaam prostitutes inside, so it is more than sure, you will find sex from Q bar and guesthouse.
Prostitutes and Sex Workers
If you are not afraid try the graveyards of Dar es Salaam.
The eerie silence, solitude and darkness of graveyards make them a virtual no-go area for most people, but they're the perfect venue for sex workers and prostitutes in Tanzania's capital, Dar es Salaam.
"Every evening after sunset cemeteries teem with hordes of couples jostling for space between graves to fuck. Burial grounds not only allow privacy but no room rent needed, making commercial sex common in the more than 30 cemeteries that the city of about four million. But the graveyards are far from shops where condoms are sold and there is concern among activists that cemetery sex is stoking the spread of HIV/AIDS, which affects nearly seven percent of the country's population.
Street Hookers
All the restaurants and bars on the beach like QBar, Maisha, Coco Beach, Runway Disco Mekocheni and many others are packed of girls inside and outside. The Tanzanian street hookers are really easy to find they are everywhere. Prices are very cheap, but the quality of the girls range from very bad to good looking.
Hookup with Local Girls
Meeting local girls and getting laid for free is fun! Read more on how to pick up girls in Dar es Salaam: https://hookuptravels.com/wiki/Dar_es_Salaam
Live Sex Cams
Can I watch Live Sex Cams in Dar es Salaam? - Yes, you can! Basically you can watch our online live sex shows for free anywhere in the world if you're connected to internet. Join to get 10 free private teasers and 9.99 credits for free! You can choose any girl from our trusted Live Sex Cams!
Live Sex Cams are booming at the moment. Webcam models can be found from all over the world and you can find girls, guys, trannies, couples and groups of different ages performing to you. Watching live sex shows is usually free, but if you buy some credits, you will have much better chances to see adult action as desired! It's possible also to hire a webcam model to a private chat room where you can ask the person to fulfill your fantasies.
Where to Get Sex Now
It is easy to get sex online in Dar es Salaam. You just need to find the best available girls. See Girls Online Here!
Adult Locations
Escort Services and Agencies
Unfortunately we don't list in this category!
Finding an escort when you're travelling can be a bit tricky. An ideal solution for having an alternative for escorts is Ashley Madison. There are thousands of horny girls waiting for you. Find all the beautiful young women at AshleyMadison.com!
You can find a lot of escorts in Dar es Salaam online. These online escort agencies usually charge a little more than the independent escorts, but the service is often still the same. Some of the independent escorts in Dar es Salaam advertise on Tinder, and ask money quite straight.
Erotic Massage Parlors
Unfortunately we don't list in this category!
Touristic areas in Dar es Salaam are full of Massage Parlorus. most of the places offers you BJ's, HJ's and they also go all the way. Mostly they try to force you for extra services for a higher prices, but you should always try to negotiate a little bit to get a discount. Not every single massage salon sell Happy Ending services, so you should negotiate carefully.
Brothels and Sex Clubs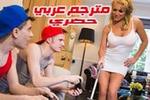 افلام سكس مترجم عربي افلام سكس عربي سكس مصري سكس اجنبي مترجم عربي سكس محارم مترجم سكس محجبات سكس حيوانات سكس سحاقيات صور سكس arab sex arab porn tube hijab sex photos"
In Dar es Salaam is the existence of illegal brothels run by Chinese entrepreneurs and also local Tanzanians. Apparently they have both Chinese and Tanzanian girls "on display. It is a new phenomenon that Chinese prostitutes a extensively found. There is a lot of brothels around city and the beach. All the touristic areas have so called brothels. Remember night time it's a bit unsafe so try to leave before dark or ask the girl or bartender to arrange a cab in front the brothel.
Strip Clubs and Striptease
Strip clubs in Dar Es Salaam:
Balcony Strip Club- Dar Es Salaam (Mtendeni), Dar Es Salaam 00255
If you looking for something different and fun, so try this out. Finally there is semi strip club of Dar es Salaam Tanzania. But this is not your ordinary strip club like they have in the developed world. Club Continental offers this show and its more of the same show and the same clothing, every week. It is always on wednesday and it is more like cultural thing than a horny strip show.
http://www.youtube.com/watch?v=klMUOPAZyrI#t=281
Karaoke and KTVs
Swinger Clubs and BDSM
ALT.com is the best place for local singles, swingers, and couples in the BDSM community to connect with those interested in submissive sex, power exchange, locating persons for new slave roles, erotic BDSM, bondage & fetish sex, as well as live sex dates. Find thousands of play partners for whatever your fetish may be; bondage, foot, cockold, spankings, role-play, electric or water play, sadism and masochism. So whether you have the desire to explore your unrealized fetish fantasies, or you are extremely experienced and would love to train someone new, ALT.com is a community designed for people with like-minded interests to find and connect with each other.
There are no swingers clubs in Dar es Salaam, but you may find other open minded tourists from the hotel areas or online dating sites.
Sex Shops and Adult Stores
If you don't feel like visiting or cannot find any local sex shops in Dar es Salaam, you can easily order adult products from Online Sex Shop.
If you don't feel like visiting or cannot find any local sex shops in Dar es Salaam, you can easily order adult products from Online Sex Shop.
Most pharmacies in Dar es Salaam will sell Viagra, Kamagra and Cialis without prescription. Some street hustlers will also sell some potency medicines, but you can never be sure if they are legit or not.
There are no established sex shops in Tanzania that can be trusted. Majority of women and men purchase sex toys and other items in Tanzania from internet websites which are established and offer delivery to Tanzania.
Love Hotels and Short Time Hotels
Nightclubs and Bars
Gay and Lesbian
Gay modeling in internet is getting more popular all the time and it's a big market alongside with gay porn. You can watch gay live sex also in Dar es Salaam as long as you are connected to internet. Check it out: Gay Live Sex Video Chat
Homosexuality in Tanzania is a socially taboo topic, and same-sex sexual acts are crimes punishable by the state.
Nevertheless, inside the city limits of Dar es Salmaa there is a quietly thriving LGBT community with interconnecting circles of friends meeting privately in apartments or in the half dozen venues that are gay or gay friendly, such as Ma Chain Club (mixed gay/straight), Q Bar (mixed, including sex workers), Mama's Club (ladies) or Club Oasis in trendy Oyster Bay district popular with men. Tinder, Grindr and other dating apps can be helpful all over Africa if you are seeking for a gay action. Just be careful when meeting people in the strange places.
Other Adult Services
BDSM
BDSM is quite uncommon in Dar es Salaam and people do not even know what it is. You can always hire an escort and ask them to punish you or have role playing with them.
Dating
Dating in Dar es Salaam can be a bit tricky due to cultural differences, so your best bet is to sign up for a dating site before your trip so you can meet a few locals ahead of time. AdultFriendFinder.com lets you meet local members in Dar es Salaam and get to know them on a personal basis before you arrive. Take advantage of site features like live chat and member to member webcams so you can begin flirting before arranging a face-to-face meeting. Since your time in Dar es Salaam may be limited, get to know each other's desires beforehand, so that when you meet you can start having some real fun.
How to find Sugar Babies and Sugar Daddies
If you are looking for an alternative to escorts in Dar es Salaam with a girl who doesn't charge by the hour, sugar dating is the ideal solution. There are thousands of beautiful young women at SecretBenefits willing to do anything for a man who will help them pay their bills.
Often referred to as the "Tinder for Older Guys", SecretBenefits matches hot young women interested in pampering older gentlemen. You don't have to be a millionaire at SecretBenefits.com, you just need to be a respectful gentleman who knows how to treat a woman.
Transsexuals and Shemales
It is very hard to find T-girls in Dar es Salaam or anywhere else in Tanzania. TS/TG/TV and CD girls are uncommon, so your best bet would be to try find from the online dating sites. Currently there are not transsexual escorts advertising online and working in Dar es Salaam.
Sexual Services for Women
There are a huge number of night clubs, bars and pubs where women can easily find a male company for the night for free. Most local guys are "hunting" the tourist women and will do anything they want in the bed as long you buy them couple meals or buy few gifts.
Sleeping and Girl Friendly Hotels
You can bring to most of the hotels your companion, if you just agree with your receptionist before paying your room.
Q-bar is great place to stay. Weekdays there are always some women around, but especially on friday night there are lots more men than women. Many girls who are willing to be a prostitute for a chance. Location: Q-Bar & Guest House (Off Haile Selassie Road, Plot 1, Dar es Salaam 4595, Tanzania)
Stay Safe
Tanzania is one of the least policed countries in the world. Rapes and murders often go unreported and little data exists to suggest how common these crimes are. Domestic violence and sexual harassment, which often goes well beyond verbal cat-calling, are extremely common. Foreign female students have documented multiple accounts of sexual assualt and/or rape. These cases often go unreported/under-reported by universities with study abroad programs in Tanzania, and of course by the Tanzanian authorities themselves. Walking alone at night outside the most exclusive areas (think Oyster Bay, the Slipway, Sea Cliff, etc.) is extremely inadvisable for foreigners. Men stand a high chance of being mugged, women of being mugged and/or sexually assaulted. Dar is often very poorly lit. The city experiences a great many power outages. This makes lone women particularly vulnerable.
Most travelers who are in Dar on a short stay will, fortunately, not face these challenges. Similarly, most expatriates who live in Dar are sequestered well enough (with cars, security guards, in upscale neighborhoods, etc.) not to have to worry about this sort of thing.
By far the most common crimes, and the biggest risk for most travelers, will be muggings and petty thefts. Muggings occur very rarely, including sometimes on the street in broad daylight. Sometimes, but not always, the victim gets roughed up. Foreign students at the University of Dar es Salaam have been mugged at machete point. Never carry your wallet anywhere easily accessible (a back pocket, an outside flap of a backpack or purse, etc.).
Avoid in particular:
- walking on the beach (like Cocoa Beach) while carrying valuables, as many of these places are invisible from the road. Dar can be a friendly place, and you can certainly have an enjoyable visit there, but avoid carrying valuables as you may draw problems. You can walk in the city in the evening but as it gets darker and you see fewer people on the street, take the hint and exercise caution. It might be better to take a taxi. If you are noticeably foreign, remember that many people will assume you have valuables and may be an easy target.
- Parking in dark sectors of the beach is a bad idea as thieves and junkies crouch in the dark waiting for the unaware foreigner to park, turn-off the engine and leave the car (to have a nice view of the Dar night from the beach) which be stolen or have valuables stolen by a waiting unseen groups - in the case of a male foreigner- or assault and steal in the case of a female foreigner. For a female foreigner, this is an absolute Not To Do.
Parking in a place without a guard creates the serious risk of having lights or other car parts extracted. It is not uncommon for people to try to steal things through open windows, while you are waiting for lights to change, or to open unlocked doors and either get in or swipe something! Some people have had passersby attempt to snatch purses off their laps while sitting in the back of a taxi at an intersection.
There is a major police station at Selendar Bridge on Ocean Road and other police posts in various other places. If you don't follow the driving rules (or sometimes even if you do) you will spend time and money, either discussing with them their price or more formally in the police station. Police here ask for lifts regularly to get places but you are not obliged to take them if you feel uncomfortable. There is a great deal of corruption in Tanzania. Skin color, bribes, and connections to known elites in town still, unfortunately, hold a lot of sway.
A number of visitors have reported being pickpocketed in crowds at the Posta daladala stand recently (2009). If you're walking past this it's best to cross the road to avoid the crowd. If you're getting a daladala be aware of your possessions, be particularly aware of people stopping suddenly in front of you - this is sometimes done to block you in while someone behind you goes through your bags. Other well known pickpocket sites are the ferry to Kigamboni (nb. not the Zanzibar ferry), the Mnazi Mmoja dala stand, the trinket stalls on Samora Av and Karriakoo Market. There's no reason to avoid these areas just be aware of your possessions when you are there, particularly bags. Using razor blades to cut into bags to remove items is quite common - and really annoying.
If you are robbed, you have a few options. None of them are good. You can yell, "mwizi!" This means 'thief' in Swahili. If you do this in a crowded place, you will very likely incite a mob to form. The mob might corner the thief and detain him until the police arrive. They might also beat up the thief very badly, possibly to the point of death. Theft carries huge risks in a culture where people possess very few material goods. The social punishments for stealing can be brutal beatings or, in some cases, death. Weigh the worth of your $40 cell phone or purse against the potential results of fomenting a stir. If you are in a crowded place (like the downtown Posta daladala stand, for example), you will, at the very least, create a gigantic scene, probably cause someone to be beaten, and have to spend a day dealing with the Dar es Salaam police department in sweltering, inefficient conditions. Much more practical just to exercise extreme care with how you carry your belongings, and to avoid carrying valuables (i.e. anything you can't afford to lose) altogether.
Be careful when taking taxis at night, particularly if you are alone, where possible use a driver you know or ask someone to call a taxi for you. If staying in Dar for an extended period of time, try to get the phone numbers of the first fair, seemingly trustworthy cabbies you encounter. Keep using them. If you are living in Dar without a car, this will greatly increase your safety. Taking buses at night and walking in poorly lit areas alone or in small groups (particularly of women, noticeable foreigners, or other people who might look like 'easy targets') is a great way to increase the risk of something bad happening (mugging, rape, etc.). Split taxis when possible. Some travelers have narrowly escaped potentially violent muggings and/or rape and others were not so fortunate.
Remember that, generally speaking, the more you stand out, the higher your risk factor will be. It is possible to have a wonderful time in Dar, if you make yourself aware of these risks and adapt accordingly. Guide books neglect a great deal of this common sense information when it comes to Tanzania.
See Also