Soapland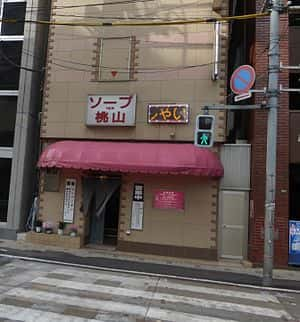 Soapland (ソープランド sōpurando?), or sōpu, is a Japanglish word constructed from the two English words "soap" and "land" and is part of Japan's nighttime entertainment industry also known as Mizu shōbai.
Since sexual intercourse for money is officially prohibited in Japan, many different types of brothels in Japan have been developed. In Soapland, clients engage in non-penetrative sex with prostitutes to achieve orgasm. Typically, male clients are laid upon a waterproof mattress where they are then covered in personal lubricant and massaged to orgasm by the female prostitute's body. This avoids the technicalities of the law by officially stating that the clubs do business where the client is bathed. Although the main clientele for soaplands are male, there are also a few soaplands specifically for female clients.
There are various kinds of soaplands, and they are usually located in complexes with varying numbers of soaplands. Well-known complexes are located in Susukino in Sapporo, Yoshiwara and Kabukichō in Tokyo, Kawasaki, Kanazuen in Gifu, Ogoto in Shiga and Fukuhara in Kobe, Sagaminumata in Odawara and Nakasu in Fukuoka but there are many other areas, especially in onsen (hot springs) towns. Prices for a session at a soapland vary depending on location, time of day, and length of the session.
Origins
Soaplands began when explicit prostitution in Japan became illegal in 1958, as a simple form of bath where women washed men's bodies. They were originally known as toruko-buro, meaning Turkish bath. Following a 1984 campaign by Turkish scholar Nusret Sancaklı denouncing the use of this name for brothels, the new name "soapland" was the winning entry in a nationwide contest to rename them.
See Also