Shenzhen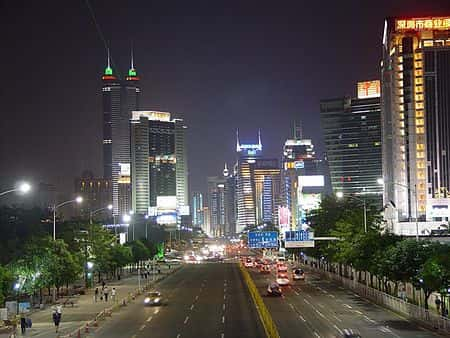 Shenzhen Sex Guide advises where to find sex, working girls, prostitution, street hookers, brothels, red-light districts, sex shops, prostitutes, erotic massage parlors, strip clubs and escorts in Shenzhen, China.
Shenzhen (深圳; Shēnzhèn) is one of the most populous and richest cities in China. It is situated in Guangdong, China on the Hong Kong border about 40 km north of Hong Kong Central and approximately 100 km south of Guangzhou.
Sex and Prostitution in Shenzhen
Officially, prostitution is illegal in mainland China. The government of China has vacillated, however, in its legal treatment of prostitutes themselves, treating them sometimes as criminals and sometimes as behaving with misconduct.
Prostitution is common in Shenzhen - particularly around Luohu and Shekou. Scantily-clad, available-looking women may be prostitutes.
Many men also go to Dongguan to find prostitutes because it is pretty close. There is also a frequent rail shuttle service from Shenzhen to Dongguan Station.
Shenzhen has prostitutes and sex workers operating in and around the city. You can expect the sex workers to ask you an amount of 150 RMB for short time services. It is not known whether the prices asked for sexual services are negotiable or not. If you pay that price, the working girls will take you to their room in order to provide you with the desired service. You can also expect the girl to come with you and visit your hotel for the service. If you are willing to hire a girl for a longer duration of time, then the price can reach up to 300 RMB.
Red Light Districts
Xiang Xi Cun is a famous Red-light district in Luo Hu. You have to walk into a dark and small alley to find the girls. Try to go there before 7 pm as the girls will sit or stand along the alley for your choosing. They will hide in the building under the staircase after 7pm to 12am as the "Gong An" or police trying to raid them. During this time only pimps will come out, talk to the pimps and they will bring you into the buildings to choose the girls. Short time RMB 150 - 200. Overnight RMB 600. If you bring the prostitutes to your hotel for long time, be careful of you belonging. Some of the whores might steal your belonging in the middle of the night when you are sleeping and you will not able to find them anymore. WikiSexGuide User Review, May 2016: "But this information must be old, there were no shops opposite to Sunshine hotel. And nothing in Xiang Xi Cun area."
There are certain red light areas in and around the place. You can visit any of these places and expect to find working girls offering their services to their clients. You can find other places where saunas, KTVs and bars are found. Hanging around these areas might fetch your some satisfactory results in this matter. It is said that people might have to enter a dark alley after 7 in the evening to find prostitutes. You can find the working girls sitting or standing near the alleys for their customers.
Prostitutes and Sex Workers
Just diagonally opposite the Sunshine hotel, is a large area with narrow allies and lots of shops with hookers on display. Each "shop" has about 3-4 girls in them. In total there must be several hundred hookers in the area. Almost all are young.
The standard price for a session is 150 RMB for short time. They will normally start with higher, but just type 150 on the mobile phone and they should agree. For that price they will take you up to their room and you can fuck them there. Rooms are probably dingy and the experiance less appealing.
Instead going to those dingy rooms you can ask mamasan that you would like to take the girl to a hotel. The price for this is RMB 200, some may settle for the 150. Then ask for how much it will cost for a 2 hour session, use your watch to indicate the time. The usual price for this is 300 rmb. You can also negotiate a whole nigh for abot 500 rmb.
It is often much better to negotiate the time, as the girl will then not try to hurry things. It is also better to take the girl to the hotel room, where you can ask her to start with a shower first, then progress to some forplay in bed, before starting the session. The girls usually will agree to BJ without condom (discuss this while negotiating the price). The price may be higher, but is worth it, for the marginal 150 RMB. It is very helpful if the hotel is near by, as the girl then knows it is easy to come back. If it is at walking distance, then you save Taxi money as well.
In stead of only focusing on the looks and body, also watch the mood. If she is "happy" and smiling, she is probably going to be better in the bed. You are more likely to be pleased. If the girl is sad, tired or looking angry, you are NOT going to get a good service.
While you are in Shenzhen, you can find lots of shops offering sexual services. As you would pass by those places, you can find prostitutes waiting for their clients and offering you what's there in store. You can hire the services of the working girls and take them to your hotel for further privacy. One can also visit the rooms that are provided by the sex workers in Shenzhen. However, being careful and alert in such cases is always recommended. Otherwise you may become victim of certain fraudulent activities and scams.
Street Hookers
Street walkers in Shezhen:
You can find street walkers hanging around near major hotels in Luo Hu area. Especially near Shangri-la hotel - anytime, even during the daytime you will surely get harassed by pimps. Many of them hang around the allies as well in Luohu.
You can find street prostitutes in the Sea World area by the 7-11pm, but seem to be the old, worn out ones. They never seem to look like normal girls, they dress like whores as well.
Dongmen Lu area has some Sex Workers.
Nanhu Lu area - in front of Crowne Plaza hotel, one can find street sex workers.
If you visit these areas you may find independent sex workers offering their services to those passing by. There's no doubt that you will find lots of hookers in and around Shenzhen. You just need to choose the genuine one in order to avoid any kind of disappointment or risks of becoming victims of illicit acts and fraudulent activities.
Hookup and Pick Up Local Girls
Meeting local girls and getting laid for free is fun! Read more on how to pick up girls in Shenzhen: https://hookuptravels.com/wiki/Shenzhen
Live Sex Cams
Can I watch Live Sex Cams in Shenzhen? - Yes, you can! Basically you can watch our online live sex shows for free anywhere in the world if you're connected to internet. Join to get 10 free private teasers and 9.99 credits for free! You can choose any girl from our trusted Live Sex Cams!
Live Sex Cams are booming at the moment. Webcam models can be found from all over the world and you can find girls, guys, trannies, couples and groups of different ages performing to you. Watching live sex shows is usually free, but if you buy some credits, you will have much better chances to see adult action as desired! It's possible also to hire a webcam model to a private chat room where you can ask the person to fulfill your fantasies.
Where to Get Sex Now
It is easy to get sex online in Shenzhen. You just need to find the best available girls. See Girls Online Here!
Adult Locations
There are various massage centers and clubs located in and around the city of Shenzhen. You can visit these locations and enjoy the services that are provided by the female masseurs working over there.
Escort Services and Agencies
Unfortunately we don't list in this category!
Finding an escort when you're travelling can be a bit tricky. An ideal alternative to escorts is a girl who is looking for a mutually beneficial relationship. There are thousands of horny girls willing to do anything for a generous guy. Click Here to hookup with a beautiful young woman now.
If you want to call an escort to your hotel room, make sure before that it's OK with the policies of the hotel where you are staying.
You can easily find different kind of escorts and escort agencies online. Some people also deal flyers of escorts in the streets.
You can go through the escort websites that are available these days. After taking a look around each and every escort service category, one can choose the one he thinks is attractive. Following this process of online bookings can reduce your hassle and make things more convenient as well.
Erotic Massage Parlors
Unfortunately we don't list in this category!
Many of the massage parlors do NOT offer full service. They have mostly hand jobs available. Massage parlors that offer sex, offer poor massages. So if it is massage you want, go to one which offers that only. If you want sex, then go to the area which has erotic massage parlors.
There are tens or hundreds of erotic massage parlors in Shenzhen. Here are few of them:
Jin Dou Hao Massage 金逗号按摩, 0755-8621-9644.Shenzhenshi Nanshanqu, Nanshandadao#1138 Guangcaixinshijie 3F (深圳市南山区南山大道1138号光彩新世纪3楼)
Pacific Lie Fallow Agora Spa and Massage 太平洋桑拿中心休闲超市, 0755-2213-62222. Shenzhenshi Luohujiabinlu #4028 Taipingyangshangmaodasha Fu1-4. (深圳市罗湖嘉宾路4028号 太平洋商贸大厦负1-4层)
Sen Lin Yuan Xiu Xian Center 森林源休闲中心, 0755-2556-6688. Shenzhenshi Luohujiabinlu (深圳市罗湖嘉宾路).
You Yi Hotel Sang Na Spa and Massage 友谊酒店桑拿中心, 0755-8225-3498. Shenzhenshi Luohuqu Jiabinlu #3011 youyi Hotel 3-5F. (深圳市罗湖区嘉宾路3011号3-5层)
Hai Yan Hotel Sang Na Spa and Massage 海燕大酒店桑拿中心, 0755-8233-2828. Shenzhenshi Luohuqu Jiabinlu Haiyandasha nei. (深圳市罗湖区嘉宾路海燕大厦内)
Hong Shu Lin Massage 红树林按摩休闲, 0755-8219-5333. Shenzhenshi Luohuqu Renminnanlu #3005. (深圳市罗湖区人民南路3005号).
You can find many erotic massage parlors and their reviews on http://forum.wikisexguide.com/
Saunas
Here are few saunas in Shenzhen. At least first two on the list offer full service and they are also the place where they only entertain foreigners which most of the time are Hongkongese.:
Leduhui Sauna (Futian District), at the third floor of Guangna Business Hotel, NO.9, Huayang street, Huafa South Road (at the oppsite side of Shangbu Middle School). Phone: 852-6555 5060. Service Type: Full Service Massage, Oil Massage.
Shenzhen Lotus Sauna Center (Luohu District), Shenzhen Luohu District, East Gate Road 2019. Phone: 0755-82170917. Service Type: Full Service Massage, Oil Massage, Foot Massage.
You will be able to find some erotic massage parlors located in and around Shenzhen. These special body massage parlors offer full service, special body massage packages along with other sexual activities. People looking to have sex in Shenzhen can approach one of these massage parlors for relevant results.
Brothels and Sex Clubs
You may find certain places in and around Shenzhen where the working girls would offer their services to their prospective clients. The standard price asked by a prostitute is 150 RMB for a short duration. If you are paying that price, then the sex workers would take you to their rooms where you can get involved into sexual activities with them.
Strip Clubs and Striptease
There are no legal strip clubs in China but that doesn't mean they don't exist. There should be lots of them "underground". Taxi drivers often know right places. Chinese girls are extremely traditional about showing off their bodies. Since there is no official strip club or lap dance club located in and around Shenzhen, the localites like the cab drivers can help you in this matter.
Karaoke and KTVs
Prostitution and karaoke often go hand and hand. By one count there are over a thousand karaokes in the Guangzhou - Shenzhen area that offer the sexual service of 300,000 women, most of them migrants from Sichuan. The Enjoy Business Club karaoke parlors in Shenzhen have singing rooms in the downstairs and sex upstairs in private rooms. So, in case you are interested in having sex, simply rent a private room for few hours and hire the services offered by the working girls over there in order to enjoy their sexual services.
Swinger Clubs and BDSM
ALT.com is the best place for local singles, swingers, and couples in the BDSM community to connect with those interested in submissive sex, power exchange, locating persons for new slave roles, erotic BDSM, bondage & fetish sex, as well as live sex dates. Find thousands of play partners for whatever your fetish may be; bondage, foot, cockold, spankings, role-play, electric or water play, sadism and masochism. So whether you have the desire to explore your unrealized fetish fantasies, or you are extremely experienced and would love to train someone new, ALT.com is a community designed for people with like-minded interests to find and connect with each other.
If you find no official swinger clubs in Shenzhen, then consider going online and find relevant results in this matter. You can become a member of the online swinger clubs in order to stay updated with the latest news and other information related to swinging activities in Shenzhen. Apart from that, you may try and approach foreign couples to figure out if they are interested in any kind of swinging activity.
Sex Shops and Adult Stores
If you don't feel like visiting or cannot find any local sex shops in Shenzhen, you can easily order adult products from Online Sex Shop.
Welcome to your enchanting world of gorgeous real sex dolls that are like flames of femininity to quench your sexual desires. Every doll has been manually made with silicon to emulate their female counterparts, not only in appearance, but also in their softness. Our dolls are anatomically correct, w ...
Room 3802, Sega Plaza, Shenan Road, Futian District, Shenzhen
You can buy Viagra and other male enhancer pills from pharmacies. Most are knock offs. The most efficient and trustworthy way in this matter is to go online. You will find various online sex shops and stores selling various products. Simply purchase your item online and get it delivered right at your place.
Love Hotels and Short Time Hotels
You may hook up with the local sex works in Shenzhen in order to rent private rooms and short time hotels. However, it is important for the person to stay alert and confirm that everything is fine about the place. This will keep you safe and away from scams.
Nightclubs and Bars
There are several bars and nightclubs available in Shenzhen. You may visit one and try to get lucky with someone who might be equally interested in the same. It is to be noted that not all girls are the same and they might not agree to get cozy with you. So, try and be choosy with your approach.
Gay and Lesbian
Gay modeling in internet is getting more popular all the time and it's a big market alongside with gay porn. You can watch gay live sex also in Shenzhen as long as you are connected to internet. Check it out: Gay Live Sex Video Chat
Homosexual sodomy was banned in the People's Republic of China from at least the twentieth century, until it was legalized in 1997. In 2001, homosexuality was removed from the official list of mental illnesses in China.
Most gay venues in Shenzhen can be found in Luohu District and Futian District.
Gay Bars, Clubs, Cafes, Pubs and Discos
Why Not Bar Shenzhen, 3/F Vienna Hotel, 1043 Hongling South Road, Futian District 深圳地铁大剧院站 红岭南路维也纳酒店3楼, +86 755 2586 6569
Popular gay karaoke lounge bar located at Vienna Hotel Shenzhen Grand Theater. Why Not 活力酒吧 turns into a busy dance club after midnight. Young Chinese crowd, 18-35. Very crowded on the weekend.
Auld Lang Syne, 2/F JinYuan Bld, 88 Song Yuan Road, Luohu District 罗湖区松园路88号景园大厦2楼, Shenzhen, +86 755 2588 7000
A cosy bar that caters to the younger crowd. Auld Lang Syne 三原色酒吧 features nightly performances. Drink prices are mid-range. Exclusively gay.
Elizabeth Prince Bar, 1/F Ruifeng Building, 1181 Yanhe South Road, Luohu District 深圳市罗湖区沿河南路1181号瑞丰大厦地下, Shenzhen, +86 755 8232 6150, +86 133 1683 2303
One of most stylish gay bars in Shenzhen. Elizabeth Prince Bar 伊麗莎伯女皇酒吧 (or 'EQ Bar') features modern English interiors with touches of art deco.
SOUL Club, 3/F The MixC II, Block B (intersection of Wanxiang Street and Jiabin Road), Luohu, +86 182 1808 0755
New gay dance club in Shenzhen (opened August 2014). SOUL hosts themed events and parties featuring guest DJ's and go-go dancers. Located at The MixC II mall in Luohu district. Features: bar, music, dancing (酒吧, 舞蹈, 音乐)
Barden-Barden Disco Club, 2/F, 2033 HongLing Middle Road, Futian District, Shenzhen, +86 755 8241 8028
Weekday opening times: from 19:30. Gay-owned dance club with nightly shows and special events on the weekends. Young professionals and mixed crowd. Barden-Barden Disco 吧登吧酒吧 (Badeng Bar) is located opposite Shenzhen Humanity Hospital (10 minutes by taxi from Shenzhen Train Station).
Ice Cream Disco, 2/F West Tower, Xin 2000 Plaza, Huishang Mingyuan, Nanqing Street, Luohu District 市罗湖区东门南庆街汇商名苑新2000广场西座2楼, Shenzhen, +86 755 8236 5741
Opened in 2009, Ice Cream Disco 雪糕吧 is a typical Chinese gay nightclub with everyone standing around their own table. Gets crowded at the weekends.
Gay Saunas and Bathhouses
Yang Gang Sauna, 3/F, 2033 Middle Hongling Road, Futian District 深圳市福田区 红岭中路2033号三楼, Shenzhen (+86 755 2592 3353)
Local gay sauna in Shenzhen, popular with the Chinese working class people. Place gets very busy on weekends. Yang Gang Sauna 阳刚桑拿 is located in Futian District (across the street from Shenzhen Humanitarian Hospital). Get off at Hongling Station (Exit D), Hongling Road North. Exit by the metro stairs and turn behind. Go to the end of the street and turn left. The Yang Gang Sauna is further up this road, near the top junction. Features: karaoke, internet access, steam room, sauna, gym (卡拉OK, 互联网, 蒸汽房, 桑拿, 健身房) Place operates 24 hours.
You can also be a member of adult forums or join gay and lesbian dating sites as well. This will help you get in touch with your gay and lesbian partners easily.
Other Adult Services
You can ask the escort girls and other adult service providers whether they have any other form of adult services and offerings in store. They might come up with extra services and treatments on special demands and popular requests.
Dating
Dating in Shenzhen can be a bit tricky due to cultural differences, so your best bet is to sign up for a dating site before your trip so you can meet a few locals ahead of time. AdultFriendFinder.com lets you meet local members in Shenzhen and get to know them on a personal basis before you arrive. Take advantage of site features like live chat and member to member webcams so you can begin flirting before arranging a face-to-face meeting. Since your time in Shenzhen may be limited, get to know each other's desires beforehand, so that when you meet you can start having some real fun.
How to find Sugar Babies and Sugar Daddies
If you are looking for an alternative to escorts in Shenzhen with a girl who doesn't charge by the hour, sugar dating is the ideal solution. There are thousands of beautiful young women at SecretBenfits willing to do anything for a man who will help them pay their bills.
Often referred to as the "Tinder for Older Guys", SecretBenfits matches hot young women interested in pampering older gentlemen. You don't have to be a millionaire at SecretBenfits.com, you just need to be a respectful gentleman who knows how to treat a woman.
Transsexuals and Shemales
Finding someone for transsexual dating when you're on the road can be a bit tricky, so your best bet is to sign up for a dating site before you go so you can find locals ahead of time. TSdates.com is a dating site designed to help you find exactly what you are looking for in your hookup in Shenzhen. Take advantage of site features like live chat and member to member webcams so you can begin flirting before arranging a face-to-face meeting. With over 40 million members, and thousands of transsexual members around the world, TSdates.com is the world's largest site of sex-minded friends for discreet encounters and will help you find your next transsexual play partner.
Where can I find shemales in Shenzhen? You can watch transsexual live sex shows in Shenzhen as long as you are connected to internet. Check Now: Tranny Live Sex Video Chat
There are many transsexual escorts advertising online in China. A large group of transsexual escorts are not local people. They travel to Chinese big cities and offer escort services at the same time. Local Chinese shemale escorts are few due to Chinese culture and the little need of shemales in China.
You can get in touch with the transsexual escort service providers online, if you are interested in having sex. Apart from that, one can join transsexual and shemale dating sites for the purpose of casual dating and companionship.
Sexual Services for Women
You can hire the Shenzhen male escort service providers in this matter. Apart from that, one can also get hooked up with the local guys if they are interested to get cozy.
Sleeping and Girl Friendly Hotels
See also: Global list of girl friendly hotels If you are visiting Karaoke, then you may enjoy the facility of hiring private rooms on a short time basis in order to have sex with the working girls. Apart from that, you can expect the local prostitutes to take you to certain cheap hotels where short time availability of rooms can be found.
Stay Safe
Despite its sensationalized reputation from Hong Kong residents as being crime-ridden, Shenzhen is relatively safe by Western standards. It is no more dangerous than a major American city and violent crime remains rare. Nevertheless, as always, a little commonsense goes a long way.
Being scammed is not so common as in Beijing or Shanghai but be alert for people touting for business (massage, watches, shoes etc.) around the Luohu area, as they sell below-standard fakes at inflated prices. The 'touts' in Luohu bus station are not necessarily touts - there is no ticket office so they are simply there to direct you to your bus and don't require any payment - you should buy your ticket on the bus.
Occasionally the penalties can be quite harsh in prostitution business. In Foshan, a town outside Shenzhen, a man was sentenced to death and his sister was given life in prison for running a prostitution ring, which had only been in operation for three months and had netted only $1,000. It is widely believed the brother and sister received such severe penalties because they were migrants and they presented a threat to local businesses.
It is to be kept it mind that safety and security should always be the primary concern of each and every individual. If you see someone who appears to be less trustworthy or in case you come across anything suspicious, then avoid that place or the person. If you are about to have sex, the always consider using condom in order to prevent the risk of sexually transmitted diseases.
See Also