San Diego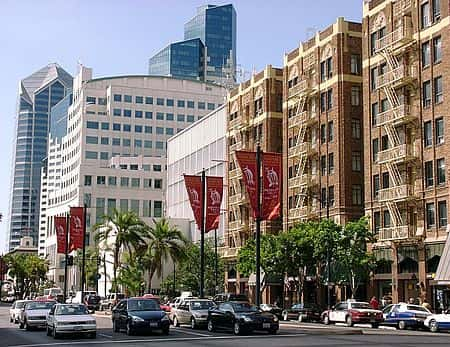 San Diego Sex Guide advises where to find sex, working girls, prostitution, street hookers, brothels, red-light districts, sex shops, prostitutes, erotic massage parlors, strip clubs and escorts in San Diego, California.
San Diego is a major city in California, on the coast of the Pacific Ocean in Southern California, approximately 120 miles (190 km) south of Los Angeles and immediately adjacent to the border with Mexico. San Diego is the eighth largest city in the United States of America and second largest in California.
Sex and Prostitution in San Diego
WikiSexGuide Does Not Support Any Illegal Actions.

Prostitution is illegal in the vast majority of the United States, except some rural counties within the state of Nevada. Due to a US law FOSTA/SESTA, WikiSexGuide doesn't publish any ESCORT, MASSAGE or BROTHEL ads in the United States.
California prostitution law under Penal Code 647(b) PC prohibits engaging in the act of prostitution, and offering (this is also known as "solicitation") or agreeing to engage in the act of prostitution. There is also 653.22 PC loitering with intent to solicit prostitution. This is a real sneaky law the cops will try to nail guys with. If you stop to pick up a hooker only ask her if she needs a ride. Do not do use the term "date" or any word has any reference to sex or prostitution. These words have been used by vice cops as the basis for a arrest.
You can find lots of prostitution from Tijuana in Mexico. It is very close to San Diego.
San Diego Female Escorts
Check out WikiSexGuide Adult Classifieds!
Most agencies advertise online and cost is usually $250-$350 for one hour. You can find lots of advertisements online.
Red Light Districts
There is no Red-light district in San Diego, but closest one is just 30 minute away in Tijuana, Mexico. There in Tijuana/Zona Norte you can fuck hot Mexican hookers for 200 pesos, which is equivalent to US$15.
You can see the direction to the Tijuana below.
Prostitutes and Sex Workers
San Diego has quite big street prostitution scene, because of the nearby military bases. Lots girls are in the streets looking for guys, so be a careful who you hook up with. Also the strip clubs are very good and best of all, top sex destination Tijuana, Mexico is only 30 minutes away! You can find a whorehouse situated in the Mission Gorge road of San Diego. But it would be more helpful if you try and take help from the local guys and see if they can guide you with some latest news regarding this matter.
Street Hookers
Streetwalkers in San Diego begins and ends with El Cajon Boulevard. Some guys even call it Hookers Boulevard. It's certainly a seedier side of town, and you can get into all kinds of trouble there, but if you are interested in talking to rough-looking women through your window and negotiating deals that will only cost you a $20-$60, then this is your place. Pimps feel safer posting ads than having women work the streets, so street prostitution is slowly dying in San Diego.
Most of the action is between the Texas Street intersection and 72nd Street.
Street Prostitution Areas
The street prostitution has largely dried up in San Diego. There is only the occasional SW in National city by Main & Division street.
Chula Vista had some nasty hookers, but dead in these days.
30 & El Cajon Blvd has very rarely decent looking girls and some crack heads.
Gas Lamp area - the out lying areas - not in the heart used to be good area.
About 13th and Imperial Ave.
There is City of El Cajon near which also has some prostitutes in their Main Street.
Hookup and Pick Up Local Girls
Meeting local girls and getting laid for free is fun! Read more on how to pick up girls in San Diego: https://hookuptravels.com/wiki/San_Diego
Live Sex Cams
Can I watch Live Sex Cams in San Diego? - Yes, you can! Basically you can watch our online live sex shows for free anywhere in the world if you're connected to internet. Join to get 10 free private teasers and 9.99 credits for free! You can choose any girl from our trusted Live Sex Cams!
Live Sex Cams are booming at the moment. Webcam models can be found from all over the world and you can find girls, guys, trannies, couples and groups of different ages performing to you. Watching live sex shows is usually free, but if you buy some credits, you will have much better chances to see adult action as desired! It's possible also to hire a webcam model to a private chat room where you can ask the person to fulfill your fantasies.
Where to Get Sex Now
It is easy to get sex online in San Diego. You just need to find the best available girls. See Girls Online Here!
Adult Locations
There are strip clubs and adult massage parlors in and around the San Diego area. So, you may visit either of the venues in order to enjoy some adult actions and other sexually recreational activities, body massage and more.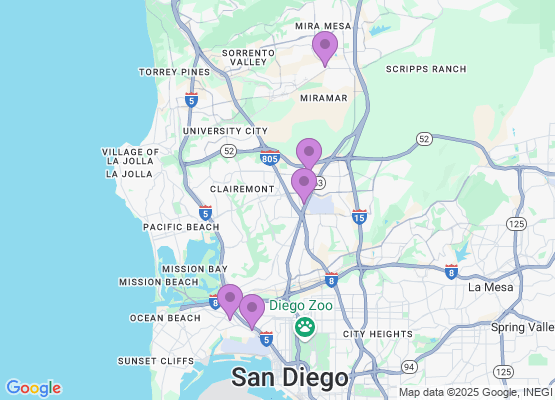 Escort Services and Agencies
Escorts in San Diego who provide sexual services for money are considered as prostitutes. Prostitution is illegal in the United States, except some rural counties of Nevada.
WikiSexGuide Does Not Publish Any Escort Ads in USA.

Due to a US law FOSTA/SESTA, WikiSexGuide doesn't publish ESCORT ads in the United States. WikiSexGuide respects the FOSTA and SESTA Acts.

Finding an escort when you're travelling can be a bit tricky. An ideal alternative to escorts is a girl who is looking for a mutually beneficial relationship. There are thousands of horny girls willing to do anything for a generous guy. Click Here to hookup with a beautiful young woman now.
Erotic Massage Parlors
Massage parlors in San Diego are illegal if they are offering sexual services or happy ending, such as hand job, blow job or full service.
WikiSexGuide Does Not Publish Any Massage Ads in USA.

Due to a US law FOSTA/SESTA, WikiSexGuide doesn't publish MASSAGE ads in the United States. WikiSexGuide respects the FOSTA and SESTA Acts.
Brothels and Sex Clubs
Brothels in San Diego are illegal. Many massage parlors, saunas, spas, and similar otherwise-legal establishments which serve as fronts for prostitution, are also considered as brothels. With the exception of some rural counties of Nevada, brothels are illegal in the United States.
WikiSexGuide Does Not Publish Any Brothel Ads in USA.

Due to a US law FOSTA/SESTA, WikiSexGuide doesn't publish BROTHEL ads in the United States. WikiSexGuide respects the FOSTA and SESTA Acts.
Strip Clubs and Striptease
Usually Strip club cover charge in California is $7-15. Drink prices start from a couple of dollars and lap-dances go for $15-35.
Cheetahs is reportedly a strip clubs available in San Diego. Apart from that, the Goldfinger's Gentleman's Club is another adult entertainment clubs where you may drop by to find some adult erotic actions.
See Also: How to Behave in Strip Clubs & California Strip Clubs
Karaoke and KTVs
KTVs (hostess karaoke bars) are popular in some parts of Asia but you cannot find any of them from San Diego.
Swinger Clubs and BDSM
ALT.com is the best place for local singles, swingers, and couples in the BDSM community to connect with those interested in submissive sex, power exchange, locating persons for new slave roles, erotic BDSM, bondage & fetish sex, as well as live sex dates. Find thousands of play partners for whatever your fetish may be; bondage, foot, cockold, spankings, role-play, electric or water play, sadism and masochism. So whether you have the desire to explore your unrealized fetish fantasies, or you are extremely experienced and would love to train someone new, ALT.com is a community designed for people with like-minded interests to find and connect with each other.
Thad's, 3488 E St. & Club: 3517 E St., San Diego, CA 92102
Phone No: (619) 237-8849 Email: thads.com Website http://www.thads.com/
The Paradise Lounge & Grill, 2732 Midway Drive (off Rosecrans), San Diego, 92110
Xotica, 402 West Broadway, San Diego, CA
Phone No: (619) 279-2464 Email: [email protected] - Location keeps on changing often.
AMIX Swingers Club (Meeting Group - No set location), San Diego, CA, Phone No: (800) 450-4702
Email: [email protected] - On-Premise and there is no set Premise, multiple locations all over Califronia
Black's Beach, a nude beach, is located in La Jolla near UC San Diego. There are two ways to get to the beach (if driving nearest exit is Genessee or La Jolla Village Dr from the I-5): The primary entrance to the nude side of the beach can be accessed from the Gliderport. There is a staircase pathway leading down to the beach (about a 15 min walk down- from here you can also access Ho Chi Minh trail, a very scenic and more adventurous path down). Or you can access Black's from La Jolla Farms Neighborhood. There is a steep and winding road down- parking is more limited from here so Gliderport is recommended. When you get to the beach from this path you are on the college side of the beach, it is about a 5-10 min walk north to the nude area. Black's Beach is very beautiful with lots of cliffs. Here you are more likely to find tons of nude men, however you do get some topless college girls here and there. But feel free to hang out here (literally) all day long, you won't regret it.
Sex Shops and Adult Stores
If you don't feel like visiting or cannot find any local sex shops in San Diego, you can easily order adult products from Online Sex Shop.
Jolar Cinema, 6321 University Ave,(between Bonillo Dr & Rolando Blvd), San Diego, CA 92115 (Neighborhood: Rolando)
For guys this place brings the fantasy of jacking off and watching porn to a whole new and unimaginable level of pleasure. A live porn private show if you want. $10 for the booth and $10 for the girl. Duration is about 5 minutes for $10. This place would get a guy a lot more "bang for their buck" than a strip club, because for the 20 bucks that would allow you to get a 2 minute lap dance from a girl in a bikini you get a live porn show in an enclosed private area and can simultaneously pleasure yourself. Gay and bi- guys usually sucking cocks and having sex in in the back. If you like to watch people having sex then this would be the place to go and maybe you can join in.
Adult Depot 2 Theater, 4055 Pacific Highway, San Diego, CA 92110
This Adult Depot is laid back an it is pretty dead until night time. The place has viewing booths for porn videos. The booths have doors and lights to show occupied booths. Machines take money for 2-3 minutes of watching. The usual crowd is middle age to 20 years old guys. The only unique aspect to this theatre is that most of the booths have fog window between them.
Ever So Naughty Adult Video, 1651 Palm ave, San Diego
Lots of good movies. Straight and gay men visit this place.
Adult Depot Kurtz St, 3489 Kurtz St., San Diego
Mostly men, some male/female couples also. So if you are lucky, you may get laid with a girl.
Crypt Adult Books, 4094 30th St, San Diego, CA 92104, San Diego
Sometimes dirty. Owners clean the place only once a day.
Romantix (formerly Midnight Adult Books), 4792 El Cajon Blvd, San Diego
Open 24hrs. Busiest times: 3 to 9 pm
Kitty Kat Theater, 4652 University Avenue, San Diego
Safe facility. Lots of gay and straight men.
Adult Books, 8081 Balboa Avenue, San Diego
Bg buddy booths, and guys frequenting them. Cops raid this place sometimes.
Gemini Adult Books, 5265 University Avenue, San Diego
Mostly straight movies.
Barnett Avenue Adult Superstore, 3610 Barnett Ave. (in Loma Portal), San Diego
Two rooms each with two large screens one room playing straight (some transexual movies) and one playing one straight and one gay .
F Street Adult Video & Gifts, 751 4th Ave San Diego, San Diego
Crowd is mostly Hispanics, blue collars and occasional serviceman.
F Street Bookstore Balboa Ave, 7865 Balboa Ave, San Diego
Well kept, clean store, booths are mopped often, some clientele are Asian.
F Street Adult Video & Gifts North Park, 2004 University Ave, San Diego
Very small arcade. No doors. Open 24h,
Hi Lite Adult Books, 3203 Hancock Street, San Diego
Many couples will go to the nude joints in the area and then go this place to get into a booth. Hours:9:30 am to 2:30 am. 7 days a week. Best times: 4 -6 pm and very late at night (after midnite).
Romantix, 1175 Palm Avenue, San Diego
Clean and fairly safe. Doors go to the floor on each booth, so very private. Each one has a lock for complete privacy or you can leave it unlocked if you like. About a dozen booths in the back.
Romantix (formerly Midnight Adult Bookstore &Video Center), 3606 Midway Drive, San Diego
There is one and one peep hole. All kinds of guests; old, young, sailors, marines, tourists. Hours:9:00am to 3:00am
Romantix (formerly Midnight Adult Books), 1407 University Ave, San Diego, CA, San Diego
Sex shop with a large video arcade in the back. Crowd is all types of guys, from construction workers to DL bros to gym rats.
F Street Bookstore, 7998 Miramar Rd, San Diego, CA 92126, San Diego
The Arcade is very large. Booths are clean and large. Lots of military men visit this place.
Adult Books (clairmont mesa blvd), 7435 Clairemont Mesa Blvd, San Diego, CA 92111, San Diego
Classic video arcade. Some videos and novelties in the store and two different sections of video booths. The booths are L shaped so the cut off bottom has no effect on perceived privacy.
Adult Emporium, 5151 Convoy St., San Diego
Comfortable booths and plenty of off street parking. All kinds of men.
FantasyLand, Jamacha & 125fwy, San Diego
All kinds of men, occasionally somen women too.
Adult World, 7656 Broadway, San Diego
Staff will leave you alone if you are discreet. You will be ejected from the place if you make it obvious or go in and out of the bookstore many times.
Love Hotels and Short Time Hotels
Love hotels are popular in some parts of Asia, especially in Japan. There are also many love motels and short-time hotels in South America. Unfortunately you cannot find any real love hotels in San Diego. The local sex workers might take you to nearby short time motels for the purpose of providing you with their sexual services and other activities.
Nightclubs and Bars
There are many nice nightclubs and bars in San Diego where you can try your luck to find sex for free. Club Crawl San Diego is one of the most happening nightclubs in San Diego. You can find many such suggestions and relevant names by going through the internet and other adult forums dealing with such similar information.
Gay and Lesbian
Gay modeling in internet is getting more popular all the time and it's a big market alongside with gay porn. You can watch gay live sex also in San Diego as long as you are connected to internet. Check it out: Gay Live Sex Video Chat
Like every other city in California. San Diego is also very gay frienldly.
Gay Bathouses
Club San Diego, 3955 Fourth Ave. (Washington) San Diego, CA 92103 (Hillcrest) (619) 295-0850
Open 24 hours. Hillcrest bathhouse. Club features Jacuzzi, sauna, 300 Lockers, 52 rooms, 5 VIP suites, steam room and two video lounges.
Vulcan Sauna, 805 West Cedar, San Diego
Hours:7/24 Best times: 12 pm - 4 am.
Aqua Day Spa, 4637 Convoy St, San Diego
This is not an overtly explicit club but it is a good place to visit if you're into asian guys (Mostly Korean). It has two sections, one for men and one for women which are completely separated. It's tastefully decorated and very small so you will definitely be noticed. $20 fee just to use the facilities and it's included if you get one of their spa treatments.
Gay Friendly Bars and Clubs
Pecs, 2046 University Ave (Alabama) San Diego, CA 92104 North Park
(619) 296-0889 www.pecsbar.com Speakeasy style cruise bar. When you first approach Pecs, you'll be reminded of how many gay clubs used to be. In true speakeasy style, there are no signs and no way to tell there is a gay club in this dark gray cement building. Just open the door at the "we're open" sign and find a packed cruise bar. The bar bills itself as a Leather bar, but you'll find all types here enjoying the pop music and the outdoor patio bar.
Rich's San Diego, 1051 University Ave (Between 10th and Vermont) San Diego, CA 92103 Hillcrest
Rich's is San Diego's oldest and most popular dance club. On weekends (especially Friday night) you'll find the place packed with a cute crowd dancing to the house and dance remix fare. Lots of young sexy guys.
Urban Mo's , 308 University Ave (3rd Street) San Diego, CA 92103 Hillcrest
Urban Mo's offers a cheery atmosphere with different music each night of the week. Everyone here is all about fun and is a mix of men and women in their 20s and 30s. This is also a decent restaurant that happens to have great dancing nights, particularly Country & Western.
Other Adult Services
You may ask your sexual service provider if she can come up with personalized and innovative escort services. This approach could be a helpful one.
Dating
Dating in San Diego can be a bit tricky due to cultural differences, so your best bet is to sign up for a dating site before your trip so you can meet a few locals ahead of time. AdultFriendFinder.com lets you meet local members in San Diego and get to know them on a personal basis before you arrive. Take advantage of site features like live chat and member to member webcams so you can begin flirting before arranging a face-to-face meeting. Since your time in San Diego may be limited, get to know each other's desires beforehand, so that when you meet you can start having some real fun.
How to find Sugar Babies and Sugar Daddies
If you are looking for an alternative to escorts in San Diego with a girl who doesn't charge by the hour, sugar dating is the ideal solution. There are thousands of beautiful young women at SecretBenfits willing to do anything for a man who will help them pay their bills.
Often referred to as the "Tinder for Older Guys", SecretBenfits matches hot young women interested in pampering older gentlemen. You don't have to be a millionaire at SecretBenfits.com, you just need to be a respectful gentleman who knows how to treat a woman.
Transsexuals and Shemales
Finding someone for transsexual dating when you're on the road can be a bit tricky, so your best bet is to sign up for a dating site before you go so you can find locals ahead of time. TSdates.com is a dating site designed to help you find exactly what you are looking for in your hookup in San Diego. Take advantage of site features like live chat and member to member webcams so you can begin flirting before arranging a face-to-face meeting. With over 40 million members, and thousands of transsexual members around the world, TSdates.com is the world's largest site of sex-minded friends for discreet encounters and will help you find your next transsexual play partner.
Where can I find shemales in San Diego? You can watch transsexual live sex shows in San Diego as long as you are connected to internet. Check Now: Tranny Live Sex Video Chat

You can occasionally find transgender and transsexual streetwalkers from same areas where regular street hookers work. Internet is much better option to search shemales, because it is full of t-girl escorts who offer full service for $60-250. Looks and popularity of the t-girl and time spent with her (30-60minutes) affects on this price. Remember to be careful with tranny prostitutes, so you will not get scammed.
The SRO Bar is a gay bar in San Diego and it is also popular spot for trans-girls to get together and party. It is located at 1807 5th Ave, San Diego, CA 92101 (b/t Elm St & Fir St). Phone number is (619) 232-1886. Some of the transsexual prostitutes also spend time at this club.
Sexual Services for Women
Male escorts are much cheaper than female ones. Average cost for sex with male escort cost $50-$200. Most advertise online. So, you can get in touch with the male escorts via online sites and choose to avail services for sexual pleasure.
Sleeping and Girl Friendly Hotels
San Diego offers a wide range of accommodations and a wide range of price levels. If one doesn't mind splurging, there are a number luxury highrise hotels in Downtown and numerous beachside (and bayside) hotels and lavish resorts along the coast in Coronado, Ocean Beach, Point Loma (along the bayside), Mission Beach/Bay, Pacific Beach, and La Jolla.
There are also many vacation rentals/beach cottages available for the traveler, most of which can be found along the shores of Mission Beach and Pacific Beach.
For travelers with a smaller budget, San Diego also has a few downtown hostels and many chain motels scattered across the city. A high concentration of the chain motels are located along Hotel Circle in Mission Valley.
Stay Safe
San Diego is considered to be one of the safest cities in California. Though crime is present, violent crime is on an overall decrease, but property crime still exists. One should use the same precautions as you would in any large metropolitan area. Avoid walking in Southeast San Diego or Barrio Logan (near or under the Coronado bridge) at night. If you do or must, avoid walking down dark alleyways or approaching unknown people. Most people do not encounter any problems if they avoid buying illegal drugs or prostitution. In addition, gangs are not as present as they are in Los Angeles, but they still exist.
In an emergency (immediate danger to loss of life or limb), call 911. Be aware that if you call from a cell phone, 911 calls are currently directed to the California Highway Patrol, which can result in delays in contacting city police. (911 calls made from land-line telephones are directed to the appropriate local agency.)
In many cases, when within the city limits, it may be more appropriate to directly dial the San Diego non-emergency number, (619) 531-2000. For example, to report a crime in progress when you are not in direct danger, it is probably best to call the San Diego Police (or other local municipality) directly.
Police
San Diego is served by a professional police force as well as a county sheriff department. Additional protection is offered on the major highways by the California Highway Patrol (CHP). To report a non-emergency within city limits, call (619) 531-2000 otherwise call 9-1-1 to report am emergency or a crime in progress.
Fire Department
The city of San Diego fire department offers fire protection, emergency medical care, hazardous waste cleanup, and search and rescue functions. If you dial 911 for an emergency the first responders will be the San Diego Fire Department. Urban brush fires are always a risk during the summer and fall, but rarely affect tourists.
Beach Safety
Rip currents are notorious in San Diego for their strength and sudden appearance. Do not go out in the water without lifeguard supervision or at night. At La Jolla Shores, rip currents can be so strong that people standing (not swimming) in waist-deep water have been pulled out over their heads -- sometimes with deadly results (especially for non-swimmers). Except for sunbathing, avoid low tide like the plague at this beach. (This means the largest of the two daily tide cycles. Check newspaper weather page for Scripps Pier, or view the Weather Channel.) All of the major beaches have lifeguards on duty in the summertime, with only the more popular beaches having lifeguards year round.
Many of the ocean cliffs are made of a compressed sandstone and are prone to collapse, even in dry weather. If walking along the cliffs at the beach, try to be as far away from them as is practical. Obey all signs. Heavy rain may cause rising bacteria and chemical levels in the ocean waters. Care should be taken to read the newspapers or call the county health office to see if the water is safe for swimming. Generally, most people stay out of the water at the beaches for 24 to 72 hours after rain.
Access to the beaches is safely made by using any of the public stairways provided; they are well maintained (except at Black's Beach) and free. The stairs at Black's Beach are in disrepair, so use at one's own risk. Wear sturdy shoes, and don't try unless you are in very good physical condition and able to climb the 300 ft. (100m) back from the beach. Beware of the false trails going down the cliffs, as every year a few people get stuck (or worse!). The trailhead begins at the southern corner of the unpaved glider port parking lot. Take a little time to familiarize yourself with the area and observe where others are going. Though a long walk, you can also get in from the north via Torrey Pines State Beach. (Parking $8 in the lot or free along the highway.) High tide will cut off this route, so plan ahead.
The bridge that connects Torrey Pines (north of Black's Beach) with Del Mar (former Hwy US 101) is old and in need of repair. Avoid walking directly underneath, as pieces of concrete occasionally fall off. It's still considered safe enough to drive over for now. If concerned, access this area from the south via I-5 and Genesee Avenue (exit #29) which soon becomes N. Torrey Pines Rd. Always supervise children very closely at places such as Sunset Cliffs and the Torrey Pines Glider Port above Black's Beach. It may be necessary to hold their hand at all times. If you have unruly kids, don't go there.
Thefts do occur at the beach and can ruin a perfectly wonderful day. Do not leave any purses or other personal items of value alone on the beach or in an open car. Vehicle burglaries are more prevalent in most beach communities and take place in broad daylight. If possible, do not leave anything of value in your car even when locked. Most kayak and beach rental shops offer safe boxes free of charge, and will store your valuables while renting.
In addition, take caution when around certain beach areas, as you may wander (inadvertently) onto a military instillation, where security is tight and beaches are either reserved for military patrons and their families or training centers.
If you are looking to have sex, choose to keep condoms ready. Never fail to use them during the activity. This will keep you safe and away from sexually transmitted diseases.
Also note that as of November 2009, a temporary ban of alcohol on all public beaches and coastal parks in the city of San Diego was made permanent by San Diego voters. Violators can be given up to a $250 fine, with repeat offenders fined up to $1,000 and six months in jail. The alcohol ban applies also to any sidewalk or street in the city of San Diego.
See Also