California
California Sex Guide advises where to find sex, working girls, prostitution, street hookers, brothels, red-light districts, sex shops, prostitutes, erotic massage parlors, strip clubs and escorts in California, United States of America.
California is located on the west coast of North America. It is the largest US state by population, and the third largest by area. California offers something for everyone: Southern California is home to such popular attractions as Disneyland, Hollywood and the beaches in Malibu that inspired the television show Baywatch, while the northern part of California offers the iconic Golden Gate Bridge, the hills of San Francisco, the vineyards of Napa Valley, and the capital, Sacramento. Outside California's major cities one finds some of North America's most rugged national parks, incredible skiing/snowboarding opportunities, and quiet and ancient northern forests including the highest mountain peak in the contiguous USA, Mt. Whitney.
Sex Scene and Prostitution
WikiSexGuide Does Not Support Any Illegal Actions.

Prostitution is illegal in the vast majority of the United States, except some rural counties within the state of Nevada. Due to a US law FOSTA/SESTA, WikiSexGuide doesn't publish any ESCORT, MASSAGE or BROTHEL ads in the United States.
California prostitution law under Penal Code 647(b) PC prohibits engaging in the act of prostitution, and offering (this is also known as "solicitation") or agreeing to engage in the act of prostitution.
In California, a sex worker|prostitute]] and a customer will be punished for misdemeanor with imprisonment up to 1 year and $1000 fine or both. But, a pimp and a brothel owner will be punished for felony and the punishment is 3-6 years in state prison.
However state law allows rampant growth of prostitution parlors masquerading as massage therapy. The 2008 law created a non-profit group - the California Massage Therapy Council - empowered to certify massage businesses. Since then, individual cities have spent thousands of dollars policing illicit parlors.
In California strip clubs, topless and nude lap dances are available. Alcohol is too, but only in bikini and topless clubs. Nude clubs are non alcohol, only. it is estimated there are several thousand of exotic dancers are in California.
Regions
California varies greatly, ranging from the forested northern coastal regions to the rugged interior mountains to the harsh southern desert. Sandwiched in the center of California is the fertile Central Valley, home to a massive amount of agriculture.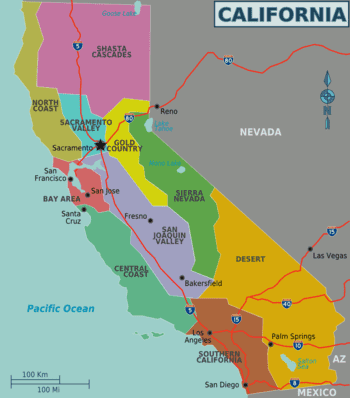 Desert
Palm trees, blazing sun, and quirky resorts.
Central Coast
An isolated stretch of land that features cool mountains and rugged coastline.
San Joaquin Valley
Breadbasket of California and home to a large percentage of America's fruit and vegetable supply.
Sacramento Valley
Home of Sacramento. the state capital.
Sierra Nevada
California's alpine and skiing region, including Yosemite National Park and Lake Tahoe.
Gold Country
Historic foothills to the Sierras.
North Coast
Home to the world's tallest trees, the coast redwoods as well rugged coastline and remote nature adventures.
Shasta Cascades
Hills and mountains in the state's northeast corner that are off the beaten path for most visitors.
Cities
These are some of the major cities in California.
Other Destinations
Gay and Lesbian
Gay modeling in internet is getting more popular all the time and it's a big market alongside with gay porn. You can watch gay live sex also in California as long as you are connected to internet. Check it out: Gay Live Sex Video Chat

California is filled with a very diverse group of people. Northern and Southern California have extremely different cultures, while the rural areas in the Central Valley and Eastern portions of the state differ even more significantly. Like much of the US, sensitive topics include immigration, race, gay rights, and politics.
Same-sex marriage is legal in the U.S. state of California, and first became so on June 16, 2008, when the state began issuing marriage licenses to same-sex couples as the result of the Supreme Court of California ruling in In re Marriage Cases, which found that barring same-sex couples from marriage violated the state's constitution.
San Francisco, Los Angeles and San Diego are the most popular gay hot spots in California. Each city has lots of good areas for gay cruising.
Escort Services
Finding an escort when you're travelling can be a bit tricky. An ideal solution for having an alternative for escorts is Ashley Madison. There are thousands of horny girls waiting for you. Find all the beautiful young women at AshleyMadison.com!
Escort pricing in each American city varies, but you can just call a few agencies to get random pricing and see what the average is.
So, if you are looking for more of a whore type escort you will be paying around $200 or less per hour. High-end escort ask around $250-500/hour usually with a 2 hour minimum and then more high end luxury escort prices are from $750 to $5,000/hour and some may require a full day booking and plenty of notice.
Many of the people do not recommend the cheap hooker type escorts. They give a very bad name to the escort industry, some rip customers off, have mean pimps, are unprofessional or are not good at their job. If this is your first time, you could end up having a very negative escort experience.
You should always screen every escort before hiring her (or him) and know the precautions. See Also: Precautionary Steps When Ordering Escorts
As for strippers for your bachelor party, some escorts will do that, but most won't. There's a huge difference between a exotic dancer and an escort. Most strippers do not escort and most escorts do not strip.
Stay Safe
California-Mexico Border
Due to California's proximity to the International Boundary with Mexico, visitors should be cautious while in areas near the border.
Know where you are at all times, follow good safety procedures and use common sense when making decisions.
Do not pick-up hitch hikers.
Keep valuables, including spare change, out of sight and lock your vehicle.
Avoid traveling in well-marked but unofficial "trails."
Avoid hiking or camping in areas of major border activity. If you are visiting a national or state park, consult park staff to help plan backcountry travel in safer areas.
Report any suspicious behavior to the U.S. Border Patrol.
Crossing the border
Thousands of U.S citizens visit the state of Baja California, Mexico from California every year with the majority of travelers returning from an enjoyable experience. However, a minority of travelers do experience difficulties and serious inconveniences while traveling to Mexico. Before traveling to Mexico, ensure that you have the proper documentation and are familiar with the recommendations for foreign travel from the U.S. Department of State, Bureau of Consular Affairs
There are six border crossings between California and Mexico: two between San Diego and Tijuana, one between Tecate and Tecate, two between Calexico and Mexicali, and one between Andrade and Los Algodones. The United States operates a consulate in Mexicali; Mexico operates Consulates in Calexico, Fresno, Los Angeles, Oxnard, Sacramento, San Bernardino, San Diego, San Francisco, San Jose and Santa Ana.
Crime
The usual inner city crime can be found in the worst parts of Los Angeles, San Francisco, and Oakland. Central Valley cities, such as Sacramento, Stockton, and Fresno also have gang problems. Northern coastal cities such as Eureka have an ongoing problem with significant drug activity, primarily the prevalence of methamphetamine, and property crimes. However, most California cities are very safe. As long as you take basic precautions against petty crime and stay out of obviously run-down neighborhoods, you will probably have a safe and pleasant visit. Be smart and you will be safe.
If you are traveling along the Pacific Coast Highway or Highway 101, you may notice there are a substantial number of hitch-hikers along the way. Do NOT pick up hitch-hikers.
Marijuana is now legal in California. Anyone must be 21 or older to consume, possess, or purchase marijuana - it doesn't matter if its for recreational or medicinal reasons and it is strictly enforced. DO NOT bring cannabis into any Indian reservation that has deemed it illegal, nor Federal enclaves as Federal law will be heavily enforced.
If you find yourself in an emergency situation (of any kind), dial 911 on your phone.
See Also