Lyon
Lyon Sex Guide advises where to find sex, working girls, prostitution, street hookers, brothels, red-light districts, sex shops, prostitutes, erotic massage parlors, strip clubs and escorts in Lyon, France.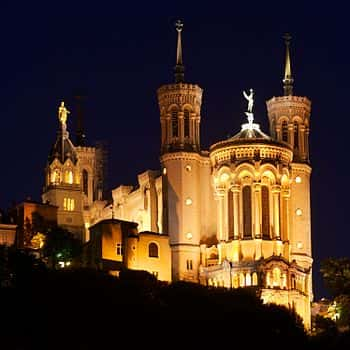 Lyon, also written Lyons in English, is the third largest city in France and centre of the second largest metropolitan area in the country. It is the capital of the Rhône-Alpes region and the Rhône département. It is known as a gastronomic and historical city with a vibrant cultural scene. It is also the birthplace of cinema.
Sex Scene and Prostitution
Prostitution in France (the exchange of sexual services for money) was legal until April 2016, but several surrounding activities were illegal like operating a brothel, living off the avails (pimping) and paying for sex with someone under the age of 18 (the age of consent for sex is 15).
The stand-out measure from the bill and the one that has caused the most controversy is the law that will see customers fined if they are caught paying for sex.
By making the clients rather than the prostitutes the guilty party the reform will "turn the current law on its head," according to French Socialist MP Maud Olivier, who has been the driving force behind the change.
Under the plan, customers will be fined up to €1,500 and up to €3,750 for repeat offenders.
It estimated that about 15,000 – 20,000 women work as prostitutes in France. In 2010, the number of full-time male and female prostitutes was estimated at 20,000 – 30,000, with 80% being foreigners. Sex work in France, like other countries takes many forms. These include street prostitution, escort services, bars and apartment prostitution.
In 2003 the prostitution laws in Lyon lead local prostitutes in to get creative. White vans line the city and suburban streets in this city; an open door means they're open for business, a closed door (and rocking van) means you'll have to come back later for your turn.
Studies from 2003 estimated that about 15,000 – 20,000 girls work as prostitutes in France. In 2010, the number of full-time male and female sex workers was estimated at 20,000 – 30,000, with 80 to 90% being foreigners. Most of the sex workers come from Bulgaria, Romania, Nigeria, Cameroon, China and South America.
In 2004, the average earnings of a French sex worker were estimated at €500 a day. For Sub-Saharian sex workers living in France, it was less, around €200–300. Some barely made €50–150 a week.
Female Escorts
Most of the escorts in Lyon are coming to work from Eastern Europe or Africa, but you can also find some local French girls offering escort services.
Where to Get Sex Now
It is easy to get sex online in Lyon. You just need to find the best available girls. See Girls Online Here!
Red Light Districts
There are a lot of nightclubs and bar around the "Place de Terreaux" and the "Hotel de Ville" (City Hall), or you can also try "Vieux Lyon" (the old part of the town). There is definitely no official red-light district in Lyon. Quai de Perrache, Fickwagen and Quai Jules Courmont are the spots where you should find Lyon sex workers at most of the time. Make sure to look after your valuables at the Lyon Red Light District.
Prostitutes and Sex Workers
Most of the sex workers in Lyon work as an independent escorts and some of the girls also work for the escort agencies. These type of WG´s (Working Girl) often give the best service and are your best option if you are looking for sex in Lyon. Some of the Gentlemen´s Club´s and erotic massage parlours in Lyon sell sex, but this is done only very discreetly. Street prostitution is also a part of the daily prostitution activities in Lyon, but is in decline as it is all over France.
Street Hookers
Street prostitution in Lyon is not as common as it was in the past. Mainly because the big fines customers can get if caught and because most girls have cellphones which make work easier if they just have ads online. Most common price for a blow-job from a street whore is 20 to 40 Euro and price for sex is usually 50 Euro, but it can also be a little bit higher or lower.
Fickwagen - Usually some trailerpark hookers, but note that trailer sites may disappear without notice
Quai Perrache - Reports of prostitution activity. Sometimes more street girls, but most street walkers come out at night.
From Kyriad Lyon on Quai Perrache two streets up towards the railway line. You need a car to do the deed as you drive to some secluded area to unload. Also black African girls a two to three blocks the other way.
Quai Jules Courmont. - Some of the older street prostitutes can be spotted in here occasionally.
Hookup and Pick Up Local Girls
Meeting local girls and getting laid for free is fun! Read more on how to pick up girls in Lyon: https://hookuptravels.com/wiki/Lyon
Strip Clubs & Lap Dance
Lyon is a perfect city for a nude bar lovers. There are many good clubs and bars where you can watch sexy dancers shaking their bodies and often offering erotic private shows. The best strip clubs in Lyon are Le Best One, Le Club Vertige, Brian Night Shows, B Lucky, La Tulipe d´Or, American Bar, Le Cloé, Asian Club, La Queen Mary, Le Scandale, Cristal New´s Pub, La Rubis & Le Pent´House. Most of these strip joints have an entrance fee of 10 to 20 Euros.
Where to find Strip Clubs in Lyon:
B Lucky, B Lucky, 40 Quai Saint Vincent, Entrée Rue Couverte 69001 Lyon. (Tel: 0760661915)
Open from Tuesday to Friday: 14: 00/5 H 00, Saturday: 22: 00/5 H 00. Great for bachelor partier and other events. Private room in private (stripper): 140 €- for a 20 minute show.
Le Diamant Noir, 109 Quai de Pierre-Scize, Lyon, France
+33 4 78 39 73 36 www.diamantnoirlyon.com
PENT X HOUSE Club Privé - cabaret stript-tease & bar à hotesse, 236 RUE GARIBALDI, 69003 LYON PART-DIEU (Tel: 06 30 27 17 62)
Open Monday to Friday from 20h until dawn. The weekend privatization possible booking. The Champagne Bar our sexy cabaret club with sexy stewardesses, show striptease, lap dance, pole dance, lesbian show, SM initiation, bachelor parties. Wide bar, topped with 2 pole dance bars, you will enjoy the show as close to our sexy dancers. http://www.club-striptease-ph.com/
Vertige Production, 5 Rue du Griffon, Lyon, France
+33 9 81 06 60 57 www.vertigelyon-barachampagne.fr
Before hitting a strip joints of Lyon, you could always have few beers at the following singles nightclubs and pick-up bars to meet girls and possibly find a hook-up:
Black Forest Society, 29 Rue de l'Arbre Sec
Docks 40, 40 Quai Rambaud
Le Petit Salon, 3 Rue de Cronstadt
Le Sucre, 50 Quai Rambaud
La Grange au Bouc, 9 Quai Romain Rolland
La Feria, 13 Quai Romain Rolland
La Faute aux Ours, 4 Grande Rue de la Guillotière
Livestation DIY, 14 Rue de Bonald
Les BerThom, 2, place Ennemond Fousseret
Paddy's Corner, 4 Rue de la Terrasse
Wallace, 2 Rue Octavio Mey
Brothels
There are no brothels, pick'up bars or any other public places that offer paid sex in Lyon. Paid sex can be offered outside with street action, in a private apartment or at your hotel with an escort, but unfortunately not in a public place. If it is offered it usually is a rip off, unless you are at Asian massage parlour. Sometimes you will find big apartments in Lyon where 2 to 3 escort girls are working and these are the so called "mini bordellos".
Swingers Clubs
This is the list of french swinger's club in Lyon and surrounding areas.
In a swinger club, after you pay entrance, sex is offered for free. But for a single man, it is hit or miss to get action and sex is not guaranteed. A good advice for a single man is always to call before, and be well dressed and it will be easier to enter. Avoid the afternoon's, because there will be mostly singles at that time.
Swinger Club Locations in Lyon and Surrounding Areas
Le Diablotin, 42550 Pontempeyrat
Open: Fri 9pm-till and Mon, Sun 3pm-10pm couple+single Sat 9pm-till. Couple only. Phone: 04 77 50 69 92
La Diligence, Morville 21500 Fresnes
Open : Thu-Sun 10pm-4am. Entrance : 26€/couple 40€/single. Phone : 03 80 92 12 76 Homepage : www.le-relais-fr.com
Eclypse, 10 rue Montplaisir 26000 Valence
Phone 04 75 56 57 52 Homepage : www.sauna-club-eclypse.com
Eviden's, 6 rue Sainte Marie des Terreaux 69001 Lyon
Open : Wed-Fri 4pm-8pm 10am-till..Tue, Sat 10am-till. Couple only Sat, Entrance: 20€/couple afternoon 30€/couple evening 30€/single afternoon 65€/single evening. Phone : 04 78 29 49 40 Homepage : www.evidens-libertin.com
Ile du Levant, 50 rue de Verdun 26500 Bourg les Valence
Open : Mon-Fri Sun 2pm-7pm Tue-Sat 10.30-till late. Entrance : 35€/afternoon 45€/evening. Sauna, hamman & Jacuzzi. Phone : 04 75 43 13 68 Homepage : www.clubiledulevant.com
L'imprévu, 4 rue du Compte de L'isle 50170 Pontorson
Open : Mon Tue, Thu 3pm-7pm Thu-Fri 10pm-till late. Entrance : 40€/single 20€/couple. Phone : 02 33 68 29 53 Homepage : www.limprevu.net
Le Move, 32 Quai Arloing 69009 Lyon
Phone : 04 72 20 07 24 Homepage : www.clublemove.com
Le Neptune, Rte de Boege Mijouet 74250 Fillinges
Open : Thu 9pm-1am Fri Sat 10pm-5am Couple only Sat. Entrance: 40€. Phone : 04 50 36 42 87 Homepage : www.club-neptune.net
Number One, 158 avenue de Pressensé 69200 Vénissieux
Open : Mon-Fri 2pm-7pm Wed-Sat 9.45pm-till late. Entrance: 20€/afternoon 20€/couple evening 65€/single evening. Sauna & Hammam. Phone : 04 78 01 87 96 Homepage : www.le-number-one.com
Royal Club, 1 chemin des Voyageurs 69360 Ternay
Open : 8.30pm-5am. Phone : 04 78 02 42 65 Homepage : www.leroyalclub.com
La Venus, Rue du Bousquet 07800 Saint Laurent du Pape
Open : Tue-Sun 10.30-till. Couple only on Saturday. Entrance: 35€. Phone 04 75 85 05 32 Homepage : www.venus07.com
La Villa, 127 Route de Marseille 26200 Montelimar
Phone : 06 79 50 00 99 Homepage : www.encour.fr
Why No, 313 Rue Duguesclin 69003 Lyon
Open: Mon-Fri 2pm-8pm 10pm-till… couple+single Sat 11pm-till couple. Jacuzzi & sauna. Phone: 04 72 71 05 02 Homepage: www.whynotclub.com
L'Auberge, Route de Marennes 69360 Simandres
Swimmingpool & restaurant. Open : Mon-Fri 12am-2.30pm 3pm-7pm Sun 4pm-7pm couple+single Sat 6pm-till. Couple only. Phone : 04 78 02 96 54 Homepage : www.clubauberge.com
Le Body'X, 47 route de Saint Pierre 74800 Amancy La Roche sur Foron
Phone : 04 50 25 58 98 Homepage : www.le-bodyx.com
Capricia ,, Route deLyon 01990 St Triviers sur Moignans
Open : Fri-Sat 11pm-till late. Homepage : www.capricia.com Phone : 04 74 55 81 27
Le Cleo, A3 sortie Aiguebelette 73470 Nances
Open : Fri Sat 9pm-6am couple only Sun 3pm-3am. Entrance: 40€. Phone 04 79 28 75 45 Homepage : www.lecleo.com
Le Cocoon, 36 rue du Saget 74100 Annemasse
Phone: 04 50 84 22 33 Homepage: www.lecocoon74.com
Erotic Massage Parlors
You can find a lot of Lyon massage ads online and sometimes from the Lyon magazines. Running a whore house in France is illegal and this is the reason why part of the prostitution business in Lyon is done secretly at the massage salons.
Girls at the Lyon massage parlours are mainly Chinese, sometimes there are also sexy and small Thai girls. Expect to pay 40-80€ for a massage. 20-50€ for handjob or a blow-job. Sex will cost a little more at the massage salons and ranging from 50 to 100€. You should avoid the so-called 'naturist' massage: they are extremely expensive and you shall be lucky if you get more than a hand-job. If you want a sensual or an erotic body rub, whether with a Happy Ending or not, you can also try many of the independent escorts in Lyon, as most of them do these types of services quite well.
Live Sex Cams
Can I watch Live Sex Cams in Lyon? - Yes, you can! Basically you can watch our online live sex shows for free anywhere in the world if you're connected to internet. You can choose any girl from our trusted WikiSexLive.com! Join to get 10 free private teasers and 9.99 credits for free!
Live Sex Cams are booming at the moment. Webcam models can be found from all over the world and you can find girls, guys, trannies, couples and groups of different ages performing to you. Watching live sex shows is free, but if you buy some credits, you will have much better chances to see adult action as desired! It's possible also to hire a webcam model to a private chat room where you can ask the person to fulfill your fantasies. Try now! WikiSexLive.com
Dating
Dating in Lyon can be a bit tricky due to cultural differences, so your best bet is to sign up for a dating site before your trip so you can meet a few locals ahead of time. AdultFriendFinder.com lets you meet local members in Lyon and get to know them on a personal basis before you arrive. Take advantage of site features like live chat and member to member webcams so you can begin flirting before arranging a face-to-face meeting. Since your time in Lyon may be limited, get to know each other's desires beforehand, so that when you meet you can start having some real fun.
How to find Sugar Babies & Sugar Daddies
If you are looking for an alternative to escorts in Lyon with a girl who doesn't charge by the hour, sugar dating is the ideal solution. There are thousands of beautiful young women at SecretBenfits willing to do anything for a man who will help them pay their bills.
Often referred to as the "Tinder for Older Guys", SecretBenfits matches hot young women interested in pampering older gentlemen. You don't have to be a millionaire at SecretBenfits.com, you just need to be a respectful gentleman who knows how to treat a woman.
Swinger Clubs and BDSM
ALT.com is the best place for local singles, swingers, and couples in the BDSM community to connect with those interested in submissive sex, power exchange, locating persons for new slave roles, erotic BDSM, bondage & fetish sex, as well as live sex dates. Find thousands of play partners for whatever your fetish may be; bondage, foot, cockold, spankings, role-play, electric or water play, sadism and masochism. So whether you have the desire to explore your unrealized fetish fantasies, or you are extremely experienced and would love to train someone new, ALT.com is a community designed for people with like-minded interests to find and connect with each other.
Since the swinging is very common all over in France, you should have no problems finding other singles who are in to the group orgies or open-minded couples who are seeking other couples or a third wheel for a hot gangbang night in Lyon.
Transsexuals / Shemales
Finding someone for transsexual dating when you're on the road can be a bit tricky, so your best bet is to sign up for a dating site before you go so you can find locals ahead of time. TSdates.com is a dating site designed to help you find exactly what you are looking for in your hookup in Lyon. Take advantage of site features like live chat and member to member webcams so you can begin flirting before arranging a face-to-face meeting. With over 40 million members, and thousands of transsexual members around the world, TSdates.com is the world's largest site of sex-minded friends for discreet encounters and will help you find your next transsexual play partner.
Where can I find shemales in Lyon? You can watch transsexual live sex shows in Lyon as long as you are connected to internet. Check Now: Tranny Live Sex Video Chat
Trans-girls escort in Lyon ask around 80€ to 250€ for sex services. Usually there are around local 15 t-girl escorts in Lyon seeking for clients online. At any given time there are also around 5 international shemale escorts working in Lyon for short term shift ranging from few days to few weeks. Sometimes these shemale hookers are well known trans-porn stars who are doing escorting on the side.
Transsexual Street Prostitution in Lyon
You can sometimes find TG/TS/TV or CD street walkers from Quai Perrache area. These t-girls usually charge around 50€ for sex, but sometimes quotes can be even higher. You should be careful with them because some of them also try to pull out tricks.
In Lyon, it is often much safer to find an t-girl escort from the online ads. This way you usually pay more, example 100 to 250 € for sex, but you will get to have sex in a safer environment and often the sex is also much better.
Gay and Lesbian
Gay modeling in internet is getting more popular all the time and it's a big market alongside with gay porn. You can watch gay live sex also in Lyon as long as you are connected to internet. Check it out: Gay Live Sex Video Chat

Lesbian, gay, bisexual, transgender (LGBT) rights in France have been seen as traditionally liberal and some of the most advanced in Europe and worldwide. Although same-sex sexual activity was a capital crime that often resulted in the death penalty during the Ancien Régime, all sodomy laws were decriminalized in 1791 during the French Revolution.
France became the thirteenth country in the world to legalize same-sex marriage in 2013, despite receiving opposition from across the country. France became the first country in the world to declassify transsexualism as a mental illness. France has frequently been named one of the most gay friendly countries in the world. Recent polls have indicated that a majority of the French support same-sex marriage and in 2013, another poll indicated that 77% of the French viewed that homosexuality should be accepted by society, one of the highest in the world.

Gay Saunas and Bathhouses in Lyon:
Double Side Lyon, 8 Rue Constantine
Sun City Lyon, 3, rue Sainte-Marie des Terreaux
Le Bellecour, 4 rue Simon Maupin
L'Oasis Club, 2 Rue Coustou
Gay Bars and Clubs:
Station B, 21 place Gabriel Rambaud
Le 1er Sous-Sol, 7 rue du Puits-Gaillot
Friends Club, 22 rue Josepph Serlin
SMAC 69 (Le Bar du SMAC), 30, rue Burdeau
L'United Café (UC), Impasse De La Pêcherie
Matinée Bar, 2 Rue Bellecordière
Le Forum Bar, 15 Rue Des Quatre Chapeaux
L' Etoile Opéra, 26 Rue De L'arbre Sec
Lesbian Bars and Clubs:
Le Domaine, 9 rue du jardin des plantes
Le L Bar, 19 Rue du Garet
Gay Male Prostitutes:
Up to 15 percent of sex workers in France are men. This percentage also includes TG/TS/TV and CD sex workers. Most cater to gay men and only a small number of the prostitutes accept women as clients. A gay male prostitutes in France charge between (€120 to €250 ) per hour. Most gay-escorts in Lyon are local, but there are also international male escorts visitings Lyon almost any given day!
BDSM
Some of the regular escort in Lyon offer BDSM services such as light domination, role playing and other fetish services. These type of services cost always more. There are also dominatrixes in Lyon who are only specified on these type of services.
There are also BDSM groups with similar interest that meet in private venues and sometimes at the Lyon clubs. Most swingers clubs in Lyon are visited by people with interest on BDSM things.
The Swinger Club Mistik, 45 quai Clemenceau - CALUIRE 69300 - Tel: 06 80 37 90 78
This club is popular among straights, bi-sexual, couples and transgirls. Many of the people who visit here have also interest on BDSM.
Sexual Services for Women
There are couple of very good looking and talented male escorts working in Lyon. Usual price for one hour is 100 to 200€, but some of the male prostitutes can also charge more or less than that. It is also very easy for tourist women to get sex from the local swingers clubs or just basic nightclubs.
Up to 15 percent of sex workers in France are men. Most cater to gay men and only a small number of the prostitutes accept women as clients.
Sex Shops and Adult Stores
If you don't feel like visiting or cannot find any local sex shops in Lyon, you can easily order adult products from Online Sex Shop.
Most sex shops in Lyon carry a good variety of sex toys, poppers, porn movies and fetish gear. Some of the adult shops have sex kino attached to them and the entrance to these venues is usually around 8 to 15 Euro and allows for multiple entries in one day.
Boite a Films, 24 rue Lanterne
You need to buy a token to enter the venue and there are three floors with cabins: basement and 2nd floor are gay, 1st floor is straight. Quite old down place, but still popular.
César Vidéo, 29 Rue Lanterne, Lyon, France +33 4 78 30 50 60
Very simple concept; you select a dvd and the worker will give you a booth number or you can buy a cinema ticket and cruise. All types of guys go here; old and young, but mostly straight guys. Lyon guys like to get ed and display no attitude. I have the impression they don't care so much about who is ing them as long as they can unload in a hot mouth. Open until midnight, but busiest from 16:00-20:00
Open Tue-Sat 12h-20h. Adult arcade is mostly visited by gays and transvestites.
Erostore, 7 Rue des Plâtriers, 69009 Lyon, France +33 4 72 29 11 18
Major Video store, Place des Capucins 2 (MAY BE CLOSED)
Open: Mon-Sat 14h-20h &Sun 16h-21h
Olly Boutique, 17 Rue Paul Chenavard, Lyon, France +33 4 78 30 89 63
X'Trême Center, 29 Boulevard de l'Europe, Pierre-Bénite, France +33 4 78 50 82 63
Escort Services & Agencies
Finding an escort when you're travelling can be a bit tricky. An ideal alternative to escorts is a girl who is looking for a mutually beneficial relationship. There are thousands of horny girls willing to do anything for a generous guy. Click Here to hookup with a beautiful young woman now.

Average price for one hour with a Lyon escort is between 150-300€. Short time like 15 to 30 minutes can be purchased for around 100€. Most Lyon escort work from the private flats. Foreign escort and working girls from the other French cities often work from the hotels. You should always negotiate beforehand with the girl about the services you require. Anal sex, role playing, pissing and other fetishes always cost a little extra like around 50€ more.
Sleeping
If you are planning to bring girls or hookers to your room and have sex with them, it is more recommended to rent an apartment from Lyon. There are many good flats for a rent under 100 Euro per night and basic rooms are as cheap as 50 Euro a night. Some small hotels may give you a trouble especially if you bring a sex worker to your room at the middle of the night. You should look for the rooms around the areas with prostitution activity mentioned above, so you have a shorter trip to go to your place once you find a prostitute.
For sex-tourists visiting Lyon and hoping to have sex with beautiful Lyon girls and sex workers on their trip, should get an airbnb or a hotel as close to the Bellecour, Presqu'ile, Vieux Lyon and along the banks of the Rhone. All of these areas are very close to each other and home to many of the singles nightclubs and pick-up bars of Lyon. Many of the escorts also have apartments at these areas, so you can easily do in-calls to their apartments and they can also to out-calls to your room, since it is nearby!
These are also the expensive parts of town, but it is worth of every euro to stay at these areas.
How ever if you are on a very low budget and just want to fuck a hooker once, you could stay out of the city center. Renting a room somewhere near a TCL Metro stop is a good option since the public transportation in Lyon is very good and can get you into city center very fast!
But getting a prostitute or a single girl from a tinder to hook up with you after a short date and then taking a metro ride is not as easy as walking across the street to a nearby city center hotel for a rapid sex session or a quick fuck.
Bellecour and Prequ'ile are more high-end and modern. Vieux Lyon is like the old town area of the city, you will find plenty of pubs and singles bars there.
Stay Safe
Real security problems in the Lyon center are rare, but the usual advice applies.
Rue Ste Catherine, behind Place des Terreaux, is locally famous for its bars; on weekend nights there are a lot of drunk people on the street, who might be violent. The police keep a close watch but it is probably better to avoid the area if you are on your own, especially after 3AM when the bars are closed. Similar problems may be encountered in Vieux Lyon.
In populated places such as Rue de la République or outside Part-Dieu station, you may come across people advertising for charities; they can be recognised by their specific, coloured clothing. They will not ask you for money but rather give you information documents which encourage you to donate. Homeless people sell newspapers such as Macadam or Sans-abri which help them making some money without begging; they should have an ID card issued by the editors. But there are also people trying to con you and get money for some imaginary charity, sometimes by selling postcards or other items. Never give money directly to someone on the street who claims to be working for charity and does not have official documents, or if the documents look doubtful.
Emergency numbers
The European emergency number ☎ 112 should be used on mobile phones.
See Also