Algiers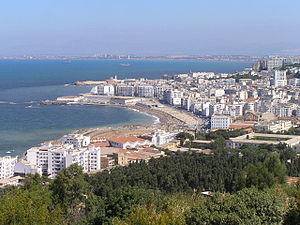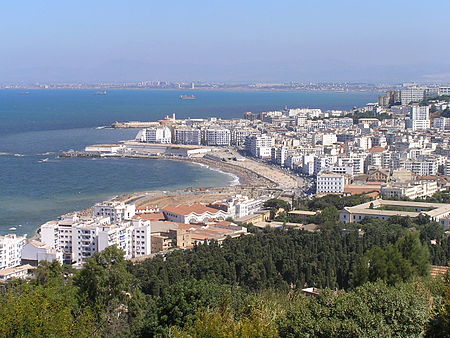 Algiers Sex Guide advises where to find sex, working girls, prostitution, street hookers, brothels, red-light districts, sex shops, prostitutes, erotic massage parlors, strip clubs and escorts in Algiers, Algeria.
Algiers (الجزائر) is the capital of Algeria in North Africa.
Algiers is a port city on a bay in the Mediterranean first settled over 1000 years ago. It is a large city with a population of over 3 million.
While downtown Algiers looks modern, the capital is struggling to keep up with rapid growth. The standard of living for many of its population is poor. Algiers has also been marred by violence in the past decade. A civil war which started in 1991 destroyed much of the country. In recent times things (in Algiers at least) have returned to normal. Substantial reconstruction of the infrastructure has taken place and is still ongoing.
Sex Scene and Prostitution
Algeria is a transit and, to a lesser extent, destination country for men and women subjected to trafficking in persons specifically forced labor and forced prostitution.
Prostitution in Algeria is legal but most related activities such as Brothels-keeping and solicitation are criminalized. There are however two Brothels that continue to operate under the former French occupation rules of registration and medical examination with the complicity of the Algerian authorities. Algeria's Criminal Code prohibits soliciting in a public place, assisting or profiting from the Prostitution of others, living with a person engaged in Prostitution and procuring for the purpose of prostitution. The criminal code also prohibits keeping, managing or financing an establishment where prostitution occurs. Penalties are harsher if the offense involves a minor, or if threats or coercion are involved. The law doesn't incriminate the Sex worker, it incriminates the person who lives off of a Sex worker or her handler if she has one.
Some mongers say that there is not too much girl action in Algiers anymore.
Advices for Visiting
To have a good time, you need to have access to an apartment.
You can meet a lot a nice semi-pro in the salons de the that are actually popping everywhere, especially in the Hydra district.
FORGET STAYING AT THE ST GEORGE HOTEL (EL DJAZAIR) and the HILTON. Strictly no access to friends.
The ambiance in the country is actually very tense. Algerians are upset about their non elected political leaders. Riots every day somewhere in Algiers and the suburbs. Do not venture out of the city.
The economic situation is on a negative slope.
The girls are overpriced except if you have a girlfriend.
You can have a working girl in some hotels but at sky rocketing prices (very low quality of time spent and mostly old).
The girls in hotels MUST pay everybody to get in. So the price can't be cheap and if she refuses, security will beat them.
Red Light Districts
There is no window type red-light district in Algiers.But there are one red-light district where you can find a lot of street hookers.
Prostitutes and Sex Workers
Hookers might be asking about 200 euros for their services. It is unpleasant, but girls are pretty expensive in Algeria
You can try your luck to find prostitutes from these places:
Hotel M (bar or lobby area).
Hotel S (bar or lobby area, girls might be expensive).
Hotel Aurassi (bar or lobby area). Information might be outdated.
You can ask taxi driver to take you to some Cabarets.
You can try some 'salons de thés', for example Terrasse wich is located in Sidi Yayia. You will have Société Générale close to it. There are sometimes some nice and not expensive ladys. Be nice and you will rewarded.
The Cappacino is a good choice. Go inside to the 2nd or 3rd floor. The girls can't smoke if they outside. It can be hit or miss. Many times, you'll find the places just full of men.
Another place nearby The Cappacino is Kheima.
During the day you can go to the salon de thes in Sidi Ihia (downtown down Hydra opposite the Mango shop roundabout).
After 10pm it's time to go out if you couldn't make it in the salon de thes. In Palm beach you have several hotels with cabaret-restaurant and discos where you can pickup girls and go to the hotel.
You can also pickup sex workers in nightclubs and bars in Algiers:
Havana Club. Address: Centre Commercial Bab Ezzouar, Bab Ezzouar, Alger, Algiers 16000, Algeria. Phone: +213 771 68 47 57. Website: https://www.havana-dz.com/
Pasha Nightclub. Address: 24 Av Souidani Boujmaa, Les Tagarins, Algiers 16070, Algeria. Phone: +213 21 23 09 33.
The Black Ball. Address: 37 Rue Mustapha Khalef, el Biar, Algiers 16000, Algeria. Phone: +213 555 55 55 55
Spoon Club. Address: Bordj El Kiffan, Algiers, Algeria. Phone:
+213 555 02 54 10
The Boom Boom disco. Address: Pins Maritimes, El Mohammadia, Algiers. There is during the weekend (Wednesday and Thursday) some action to find.
Street Hookers
There is no specified district for street whores in Algiers. But most nice hotels with lobbies always have a few girls rooming around, but remember Algiers girls are particularly expensive. Prices are 100€ and up.
You can search for street hookers in Rahbat al-Jammal area.
Strip Clubs & Lap Dance
There is no legal Strip clubs in Algiers, but you can have a strip show from escorts.
Brothels
There are illegal brothels in Algiers, but most of the coffee places, bars and night clubs offer all the same services. In a muslim country girls should not be alone outside with make up and without a male family member. So it is easy to spot the girls who are looking for companion.
Some reported Hotel Oasisto to be some kind of brothel with sex workers inside.
Erotic Massage Parlors
Hammams in Algiers is strictly for getting washed. There will be no girls in mens side and the same other way around. So big no for sexual activities. But some hotels offer you massage and there you may be lucky for some action.
Live Sex Cams
Can I watch Live Sex Cams in Algiers? - Yes, you can! Basically you can watch our online live sex shows for free anywhere in the world if you're connected to internet. You can choose any girl from our trusted WikiSexLive.com! Join to get 10 free private teasers and 9.99 credits for free!
Live Sex Cams are booming at the moment. Webcam models can be found from all over the world and you can find girls, guys, trannies, couples and groups of different ages performing to you. Watching live sex shows is free, but if you buy some credits, you will have much better chances to see adult action as desired! It's possible also to hire a webcam model to a private chat room where you can ask the person to fulfill your fantasies. Try now! WikiSexLive.com
Dating
Dating in Algiers can be a bit tricky due to cultural differences, so your best bet is to sign up for a dating site before your trip so you can meet a few locals ahead of time. AdultFriendFinder.com lets you meet local members in Algiers and get to know them on a personal basis before you arrive. Take advantage of site features like live chat and member to member webcams so you can begin flirting before arranging a face-to-face meeting. Since your time in Algiers may be limited, get to know each other's desires beforehand, so that when you meet you can start having some real fun.
How to find Sugar Babies & Sugar Daddies
If you are looking for an alternative to escorts in Algiers with a girl who doesn't charge by the hour, sugar dating is the ideal solution. There are thousands of beautiful young women at SecretBenefits.com willing to do anything for a man who will help them pay their bills.
Often referred to as the "Tinder for Older Guys", SecretBenefits matches hot young women interested in pampering older gentlemen. You don't have to be a millionaire at SecretBenefits.com, you just need to be a respectful gentleman who knows how to treat a woman.
Swinger Clubs and BDSM
ALT.com is the best place for local singles, swingers, and couples in the BDSM community to connect with those interested in submissive sex, power exchange, locating persons for new slave roles, erotic BDSM, bondage & fetish sex, as well as live sex dates. Find thousands of play partners for whatever your fetish may be; bondage, foot, cockold, spankings, role-play, electric or water play, sadism and masochism. So whether you have the desire to explore your unrealized fetish fantasies, or you are extremely experienced and would love to train someone new, ALT.com is a community designed for people with like-minded interests to find and connect with each other.
You will not find swingers clubs from Algiers. There are only a few hammams where gay swinging happens in Algiers. You may find some action in Hammam les IDJER.
Transsexuals / Shemales
Finding someone for transsexual dating when you're on the road can be a bit tricky, so your best bet is to sign up for a dating site before you go so you can find locals ahead of time. TSdates.com is a dating site designed to help you find exactly what you are looking for in your hookup in Algiers. Take advantage of site features like live chat and member to member webcams so you can begin flirting before arranging a face-to-face meeting. With over 40 million members, and thousands of transsexual members around the world, TSdates.com is the world's largest site of sex-minded friends for discreet encounters and will help you find your next transsexual play partner.
Where can I find shemales in Algiers? You can watch transsexual live sex shows in Algiers as long as you are connected to internet. Check Now: Tranny Live Sex Video Chat
Algeria has a lot of transsexuals, but because of the religion they are not openly showing their sexuality. They are very hard to find, but from Tinder or Grindr you may get lucky.
Gay and Lesbian
Gay modeling in internet is getting more popular all the time and it's a big market alongside with gay porn. You can watch gay live sex also in Algiers as long as you are connected to internet. Check it out: Gay Live Sex Video Chat
Both male and female same-sex sexual acts are illegal in Algeria. Lesbian, gay, bisexual, and transgender (LGBT) persons in Algeria face legal challenges and discrimination not experienced by non-LGBT citizens. According to the International Lesbian and Gay Association's May 2008 report, both male and female same-sex sexual acts are illegal in Algeria.
Anyone guilty of a homosexual act is punishable with imprisonment of between 2 months and two years, and with a fine of 500 to 2000 Algerian Dinars. If one of the participants is below 18 years old, the punishment for the older person can be raised to 3 years' imprisonment and a fine of 10,000 dinars. "When the outrage to public decency has consisted of an act against nature with an individual of the same sex, the penalty is imprisonment of between 6 months and 3 years, and a fine of between 1,000 and 10,000 Algerian Dinars.
Homosexuality and cross-dressing are prohibited by law, and the prevailing social attitude is openly negative, even violent. The law does not recognize or respect the civil rights of LGBT persons. Officially, there are no gay-friendly establishments and no political organization is allowed to campaign for LGBT rights.
Algeria's gay scene is certainly alive, but is very hidden. There are no civil rights or legal protections and little-to-no safe private space for meeting and hooking up. Therefore, gay guys occupy the only place where they can find other like-minded men: the street.
Hooking up with men in Algiers, Algeria is easy, if you know how to read the signs in their eyes along the Ave Didouche Mourad', the main thoroughfare running through the heart of the Algiers. On a Friday evening, there are lots of gay hook ups happening in Ave Didouche Mourad.
Just like in most Arab cities, people don't have a problem with men who have sex with men, but they still do not accept the gay life.
The poorer districts, near the Beaux Arts Museum, are where the cutest guys live.
There's are few hammans also where one can have their dick sucked and in some of them there is open sex happening. Most of these places are want to kept hidden, so it is best to try to hook up first with a local guy from Grindr or Tinder and ask more info about Algiers gay scene.
Hammam les IDJER. Address: 28 Rue Ibn Zekri EL Madania | ALGER algerie, Algiers 16075, Algeria.
Sexual Services for Women
Really easy to find a man to have sex with you in whole Algeria. Men are begging to even touch you. Be careful especially at late night.
Sex Shops and Adult Stores
If you don't feel like visiting or cannot find any local sex shops in Algiers, you can easily order adult products from Online Sex Shop. There are no European style sex shops in whole Algeria. Some pharmacies in Algiers will sell you viagra without prescription.
Escort Services & Agencies
There is a large selection of escorts in Algiers online.
Sleeping
Usually, hotels require a marriage certificate for having a girl in your room whether it is your girlfriend or a prostitute. Most Muslim countries act this way.
Some 5-stars hotel will accept a visitor just ask the reception first.
Hotel Oasis. Address: 32 16040 -Algérie، Rue Mokhtari Belhouchat, Hussein Dey 16040, Algeria. Phone: +213 21 77 04 04.
Hilton Hotel. Address: Pins Maritimes El Mohammadia, Algiers 16000, Algeria. Phone: +213 21 21 96 96. You can bring escorts to your room for free.
Stay Safe
If you get a girl from someplace other than your hotel, avoid sharing a taxi if it is late at night because you may get stopped by police. If you are stopped nothing will happen to you if you pay a few hundred dirhams, but you will lose the girl. To be on the safe side just take separate taxis.
Algeria has improved in safety immensely in recent years and for much of the country, there are no significant safety issues. However, the lack of foreign visitors means that you will stand out in a crowd and so it still pays to exercise caution. While Algeria is now generally a safe country, check the latest situation when finalizing your itinerary. All travelers to the Sahara beyond In Salah must, by law, be accompanied by an official guide and need to show a copy of an authorized invitation upon arrival. This can also extend to western towns such as Timimoun and Taghit. Currently, all borders apart from those with Tunisia are either closed or considered dangerous.
See Also