Indonesia
Indonesia Sex Guide advises where to find sex, working girls, prostitution, street hookers, brothels, red-light districts, sex shops, prostitutes, erotic massage parlors, strip clubs and escorts in Indonesia, Asia.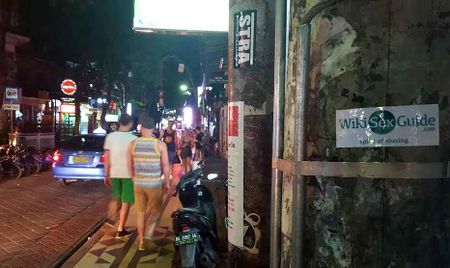 Indonesia, formally the Republic of Indonesia, is a huge archipelago of disparate islands straddling the Equator between the Indian Ocean and the Pacific Ocean. While it has land borders with Malaysia to the north and East Timor and Papua New Guinea to the east, its exclusive economic zone also abuts Australia to the south; Palau, the Philippines, Vietnam, Singapore, and Thailand to the north; and India to the northwest.
Sex Scene and Prostitution
Although prostitution is illegal, Indonesia remains a very popular site for sex tourism. Sex workers can be found in traditional bordellos, but one thing that sets the sex tourism industry in Indonesia apart is the popularity of online sex forums and prostitution rings that exist through social media. The availability of sex workers via the internet allows for ratings and facilitates the process of finding a escort. It seems like Indonesia's sex tourism is very highly efficient.
Prostitution in Indonesia is legally considered a "crime against decency/morality", although it is widely practiced, tolerated and regulated. Some women are financially motivated to become prostitutes, while others may be forced by friends, relatives or strangers. Traditionally, they have met with customers in entertainment venues or special prostitution complexes, or Relokalisasi.
There are 4 (four) types of prostitution in Indonesia:
Prostitutes who come from particular areas.
Prostitution in their workplace.
Prostitution and life style.
Prostitution and the ritual beliefs and internet prostitutes.
Regions
The nation of Indonesia is almost unimaginably vast: More than 17,000 islands providing 108,000 km of beaches. The distance between Aceh in the West and Papua in the East is more than 4,000 km (2,500 mi), comparable to the distance between New York City and San Francisco. Laying on the western rim of the Ring of Fire Indonesia has more than 400 volcanoes, of which 130 are considered active, as well as many undersea volcanoes. The island of New Guinea (on which the Indonesian province of Papua is located) is the second largest island in the world.
Provinces, of which there are currently more than 30, are usually composed of a group of smaller islands (East & West Nusa Tenggara, Maluku), or divide up a larger island and its outlying islands into pieces (Sumatra, Kalimantan, Java, Sulawesi, Papua). The listing below follows a simpler practice of putting together several provinces in one region, except with Bali, which is treated as a separate region in WikiSexGuide.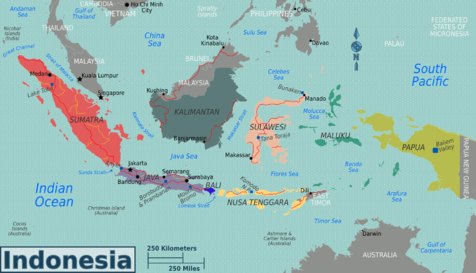 Sumatra (incl. the Riau Islands and Bangka-Belitung)
Wild and rugged, the 6th largest island in the world has a great natural and cultural wealth with more than 40 million inhabitants. Habitat to many endangered species. Aceh, Palembang, Padang, Lampung and Medan, as well as the outspoken Bataknese, multi-colored Lake Toba and Indonesia's gateway island, Batam.
Kalimantan (Borneo)
The vast majority of this, the world's third largest island, is covered by the Indonesian province, but a portion belongs to Malaysia, and a small piece at the northern tip is the Muslim country Brunei Darussalam. Uncharted jungles that are swiftly being clear-cut, mighty rivers, home of the orangutan, once a paradise for the adventurer, now having trouble with rising temperatures, drought, erosion and loss of wildlife amidst uncontrolled illegal logging and development.
Java (Karimun Jawa, the Thousand Islands National Park, and Madura)
The country's heartland, big cities including the capital Jakarta, Bandung, Surabaya and a lot of people packed on a not-so-big island. Also features the cultural treasures of Yogyakarta, Solo, Borobudur and Prambanan.
Bali
By far the most popular tourist destination in Indonesia, and practically a country unto itself, Bali's blend of unique Hindu culture, legendary beaches, numerous religious and historical sites, spectacular highland regions and unique underwater life make it a perennial favourite amongst global travellers.
Sulawesi (Celebes)
Strangely shaped, this island houses a diversity of societies and some spectacular scenery, Toraja culture, rich flora and fauna, and world class diving sites like Bunaken.
Nusa Tenggara (NT)
Also known as the Lesser Sunda Islands, literally the "Southeast Islands", it is divided into East Nusa Tenggara and West Nusa Tenggara and contains scores of ethnic groups, languages and religions, as well as Komodo lizards and more spectacular diving. West NT contains Lombok and Sumbawa and many small islands. Lombok is the less-visited but equally interesting sister of Bali and offers several diving sites as well as historical and religious locations. East NT contains Flores, Sumba and West Timor as well as several other islands, including Komodo Island, home of the Komodo Dragon, and offers the unique attraction of containing tiny kingdoms on Sumba. Traditional art in East NT, especially woven cloth, is interesting and reasonably priced, and you can find beaches that are literally covered with coral and shells.
Maluku (Moluccas)
The historic Spice Islands, fought over to this day, largely unexplored and almost unknown to the outside world.
Papua (Irian Jaya)
The western half of the island of New Guinea, with mountains, forests, swamps, an almost impenetrable wilderness in one of the remotest places on earth. Aside from the mining in the area of Freeport, this is probably one of the most pristine parts of the country, and scientists recently discovered lost species there.
Cities
Other Destinations (islands)
Bali - a touristic island
Lombok - an island in the Eastern Indonesia, next to Bali
Live Sex Cams
Can I watch Live Cams in Indonesia? - Yes, you can! Basically you can watch our online live sex shows for free anywhere in the world if you're connected to internet. You can choose any girl from our trusted Live Sex Cams! Join to get 10 free private teasers and 9.99 credits for free!
Live Sex Cams are booming at the moment. Webcam models can be found from all over the world and you can find girls, guys, trannies, couples and groups of different ages performing to you. Watching live sex shows is usually free, but if you buy some credits, you will have much better chances to see adult action as desired! It's possible also to hire a webcam model to a private chat room where you can ask the person to fulfill your fantasies.
Dating
Dating in Indonesia can be a bit tricky due to cultural differences, so your best bet is to sign up for a dating site before your trip so you can meet a few locals ahead of time. AdultFriendFinder.com lets you meet local members in Indonesia and get to know them on a personal basis before you arrive. Take advantage of site features like live chat and member to member webcams so you can begin flirting before arranging a face-to-face meeting. Since your time in Indonesia may be limited, get to know each other's desires beforehand, so that when you meet you can start having some real fun.
Gay & Lesbian
Lesbian, gay, bisexual, and transgender (LGBT) people in Indonesia will face legal challenges and prejudices not experienced by non-LGBT residents. Traditional mores disapprove of homosexuality and cross-dressing, which impacts public policy. For example, Indonesian same-sex couples and households headed by same-sex couples are not eligible for any of the legal protections available to opposite-sex married couples. The importance in Indonesia for social harmony leads to duties rather than rights to be emphasized, which means that human rights along with homosexual rights are very fragile. Yet, the LGBT community in Indonesia has steadily become more visible and politically active.
Escort Services
Stay Safe
Prostitution has been blamed for the increasing HIV/AIDS rates in various parts of Indonesia, including Central Java and Bali. A lack of health control in brothels and a lack of condom use have been blamed; in 2010 the Bali AIDS commission reported that only 40% of clients used protection.
Prostitutes themselves may fall victim to psycho-socio problems, such as multiple personality disorder. When servicing customers or dealing with their pimps, they may be physically and mentally abused. They are also at risk of catching HIV/AIDS.
See Also