Cambodia
Cambodia Sex Guide advises where to find sex, working girls, prostitution, street hookers, brothels, red-light districts, sex shops, prostitutes, erotic massage parlors, strip clubs and escorts in Cambodia, Asia.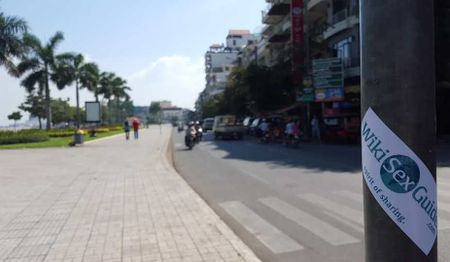 The Kingdom of Cambodia is a Southeast Asian nation bordered by Vietnam to the east, Laos to the north, Thailand to the northwest, and the Gulf of Thailand to the southwest.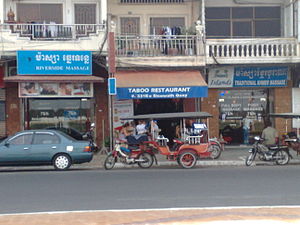 Sex Scene and Prostitution
Prostitution in Cambodia is illegal, but prevalent. A 2008 Cambodian Law on Suppression of Human Trafficking and Sexual Exploitation has proven controversial, with international concerns regarding human rights abuses resulting from it, such as the 2010 Human Rights Watch report.
Cambodia still remains a popular destination for sex tourism. Cambodia's rocky history during the 20th century, including the Khmer Rouge, caused laws regarding prostitution to rise and fall in varying degrees of severity.
It is estimated that there are 40,000 to 100,000 people working in Cambodia's sex industry. Despite its reputation as a haven for international sex tourists, between 49 to 70 percent of |Prostitution|prostitution]] customers in Cambodia are local residents.
Regions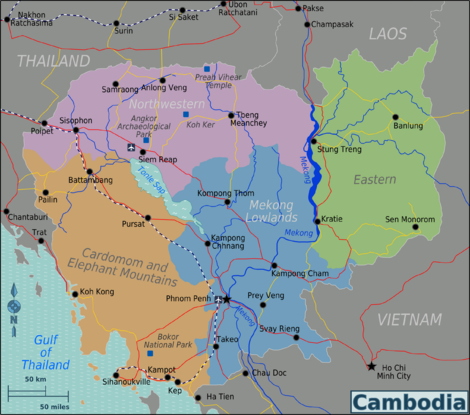 North-western Cambodia (Angkor Archaeological Park, Siem Reap, Sisophon, Koh Ker, Poipet, Tonle Sap Lake, Preah Vihear)
Angkor, the main reason most visitors come to Cambodia, plus a huge lake and the northern mountains
Cities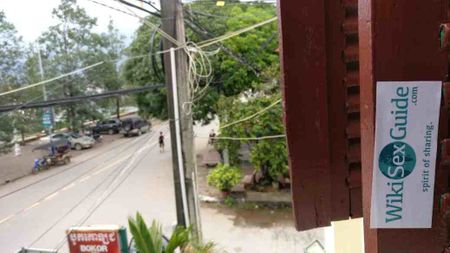 Gay, Lesbian & Ladyboys
Same-sex sexual activity is legal in Cambodia when it involves non-commercial acts between consenting adults in private. While traditional cultural mores tend to be tolerant in this area, even expressly providing support for people of an intermediate or third gender, LGBT rights legislation has not yet been enacted by the ruling government.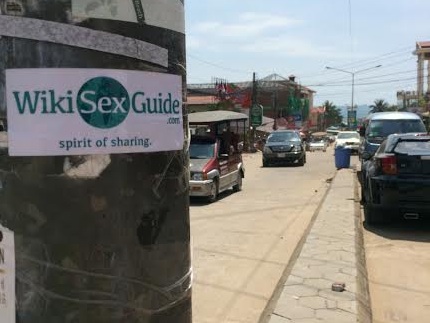 Escort Services
There are online agencies that charge 100-200 dollars for high class escorts
Stay Safe
Cambodia is a safe and friendly country, with the usual exception for large cities late at night, particularly Phnom Penh, and unobserved luggage or wallets. Bag snatching, even from those on bicycles and motorcycles, is a problem in Phnom Penh. Be discreet with your possessions, especially cash and cameras, and as always, take extra care in all poorly lit or more remote areas. If you are renting a motorcycle it has been advised to purchase and use your own lock for securing it as some of the less scrupulous staff at rental companies have been known to use their copy of the key to steal bikes and leave the traveler paying the exceptionally high value estimation. Police assistance in many cases requires some "facilitation" money in a sort of bidding war between the victim and the criminal with "connections" complicating things further making recovery of the motorcycle difficult.
Crime and corruption
Intending visitors should be aware that the rule of law in Cambodia is inconsistently applied. Crimes usually require bribes to be investigated, and if perpetrators are wealthy or connected to the government they will often be untouchable by police and courts. You should also be aware that the courts are corrupt, so contracts are hard to enforce without some political leverage. All this being said, the violent crime rate is fairly low (especially to foreign visitors), the police are generally friendly and non-threatening, and those with common sense have little to fear.
Land mines
Cambodia suffers from a legacy of millions of land mines left during the war years. However, to tourists, land mines present a minimal to nonexistent threat, as most areas near touristed areas have been thoroughly de-mined. Many tourists mistake electric or sewage warning signs along national highways for land mine signs. HALO Trust, a leading mine removal organization in Cambodia asserts that you would have to drive through the jungle for at least an hour north of Angkor Wat to come across any mines. The threat is to locals in extremely rural areas who rely on subsistence agriculture for their livelihoods.
Nevertheless, in remote areas such as Preah Vihear (near the border) and Pailin (a former Khmer Rouge stronghold), exercise caution: ask for local advice and heed warning signs, red paint and red rope, which may indicate mined areas. Do not venture beyond well established roads and paths.
Prostitution
Prostitutes of both sexes can carry many STDs. The official HIV rate among prostitutes is 34%.
The age of consent in Cambodia is 15, however there are strict laws against prostitution of 15-18 year olds. Prostitution is theoretically illegal but widespread, although generally not overtly aimed at tourists, with the exception of Phnom Penh and Siem Reap. Many bars and clubs have taxi girls wandering the premises. Bear in mind that Southeast Asia has a fast-growing HIV infection rate, and among Cambodian sex workers this is about 1 in 8. So safe sex is a must in all cases. Cambodia had gained notoriety as a destination for pedophiles in the past. This is not the case anymore as prostitution of girls under 18 has all but disappeared from traditional venues.
Public health
Cambodia has a high prevalence of HIV and AIDS, being one of the worst affected countries in Asia. By 1995 there were between 50,000 and 90,000 Cambodians affected by AIDS, according to a WHO estimate. Transmission is mainly through heterosexual contact. Factors contributing to this include poverty, the presence of other STIs which facilitate HIV transmission, and a highly mobile workforce. This pattern is also seen in the sex worker population. Improvement has been seen in the last decade with condom promotion. Since 2001, there has been a "100% condom program" in place, which promoted safe sex.
See Also