Malaysia
Malaysia Sex Guide advises where to find sex, working girls, prostitution, street hookers, brothels, red-light districts, sex shops, prostitutes, erotic massage parlors, strip clubs and escorts in Malaysia, Asia.
Malaysia is a country in Southeast Asia, located partly on a peninsula of the Asian mainland and partly on the northern third of the island of Borneo. West (peninsular) Malaysia shares a border with Thailand, is connected by a causeway and a bridge (the 'second link') to the island state of Singapore, and has coastlines on the South China Sea and the Straits of Malacca. East Malaysia (Borneo) shares land/maritime borders with Brunei, Indonesia and the Philippines.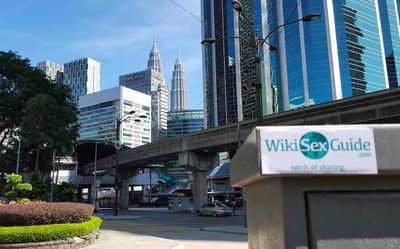 Sex Scene and Prostitution
Prostitution is illegal in Malaysia. Demand for prostitution has created a problem of people trafficking from China and other nearby countries. Sexual services, however, are widely available and laws banning prostitution remain largely unenforced.
Becoming a prostitute is nothing new in Malaysia. Many women, even those with tertiary education and permanent employment still become prostitutes. Educated women who become prostitutes are usually part-timers who want a luxurious lifestyle like owning a nice condo, an expensive car, the latest sophisticated handphones and wearing designer clothes. Aparently the demand for prostitutes in Malaysia is rather high, especially in cities like Kuala Lumpur, Penang and Ipoh.
Regions
Malaysia is divided into two main geographical regions, commonly known as Peninsular Malaysia and East Malaysia.
Peninsular Malaysia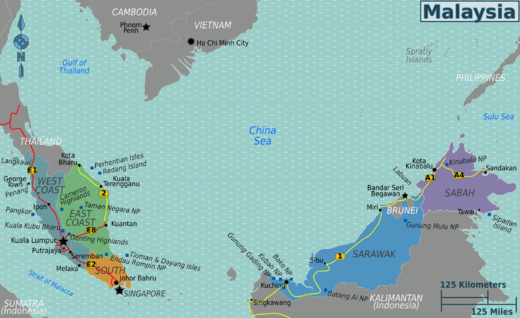 West Coast (Kedah, Kuala Lumpur, Malacca, Negeri Sembilan, Penang, Perak, Perlis, Putrajaya, Selangor)
The more developed region, offering the modern capital, Kuala Lumpur, UNESCO World Heritage cities with colonial flare and the Langkawi archipelago.
South (Johor Bahru)
Comprising just one state, two coastlines, endless palm oil plantations and the gateway to Singapore overland.
East Malaysia
Sabah
Superb scuba diving in Sipadan island plus muck diving at Mabul, nature reserves, the federal enclave of Labuan and the mighty Mount Kinabalu.
Sarawak
The southern state of East Malaysia. Home to traditional longhouses, lush jungles and national parks in contrast to the state capital, Kuching.
Cities
Other destinations
People
Malaysia is a multicultural society. While Malays make up a 52% majority, there are also 27% Chinese, 9% Indian and a miscellaneous grouping of 13.5% "others", such as the Portuguese clan in Melaka and 12% of indigenous peoples (Orang Asli). There is hence also a profusion of faiths and religions, with Islam, Christianity, Buddhism, Taoism, Hinduism, Sikhism and even shamanism.
Live Sex Cams
Can I watch Live Cams in Malaysia? - Yes, you can! Basically you can watch our online live sex shows for free anywhere in the world if you're connected to internet. You can choose any girl from our trusted Live Sex Cams! Join to get 10 free private teasers and 9.99 credits for free!
Live Sex Cams are booming at the moment. Webcam models can be found from all over the world and you can find girls, guys, trannies, couples and groups of different ages performing to you. Watching live sex shows is usually free, but if you buy some credits, you will have much better chances to see adult action as desired! It's possible also to hire a webcam model to a private chat room where you can ask the person to fulfill your fantasies.
Dating
Dating in Malaysia can be a bit tricky due to cultural differences, so your best bet is to sign up for a dating site before your trip so you can meet a few locals ahead of time. AdultFriendFinder.com lets you meet local members in Malaysia and get to know them on a personal basis before you arrive. Take advantage of site features like live chat and member to member webcams so you can begin flirting before arranging a face-to-face meeting. Since your time in Malaysia may be limited, get to know each other's desires beforehand, so that when you meet you can start having some real fun.
Gay & Lesbian
LGBT rights are largely unrecognised in Malaysia. Though many Malaysians are generally tolerant towards, and accepting of, LGBT individuals, the government retains the colonial era penal code criminalising sodomy. Social attitudes towards the LGBT community are also shaped by Islam, the official religion in Malaysia.
Homosexuality is a crime hence gay and lesbian tourists should be self-aware and careful.
Malaysia Escorts and Escort Services
Check out WikiSexGuide Adult Classifieds!
Stay Safe
The crime rate is higher than in neighbouring Singapore. Crimes towards tourists are usually restricted to bag-snatching, pickpocketing and petty theft. It is important to keep a close eye on valuable items. Theft is more common in crowded places, such as markets and on public transport. Generally, if you avoid deserted areas, get back to your hotel before midnight and use your common sense, you're unlikely to be assaulted. Homosexuality is a crime hence gay and lesbian tourists should be self-aware and careful.
Big cities like Kuala Lumpur still have a fairly active gay scene and gay bashing is rarely heard of. However, same-sex relationships are a taboo subject and "Carnal intercourse against the order of nature" is punished by up to 20 years gaol and whipping (men only) under colonial era laws not usually enforced against consenting adult heterosexuals. Different states may also impose consecutive sharia law punishments of up to 3 years and six lashes against Muslims of all genders.
See Also
WARNING: Malaysia treats drug offences extremely severely. The death penalty is mandatory for those convicted of trafficking, manufacturing, importing or exporting more than 15 g of heroin, 30 g of morphine, 30 g of cocaine, 500 g of cannabis, 200 g of cannabis resin and 1.2 kg of opium, and possession of these quantities is all that is needed for you to be convicted.

Unauthorised consumption can result in up to 10 years' jail, or a heavy fine, or both. You can be charged for unauthorised consumption as long as traces of illicit drugs are found in your system, even if you can prove that they were consumed outside the country and you can be charged for trafficking as long as drugs are found in bags that are in your possession or in your room, even if they aren't yours and regardless of whether you're aware of them - therefore be vigilant of your possessions.