Yokohama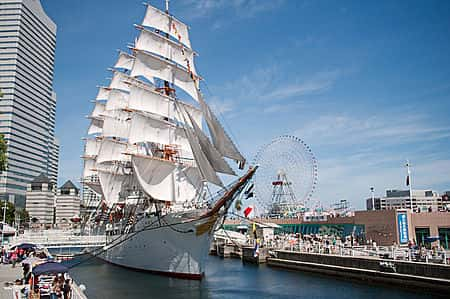 Yokohama Sex Guide advises where to find sex, working girls, prostitution, street hookers, brothels, red-light districts, sex shops, prostitutes, erotic massage parlors, strip clubs, soaplands, pink salons and escorts in Yokohama, Japan.
Located on the western coast of Tokyo Bay directly south of Tokyo, Yokohama (横浜) [1] is the second largest city in Japan and one of the cities most used to seeing foreigners.
Sex and Prostitution in Yokohama
Prostitution is illegal in Japan. However, enforcement is lax, and the law specifically defines prostitution as "sex in exchange for money". In other words, if you pay for some other "service" and proceed to have sex by "private agreement," the law does not recognize it as prostitution. As such, Japan still has one of the most vibrant sex industries in the world.
Prostitution in Japan has existed throughout the country's history. While the Anti-Prostitution Law of 1956 states that "No person may either do prostitution or become the customer of it," loopholes, liberal interpretations of the law, and loose enforcement have allowed the sex industry to prosper and earn an estimated 2.3 trillion yen (US$24 billion) a year, which accounts for 0.4 to 0.5% of the nation's GDP.
In Japan, the "sex industry" is not synonymous with prostitution. Since Japanese law defines prostitution as "intercourse with an unspecified person in exchange for payment," most sex clubs offer only non-coital services to remain legal. This has led Joan Sinclair, the author of Pink Box, to observe that the sex industry in Japan ironically "offer[s] absolutely everything imaginable but sex.
You can find prostitutes operating in and around various places in Yokohama. However, one must always try and remain alert before entering any place that is known for brothel based activities in Yokohama. If you find it difficult to track a place where prostitution is practiced in Yokohama, then consult various online forums and other communities that deal with providing proper map and other details regarding such activities in the city. This will help you in the matter of gaining details and other information beforehand, so that you can visit the actual place in a hassle-free way.
Red Light Districts
One of the many terms used for a red-light district in Japanese is akasen (赤線), literally meaning "red-line." (This has independent origins from the same term in English.) Japanese law enforcement drew a red line on maps to indicate the boundaries of legal red-light districts. In Japanese, the term aosen (青線), literally meaning "blue-line," also exists, indicating a non-legal district. Tokyo has the most famous red light districts in Japan called Kabukichō, Yoshiwara and Gotanda. There is plenty of Soaplands, Brothels, Erotic massage parlors, Street walkers from different nationalities.
If you are planning to visit these areas, then be alert enough regarding each and every activity and the people around. It would be better if you try and avoid pimping. At times, approaching the working girl directly proves to be better and more efficient. The red light districts in Yokohama like Chon No Ma consist of freelancers coming from other cities as well. The main street of Yokohama has lots of restaurants, soaplands and other adult businesses available. You can enjoy the scenario by walking down the streets in the early evening.
Prostitutes and Sex Workers
Most prostitutes in Japan are Japanese, but usually Japanese escorts are less foreign friendly. In Japan, you can also get sex from prostitutes who mainly comes from Thailand, China, Korean, Philippines & other south-east [Asia]]n countries. Most prostitutes in Japan are in Soaplands (Japanese brothels), Pink saloons, Erotic massage parlors or in online escort pages. Price for sex in Japan is really wide from 10,000YEN up to 100,000YEN. Some sex styles in Japan are kinky for a western such us pooping, peeing, squirting etc. There are rows and cubicles located in and around the red light districts of Yokohama, which are used for sex work and other related activities. In Yokohama, you can find prostitutes and sex workers active and available for their potential clients in the red light areas and other places where adult entertainment activities scan be found. However, a little bit of knowledge and a well built concept regarding such things will always come into play.
Street Hookers
Street walkers are in Kannai Yokohama. They are rooming around the river around 65 Yoshidamachi, Kannai. They have a good variation of girls from chubby to skinny. They have some also from Thailand and few maybe from Philippines. Girls are nice and approach you. If you give them the eye. Prices are 10,000YEN and up, but they usually provide the room and you get around two hours. Much cheaper than Soaplands. However, the choice is definitely yours and you can ask the sex workers for some further favor and treatment if anything else is available in store for you. You may visit the red light areas of Yokohama in order to get hooked up with the streetwalkers offering sex for money. However, always be careful enough in the matter of choosing the working girl. Sanitation, medical fitness and other important attributes should be prioritized by the prospective customers.
Live Sex Cams
Can I watch Live Sex Cams in Yokohama? - Yes, you can! Basically you can watch our online live sex shows for free anywhere in the world if you're connected to internet. Join to get 10 free private teasers and 9.99 credits for free! You can choose any girl from our trusted Live Sex Cams!
Live Sex Cams are booming at the moment. Webcam models can be found from all over the world and you can find girls, guys, trannies, couples and groups of different ages performing to you. Watching live sex shows is usually free, but if you buy some credits, you will have much better chances to see adult action as desired! It's possible also to hire a webcam model to a private chat room where you can ask the person to fulfill your fantasies.
Where to Get Sex Now
It is easy to get sex online in Yokohama. You just need to find the best available girls. See Girls Online Here!
Adult Locations
There are many interesting places for adult entertainment in Yokohama. The soaplands, spas, adult massage parlors and of course the red light districts of Yokohama are the available adult locations. You may visit nightclubs and bars as well.

Escort Services and Agencies
Unfortunately we don't list in this category!
Finding an escort when you're travelling can be a bit tricky. An ideal solution for having an alternative for escorts is Ashley Madison. There are thousands of horny girls waiting for you. Find all the beautiful young women at AshleyMadison.com!
There are a number of good escort services with the girl coming to your hotel room. Prices usually start from 28,000yen for 1 hour or 45,000yen for 2 hours. You can find a large selection of escorts online. You will be able to find several websites dealing with the services and availability of escort girls in Yokohama. So, get in touch with them and tell them whether you would like to enjoy an in call and out call service. The working girls would provide the same according to your choice.
Erotic Massage Parlors
Unfortunately we don't list in this category!
There are many Erotic massage parlors in Yokohama. One of the famous method is Kaishun Massage is an art of erotic massage derived from old ancient China, which the male genitals rejuvenate to stimulate the testicles, the groin or crotch, the anal and of course the penis gently. And there are plenty more in Tokyo what you might try out.
A Kaishun session:
Girl washes your erogenous area with gently touch. She would try to find your erotic pleasure.
She enhances your erotic pleasure by the nipple lick etc. of putting the gently touch. You would be massaged to touch, to lick, to suck up gently by her.
Whole body esthetics with oiling
You would be massaged whole body by her with oil. Legs, Arms, Butt, Scruff, Necks, Backs, Hips, Nipples, Testicles and Groin.
She very carefully massages your the root part of your thigh by hand and arms. Your lymph would be stimulated gently. A groin has the lymph and the nerve. This massage is very effective in a healthy promotion of the man's sexual functions.
The testicle massage is just for your rejuvenation. She would stimulate your testicle little by little. Our massage is added the original arrangement for erotic. It would enhance your erection.
You would experience the erotic pleasure by our rejuvenation massage never before in your life. She would increase your sexual pleasure by the famous face sitting with T-back and her's aroma.
You could experience it over 90minutes session if you want. You would be stimulated your prostate by a skillful finger technique. Girls has trained by the professional would visit to you. She acquireda knowledge for Prostate Massage.
Ultimate hand service with warm and silky lotion. She leads you to the ejaculation with the combination of the testicle massages and hand service.
These are basically the services one may expect from the adult massage parlors in and around Yokohama. In today's world of digitalization, you can choose to use the internet and find relevant details and other minute information regarding the availability of erotic massage parlors in Yokohama along with the latest services that are in store for the potential customers.
Brothels and Sex Clubs
You may find brothels located at the red light districts of Yokohama. And apart from that, the sex clubs and other adult entertaining places are mostly present in form of massage parlors, soaplands, spas, strip clubs and more. You may visit these places in order to get in touch with the working girls offering sexual services for adults.
Soaplands
Soaplands (ソープランド, sōpurando) are Japanese brothels where the girls bath you then provide blow jobs, hand jobs, body slides, anal sex or sumatra (simulated sex with the girl rubbing up against your penis to get you off). Vaginal intercourse is illegal for brothels to offer as a service though you will find that most places do offer it.
There is at least one Gaijin friendly close to Yokohama Station called Japan Club Fuji (it is around 5min walk from the north exit). Prices are from 20,000YEN and up.
There are much more Gaijin friendly Soaplands in Tokyo.
Pink Salons
Pink Salons are blow job bars, no other sex is available here. Majority are dimly light bars with arm chairs where the girls service you. When you walk in you'll see photos of the girls who are working. They will let you know which are free at that time, but you can also check the other girls and find out how long you have to wait. Most Pink Salons in Yokohama is not Gaijin friendly so try in Tokyo.
Strip Clubs and Striptease
The official name of the strip club was before euphemism like "Sightseeing Theater" or something like that. Strip clubs in Japan are a mystery to most tourist or foreigners. Most likely because of the language barrier. That is the reason why tourists, don't even know where to find strip clubs in Japan. The strip clubs are not like in western countries. You'll have to take a girl to a side room for a private striptease. You may also have sex in the side room with the dancer. If you feel that it's difficult to find a strip club in Yokohama, then simply consider going online and search for the same over there. You will come across certain adult communities and forums having relevant information and other details regarding this. The Yokohama Rockza is reportedly a strip clubs that you may find at this place.
Karaoke and KTVs
You may find KTV and resto bar and disco bars as well, if you are in Yokohama. However, it is important for you to know whether the place is family oriented. If you are looking for adult entertainment or trying to get lucky with a girl, then be choosy with whom you approach. Not everyone you would find is going to be interested in such activities. At times the working girls might come up with services and erotic offers for their customers. You can also get a private room if the service is available.
Swinger Clubs and BDSM
ALT.com is the best place for local singles, swingers, and couples in the BDSM community to connect with those interested in submissive sex, power exchange, locating persons for new slave roles, erotic BDSM, bondage & fetish sex, as well as live sex dates. Find thousands of play partners for whatever your fetish may be; bondage, foot, cockold, spankings, role-play, electric or water play, sadism and masochism. So whether you have the desire to explore your unrealized fetish fantasies, or you are extremely experienced and would love to train someone new, ALT.com is a community designed for people with like-minded interests to find and connect with each other.
Swinger clubs (lifestyle clubs), are formal or informal groups that organize sex-related activities or establishments where patrons can engage in sex acts with other patrons. You can approach foreigners and find out whether they are interested in any kind of swinging activities. If you do not get lucky in the process, then consider going online and check out the various websites related to swingers and activities that are relevant to this context. This might be helpful for you.
Sex Shops and Adult Stores
If you don't feel like visiting or cannot find any local sex shops in Yokohama, you can easily order adult products from Online Sex Shop.
Most sex shop in Japan are online shops. The best possible way in this matter is to go online and buy your required adult product by following few easy and smart steps. Add your item to the cart and expect it to be delivered within few days.
Love Hotels and Short Time Hotels
Love hotels are Japanese trademark. You can find them also in Yokohama. Hotel Plage, Hotel Fairy Wink, Fun3 are some of the available love hotels you find in Yokohama. Apart from these three, you will be able to find many other accommodations for adult couples.
Nightclubs and Bars
There are many nice nightclubs and bars in Yokohama where you can try your luck to find sex for free. However, stay alert and be careful while hooking up with a stranger. Never open up too much in front of any random person. Take some time to understand the situation before getting intimate. This will keep you safe and secured.
Gay and Lesbian
Gay modeling in internet is getting more popular all the time and it's a big market alongside with gay porn. You can watch gay live sex also in Yokohama as long as you are connected to internet. Check it out: Gay Live Sex Video Chat
Gay Bars:
Mons (formerly "10 Carat")
Small, welcoming gay bar for guys of all ages. Hours: 8.00pm till late. Closed every Wednesday. Address: 304 Lion's Mansion Nogeyama Koen, 3-63 Miyagawa-cho, Naka-ku, Yokohama, Kanagawa. Tel. 045-262-5015
Gay bar for guys in their 20s and 30s. 1,700 yen cover charge (with one drink). Free karaoke. Hours: 8.30pm - 5.00am (8.30pm - 2.00am on Monday), closed every Wednesday. Address: 203 Neo-Castle Noge, 2-101-1 Noge-cho, Naka-ku, Yokohama, Kanagawa 231-0064. Tel. 045-242-4642
Easy-going gay bar mainly for guys in their 20s to 40s. Accompanied female guests Sunday and Monday. Hours: Mon-Thu: 7.00pm - 4.00am; Fri-Sat: 7.00pm - 7.00am Address: 201 Kagami Building, 1-6 Nogecho, Naka-ku, Yokohama, Kanagawa. Tel. 045-241-7661
Gay bar that particularly welcomes foreigners who speak Japanese welcome. Hours: 8.00pm - 4.00am; closed Thursdays Address: 3F, Sawa Building, 2-58 Miyakawacho, Naka-ku, Yokohama, Kanagawa 231-0065. Tel. 045-241-7661
Pronounced "moo," MW is a trendy, welcoming nighttime gay bar (women welcome too) that is also open for lunch on Sundays. Hours: Mon-Thu: 6.00pm - 1.00am; Fri, Sat, day before a public holiday: 6.00pm - 5.00am. Sunday lunch: 11:00am - 5.00pm Address: 9F Isezaki Kazama Building, 12-1 Yoshida, Naka-ku, Yokohama, Kanagawa 231-0041. Tel. 045-326-6389
Gay bar for guys of all ages. Hours: 7pm till late. Closed every Wednesday. Address: 1-48-A Hanasaki-cho, Naka-ku, Yokohama, Kanagawa. Tel. 045-253-9337
A welcoming, multi-culturally staffed gay bar that also serves food. Hours: 8.00pm - 5.00am, every day, (sometimes closed Monday. Address: 302 Lion's Mansion Nogeyama Koen, 3-63 Miyagawa-cho, Naka-ku, Yokohama, Kanagawa 231-0065. Tel. 045-253-0342
Bar for the more middle-aged and older set Hours: 5.30pm - 3.00am, Mon-Fri; 3.00pm - 2.00am Sat, Sun, public holidays Address: 1F, Maeda Building 2, 2-28 Miyagawa-cho, Naka-ku, Yokohama, Kanagawa 231-0065. Tel. 045-231-7724
Gay store, Cinema & Cruising:
The Yokohama has gay DVD's Hours: noon - 1.00am, every day. Address: 2F, Daiichi Heian Building, 5-2 Fukutomicho-higashi-dori, Naka-ku, Yokohama, Kanagawa 231-0044 Tel. 045-260-1255
Yokohama gay cinema:
The only gay cinema in the greater Tokyo region. Hours: 11.00am - 9.00pm, Mon-Thu; 11.00pm - 5.00am, Fri, Sat. Fee: 1,500 yen Address: 2-59 Miyagawa-cho, Naka-ku, Yokohama, Kanagawa 231-0065. Tel. 045-231-0837
Yokohama gay cruising spots:
Hours: 3pm - 11.30pm, 7 days a week. Address: 617 Annex Yokohama Building, 2-9-9 Minami-saiwai, Nishi-ku, Yokohama-shi, Kanagawa-ken. NB From the street, take a left-hand entrance of the building, not the main entrance.
Two-floor cruising space for men. Free condoms. Fee: 1,500 yen Address: 2F, 定 Building, 1-15 Nogecho, Naka-ku, Yokohama-shi, Kanagawa-ken. Tel: 045-325-9993
Small cruising space for chubby men from 18 - 39 years old. Hours: 10.30pm - 6.15am (10.30pm - 5.50am on Sundays), 7 days a week. No admission after 3.00am. Admission: 2,000 yen.
Riverside Cruisy Toilet Near Sakuragi-cho, Yokohama City
It's a small toilet with three urinals and 3 cubicles. Adjacent to the men's toilet is a ladies toilet which can be used anytime as its much cleaner. Most of the times you'll find company.
You can find online dating sites for gay and lesbian as well. Joining such forums will allow you choose the favorite companion in order to date them on the basis mutual consent.
Other Adult Services
You can always ask the escort girls regarding this matter. Since the escort girls and other working girls are in this profession for several years, they might come up with a refreshing range of adult service occasionally.
Dating
Dating in Yokohama can be a bit tricky due to cultural differences, so your best bet is to sign up for a dating site before your trip so you can meet a few locals ahead of time. AdultFriendFinder.com lets you meet local members in Yokohama and get to know them on a personal basis before you arrive. Take advantage of site features like live chat and member to member webcams so you can begin flirting before arranging a face-to-face meeting. Since your time in Yokohama may be limited, get to know each other's desires beforehand, so that when you meet you can start having some real fun.
How to find Sugar Babies and Sugar Daddies
If you are looking for an alternative to escorts in Yokohama with a girl who doesn't charge by the hour, sugar dating is the ideal solution. There are thousands of beautiful young women at SecretBenefits willing to do anything for a man who will help them pay their bills.
Often referred to as the "Tinder for Older Guys", SecretBenefits matches hot young women interested in pampering older gentlemen. You don't have to be a millionaire at SecretBenefits.com, you just need to be a respectful gentleman who knows how to treat a woman.
Transsexuals and Shemales
Finding someone for transsexual dating when you're on the road can be a bit tricky, so your best bet is to sign up for a dating site before you go so you can find locals ahead of time. TSdates.com is a dating site designed to help you find exactly what you are looking for in your hookup in Yokohama. Take advantage of site features like live chat and member to member webcams so you can begin flirting before arranging a face-to-face meeting. With over 40 million members, and thousands of transsexual members around the world, TSdates.com is the world's largest site of sex-minded friends for discreet encounters and will help you find your next transsexual play partner.
Where can I find shemales in Yokohama? You can watch transsexual live sex shows in Yokohama as long as you are connected to internet. Check Now: Tranny Live Sex Video Chat
Ladyboy escort services and other transsexual and shemale dating activities can also be found online these days. They have individual websites dedicated to these services and other related activities. So, you can consider joining these forums in order to enjoy a casual dating and other companionship of shemale and transsexual partners.
In Japan ladyboys are called NewHalf as they are half girl and half boy. Whether you call them Newhalf, ladyboys, transsexuals, Shemales, if you are looking for ladyboys in Japan then you can find them. There are quite a lot of Japanese ladyboys, some have had the full conversion (post-op) and some have just had breast implants and still have a cock (pre-op). Though generally the pre-op Japanese ladyboys are taking hormones as part of their conversion so they are unable to get an erection or ejaculate. You will also find some Thai and Philippino ladyboys who live and work in Yokohama.
There are not any bars that are specifically for ladyboys in Yokohama but there are a few bars where you will get a mixture of genuine girls and ladyboys. Most of these are working ladyboys who are looking for money. This can very between 20,000 - 30,000 Yen to take them back to your hotel room.
There are more ladyboys in Tokyo so check it out.
Sexual Services for Women
There are a huge number of night clubs, bars and pubs where women can easily find a male company for the night for free.
Kagema (陰間) is a historical Japanese term for young male prostitutes. There are still a good selection of them online. You can either get in touch with the male escort service providers or try and get lucky with the local guys. They might be interested in having sex but going online and finding your desirable service is always safer.
Sleeping and Girl Friendly Hotels
You will find the Hotels' phone operators at AM very helpful and knowledgeable about whether any particular hotel is girl friendly or not.
Shin-Yokohama has a respectably sized Love hotel district.
There are few hotels that might come up with the allowance for guests to enter with their female companions on an hourly basis. Apart from that, one can always choose to consider the services of love hotels located in and around Yokohama and all over Japan.
Stay Safe
Yokohama is a really safe city and even the prostitutes rarely attempt to steal something. If you are about to have sex; use condoms and never hook up with any random person whom you feel is suspicious. This might be a trap and you can become a victim of scams and other questionable activities.
See Also