Kyoto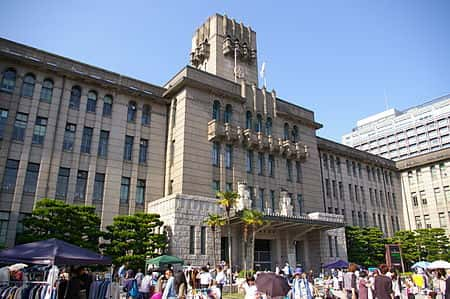 Kyoto Sex Guide advises where to find sex, working girls, prostitution, street hookers, brothels, red-light districts, sex shops, prostitutes, erotic massage parlors, strip clubs and escorts in Kyoto, Japan.
Kyōto (京都) [1] was the capital of Japan for over a millennium, and carries a reputation as its most beautiful city. However, visitors may be surprised by how much work they will have to do to see Kyoto's beautiful side. Most first impressions of the city will be of the urban sprawl of central Kyoto, around the ultra-modern glass-and-steel train station, which is itself an example of a city steeped in tradition colliding with the modern world.
Sex and Prostitution in Kyoto
Prostitution in Japan has existed throughout the country's history. While the Anti-Prostitution Law of 1956 states that "No person may either do prostitution or become the customer of it," loopholes, liberal interpretations of the law, and loose enforcement have allowed the sex industry to prosper and earn an estimated 2.3 trillion yen (US$24 billion) a year, which accounts for 0.4 to 0.5% of the nation's GDP.
Legal status
Article 3 of the Anti-Prostitution Law (売春防止法 Baishun Bōshi Hō) of 1956 states that "No person may either do prostitution or become the customer of it," but no judicial penalty is defined for this act. Instead, the following are prohibited on pain of penalty: soliciting for purposes of prostitution, procuring a person for prostitution, coercing a person into prostitution, receiving compensation from the prostitution of others, inducing a person to be a prostitute by paying an "advance," concluding a contract for making a person a prostitute, furnishing a place for prostitution, engaging in the business of making a person a prostitute, and the furnishing of funds for prostitution.
The definition of prostitution is strictly limited to coitus. This means sale of numerous acts such as oral sex, anal sex, mammary intercourse and other non-coital sex acts are legal. The Businesses Affecting Public Morals Regulation Law of 1948 (風俗営業取締法 Fūzoku Eigyō Torishimari Hō), amended in 1985 and 1999, regulates these businesses.
Red Light Districts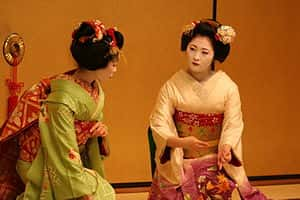 Red-light areas in Kyoto:
Kiyamachi which runs parallel and adjacent to Pontocho, is an actual street with one-way traffic and weeping cherries that droop gracefully over the Takase River: an old canal that was used to carry goods from Kyoto to Osaka. Along with Shirakawa Dori, in Gion, Kiyamachi is one of the few streets in Kyoto that could be called beautiful. Fashion health spas and soaplands, pink salons and all-you-can-cum-in-thirty-minutes blow-job factories have spilled out of the narrow alleys that run between Kiyamachi and Kawaramachi Street - and have taken over many of what used to be bars and restaurants on Kiyamachi itself. The crowd on the street is predominantly male and, at night, drunk.
Pontocho is narrow and lovely street, too small for automobile traffic and filled with tea houses and bars and restaurants that back onto the Kamo River.
You may also find several fancy restaurants located in and around the red light districts of Kyoto. These red light districts tend to become more active during the early evening and after its dark. So, you can visit the places, preferably during these times of the day in order to experience adult activities and other related offerings that are in store for the potential clients.
Prostitutes and Sex Workers
You can find lots of prostitutes from Kiyamachi or Pontocho. Most of the prostitutes are avarage looking, but there are a few really beautiful ones with perfcet bodies. Most of the hookers in Kiyamachi or Pontocho are Japanese, but there are also some from different ethnic groups like Thailand, Philippines, China etc.. Mostly sex with hookers there is good and you'll get what you payed for.
If you want to spend time with the escort girls, then you could probably get in touch with them by contacting the working girls via phone calls by collecting their contact numbers that are advertised in adult websites and other related forums.
Street Hookers
The girls in Kyoto are not on the street like normally street walkers. One odd thing is that the hookers all have these things that look like baseball cards. The cards have a picture of the hooker, the price, and a phone number to call. And they leave them every where. You may find sex workers offering their range of adult services in and around the red light districts of Kyoto. As already mentioned the street hookers in this place are not typically streetwalkers. So, you can either avail their brothel based activities or get in touch with them by gathering all sorts of details that are provided in their individual business cards.
Hookup and Pick Up Local Girls
Meeting local girls and getting laid for free is fun! Read more on how to pick up girls in Kyoto: https://hookuptravels.com/wiki/Kyoto
Live Sex Cams
Can I watch Live Sex Cams in Kyoto? - Yes, you can! Basically you can watch our online live sex shows for free anywhere in the world if you're connected to internet. Join to get 10 free private teasers and 9.99 credits for free! You can choose any girl from our trusted Live Sex Cams!
Live Sex Cams are booming at the moment. Webcam models can be found from all over the world and you can find girls, guys, trannies, couples and groups of different ages performing to you. Watching live sex shows is usually free, but if you buy some credits, you will have much better chances to see adult action as desired! It's possible also to hire a webcam model to a private chat room where you can ask the person to fulfill your fantasies.
Where to Get Sex Now
It is easy to get sex online in Kyoto. You just need to find the best available girls. See Girls Online Here!
Adult Locations
There are some very nice adult venues in Kyoto, for example soaplands. So, one can visit these locations in order to avail and enjoy what's in store for the clients. Before starting off with the activities, do take some time to understand and analyze situations. This can keep you away from potential risks of scams and other incidents.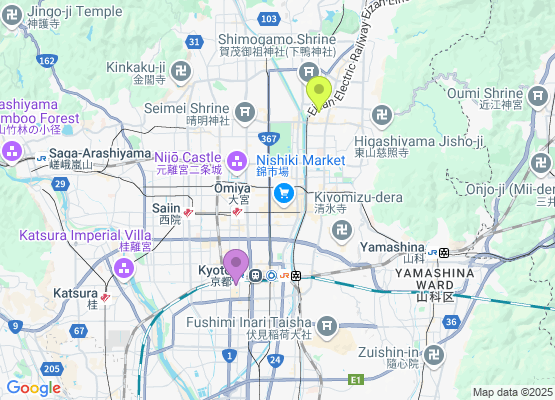 Escort Services and Agencies
Unfortunately we don't list in this category!
Finding an escort when you're travelling can be a bit tricky. An ideal solution for having an alternative for escorts is Ashley Madison. There are thousands of horny girls waiting for you. Find all the beautiful young women at AshleyMadison.com!
There are a number of good escort services with the girl coming to your hotel room. Prices usually start from 28,000yen for 1 hour or 45,000yen for 2 hours. You can find a large selection of escorts online. These days, there are various escort agencies that are available online for the convenience of their prospective customers. So, try visiting one of those websites and get in touch with the service providers in order to hire what's in store for the clients.
Erotic Massage Parlors
Unfortunately we don't list in this category!
There are many Erotic massage parlors in Kyoto. One of the famous method is Kaishun Massage is an art of erotic massage derived from old ancient China, which the male genitals rejuvenate to stimulate the testicles, the groin or crotch, the anal and of course the penis gently.
A Kaishun session:
Girl washes your erogenous area with gently touch. She would try to find your erotic pleasure.
She enhances your erotic pleasure by the nipple lick etc. of putting the gently touch. You would be massaged to touch, to lick, to suck up gently by her.
Whole body esthetics with oiling
You would be massaged whole body by her with oil. Legs, Arms, Butt, Scruff, Necks, Backs, Hips, Nipples, Testicles and Groin.
She very carefully massages your the root part of your thigh by hand and arms. Your lymph would be stimulated gently. A groin has the lymph and the nerve. This massage is very effective in a healthy promotion of the man's sexual functions.
The testicle massage is just for your rejuvenation. She would stimulate your testicle little by little. Our massage is added the original arrangement for erotic. It would enhance your erection.
You would experience the erotic pleasure by our rejuvenation massage never before in your life. She would increase your sexual pleasure by the famous face sitting with T-back and her's aroma.
You could experience it over 90minutes session if you want. You would be stimulated your prostate by a skillful finger technique. Girls has trained by the professional would visit to you. She acquireda knowledge for Prostate Massage.
Ultimate hand service with warm and silky lotion. She leads you to the ejaculation with the combination of the testicle massages and hand service.
There's undoubtedly a wide range of erotic massage parlors offering adult services in Kyoto. Thus, finding an ideal place in this matter will never be an issue for you. You can get details regarding these parlors and services by surfing the internet too.
Brothels and Sex Clubs
Soaplands (ソープランド, sōpurando) are Japanese brothels where the girls bath you then provide blow jobs, hand jobs, body slides, anal sex or sumata (simulated sex with the girl rubbing up against your penis to get you off). Vaginal intercourse is illegal for brothels to offer as a service though you will find that most places do offer it. So, you can always visit soaplands and other parlors offering brothel based activities for their potential visitors. At times, the working girls of various parlors will come up with their adult entertainment services and offerings for you to enjoy.
Strip Clubs and Striptease
There are more strip clubs in Osaka. You will find links of various strip clubs in Kyoto, if you consider going online for the search. Reportedly, there is s strip club situated within few meters from Kyoto station, not too far from the Toji Temple.
Karaoke and KTVs
KTVs in Japan are often called as "piano bars". You may find family oriented bars located in and around Kyoto. However, if you are not able to find any adult oriented place in this matter, then consider asking the local guys and taxi drivers. They might guide and help you find a suitable KTV, if available.
Swinger Clubs and BDSM
ALT.com is the best place for local singles, swingers, and couples in the BDSM community to connect with those interested in submissive sex, power exchange, locating persons for new slave roles, erotic BDSM, bondage & fetish sex, as well as live sex dates. Find thousands of play partners for whatever your fetish may be; bondage, foot, cockold, spankings, role-play, electric or water play, sadism and masochism. So whether you have the desire to explore your unrealized fetish fantasies, or you are extremely experienced and would love to train someone new, ALT.com is a community designed for people with like-minded interests to find and connect with each other.
Swinger clubs (lifestyle clubs), are formal or informal groups that organize sex-related activities or establishments where patrons can engage in sex acts with other patrons. You can ask foreign couples if they are looking for swinging activities. In case you find it difficult, go online. There are several swinger clubs and communities available online. Get in touch with the people over there and stay updated with latest actions.
Sex Shops and Adult Stores
If you don't feel like visiting or cannot find any local sex shops in Kyoto, you can easily order adult products from Online Sex Shop.
Most sex shop in Japan are online shops. So, online shopping would probably be the best choice for you in this matter.
Love Hotels and Short Time Hotels
Hotel Alshu , Kyoto-fu, Kyoto-shi, Nishikyo-ku, Yamadaoyoshime-cho 19 , TEL: 075-391-4224
Hotel Blanc Veil , Kyoto-fu, Kyoto-shi, Kita-ku, Taishogun-Kawabata-cho 68 , TEL: 075-461-7387
Hotel Chapel Cinderella , Kyoto-fu, Kyoto-shi, Sakyo-ku, Awataguchitorii-cho 55-2 , TEL: 075-762-0781
Hotel Crown , Kyoto-fu, Kyoto-shi, Saiinkanazuchi-cho 1-1 , TEL: 075-311-0065
Hotel De La Pierre , Kyoto-fu, Kyoto-shi, Sakyo-ku, Okazakihoshoji-cho 64-1 , TEL: 075-761-1301
Hotel Golden Glamour , Kyoto-fu, Osaka-shi, Naniwa-ku, Nanbanaka 1-1-5 , TEL: 066-647-7716
Hotel Jardin De Fleurs , Kyoto-fu, Kyoto-shi, Sakyo-ku, Okazakihoshoji-cho 1-13 , TEL: 075-761-1377
Hotel Jaune BonBon , Kyoto-fu, Kyoto-shi, Sakyo-ku, Okazakihoshoji-cho 1 , TEL: 075-761-0106
Hotel King , Kyoto-fu, Kyoto-shi, Higashiyama-ku, Shijyo Yamato-cho 570-102 , TEL: 075-541-7177
Hotel Lapa Julia , Kyoto-fu, Kyoto-shi, Yamashina-ku, Otsukanakamizo-cho 59 , TEL: 075-592-3020
Hotel Love-In Part II , Kyoto-fu, Kyoto-shi, Higashiyama-ku, Bishamon-cho 4-44-25 , TEL: 075-531-5577
Hotel Mahatoma Maharani , Kyoto-fu, Kyoto-shi, Sakyo-ku, Okazakihoshoji-cho 1-2 , TEL: 075-752-1313
Hotel Okazaki , Kyoto-fu, Kyoto-shi, Sakyo-ku, Okazakihoshoji-cho 115 , TEL: 075-771-6971
Hotel Peach Pie , Kyoto-fu, Kyoto-shi, Nakagyou-ku, Kiya-cho , TEL: 075-231-3769
Hotel Sagano , Kyoto-fu, Kyoto-shi, Sakyo-ku, Sagarushihara-cho 16-6 , TEL: 075-871-8817
Hotel San Maltan , Kyoto-fu, Kyoto-shi, Shimogyou-ku, Yorozuya-cho 326-3 , TEL: 075-361-1778
Hotel To Iu Wake De , Kyoto-fu, Kyoto-shi, Higashiyama-ku, Miyagawasuji-cho 2-259 , TEL: 075-531-9366
Hotel Wing , Kyoto-fu, Kyoto-shi, Nishikyo-ku, Oekutsukake-cho 16 , TEL: 075-332-2511
Sakura Hotel Legend , Kyoto-fu, Kyoto-shi, Kita-ku, Kitanokamihakubai-cho 62-1 , TEL: 075-461-8275
Sakura Hotel Mosaic , Kyoto-fu, Kyoto-shi, Sakyo-ku, Kamikatano-kamiaramaki-cho 8 , TEL: 075-701-7638
If you are planning to spend time in privacy with your local companion or girlfriend, then the aforementioned love hotels along with the given details shall definitely come into play. However, consider visiting adult communities and online forums on regular intervals in order to stay updated with what's new and latest in store.
Nightclubs and Bars
There are many nice nightclubs and bars in Kyoto where you can try your luck to find sex for free. There are many nightclubs and bars situated in and around Kyoto like the WORLD, The Common One and many more. One can try to get lucky with the female visitors but this act should be done with absolute precaution, since each and every girl would not be interested in having short time affair or intimacy with random people.
Gay and Lesbian
Gay modeling in internet is getting more popular all the time and it's a big market alongside with gay porn. You can watch gay live sex also in Kyoto as long as you are connected to internet. Check it out: Gay Live Sex Video Chat
Osaka has much larger gay scene than Kyoto, but here are a few local gay bars.
Dalia - 5F Louis 1 Building, 5 Benzaiten-cho, Yamatoo-ji, Sanjo-sagaru, Higashiyama-ku, Kyoto
Azure Bar - Ito Building 3F 219-2 Shijyo Kiyamachi climb Nakagyo Kyoto
And for cruising try:
Cine-Friends Nishijin Movie Theatre - Senbon-Nakadachiuri Higashi-Iru,Kamigyo-ku,Kyoto-shi
Showing Japanese gay movies. Explanation in English, because foreigners often come there. This is only theatre for gay Kyoto.
Kyoto City Subway Station
This subway toilet is a little out of the way, and very active as a result. There is action throughout the day, busiest in late afternoon.
The grounds of the Imperial Palace are cruisy during the day, at noon and again in the late afternoon. Guys hook up and take action elsewhere.
Sauna Verde Club - 684 Higashi-shiokoji-cho, Shiokoji-dori Higashinotoin-higashi-iru, Shimogyo-ku, Kyoto City
Not a gay sauna, but a well-known for gay people in Kyoto.
You can take a look at the online gay and lesbian dating sites available these days. This can make the entire process of meeting and dating gay and lesbian partners easier. Azure is a gay bar located in Kyoto.
Other Adult Services
You can ask local escorts for special services. You can also consult the localites and taxi drivers in order to figure out if they know any place or a person who could come up with added perks and innovative adult services.
Dating
Dating in Kyoto can be a bit tricky due to cultural differences, so your best bet is to sign up for a dating site before your trip so you can meet a few locals ahead of time. AdultFriendFinder.com lets you meet local members in Kyoto and get to know them on a personal basis before you arrive. Take advantage of site features like live chat and member to member webcams so you can begin flirting before arranging a face-to-face meeting. Since your time in Kyoto may be limited, get to know each other's desires beforehand, so that when you meet you can start having some real fun.
How to find Sugar Babies and Sugar Daddies
If you are looking for an alternative to escorts in Kyoto with a girl who doesn't charge by the hour, sugar dating is the ideal solution. There are thousands of beautiful young women at SecretBenefits willing to do anything for a man who will help them pay their bills.
Often referred to as the "Tinder for Older Guys", SecretBenefits matches hot young women interested in pampering older gentlemen. You don't have to be a millionaire at SecretBenefits.com, you just need to be a respectful gentleman who knows how to treat a woman.
Transsexuals and Shemales
Finding someone for transsexual dating when you're on the road can be a bit tricky, so your best bet is to sign up for a dating site before you go so you can find locals ahead of time. TSdates.com is a dating site designed to help you find exactly what you are looking for in your hookup in Kyoto. Take advantage of site features like live chat and member to member webcams so you can begin flirting before arranging a face-to-face meeting. With over 40 million members, and thousands of transsexual members around the world, TSdates.com is the world's largest site of sex-minded friends for discreet encounters and will help you find your next transsexual play partner.
Where can I find shemales in Kyoto? You can watch transsexual live sex shows in Kyoto as long as you are connected to internet. Check Now: Tranny Live Sex Video Chat

There is a large selection of transsexuals offering services online in Kyoto. You can enjoy these services of transsexual and shemale escorts in Kyoto. They are available on websites and can be contacted via phone calls. At times, being a member of various online shemale and transsexual dating sites can also help you in the matter of casual dating.
Sexual Services for Women
There are a huge number of night clubs, bars and pubs where women can easily find a male company for the night for free.
Kagema (陰間) is a historical Japanese term for young male prostitutes. There are still a good selection of them online. One can hire the services of male escorts for private and social events. There are websites available these days. Apart from that, you can expect to get intimate with a local guy if you find him attractive enough and equally interested in any kind of sexual act.
Sleeping and Girl Friendly Hotels
For a mere 10,000yen punters can now receive an hour's worth of adult services. You can take your local girlfriend to love hotels and other places where they provide accommodations for unmarried couple to spend time for few hours. If you are visiting a cheap place, consider checking the rooms well in order to ensure that there is no hidden camera or any other instrument fitted.
Stay Safe
Kyoto is a really safe city and even the prostitutes rarely attempt to steal something. However, if you are meeting up with someone who is a complete stranger, then never disclose any kind of personal detail or any other vital information. Always use condom while having sex. This shall keep you medically fit and fine.
See Also