Tbilisi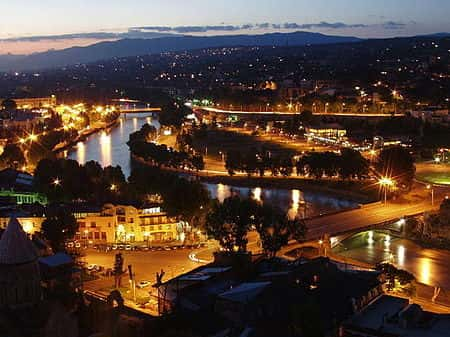 Tbilisi Sex Guide advises where to find sex, working girls, prostitution, street hookers, brothels, red-light districts, sex shops, prostitutes, erotic massage parlors, strip clubs and escorts in Tbilisi, Georgia.
Tbilisi (Georgian: თბილისი) is the capital city of the country of Georgia, lying on the banks of the Mtkvari river. The city covers an area of 726 km² (280.3 square miles) and has a population of approximately 1,345,000.
Sex and Prostitution in Tbilisi
In Georgia, prostitution is illegal but widespread, particularly in Tbilisi. Many NGO's attribute this to the harsh economic conditions according to the US State Department. Prostitute women in Georgia are often from Asia and neighboring European countries.
Few advices for hooking up with local girls in Tbilisi:
In Tbilisi, Georgia, sexual liberalism is gradually evolving towards the more liberal standards of some Western European countries. This is particularly true of the younger generation in the nation's capital Tbilisi, where roughly 25-30% of the Georgian population lives. It is still quite common to find Georgian women/men living with their parents well into their 20's. Nonetheless, the single lifestyle is slowly becoming more popular.
It's not easy to say what a man should do to successfully hit on a Georgian girl. The local women think of foreigners as a temporary and changing element. They are aware that they don't want to stay there for good.
Male travelers should take into consideration that normal Georgian girls like attention but not too much attention. Make her aware about your feelings but do not over act. Leave a room for doubt and keep your dignity. Georgian girls like well-dressed men.
Georgian girls like to bring friends on their dates. Don't be surprised if they'll arrive and you have to be ready to pay for all of them, and not only for the meal, but for the drinks as well. Use her friends to your advantage. If her friends like you, then your chances are high she will as well.
Don't be surprised if she lives with her parents. Most of the girls (guys as well) live with their parents in Tbilisi.
One night stands are quite rare but possible. If you're behaving like a gentleman and will pay attention to her friends, everything (also sex) is possible. It's probably not the best idea to ask if the girl wants to come to your place when you're still in the nightclub. It's better to ask after you have left the venue together, then should you make the suggestion to go to your place.
Good places for hooking up and picking up local girls are small and cozy clubs like Café Gallery, Art Café Home, or Mtkvarze where socializing happens more and you can easily look through every possible target.
Red Light Districts
There is no red-light district in Tbilisi like the ones in Netherlands or Germany.
Prostitutes and Sex Workers
Sex workers in Georgia are often from Asia and neighboring European countries.
In 2020, the best area to find sexy and horny Georgian and foreign prostitutes is on the road front of the Circus. They can be very nasty looking, but if you like this kind of thing, then you should go for it, but please be extra discreet and make sure you negotiate everything before proceeding to have sex. The prices range from 50 to 300 lari for sex.
You can find working girls from one of Tbilisi districts, Saburtalo, or somewhere near the main road.
Turkish bar named Olympic (just behind the Mayor's office) is a good place to find whores in Tbilisi.
Street Hookers
Gamsakhurdia is the street for streetwalkers in Tbilisi; mainly southern end and on the right bank of the Mtkvari River and close to the circus. Police busts the street about once a year, but the girls find the way back pretty soon.
Hookup and Pick Up Local Girls
Meeting local girls and getting laid for free is fun! Read more on how to pick up girls in Tbilisi: https://hookuptravels.com/wiki/Tbilisi
Live Sex Cams
Can I watch Live Sex Cams in Tbilisi? - Yes, you can! Basically you can watch our online live sex shows for free anywhere in the world if you're connected to internet. Join to get 10 free private teasers and 9.99 credits for free! You can choose any girl from our trusted Live Sex Cams!
Live Sex Cams are booming at the moment. Webcam models can be found from all over the world and you can find girls, guys, trannies, couples and groups of different ages performing to you. Watching live sex shows is usually free, but if you buy some credits, you will have much better chances to see adult action as desired! It's possible also to hire a webcam model to a private chat room where you can ask the person to fulfill your fantasies.
Where to Get Sex Now
It is easy to get sex online in Tbilisi. You just need to find the best available girls. See Girls Online Here!
Adult Locations
Tbilisi is not the best city to find adult locations, but there are some strip clubs and erotic massage salons.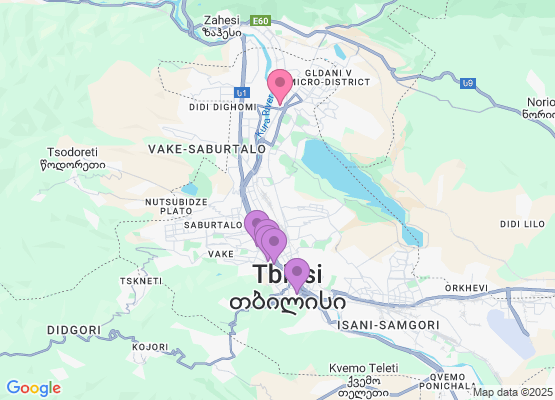 Escort Services and Agencies
Unfortunately we don't list in this category!
Finding an escort when you're travelling can be a bit tricky. An ideal solution for having an alternative for escorts is Ashley Madison. There are thousands of horny girls waiting for you. Find all the beautiful young women at AshleyMadison.com!
You can always ask from hotel receptionist to call escorts (prostitutka) to your room. Usually the pimp will come to your door with couple girls and you can make your decision. If you are not satisfied with the girls, feel free to say no. Most of the time pimp will come back after a while with another set of hookers.
Erotic Massage Parlors
Unfortunately we don't list in this category!
You'll find Thai and Chinese massages around the city and especially around the old town. You can also call to the massage shop and ask the girl to come to your hotel room. These massage shops know what your up to so you should not have any trouble getting extra services. Costs are from 20 euros up. Hand-job is usually 20€, BJ and Sex 50€. The quality of the massage and extras may not be the best. Almost all Thai massage salons in the centre offer extra services. They are mostly located at the back of Rustaweli Avenue.
There is a place called Ortachala near the old town, just on the bank of Mtkaveri river. There are many Sulphur bath places there. Tbilisi is famous for the Sulphur bath. Poseidon is one of them, where one can find sulphur bath and women. The bath costs around 20euros an hour and you can call for a girl as well. The girl cost around 20-40euros per hour basing on quality and bargaining. The overall quality of the girls is not so good. You can talk to the desk operator if you don't like a girl, immediately a second and third one will be presented.
Tbilisi houses many saunas where also erotic services are provided like Africa Sauna, Laberinti Sauna-Hotel and Poseidon bath on Meidan Square in Old Tbilisi close to the famous Turkish baths.
Budweiser Pub is a combination of café and sauna where you take a girl for intimate pleasures. Budweiser Pub is close to the bridge connected with the road to the Tbilisi Circus.
Brothels and Sex Clubs
Restaurant Sabudara, in the district of Goldana, close to the bridges with the same name you can find Restaurant Sabudara. Unlike its name suggests it is not a conventional restaurant but operates as a sex hostel with several rooms and working girls in the bar. Rooms cost 40 Lari and girls cost 100 ...
Tskalsadeni Street
There are not many real brothels in Tbilisi, but many of the Tbilisi's bathhouses are not just for bathing. Tbilisi's historic sulphur bathhouses have private rooms with hot pool, dressing area, and showers. The rooms can be rented for as little as 25 lari ($15) an hour. Many men take this opportunity for some alone time with local prostitutes. Basically you need to bring your girl with you if you would like to have some bathing fun. Watch the signs of a pink-painted Hotel Lady above the bathhouses.
Strip Clubs and Striptease
There are plenty of nightclubs in Tbilisi who offer striptease and erotic shows. Many exotic dancers come from Russia, Ukraine and Moldova and often more private sessions outside the clubs can be arranged too. Private dances are expensive considering the prices in Ukraine and Russia. In a private dance you are mostly just allowed to touch a little bit, but not more.
Karaoke and KTVs
KTVs (hostess karaoke bars with beautiful female staff) are popular in some parts of Asia but you cannot find any of them from Tbilisi.
Swinger Clubs and BDSM
ALT.com is the best place for local singles, swingers, and couples in the BDSM community to connect with those interested in submissive sex, power exchange, locating persons for new slave roles, erotic BDSM, bondage & fetish sex, as well as live sex dates. Find thousands of play partners for whatever your fetish may be; bondage, foot, cockold, spankings, role-play, electric or water play, sadism and masochism. So whether you have the desire to explore your unrealized fetish fantasies, or you are extremely experienced and would love to train someone new, ALT.com is a community designed for people with like-minded interests to find and connect with each other.
Swinger clubs (lifestyle clubs), are formal or informal groups that organize sex-related activities or establishments where patrons can engage in sex acts with other patrons. It's not easy to find swinger clubs in Tbilisi.
Sex Shops and Adult Stores
If you don't feel like visiting or cannot find any local sex shops in Tbilisi, you can easily order adult products from Online Sex Shop.
There are no adult sex shops in Tbilisi.
Love Hotels and Short Time Hotels
Love hotels are popular in some parts of Asia, especially in Japan. There are also many love motels and short-time hotels in South America. Unfortunately you cannot find any real Japanese style love hotels in Tbilisi. If there are short-time hotels near by, usually the working girls know all of these places.
Nightclubs and Bars
There are many nice nightclubs and bars in Tbilisi where you can try your luck to find sex for free.
Gay and Lesbian
Gay modeling in internet is getting more popular all the time and it's a big market alongside with gay porn. You can watch gay live sex also in Tbilisi as long as you are connected to internet. Check it out: Gay Live Sex Video Chat
Night-clubs are best places for hook up for gay people. For example Cafe Gallery on Griboedov street is a great place to start. If you are not fond of techno music, then things get more complicated. It's critical to understand that Georgia has a lot of hostile homophobic behavior.
There are good gay activities in Tbilisi:
Cafe gallery 34 Griboedov Str. (near Rustaveli str.) Tbilisi, Georgia
Atlantis Melikishvilis 6 (Rustaveli)
Success 3 Vashlovani St. Tbilisi (Vere)
Salve Shalva Dadiani St 15, Tbilisi, Georgia
Divan 3/5 Tabidze Street, Tbilisi, Georgia
Saunas & Baths
Colored Bath 2 Abano str. Tbilisi, Georgia
Rainbow Bath Grishashvili Str. Tbilisi, Georgia
Kiev Bath 4 Kiev Str. Tbilisi, Georgia
Cruising
Underpass in front of the circus (dangerous)
Rustaveli Ave. daytime cruising.
Central station (Metro Sadguris Moedani)
Queen Tamar bridge (former Tchelouskin bridge) (In the centre of the city, between central station and the circus)
Blumentrasse (Boulevard between central station and the circus)
Pushkin park (Metro Tavisuphlebis Moedani)
Exit Metro Rustaveli
Baratachvili bridge (first level, Mutual masturbations)
Between Liberty Square, "Tavisuphlebis Moedani" and Avlabari street
Metro Isani (near the military barracks, ideal for those who like soldiers)
Other Adult Services
There aren't much other sex services in Tbilisi as mentioned above.
Dating
Dating in Tbilisi can be a bit tricky due to cultural differences, so your best bet is to sign up for a dating site before your trip so you can meet a few locals ahead of time. AdultFriendFinder.com lets you meet local members in Tbilisi and get to know them on a personal basis before you arrive. Take advantage of site features like live chat and member to member webcams so you can begin flirting before arranging a face-to-face meeting. Since your time in Tbilisi may be limited, get to know each other's desires beforehand, so that when you meet you can start having some real fun.
How to find Sugar Babies and Sugar Daddies
If you are looking for an alternative to escorts in Tbilisi with a girl who doesn't charge by the hour, sugar dating is the ideal solution. There are thousands of beautiful young women at SecretBenefits willing to do anything for a man who will help them pay their bills.
Often referred to as the "Tinder for Older Guys", SecretBenefits matches hot young women interested in pampering older gentlemen. You don't have to be a millionaire at SecretBenefits.com, you just need to be a respectful gentleman who knows how to treat a woman.
Transsexuals and Shemales
Finding someone for transsexual dating when you're on the road can be a bit tricky, so your best bet is to sign up for a dating site before you go so you can find locals ahead of time. TSdates.com is a dating site designed to help you find exactly what you are looking for in your hookup in Tbilisi. Take advantage of site features like live chat and member to member webcams so you can begin flirting before arranging a face-to-face meeting. With over 40 million members, and thousands of transsexual members around the world, TSdates.com is the world's largest site of sex-minded friends for discreet encounters and will help you find your next transsexual play partner.
Where can I find shemales in Tbilisi? You can watch transsexual live sex shows in Tbilisi as long as you are connected to internet. Check Now: Tranny Live Sex Video Chat

There are only few transgender sex workers in Tbilisi. This is not an ideal tourism destination for a tranny lover.
Sexual Services for Women
There are only few male escorts in Tbilisi who offer sex services for women. Most of these men charge around US$50 to $100 per hour, but they are only semi-pros.
Sleeping and Girl Friendly Hotels
If you prefer more private accommodation you can find a wide offer of apartments in Tbilisi, varying from simple flats to spacious and luxurious houses.
Girl friendly Hotels:
The lobby of the prestigious Tbilisi Marriott Hotel on Rustaveli Avenue 13 is usually a good place to pick up working girls.
The bar in the Courtyard Marriott, the luxurious hotel on Freedom Square 4, is always frequented by working girls.
The lobby of the Sheraton Metechi Palace Hotel on Telavi street 20, Georgia's first and comfortable international five-star hotel, is a good place to meet local pro and semi-pro ladies. In the Sheraton Metechi Palace Hotel's disco JR's Club, opened on Thursday till Saturday, there are good opportunities to get acquainted with local girls and find pros and semi-pros.
The cheap prized Irmeni Hotel on Martkopi street 1 in the Avlabari District is girl friendly.
In case you will visit Batumi, the city at the Black Sea coast, you can check out hotel Svetlana where are usually working girls in the lobby and bar.
Stay Safe
Tbilisi is very safe after the Rose Revolution. The police system was reformed completely and the recent polls show that public's trust in police shifted from nearly 10% to 88%. The police are usually quick to respond, though usually only Georgian and Russian are spoken. While walking is generally fine, even for solo women, it makes sense to take a bus or taxi home at night. Use common sense and big-city awareness. Night time at the clubs and bars are safe, and taxi service is safe as long as it's a company taxi like "009" or others. The public bus is also a good, safe option for 0.50 lari.
See Also