Santa Cruz (California)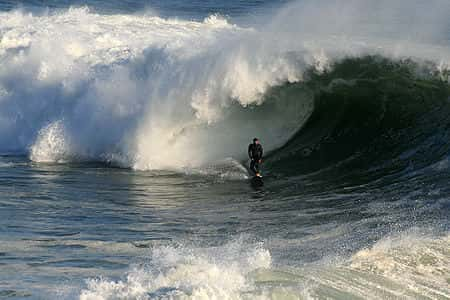 Santa Cruz Sex Guide advises where to find sex, working girls, prostitution, street hookers, brothels, red-light districts, sex shops, prostitutes, erotic massage parlors, strip clubs and escorts in Santa Cruz, California.
Santa Cruz is a small coastal city (population about 55,000) in Santa Cruz County, at the north end of Monterey Bay in California, about forty miles south of San Jose and 75 miles south of San Francisco. It is best known as a countercultural hub, with a bohemian feel and youthful vibe, and fun weekend tourist attractions like the Beach Amusement Park and Boardwalk and the Mystery Spot. The relaxed beach lifestyle is supplemented by some high tech industry and a vibrant university culture. The University of California Santa Cruz (UCSC) is regarded as one of the premier centres of higher learning in the state and is especially known for its strong emphasis on the arts and humanities.
Sex and Prostitution in Santa Cruz (California)
WikiSexGuide Does Not Support Any Illegal Actions.

Prostitution is illegal in the vast majority of the United States, except some rural counties within the state of Nevada. Due to a US law FOSTA/SESTA, WikiSexGuide doesn't publish any ESCORT, MASSAGE or BROTHEL ads in the United States.
California prostitution law under Penal Code 647(b) PC prohibits engaging in the act of prostitution, and offering (this is also known as "solicitation") or agreeing to engage in the act of prostitution.
Red Light Districts
There is no specified window prostitution Red-light district in Santa Cruz.
Prostitutes and Sex Workers
Most of the prostitution in Santa Cruz, CA happens in private apartments & hotels. There is also active street prostitution around Ocean St. Erotic massage parlors are also all over the city and you can score in most of them.
Street Hookers
Usually streetwalkers in Anaheim charge $20-$40 for hand-job, $20-$50 for blow-job and $40-$80 for sex.
See also: How To Pick Up Hookers in North America
Where to find Street Prostitutes in Santa Cruz
LE is all the time on the Boardwalk. All of Ocean St. being the main drag for tourists on their way to the boardwalk means lots of LE. Have to be low key and not out long time on those areas. Pacific ave. west of downtown has had some streetwalkers but, LE is on bikes as well here. There is some street hookers on Mission st sometimes, but Mission st is away from tourists and Boardwalk.
Ocean area is also kind dangerous - that's where LE, drug addicts, homeless and gangsters like to hang out. Especially very gritty where 17 hits ocean.
Track 1: Barsons, Riverside, Broadway, Ocean but be very careful on ocean around the 7-11. LE hangs out most of the time in the hotel parking lot across the street. Also beware of women walking with traffic, if you are northbound on ocean, they will walk you right into the LE in the parking lot.
Live Sex Cams
Can I watch Live Sex Cams in Santa Cruz (California)? - Yes, you can! Basically you can watch our online live sex shows for free anywhere in the world if you're connected to internet. Join to get 10 free private teasers and 9.99 credits for free! You can choose any girl from our trusted Live Sex Cams!
Live Sex Cams are booming at the moment. Webcam models can be found from all over the world and you can find girls, guys, trannies, couples and groups of different ages performing to you. Watching live sex shows is usually free, but if you buy some credits, you will have much better chances to see adult action as desired! It's possible also to hire a webcam model to a private chat room where you can ask the person to fulfill your fantasies.
Where to Get Sex Now
It is easy to get sex online in Santa Cruz (California). You just need to find the best available girls. See Girls Online Here!
Adult Locations

Escort Services and Agencies
Escorts in Santa Cruz (California) who provide sexual services for money are considered as prostitutes. Prostitution is illegal in the United States, except some rural counties of Nevada.
WikiSexGuide Does Not Publish Any Escort Ads in USA.

Due to a US law FOSTA/SESTA, WikiSexGuide doesn't publish ESCORT ads in the United States. WikiSexGuide respects the FOSTA and SESTA Acts.

Finding an escort when you're travelling can be a bit tricky. An ideal solution for having an alternative for escorts is Ashley Madison. There are thousands of horny girls waiting for you. Find all the beautiful young women at AshleyMadison.com!
Erotic Massage Parlors
Massage parlors in Santa Cruz (California) are illegal if they are offering sexual services or happy ending, such as hand job, blow job or full service.
WikiSexGuide Does Not Publish Any Massage Ads in USA.

Due to a US law FOSTA/SESTA, WikiSexGuide doesn't publish MASSAGE ads in the United States. WikiSexGuide respects the FOSTA and SESTA Acts.
Brothels and Sex Clubs
Brothels in Santa Cruz (California) are illegal. Many massage parlors, saunas, spas, and similar otherwise-legal establishments which serve as fronts for prostitution, are also considered as brothels. With the exception of some rural counties of Nevada, brothels are illegal in the United States.
WikiSexGuide Does Not Publish Any Brothel Ads in USA.

Due to a US law FOSTA/SESTA, WikiSexGuide doesn't publish BROTHEL ads in the United States. WikiSexGuide respects the FOSTA and SESTA Acts.
Strip Clubs and Striptease
Usually Strip club cover charge in Santa Cruz, California is $7-15. Drink prices start from a couple of dollars and lap-dances go for $15-35.
You can find the Strip Bar locations from here: California Strip Clubs
See Also: How to Behave in Strip Clubs
Karaoke and KTVs
Swinger Clubs and BDSM
ALT.com is the best place for local singles, swingers, and couples in the BDSM community to connect with those interested in submissive sex, power exchange, locating persons for new slave roles, erotic BDSM, bondage & fetish sex, as well as live sex dates. Find thousands of play partners for whatever your fetish may be; bondage, foot, cockold, spankings, role-play, electric or water play, sadism and masochism. So whether you have the desire to explore your unrealized fetish fantasies, or you are extremely experienced and would love to train someone new, ALT.com is a community designed for people with like-minded interests to find and connect with each other.
Sex Shops and Adult Stores
If you don't feel like visiting or cannot find any local sex shops in Santa Cruz (California), you can easily order adult products from Online Sex Shop.
This is a guide on where to find adult cinemas, sex cinemas, adult arcades and porn cinemas in Santa Cruz, CA.
Frenchy's Cruzin Books & Video
3960 Portola Dr, Santa Cruz, CA 95062,
Adult video store with plenty of back room action for gay and bi-curious men. Most guys are 20-40 years old.
Love Hotels and Short Time Hotels
Nightclubs and Bars
Gay and Lesbian
Gay modeling in internet is getting more popular all the time and it's a big market alongside with gay porn. You can watch gay live sex also in Santa Cruz (California) as long as you are connected to internet. Check it out: Gay Live Sex Video Chat
California is filled with a very diverse group of people. Northern and Southern California have extremely different cultures, while the rural areas in the Central Valley and Eastern portions of the state differ even more significantly. Like much of the USA, sensitive topics include immigration, race, gay rights, and politics.
Other Adult Services
Dating
Dating in Santa Cruz (California) can be a bit tricky due to cultural differences, so your best bet is to sign up for a dating site before your trip so you can meet a few locals ahead of time. AdultFriendFinder.com lets you meet local members in Santa Cruz (California) and get to know them on a personal basis before you arrive. Take advantage of site features like live chat and member to member webcams so you can begin flirting before arranging a face-to-face meeting. Since your time in Santa Cruz (California) may be limited, get to know each other's desires beforehand, so that when you meet you can start having some real fun.
How to find Sugar Babies and Sugar Daddies
If you are looking for an alternative to escorts in Santa Cruz (California) with a girl who doesn't charge by the hour, sugar dating is the ideal solution. There are thousands of beautiful young women at SecretBenefits willing to do anything for a man who will help them pay their bills.
Often referred to as the "Tinder for Older Guys", SecretBenefits matches hot young women interested in pampering older gentlemen. You don't have to be a millionaire at SecretBenefits.com, you just need to be a respectful gentleman who knows how to treat a woman.
Transsexuals and Shemales
Finding someone for transsexual dating when you're on the road can be a bit tricky, so your best bet is to sign up for a dating site before you go so you can find locals ahead of time. TSdates.com is a dating site designed to help you find exactly what you are looking for in your hookup in Santa Cruz (California). Take advantage of site features like live chat and member to member webcams so you can begin flirting before arranging a face-to-face meeting. With over 40 million members, and thousands of transsexual members around the world, TSdates.com is the world's largest site of sex-minded friends for discreet encounters and will help you find your next transsexual play partner.
Where can I find shemales in Santa Cruz (California)? You can watch transsexual live sex shows in Santa Cruz (California) as long as you are connected to internet. Check Now: Tranny Live Sex Video Chat
Most Shemale escorts advertise online and work from private apartments or hotels. Price for half-hour is usually $100-200 and $200-300 per one hour.
Sexual Services for Women
Most male escorts advertise online and work from a private apartments. Usually they will provide services for both men and women.
See Also: Male prostitution
Sleeping and Girl Friendly Hotels
Santa Cruz offers everything from cheap drive-up motels along Ocean Street to cute B&Bs to one somewhat shabby high-rise hotel on the beach. It is illegal to sleep in your car in the city of Santa Cruz so do not get caught napping in the neighborhoods.
There have been reports of prostitution around following hotels in Santa Cruz, California:
Motel Santa Cruz (370 Ocean Street, Santa Cruz, CA 95060)
Ramada Limited Santa Cruz (516 Water Street, Ocean Street and Water Street, Santa Cruz, CA 95060)
Ocean Gate Inn (111 Ocean St, Santa Cruz, CA 95060)
Torch Lite Inn (500 Riverside Ave, Santa Cruz, CA 95060)
The Hitching Post Motel (1717 Soquel Avenue, Santa Cruz, CA 95062)
Stay Safe
California-Mexico Border
Due to California's proximity to the International Boundary with Mexico, visitors should be cautious while in areas near the border.
Know where you are at all times, follow good safety procedures and use common sense when making decisions.
Do not pick-up hitch hikers.
Keep valuables, including spare change, out of sight and lock your vehicle.
Avoid traveling in well-marked but unofficial "trails."
Avoid hiking or camping in areas of major border activity. If you are visiting a national or state park, consult park staff to help plan backcountry travel in safer areas.
Report any suspicious behavior to the U.S. Border Patrol.
Crossing The Border
Thousands of U.S citizens visit the state of Baja California, Mexico from California every year with the majority of travelers returning from an enjoyable experience. However, a minority of travelers do experience difficulties and serious inconveniences while traveling to Mexico. Before traveling to Mexico, ensure that you have the proper documentation and are familiar with the recommendations for foreign travel from the U.S. Department of State, Bureau of Consular Affairs[1]
Crime
As a whole, California has a relatively high crime rate when compared to many other states. The usual inner city crime can be found in the worst parts of Los Angeles, San Francisco, and Oakland. Central Valley cities, such as Sacramento, Stockton, and Fresno also have gang problems. Northern coastal cities such as Eureka have an ongoing problem with significant drug activity, primarily the prevalence of methamphetamine, and property crimes. However, most California cities are very safe. As long as you take basic precautions against petty crime and stay out of obviously run-down neighborhoods, you will probably have a safe and pleasant visit. Be smart and you will be safe.
If you are traveling along the Pacific Coast Highway or Highway 101, you may notice there are a substantial number of hitch-hikers along the way. Most hitchhikers are friendly and present no danger, however, use caution when picking them up.
Drugs are illegal in California. That being said, California has one of the most tolerant positions regarding marijuana in the country. In the some parts of California (San Francisco, Mendocino County, Oakland, Santa Cruz, Parts of Los Angeles, Coastal San Diego, parts of Lake Tahoe) a very European attitude toward marijuana can often be found. While possession without a doctors recommendation is still illegal it is considered a minor offense. If you are caught you will either be told to throw it away or at worst given a $100 fine. It is always best to be discreet and avoid doing things that will bring attention in public.
If you find yourself in an emergency situation (of any kind), dial 911 on your phone.
Law enforcement
There are four major types of law enforcement you may encounter in California.
On state-maintained freeways and highways and in some rural areas you will most commonly encounter officers of the California Highway Patrol (made famous by the late 1970s TV show CHiPs), who wear beige uniforms with blue trim. In recent years they have used Ford Crown Victoria cruisers and BMW motorcycles, but are currently in the midst of a transition to Ford Explorer Police Pursuit Vehicles and Harley Davidson motorcycles.
In many suburbs and rural towns, you will encounter deputies of the sheriff for that county. Sheriff uniforms vary but are beige in most counties. Most urban sheriff's deputies drive Ford Crown Victoria cruisers or similar sedan-type vehicles while rural sheriff's deputies drive a variety of sport-utility vehicles or light trucks.
In cities, especially large ones, you will encounter police officers from the relevant city police department. Police uniforms are usually black. Most police departments drive Ford Crown Victoria cruisers or are currently transitioning to the Chevrolet Caprice or Dodge Charger.
Finally, you may encounter certain special-district police departments like BART Police.
All these types of officers are trained to uniform baseline standards set by the statewide Commission on Police Standards and Training (POST), and all of them are typically armed with a handgun and sometimes, a nonlethal weapon like a Taser.
As with U.S. law enforcement in general, California law enforcement officers have a strong tradition of honesty and professionalism, and there is zero tolerance for petty corruption like soliciting or taking bribes. Most police scandals in California arise from the use of grossly excessive force (often after an officer overreacted to an ambiguous or complex situation). Therefore, if you encounter a law enforcement officer, stay calm, follow directions, and do not make sudden moves which could be interpreted as a threat.
Earthquakes
Earthquakes that are large enough to cause extensive damage are rare, but remain a matter of reality for the state. The biggest dangers in an earthquake are falling objects and windows which shatter explosively. In the event of an earthquake, face away from windows and hide under any sturdy table or desk that may be available. If you are indoors, do not run outside! Falling building facades are more likely to cause severe injuries than anything inside. Contrary to popular belief do not stand in a door frame. It is not safe at all, this is merely a myth. You're more likely to get your fingers caught in the frame from all the shaking and swinging of the door than gain protection from a falling object. If outdoors, stay away from buildings and stay out from under power lines.
Deserts
Along the southernmost portion of the California-Nevada border and the, as well as the California-Arizona border, California has desert landscapes which extend into the south-central regions of the state; the most famous (or infamous) being the region known as Death Valley, where numerous hapless tourists and hikers have indeed met an unfortunate fate while exploring the region.
If you are planning on traveling or hiking into these locations, follow desert survival guidelines. Be sure to take plenty of water (at least one gallon per person, per day), sunscreen and wear light clothing. Let someone know where you are going and when you expect to get return.
Be sure to have a full tank of gasoline, a fully charged cell phone in working condition, and multiple bottles of water prior to traveling by car into these regions. Many desert locations are extremely remote and without any services for many miles (in some cases nearly 100 miles). A vehicle breakdown in the desert is extremely unpleasant in the best-case scenario and tragic in the worst.
Also, it is best to hike during the earlier part of the day, as thunderstorms tend to develop suddenly during the afternoon. In the event you encounter inclement weather conditions, seek high ground immediately! Thunderstorms can cause flash flooding in canyons and other low-lying areas.
Fog
Although Southern California is world-famous for sunny weather, much of California suffers from heavy fog in the morning during certain times of year, particularly the Central Valley and some smaller valleys in Northern and Central California. Even coastal areas in Southern California sometimes see fog in the summer (the notorious "June gloom").
Fog usually causes a massive (and often deadly) freeway pileup somewhere in the state approximately every three to five years. Exercise extreme caution when traveling in areas where heavy fog is forecast.
Tsunamis
The incidence of Earthquakes in California raises the concern for potential threats of Tsunamis. Though very rare to occur, it should be noted that a great deal of California's coastline is in a Tsunami zone. For more information on the state's hazard assessment, visit the NOAA Center for Tsunami Research website [2].
Wildfires
Wildfires are quite common between May and October. Take a few precautions - throw out cigarette butts into trashcans, clear the area around campfire pits/rings in campgrounds, never leave flames unattended (even artificial ones), avoid weapon use in dry areas. The strongest impact from fires is smoke. Smoke affects areas dramatically exceeding the size of the root fire. Travelers with respiratory issues should consult visitor information sites before visiting areas where fires are occurring.
See Also