Langkawi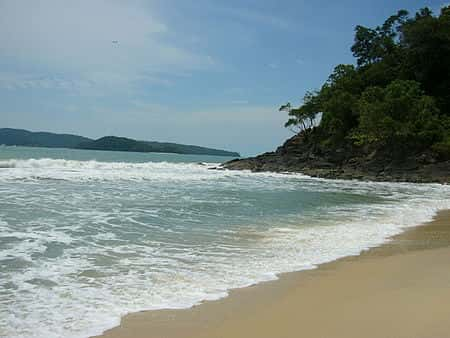 Langkawi Sex Guide advises where to find sex, working girls, prostitution, street hookers, brothels, red-light districts, sex shops, prostitutes, erotic massage parlors, strip clubs and escorts in Langkawi, Malaysia.
Langkawi,(Jawi:لانكاوي ) officially known as Langkawi, the Jewel of Kedah (Malay: Langkawi Permata Kedah) is an archipelago of 99 islands (an extra 5 temporary islands are revealed at low tide) in the Andaman Sea in Malaysia, some 30 km off the mainland coast of northwestern Malaysia. The islands are a part of the state of Kedah, which is adjacent to the Thai border.
Sex and Prostitution in Langkawi
Prostitution is illegal in Malaysia. Demand for prostitution has created a problem of people trafficking from China and other nearby countries. Sexual services, however, are widely available and laws banning prostitution remain largely unenforced.
An excellent place for a quick weekend getaway is Langkawi, Malaysia. A quick hour from KL and other regional cities by plane. Langkawi is not a sex paradise like most tourist islands in Thailand. You do not hear many sex tourists going there.
You may still be able to pick up some tourist girls from the Langkawi singles nightlife areas which are around Pantai Tengah and Pantai Cenang. The local girls are usually not so open for an ideas to have sex with the foreign men for fun.
Since the Langkawi is not the best sex tourism destination and it seems that the law enforcement wants to keep it that way. This beautiful island is more for families and retired couples. You can use the internet in order to find out relevant information regarding the availability of adult services and other activities related to sexual entertainment in Langkawi. This place is amazing for a weekend and people can spend time amidst absolute serenity and peace. If you are looking for prostitution and sex scene in and around this place, then the services of the female escorts can come into play. They have websites containing detailed information and contact numbers. So, one can visit any of the available escort websites in order to get in touch with the working girls.
Langkawi Female Escorts
Langkawi is a famous tourist destination. Where tourists are, there are always escorts as well. You can find escorts online but not probably very wide selection.
Red Light Districts
There is no red-light district in Langawi. Even if you find a place where adult activities are practiced, then try to remain calm and careful for the first time. You should analyze each and every situation along with each and every activity that is taking place. If you find things are normal and welcoming, then you may try your luck in order to catch some doses of adult entertainment in Langkawi. Since there is no official red light district in this place, one can consider asking the local guys if they know any place where prostitutes and other adult entertainment service providers can be found.
Prostitutes and Sex Workers
There aren't many prostitutes working in Langkawi, but definitely there are some during high season. Langkawi is not a sex tourism destination. If you are about to visit this place then consider doing a bit of homework beforehand. You may find useful information in the internet. Try and find out online adult forums dealing with the information and other details regarding the possible adult services in Langkawi. Since there are not many sex workers and prostitutes operating in and around Langkawi, you can choose to opt for the escort services after exploring its possibilities.
Street Hookers
You cannot see any streetwalkers in Langkawi with lots of make-up and mini-skirts. You can still try and enquire about the availability of working girls in the streets of Langkawi. Localites might be able to guide you if they have any specific information regarding this topic. You can also become a member of online adult communities and forums. At times, being a part of daily conversation and discussion can come into play.
Hookup and Pick Up Local Girls
Meeting local girls and getting laid for free is fun! Read more on how to pick up girls in Langkawi: https://hookuptravels.com/wiki/Langkawi
Live Sex Cams
Can I watch Live Sex Cams in Langkawi? - Yes, you can! Basically you can watch our online live sex shows for free anywhere in the world if you're connected to internet. Join to get 10 free private teasers and 9.99 credits for free! You can choose any girl from our trusted Live Sex Cams!
Live Sex Cams are booming at the moment. Webcam models can be found from all over the world and you can find girls, guys, trannies, couples and groups of different ages performing to you. Watching live sex shows is usually free, but if you buy some credits, you will have much better chances to see adult action as desired! It's possible also to hire a webcam model to a private chat room where you can ask the person to fulfill your fantasies.
Where to Get Sex Now
It is easy to get sex online in Langkawi. You just need to find the best available girls. See Girls Online Here!
Adult Locations
It's almost impossible to find any adult venues in Langkawi. However, you can visit other places from Langkawi in order to enjoy the available adult locations over there. These places included various other tourist destinations in Malaysia like Kuala Lumpur which is considered as one of the biggest sex tourists destinations in today's world.
Escort Services and Agencies
Unfortunately we don't list in this category!
Finding an escort when you're travelling can be a bit tricky. An ideal alternative to escorts is a girl who is looking for a mutually beneficial relationship. There are thousands of horny girls willing to do anything for a generous guy. Click Here to hookup with a beautiful young woman now.
You can find some escort services online from Langkawi but it might be quite difficult. One can try and go through the online sources and websites in order to find out if Langkawi has the availability of escort services and other adult entertainment actions that are generally offered by agency based working girls and freelancers as well.
Erotic Massage Parlors
Unfortunately we don't list in this category!
You can find some massage parlors in Langkawi, but there is no guarantee that you will receive any extra services in these places. But you can always search for it on the internet in order to explore if there is an availability of extra adult services for the potential visitors. Places like KL has lots of erotic spas and salons offering extra adult service and other activities for their prospective customers.
Brothels and Sex Clubs
There aren't any brothels in Langkawi. But you can always plan your trip in a different way. One can consider staying in and around Langkawi for few days and then he can visit other destinations in and around Malaysia where sex tourists would often visit in order to find their preferred activities and services in various brothel based apartments and houses, sex clubs, spas, massage parlors, KTVs and the likes.
Strip Clubs and Striptease
There are no legal strip clubs in Langawi Malaysia. You can ask the local guys if they have information regarding the availability of underground strip clubs in and around Langkawi.
Karaoke and KTVs
KTVs (hostess karaoke bars with beautiful female staff) are popular in some parts of Asia but you cannot find any of them from Langkawi. You can find few Karaoke and KTVs in and around this place. However, they are probably family oriented joints. So, you can either ask the local people if they know any adult oriented KTV there or consider visiting other places in Malaysia where adult KTVs and Karaoke bars can be found.
Swinger Clubs and BDSM
ALT.com is the best place for local singles, swingers, and couples in the BDSM community to connect with those interested in submissive sex, power exchange, locating persons for new slave roles, erotic BDSM, bondage & fetish sex, as well as live sex dates. Find thousands of play partners for whatever your fetish may be; bondage, foot, cockold, spankings, role-play, electric or water play, sadism and masochism. So whether you have the desire to explore your unrealized fetish fantasies, or you are extremely experienced and would love to train someone new, ALT.com is a community designed for people with like-minded interests to find and connect with each other.
Swinger clubs (lifestyle clubs), are formal or informal groups that organize sex-related activities or establishments where patrons can engage in sex acts with other patrons. There aren't any swinger clubs in Langkawi. Your best chance to find some swinging action is to find an open minded tourist couple from your resort or beach bars.
If you feel awkward to approach a random couple directly then join online swinger clubs and communities. If you find likeminded couples over there, then you all can plan a trip to Langkawi in order to enjoy swinging activities and parties.
Sex Shops and Adult Stores
If you don't feel like visiting or cannot find any local sex shops in Langkawi, you can easily order adult products from Online Sex Shop.
Sex shops are not accepted in Malaysia. Sex toys and adult related toys can be found from several street vendors. Also Cialis, Viagra and Kamagra can be bought from many Pharmacies.
The best thing to do in this matter is to consider the online sex shops and adult stores. You can choose and buy your favorite item directly from the websites selling adult products. The item will be delivered right at your place. This will save time and energy.
Love Hotels and Short Time Hotels
Love hotels are popular in some parts of Asia, especially in Japan. There are also many love motels and short-time hotels in South America. Unfortunately you cannot find any real Japanese style love hotels in Langkawi. If there are short-time hotels near by, usually the working girls know all of these places.
You can ask the hotel owners or at the reception if they are allowing unmarried couples to enter and spend time together for few hours. If you find anything relevant, then consider taking a room on rent where you will be able to enjoy absolute privacy with your local companion or girlfriend.
Nightclubs and Bars
There are many nice bars in Langkawi where you can try your luck to find sex for free with a tourist. It's very unusual to meet working girls at the bars but it's not impossible. You can find certain nightclubs and bars available in Langkawi. However, one must try and remain careful if he is planning to get lucky with a girl. Not every girl whom you would find is going to get intimate with you. Apart from that, it is also important for an individual to recognize genuine people in this matter. These days, news of people becoming victims of fraudulent acts is often heard. Thus, considering safety and security is always important.
If you do meet a local lady at the Langkawi nightlife and she comes to your room to have hard sex, there is a big chance she might be a freelance escort and ask you to give her money in the morning which is common in Malaysia.
Langkawi as crazy party destination as Pattaya example and Langkawi women are not that easy to seduce. If your goal is to get sex in Langkawi, then you should focus on the other travellers who may want to be having wild sex on Langkawi.
Here is a list of the singles nightclubs and best bars to hook up with foreign and Langkawi girls:
Bam-Boo-Ba, Sun Block 28 Jl. Teluk Baru - Great place to enjoy a drink and good food. Also nice looking girls.
Budaba Music Bar, Jl Pantai Tengah, Teluk Baru
Kalut Beach Bar & Cafe, 2 Jl Pantai Cenang
D'Reef at The Cliff , 63 & 40, Jl Pantai Cenang
One Love in Cenang View Hotel , Jl Pantai Cenang
Sunset Deck in Bon Ton Resort , Jl Pantai Cenang
Marrakesh Club & Lounge , Aseania Resort
Club K 333, No. 65-66 Pusat Mas Mukim Kuah - Very good nightclub with good music and hot girls.
Yellow Beach Cafe, Jl Pantai Tengah, Jl Pantai Chenang
Moseoli , 67 Tingkat Bawah Pusat Mas, Kelibang Kuah
Gay and Lesbian
Gay modeling in internet is getting more popular all the time and it's a big market alongside with gay porn. You can watch gay live sex also in Langkawi as long as you are connected to internet. Check it out: Gay Live Sex Video Chat
LGBT rights are largely unrecognised in Malaysia. Though many Malaysians are generally tolerant towards, and accepting of, LGBT individuals, the government retains the colonial era penal code criminalising sodomy. Social attitudes towards the LGBT community are also shaped by Islam, the official religion in Malaysia.
Homosexuality is a crime hence gay and lesbian tourists should be self-aware and careful. You can try out lesbian and gay dating sites if casual dating is all what you are looking for. But self-awareness and safety should be maintained in order to avoid the risk of any kind of unfortunate incident during your stay.
Other Adult Services
Not many adult services are offered in Langkawi. You can ask the escort girls if they have any extra adult services in store for their clients. At times, the escort girls may come up with exclusive services like private performances, pole dance sessions, room services and many more on special requests and demands.
Dating
Dating in Langkawi can be a bit tricky due to cultural differences, so your best bet is to sign up for a dating site before your trip so you can meet a few locals ahead of time. AdultFriendFinder.com lets you meet local members in Langkawi and get to know them on a personal basis before you arrive. Take advantage of site features like live chat and member to member webcams so you can begin flirting before arranging a face-to-face meeting. Since your time in Langkawi may be limited, get to know each other's desires beforehand, so that when you meet you can start having some real fun.
How to find Sugar Babies and Sugar Daddies
If you are looking for an alternative to escorts in Langkawi with a girl who doesn't charge by the hour, sugar dating is the ideal solution. There are thousands of beautiful young women who are willing to do anything for a man who will help them pay their bills.
Often referred to as the "Tinder for Older Guys", Sugar Dating matches hot young women who are interested in pampering older gentlemen. You don't have to be a millionaire to meet a sugar baby. Click Here if you are a respectful gentleman who knows how to treat a woman.
Transsexuals and Shemales
Finding someone for transsexual dating when you're on the road can be a bit tricky, so your best bet is to sign up for a dating site before you go so you can find locals ahead of time. TSdates.com is a dating site designed to help you find exactly what you are looking for in your hookup in Langkawi. Take advantage of site features like live chat and member to member webcams so you can begin flirting before arranging a face-to-face meeting. With over 40 million members, and thousands of transsexual members around the world, TSdates.com is the world's largest site of sex-minded friends for discreet encounters and will help you find your next transsexual play partner.
Where can I find shemales in Langkawi? You can watch transsexual live sex shows in Langkawi as long as you are connected to internet. Check Now: Tranny Live Sex Video Chat

It's not easy to find ladyboys in Langkawi comparing to other South East Asian tourist destinations. But if you find them, have these things in your mind: if you ask how much and she offers an irresistible price, never accept in glee and follow her immediately up to her flat. Enquire further whether there are any other charges. Is the price inclusive of the room? Are condoms free? Are tissues free? Are towels supplied without charge? Is there a hot shower?
After confirming each and every thing clearly, you should choose to go with a ladyboy to his hotel room or any other place. You can ask the person to visit your place as well, but care should be taken that the ladyboy you are about to get hooked up with is a genuine one with professionally active methods of work.
Sexual Services for Women
There are many horny guys in Langkawi willing to have sex for free. Women just need to get in to some local bar to find one for free. Also arab tourist men are horny and good one night lovers. But it is to be remembered that if you are actually willing to get intimate with the local guys in Langkawi, then take some time to understand and know the situation well at first. If you sense any possible risk in this matter, then avoid that person and don't get too close to him. You can also try and explore the possibility of callboys and male escort services. They can offer their clients with sexual services and other pleasurable activities. If you see the services of callboys are not available in Langkawi, then move out of that place and reach any other destination in and around Malaysia which is famous among sex tourists.
Sleeping and Girl Friendly Hotels
Langkawi is a touristic island which provides a large selection of all kind of hotels and hostels.
It is best to book your airbnb or hotel room near Pantai Tengah or Pantai Cenang to be as close to the areas where locals and tourist girls party and spend time. This will increase your chances in Langkawi to get sex for free or with money.
Stay Safe
Crime is generally not a problem on Langkawi, especially compared to the larger cities in Malaysia. In theory, you don't even have to lock your car, because it cannot get off the island without customs knowing about it! Staying safe should always be a priority and people should understand the fact that prevention is always better than cure. If you are planning to have sex, then keep a packet of condoms within your reach. It is also important for you to know whether the local sex worker is hygienically fit and healthy.
Beware of smart wild monkeys. Those at Tengkorak beach attack humans who have food. If attacked, pick up stones (or just pretend to do so) and throw them at the monkeys, this will scare them away. Also, do not carry plastic bags as the monkeys associate these with food.
See Also