Khmelnytskyi
Khmelnytskyi Sex Guide advises where to find sex, working girls, prostitution, street hookers, brothels, red-light districts, sex shops, prostitutes, erotic massage parlors, strip clubs and escorts in Khmelnytskyi, Ukraine.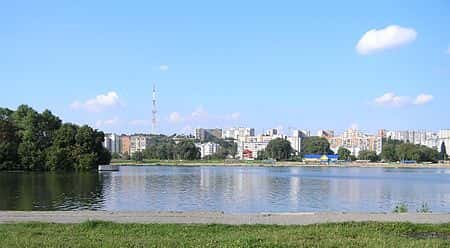 Khmelnytskyi (Ukrainian: Хмельни́цький, Chmel'nyc'kyj, pronounced [xmɛlʲˈnɪt͡sʲkɪi̯]; Polish: Chmielnicki) (until 1954, Proskuriv, Ukrainian: Проску́рів [proˈskuriu̯]; Polish: Płoskirów) is a city in western part of Ukraine. Khmelnytskyi is located in the historic region of Podolia on the banks of the Buh River.
Sex and Prostitution
Prostitution in Ukraine is illegal but widespread and largely ignored by the government. Sex tourism rose as the country attracted greater numbers of foreign tourists.
Where to Get Sex Now
It is easy to get sex online in Khmelnytskyi. You just need to find the best available girls. See Girls Online Here!
Red Light Districts
There is no specified Red Light district in the city, instead there are several spots where you can find street hookers. These women hang out in the city center, on stops and stations of public transport such as railway stations, bus stops and gas stations. You can easily recognize them by specific look.
Prostitutes and Sex Workers
You will find several types of prostitutes here. Their amount has risen in the past years because of the economic and political crisis. Many people became poorer in a blink of an eye and this pushed some women into a prostitution business. Some of these women are amateurs and do not have much experience, but they will do their best to make a client happy and earn money.
Street Hookers
Street hookers can fulfill your every dream, because they will do everything for money. Street hookers are very desperate for money and therefore they will even agree to have group sex and play role and BDSM games. Be careful when dealing with them as most often they are infected with HIV or other STDs.
Strip Clubs & Lap Dance
Of course, striptease can be frankly vulgar, or very sensual, or enthusiastically beautiful, or technically flawless - everything depends on a stripper. Any wealthy visitor of a strip club can order a private dance when a stripper dances in a separate room just for him. Kissing, touching and fingering are allowed.
Баттерфляй, Podolskaya street 93 (улица Подольская 93), tel.: (096) 2033114
САХАР, Kuprina lane (переулок Куприна), tel.: (096) 204-27-07
Шторм, Panasa Myrnogo street 28/3 (улица Панаса Мирного 28/3), tel.: 067 383 92 80
Brothels
When you enter a brothel, a pimp or a mamasan will meet you and show you around. Then she will ask all available prostitutes to come out, show their bodies and introduce themselves. If you find someone you like, point at her or tell the mamasan. Then the hooker will take you to a separate room for an hour (or more) of pleasure. And if you don't see anyone you like, feel free to walk away.
Erotic Massage Parlors
There used to be one erotic massage parlor, but it was shut down in recent years. Now there is no parlor, but many ads of individual masseuses who do erotic massage services. These women work both on in calls and out calls and can apply extra accessories like toys, on demand. You can easily find them on local forums such as:
Escort Services & Agencies
Finding an escort when you're travelling can be a bit tricky. If you are looking for escorts in Khmelnytskyi, Escort Directory is the ideal solution. There are thousands of beautiful young women at EscortDirectory.com waiting for your call!

Finding a charming lady for sex is easy. The number of girls who provide sexual services is constantly growing. Sex has become available for everyone and you don't have to pick up a hooker from streets for that. Nevertheless, these skillful girls let men fill a missing variety and brighten their intimate life. After all, the choice of prostitutes is really great!
Transsexuals / Shemales
Your chances for finding a transsexual in Khemelnystlyi are low, but they exist. Occasionally you may find a crossdresser willing to have fun on specified local forums for transgenders. It may take some time to find a relevant information, but it is absolutely worth it.
Gay and Lesbian
Gays are lesbians are not that hard to find and they hang out on social networks and in dating apps. Often they even create groups, where they discuss news about homosexuality, share their thoughts and look for partners. You can also join one of such groups in order to find a partner for a one night stand.
Sexual Services for Women
There are both professional men from escorts and local men, who are amateurs, but sincere in their intentions to please a woman. You can find both of them on the Internet and the second type can also be waiting for you in local night clubs and bars. Smile to a man you feel attracted to and if his intentions are the same as yours, he will offer you to get to know each other better.
Sex Shops and Adult Stores
Adult stores are designed to make your sexual life more interesting and let you explore new feelings and fulfill your erotic fantasies. Here you will find products for men, women and couples. Such stores offer everything from simple condoms to unusual sex toys that you have never even seen or thought of. In case you don't find what you want in such stores, you can look for sex devices online.
Полуничка, Vaisera street 17/1 (вулиця Вайсера, 17/1), tel.: +380 382 550 715, website: klubnichka.ua
Sleeping
A foreign tourist who decided to come here for work or vacation has two options for staying: a hotel or an apartment/a house. On one side, your hotel room will be cleaned every day or every other day and you can order breakfasts or even full meals here and apartments and houses offer more privacy on the other. If your purpose is business and you would like to pick up prostitutes occasionally, then you will be fine in a hotel, but if you are a sex tourist, you should choose a private lodging.
Stay Safe
This city is not dangerous if you follow basic safety guidelines and do not break laws. Local citizens are in general friendly to visitors, but there are some who would want to take advantage of your ignorance. If you feel suspicious about someone, you should walk away or ask for help.
See Also