Kamianske
Kamianske Sex Guide advises where to find sex, working girls, prostitution, street hookers, brothels, red-light districts, sex shops, prostitutes, erotic massage parlors, strip clubs and escorts in Kamianske, Ukraine.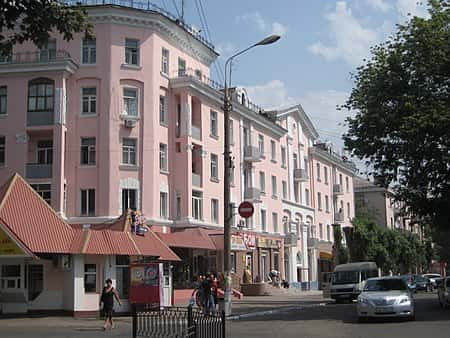 Kamianske (Ukrainian: Кам'янське, Ukrainian pronunciation: [ˈkɑmjɑnʲsʲkɛ]), formerly Dniprodzerzhynsk, is an industrial city in the Dnipro Oblast of Ukraine, and a port on the Dnieper.
Sex and Prostitution
Prostitution in Ukraine is illegal but widespread and largely ignored by the government. Sex tourism rose as the country attracted greater numbers of foreign tourists.
Where to Get Sex Now
It is easy to get sex online in Kamianske. You just need to find the best available girls. See Girls Online Here!
Red Light Districts
The Red Light district of Kamianske is located on Dnepropetrovskaya street (улица Днепропетровская), especially near the bus stop. Locals constantly complain about it and try to get rid of prostitutes, but hookers come back again and again. Another place where you can look for street love is Dorozhnaya street (улица Дорожная), located behind the railway station.
Prostitutes and Sex Workers
Local citizens who are not involved into a prostitution business are very aggressive towards local prostitutes, especially ones, who work on streets. One of the reasons is that prostitution is considered to be a dirty business and therefore you should be very careful when making inquiries about sex workers. The best ways to find them are through your local fiends, taxi drivers and ads in local newspapers.
Street Hookers
This is an industrial city, a city of brutal hard-working men who need to relax regularly in order to stay in shape. This made prostitution to be on demand, especially street prostitution, since hookers from streets are cheap and very agreeable. It is common to pick a street prostitute up on the way home. In most cases, you don't even need to bring her to your place or a hotel - these girls don't mind having sex in a car, or in bushes, or in a garage complex!
Strip Clubs & Lap Dance
Strip tease is not just a dance, during which the stripper takes of her clothing. During this dance she opens her soul as well. Adrenaline, excitement, passion - this is a "rattling mixture", which you will experience in strip clubs of Kamianske. Awaken your secret thoughts, wake up your fantasies, show your emotions, enter the world of real eroticism!
AВОКАДО, Lenina avenue 24 (пр. Ленина 24), tel.: 067 989 94 93
Brothels
A typical brothel is run by the oldest and the most experienced prostitute who is usually too worn or sick to continue working as a prostitute herself. They use social networks and ads in local newspapers to find new working girls and clients. A prostitute who works in a brothel can receive up to 10 clients per day!
Erotic Massage Parlors
Every person is curious by nature and when it comes to sex, this curiosity grows even higher! This is what drags men to try services of erotic massage. This is not something that you can ask your girlfriend or a prostitute to do, you need to find a qualified masseuse. Masseuses of Kamianske do not work in parlors, they serve clients in private apartments: of a masseuse, of a client or in a rented one. These working girls post their ads on local sex-related forums and are open to negotiation of prices and services provided.
Escort Services & Agencies
Finding an escort when you're travelling can be a bit tricky. If you are looking for escorts in Kamianske, Escort Directory is the ideal solution. There are thousands of beautiful young women at EscortDirectory.com waiting for your call!

You will find women of different ages working in escort agencies of Kamianske. They are women from 18 to 35 years old. Sometimes you will even find a woman in her fifties, but that's rare. Some of these women are drug addicts, but some are real diamonds. You should read descriptions in their profiles thoroughly before making an order, otherwise you can receive a cat in a sack. Do not agree to send a text message or money on someone's credit card before meeting a prostitute.
Transsexuals / Shemales
There are a few forums of transsexuals from Kamianske, but all of them are very outdated and not active. You should look for transsexuals in big administrative centers or online.
Gay and Lesbian
It is not hard to find some homosexual activity in the city. Gays and lesbians are not very open, but at the same time not very secretive about their nature. Those, wiling to make friends and even find their destiny hang out on dating websites for homosexuals. You are very welcome to join if homosexual sex is a purpose of your visit.
Sexual Services for Women
Men who look for sex for money also post their ads on sex related webs and add their profiles to dating websites. Foreign women looking for love and sex can search though such websites to find a man she likes the most and when her search is finished, she should start communicating with him in order to get to know each other better and agree about time and place of meeting.
Sex Shops and Adult Stores
Local sex shops have a lot to offer to a tempted sex traveller, that's why you won't need to look for products online. A range of sexy lingerie will make your date romantic and unforgettable. New unusual sex toys will turn your imagination on. Pharmacy and stimulating scents will make a night of love last forever! Come over and you will not regret it.
Eros, Shirokaya street 1 (ул. Широкая, 1), tel.: (097) 895-83-53
Валентина, Metallurgov street 20 (ул. Металлургов, 20), tel.: 0679170484
Kiss`ка, Kirpichnyi lane 19 (Кирпичный переулок, 19), tel.: 0932235906
Sleeping
There are not many upscale hotels in the city, but you will find many offers of average, but at the same time clean and cozy hotels. All of them offer breakfasts and some of them offer full meals as well. If you want to bring a prostitute in, it will be easier to do with an average hotel, because staff is not as strict about your visitors. Often an administrator has phone numbers of a few prostitutes or their pimps and he will gladly share these contacts with you for a small tip.
Stay Safe
Kamianske is located in the region close to the war action place, therefore you should be careful when visiting this city. There is no shooting or anything like this going on in the city, but the crime level has risen in the past few years. Keep this in mind and throughly prepare to your trip: bring as little cash as possible and try to use a credit card, leave your valuables at home, do not communicate with strangers, unless asking for help or directions and always wear a condom when having sex with prostitutes. The level of HIV is in general high in the city.
See Also