Bila Tserkva
Bila Tserkva Sex Guide advises where to find sex, working girls, prostitution, street hookers, brothels, red-light districts, sex shops, prostitutes, erotic massage parlors, strip clubs and escorts in Bila Tserkva, Ukraine.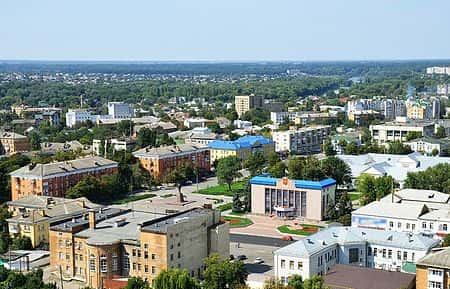 Bila Tserkva (Ukrainian: Бі́ла Це́рква (Ukrainian pronunciation: [ˈbʲiɫɑ ˈt͡sɛrkwɑ]), Polish: Biała Cerkiew, Russian: Белая Церковь, Belaya Tserkov, literally White Church) is a city in central Ukraine, the largest city in Kiev Oblast.
Sex and Prostitution
Prostitution in Ukraine is illegal but widespread and largely ignored by the government. Sex tourism rose as the country attracted greater numbers of foreign tourists.
Where to Get Sex Now
It is easy to get sex online in Bila Tserkva. You just need to find the best available girls. See Girls Online Here!
Red Light Districts
There is no Red Light district in the city and street prostitutes can rarely be seen on streets on the city, they prefer to hang out near entertainment venues or transport stations in order to mix with the crowd and not stick out very much. Prostitution is condemned by society very much.
Prostitutes and Sex Workers
Prostitution scene of Bila Tserkva is quite poor because of it geographic location. The city is not very big and it is located in Kiev region. It is easier to go to Kiev for a sex trip or order a prostitute from an escort in Kiev. This is a common practice, so in case you don't find a sex worker you feel attracted to in Bila Tserkva, order one or go to the capital of the country.
Street Hookers
As it was said before, prostitution is condemned by society and especially in small cities like Bila Tserkva. Street hookers wait for clients (who are usually drunk) near restaurants, pubs and night clubs. Often you will see them near hotels as well.
Strip Clubs & Lap Dance
There is one strip club in Bila Tserkva that combines everything you need to have a great party night out. Here you will find a big stage with a pole in the middle of it, a lot of comfortable seats and cushions, big choice of alcohol from local to imported beverages and atmosphere of passion. If you don't feel like waiting until the end of the show, you can order a private dance or even barfine a stripper you like. The dancers share their "private income" with the venue, so she will be extremely grateful and let you do more if you leave her a tip as well.
Ранчо, Borovkova street 91 (ул. Боровкова, 91)
Brothels
The easiest way to find a brothel in Bila Tserkva is to ask a taxi driver to show you one. They always know such places and are used to such offers. The driver would expect you to leave him a tip for directions and will usually offer to pick you up on the way back as well. A typical brothel is a house or apartment with no sign on sexual activity. This is very comfortable, because this way nobody will know what you are up to.
Erotic Massage Parlors
In order to have a session of a relaxing erotic massage, it is not necessary to go to a parlor, when you can have a private one on one session with the masseuse you like. Some local women (who are usually ex or working prostitutes or strippers) offer services of erotic massage as well. This is a very comfortable option, because you choose a place where you want to the session to take place and a masseuse who will do it for you. The session never ends with a relaxation massage, it always ends with a happy ending.
Escort Services & Agencies
Finding an escort when you're travelling can be a bit tricky. If you are looking for escorts in Bila Tserkva, Escort Directory is the ideal solution. There are thousands of beautiful young women at EscortDirectory.com waiting for your call!

Escort agencies offer prostitutes of the best quality. Often these sex workers really follow clients to different cities and maybe even escort them to social events. Usually these agencies have portfolios of working girls posted online, so you can go though them and choose the one you feеl attracted to.
Transsexuals / Shemales
You have to be a really lucky person to find a transgender in the city. Because of the Soviet past, these people are still generally despised and therefore have to hide their real nature and even move out of the city.
Gay and Lesbian
Some escorts can provide you with a gay or a lesbian for a night or an hour of love, but that's rare or may cost way more than heterosexual escorts. Try your luck with local escorts and you should be able to find someone who fits your requirements.
Sexual Services for Women
A nice looking woman who has money will definitely find a partner for a one night stand or even her full trip to the city. This is not hard. She should simply go to one of the local night clubs or bars, order something to drink and look around, showing that she is interested in men. Soon after someone will come up to her and offer to spend an evening together.
Sex Shops and Adult Stores
Local lovers of sex prefer to shop for sex supplements and accessories in online adult stores. The choice is way bigger in such stores, or should we say that it is unlimited. You can even call them and tell what you need and they will get it for you in a short period of time. Depending on the location of the warehouse, delivery may take from a couple of days to a whole week, so you may want to order something before your trip. This way it will be waiting for you at a pick up point when you are there.
Sleeping
There are few hotels, but a lot of private options of accommodation. Often locals live in one house or flat and give another one for a rent. A private apartment gives you more freedom of choice. Here you can come and go when you want, you are not tied to certain hours of breakfasts or cleaning and you can bring whoever you want and do whatever you want in the house as long as you don't break anything.
Stay Safe
Bila Tserkva is a relatively small city and it is not dangerous or at least it is not in comparison with Kiev that is located not far from it. Most of the people you will meet are friendly and hospitable and they will help you eagerly. Unfortunately not many people speak English, that's why you should plan your trips beforehand thoroughly. Use services of reliable taxi services and don't walk by yourself late at night and you should be fine.
See Also