Lanzarote
Lanzarote Sex Guide advises where to find sex, working girls, prostitution, street hookers, brothels, red-light districts, prostitutes, erotic massage parlors, strip clubs and escorts in Lanzarote, Canary Islands.
Lanazarote is in the Canary Islands, part of Spain.

Sex Scene and Prostitution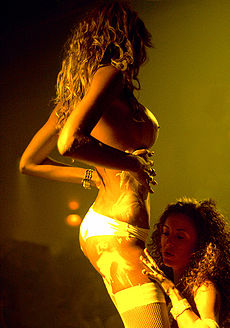 Prostitution is kind of legal in Spain, the truth is that prostitution exists in a legal vacuum. Sex workers are not penalized, instead the pimps are the ones who are punished. With 90% of prostitutes in Spain said to be illegal immigrants, brought into Spain through illegal human trafficking, the circumstances of many prostitutes leave them in legal limbo.
Some of the brothels (nightclubs as they are called here) are legal, regulated and licensed in Lanzarote.
Lanzarote Female Escorts
Check out WikiSexGuide Adult Classifieds!
Red Light Districts
There is no official red light district in Lanzarote but check out the brothels in Lanzarote from below. Street prostitutes are in one area and bordellos are spread across the island.
In Puerto Del carmen you can find few brothels within a very small area that some people call a Red-light district. This square has a narrow entrance, the bars cannot be seen from the road, but one of the whore houses is clearly visible. That will stop a lot of newbies from even walking through.
There is an area called "La Rapadura" in Arrecife where you can find hookers plenty of prostitutes, but it is not wise to go there since drug-addicts frequent it. The police keeps raiding the are every now and then.
Prostitutes and Sex Workers
Many prostitutes work in the brothels in Lanzarote. There are also street whores who are relatively cheap and who are mostly Africans. These type of sex workers can be found from the Puerto del Carmen. High-class escorts who work from the private flats or hotels are the most expensive option in Lanzarote, but the service you get is also good at most of the time. For these type of girls you need to pay around 100€ for sex services.
Street Hookers
You can sometimes spot African street walkers along the strip at Puerto del Carmen. Most of these black girls are illegal immigrants. Usually African street whores in Lanzarote ask 50€ for sex, but if they don´t have enough business, you may be able to bargain the price down to 30€. You should use your normal precautions as some of the sex workers may try to steal things like cellphones from you example.
Some of these street whores are very insistent, and you may be approached a many times a night, sometimes the girls even grab your genitals.
Strip Clubs & Lap Dance
There's quite a few strip clubs in Lanzarote. But Lapdancing clubs in Lanzarote can be quite like the brothels, as most of the have escorts and dancers who are willing to have sex with you either in the rooms provided by the club or at your place. See also brothel list below.
Strip clubs in Lanzarote:
MONICA M M STRIPERS, Avenue de las Playas, Puerto del Carmen.
STRIPTEASE B S I TRAVEL CLUB, Street Toscón, Puerto del Carmen.
Night Club 55 Afrodita, Avenida Islas Canarias (CC Nautical) ES-35508 Costa Tequise
Night Club 55 Afrodita is Lanzarote´s Premier Gentlemans clubs Open every night from 8pm til late. The most glamorous and sexy girls on the island ready for your entertainment and pleasure. Situated in Puerto Del Carmen and Costa Teguise and available for stag nights, corporate entertainment and groups. Set in a relaxing and fun environment our girls will take care of your every need. With live stage shows very night, lap dances, private rooms, and a fully licensed bar you can be assured you will be well looked after. Open every night from 8pm - late.
Club Manhattan Glamour, Avenida de Las Playas (Centro Comercial Maritimo, Local 39) ES-35510 Puerto del Carmen
Brothels / Whorehouses / Nightclubs
Some of the brothels (nightclubs as they are called here) are legal, regulated and licensed in Lanzarote. Price to have sex in bordello can vary a lot from 20 to 120€, depening the quality of the girls, time of the day and the location. Overall service in Lanzarote brothels is good and most whore houses are also quite safe. There are sex workers from Romania, Bulgaria and other Eastern European countries. Many of the South American and African girls work at these brothels too.
Here are some brothels (whorehouses) in Lanzarote:
Arrecife
BAR EL CHARCO, León y Castillo, 72. GPS 28.959408, -13.548650. Prices: 30min costs 30-40€.
NOA NOA VANESSA, Calle Trinidad 26, Apt 1C. GPS 28.975613, -13.561045. Prices: 30min costs 20-30€. Tel 630487913. Only two ugly girls available when visited.
Sagitario Night Club, Calle Padre Claret No. 1, Arrecife.
Casa Sevilla. Calle Sevilla No. 9 Tel. 928808810. Prices were 60 Euros for 30 mins and 120e for the hour. When you get to their front door you are confronted by 4 buzzers. Just push them all if you don't which is the right one.
LADY XNOX, Street Agustín de Espinosa, 9.
MISS EROTIC LANZAROTE, Street de Claudio Toledo Cabrera, 63, Argana Alta.
CASA CANELA, Street del Conde de Niebla, 50.
Calle Malpais de San Jose No. 9 Tel. 680470161. Google maps will not find this road for you. It shows it as Calle C #20. Or just look up Calle Pedro Naveran. It runs between Pedro Naveran and Carretera Los Castillos. It is an area of industrial buildings but the normal sized door to the right of the factory doors in Number 9 will take you to the knocking shop. Prices here are 20 mins for 40 Euros. 30 mins for 50, 45 mins for 60 and 1 hour for 100. When visited they had 4 girls working; 1 Spanish, 1 Mexican and 2 Dominican.
Calle Portugal No. 45 Tel 687577777. This is an Asian place with 2 girls working. Prices were 30 mins for 60 Euros and an hour for 100e. You will find that one of the buzzers is helpfully labelled "China". That's the one you want. The door you want is on the top floor.
Costa Teguise
Club 55, This is at the end of the first turning on the left along Avenida Islas Canarias if you're starting from the southern end of that road. They have 6-8 working girls. Not the best quality of girls. Prices were 20 mins for 60 Euros. 30 mins for 80e and an hour for 150e. http://www.nightclub55.com/
Victoria Night Club, in the same side street, down an alley on your right as you head towards Club 55.
Montaña Blanca / San Bartolome
CASA LA MONTAÑA, 3km from San Bartolomé.
Tias / Puerto del Carmen
CLUB TOP LESS OLIVIN, C.C. Olivin Gran Canaria, Pto. del Carmen. GPS 28.921436, -13.671493. Prices: 30min 60-80€.
BSI. TRAVEL CLUB, Toscón, S/N. GPS 28.953045, -13.653027.
LIPS, C. Com. Atlántico, S/N. GPS 28.953045, -13.653027.
NIGHT CLUB MY LADY, C. Com. Costa de la Luz, S/N. GPS 28.953045, -13.653027.
EXOTIC, Puerto del Carmen. Mall Atlántico, Avenida de la Playas.
CLUB MANHATTAN GLAMOUR, Avenue de Las Playas, C. Comercial Marítimo, Local 39.
SAGITARIO PC, Mall Olivín, Local 34, calle de Juan Carlos I. 8 escorts.
NIGHT CLUB 55 AFRODITA, Mall Costa Mar, Avenida de las Playas, Playa de los Pocillos. Near Puerto del Carmen.
NIGTH CLUB 55 MY LADY, Avenue Islas Canarias s/n CC Nautical local 37.
Erotic Massage Parlors
There are few good options in Lanzarote for someone who is looking for an sensual massage with a happy ending. You can always visit a massage salon, where you can get a massage and a Hand Job. Many of the independent escorts and girl who work for the escort agencies provide a erotic massage services. Most Lanzarote brothels mentioned above have massages on their menus too and usually the massage costs about the same as sex at these premises.
Erotic massage parlours in Lanzarote:
PRINCESS PRIVATE, San Bartolomé.
Transsexuals / Shemales
There are not that many transexual prostitutes working in Lanzarote as there are in mainland cities of Spain. However usual cost for a sex with a transexual escort is 100€ in Lanzarote. Most will work in TS/TV/TG & CD escorts work at the private flats. There may be some working at the brothels too. Outside the touristy season it can be very hard to find any transgirls from Lanzarote as many of them head to the Barcelona, Madrid and other bigger cities to make extra money.
Gay and Lesbian
The rights of lesbians, gays, bisexuals, and transgender (LGBT) persons in Spain have undergone several dramatic changes in recent decades. Today Spain provides one of the highest degrees of liberty in the world for its LGBT community.
The "Zona Rosa" is the Gay District located at the back of Centro Atlantico, Puerto del Carmen. In this area you will find the three Gay Bars. The bars are all small and intimate and offer shows at the weekend with drag queens, singers and comedy shows. You will find the drinks prices compared to other gay scenes quite reasonable and will find the scene here safe and friendly.
Gay Bars, Clubs, Cafes & Discos
Bar Punto, Centro Comercial Atlantico, Planta alta / Top floor, Puerto del Carmen - Lanzarote
The largest of the 3 bars offering music dance videos mid week, and top shows on a Friday and Saturday. Open every night from 10pm till 4am, this dance club is a great place to meet people and enjoy great drinks. Punto also offers free WIFI. Open every day from 21:30 till late.
Chanell´s Bar, Located in C.C. Atlantico, Puerto del Carmen.
Formerly Black & White, Chanell's LGTB Disco Showbar is a whole new experience! Chanell's LGTB Disco Showbar is situated in CC Atlantico in Puerto del Carmen, on the site of the very first gay club on the island, Black & White. Open daily 22:00 - 04:00. Shows & performances every Thursday, Friday & Saturday. Happy Hour! 2 for 1 before midnight! Lesbian, Gay, Trans or Bi, or friendly you're welcome at Chanell's.
Betty Boops Karaoke Bar, 35 Calle Nicuaragua, Puerto Del Carmen, Lanzarote
Betty Boops is a nice little lesbian run Karaoke bar. Opens 7pm every evening its a great place to get the evening started before heading onto the other 2 gay bars across the way or up above.
Eclipse is Playa Blanca's newest gay bar. Open 21:00 - 04:00 The bar used to be called 'Rooftops' in Punto Limones, Playa Blanca.
Gay Cruising, Beaches, Parks, Toilets and Glory Holes
Airport Beach, Lanzarote (Right alongside the airport runway. The section you need is the nudist beach opposite the control tower. You know you are in the right place because of the small stone walled circles dotted around)
This is always a fun place to go, but there are not many places to have sex. Mostly bi guys and if you are lucky if you get one of the little beach stone shelters, if you do, you will do well,many guys look for a quick shag. Be aware the there are some straight people who go there. Place is a nudist beach all day, cruising does not start until about 3.30pm. Ensure you have lube and condoms with you. Very often the locals will just grease up with sun tan cream!
Papagayo Naturist Beach, (From the 1st papagayo beach walk along the rocks into the 2nd cove along)
There is a narrow gap in the cliff which extends back some 30 feet. It is protected by a small rock pool but once inside it is quite private. Busiest after lunchtime. It is a naturist area, so look for guys brushing their hands on their as they walk towards you. Cruisiest Spots is the second cove along, with the cleft into the cliff.
Lighthouse Playa Blanca, (Turn right at the roundabout as you enter Playa Blanca and head to Faro Park. You can't miss the lighthouse.)
Many gay, bi and straight men. Go to the lighthouse and park. Walk to the towards the ocean and turn to the right and walk along the top of the rocks a short distance. Look down and and you will see nude sun tanners, some will make it quite clear what they want. Also, lots of hidden places to play in down there. It is cruisy in the afternoon and evening.
Rocky beach and cliffs, take a couple of towels and/or camping mat as many areas are not comfy for sunbathing. This is a nudist "beach", very cruisy, many married and straight guys.
Los chacos, Lanzarote costa teguise
Nude beach with stone circles and private areas round the rocks.
Beach Toilets Puerto Del Carmen, Avenida de la PLaya
On the Avenida de la Playa make sure you are on the opposite side of the road to the small shops. There is a small cafe that does snacks and drinks and then a sign that says "handicraft shop" go down the slope and the toilets are there. It is opposite the main shopping complex in Puerto Del Carmen.
Sexual Services for Women
There are many tourist and local men looking for sex in Lanzarote. Finding sex company shouldn't be a problem to anyone in this islands especially if you have a white skin and blond hair. There are also male escorts who charge around 100$ an hour.
Sex Shops & Adult Stores
Sex shops in Lanzarote:
Tienda Erotica, Calle Princesa Ico, 70, Playa Honda +34 928 82 28 27
Escort Services & Agencies
Sleeping
There are many different options for every wallet in Lanzarote. You can save a lot of money by staying in a budget accommodations like hostel, but then you can not bring girls to your room. For about 30€ to 70€ you can rent an nice looking and cozy apartment just for yourself, and there are no one telling you who you can bring to your room and who not. Some hotels may give you a trouble if you bring extra guests (prostitutes example) to your room.
Love Hotels & Adult Resorts
Check out WikiSexGuide Adult Classifieds!
Spice Lifestyle Resort Lanzarote, Spice, Calle Anzuelo 23, Puerto del Carmen. info@spicelifestyle.com · (0034) 928 511 138 · www.spicelifestyle.com

Luxury Clothing Optional & Lifestyle Holidays
Spice is Europe's first clothing optional, lifestyle friendly resort - an erotic, fun, friendly, 'All Inclusive' paradise for naturists, libertines and genuinely curious couples seeking an alternative holiday. Located in the Canary Islands, a beautiful archipelago near the West African coast, with sunshine all year round and the lowest rainfall in Europe is a place for all free-thinkers to escape reality, live your dreams and indulge your passions. Have fun meeting new friends in an environment where nudity and sexual energy is embraced.
Imagine an idyllic hideaway with pools and gardens, all completely private and sheltered from the outside world. Imagine relaxing days, fine dining and warm, sensual nights. Here is your chance to indulge all your fantasies, experiment with erotic outfits and satisfy your desires with intimate encounters.
Spice offers a vast array of facilities, services, privacy and freedom for you to explore with your partner. A totally safe haven in which couples can express themselves openly. Pleasure your mind, body and spirit in this totally liberated resort, just 4 hours away from most European destinations.
Stay Safe
While a generally safe country, as always beware of pickpockets and keep hold of any personal belongings. There are local police stations in all major cities and somewhat frequent police patrols around the streets. Emergency service phone number is the European standard "112".
See Also