Lanzarote
From WikiSexGuide
Lanzarote Sex Guide advises where to find sex, working girls, prostitution, street hookers, brothels, red-light districts, prostitutes, erotic massage parlors, strip clubs and escorts in Lanzarote, Canary Islands.
Lanazarote is in the Canary Islands, part of Spain.

Sex Scene and Prostitution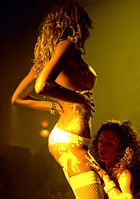 Prostitution is kind of legal in Spain, the truth is that prostitution exists in a legal vacuum. Sex workers are not penalized, instead the pimps are the ones who are punished. With 90% of prostitutes in Spain said to be illegal immigrants, brought into Spain through illegal human trafficking, the circumstances of many prostitutes leave them in legal limbo.
Some of the brothels (nightclubs as they are called here) are legal, regulated and licensed in Lanzarote.
Lanzarote Female Escorts
Red Light Districts
There is no official red light district in Lanzarote but check out the brothels in Lanzarote from below.
Prostitutes
Many prostitutes work in the brothels in Lanzarote.
Street Hookers
You can sometimes spot African illegal street walkers in Lanzarote.
Strip Clubs & Lap Dance
There's quite a few strip clubs in Lanzarote. But Lapdancing clubs in Lanzarote can be quite like brothels. See also brothels below.
Strip clubs in Lanzarote:
MONICA M M STRIPERS, Avenue de las Playas, Puerto del Carmen.
STRIPTEASE B S I TRAVEL CLUB, Street Toscón, Puerto del Carmen.
Brothels / Whorehouses / Nightclubs
Some of the brothels (nightclubs as they are called here) are legal, regulated and licensed in Lanzarote.
Here are some brothels (whorehouses) in Lanzarote:
Arrecife
BAR EL CHARCO, León y Castillo, 72. GPS 28.959408, -13.548650. Prices: 30min costs 30-40€.
NOA NOA VANESSA, Calle Trinidad 26, Apt 1C. GPS 28.975613, -13.561045. Prices: 30min costs 20-30€. Tel 630487913. Only two ugly girls available when visited.
Sagitario Night Club, Calle Padre Claret No. 1, Arrecife.
Casa Sevilla. Calle Sevilla No. 9 Tel. 928808810. Prices were 60 Euros for 30 mins and 120e for the hour. When you get to their front door you are confronted by 4 buzzers. Just push them all if you don't which is the right one.
LADY XNOX, Street Agustín de Espinosa, 9.
MISS EROTIC LANZAROTE, Street de Claudio Toledo Cabrera, 63, Argana Alta.
CASA CANELA, Street del Conde de Niebla, 50.
Calle Malpais de San Jose No. 9 Tel. 680470161. Google maps will not find this road for you. It shows it as Calle C #20. Or just look up Calle Pedro Naveran. It runs between Pedro Naveran and Carretera Los Castillos. It is an area of industrial buildings but the normal sized door to the right of the factory doors in Number 9 will take you to the knocking shop. Prices here are 20 mins for 40 Euros. 30 mins for 50, 45 mins for 60 and 1 hour for 100. When visited they had 4 girls working; 1 Spanish, 1 Mexican and 2 Dominican.
Calle Portugal No. 45 Tel 687577777. This is an Asian place with 2 girls working. Prices were 30 mins for 60 Euros and an hour for 100e. You will find that one of the buzzers is helpfully labelled "China". That's the one you want. The door you want is on the top floor.
Costa Teguise
Club 55, This is at the end of the first turning on the left along Avenida Islas Canarias if you're starting from the southern end of that road. They have 6-8 working girls. Not the best quality of girls. Prices were 20 mins for 60 Euros. 30 mins for 80e and an hour for 150e. http://www.nightclub55.com/
Victoria Night Club, in the same side street, down an alley on your right as you head towards Club 55.
Montaña Blanca / San Bartolome
CASA LA MONTAÑA, 3km from San Bartolomé.
Tias / Puerto del Carmen
CLUB TOP LESS OLIVIN, C.C. Olivin Gran Canaria, Pto. del Carmen. GPS 28.921436, -13.671493. Prices: 30min 60-80€.
BSI. TRAVEL CLUB, Toscón, S/N. GPS 28.953045, -13.653027.
LIPS, C. Com. Atlántico, S/N. GPS 28.953045, -13.653027.
NIGHT CLUB MY LADY, C. Com. Costa de la Luz, S/N. GPS 28.953045, -13.653027.
EXOTIC, Puerto del Carmen. Mall Atlántico, Avenida de la Playas.
CLUB MANHATTAN GLAMOUR, Avenue de Las Playas, C. Comercial Marítimo, Local 39.
SAGITARIO PC, Mall Olivín, Local 34, calle de Juan Carlos I. 8 escorts.
NIGHT CLUB 55 AFRODITA, Mall Costa Mar, Avenida de las Playas, Playa de los Pocillos. Near Puerto del Carmen.
NIGTH CLUB 55 MY LADY, Avenue Islas Canarias s/n CC Nautical local 37.
Erotic Massage Parlors
Erotic massage parlours in Lanzarote:
PRINCESS PRIVATE, San Bartolomé.
Transsexuals / Shemales
Gay & Lesbian
The rights of lesbians, gays, bisexuals, and transgender (LGBT) persons in Spain have undergone several dramatic changes in recent decades. Today Spain provides one of the highest degrees of liberty in the world for its LGBT community.
Sexual Services for Women
There are many tourist and local men looking for fun so finding sex company shouldn't be a problem.
Sex Shops & Adult Stores
Sex shops in Lanzarote:
Escort Services & Agencies
Sleeping
Love Hotels & Adult Resorts
Spice Lifestyle Resort Lanzarote, Spice, Calle Anzuelo 23, Puerto del Carmen. info@spicelifestyle.com · (0034) 928 511 138 · www.spicelifestyle.com

Luxury Clothing Optional & Lifestyle Holidays
Spice is Europe's first clothing optional, lifestyle friendly resort - an erotic, fun, friendly, 'All Inclusive' paradise for naturists, libertines and genuinely curious couples seeking an alternative holiday. Located in the Canary Islands, a beautiful archipelago near the West African coast, with sunshine all year round and the lowest rainfall in Europe is a place for all free-thinkers to escape reality, live your dreams and indulge your passions. Have fun meeting new friends in an environment where nudity and sexual energy is embraced.
Imagine an idyllic hideaway with pools and gardens, all completely private and sheltered from the outside world. Imagine relaxing days, fine dining and warm, sensual nights. Here is your chance to indulge all your fantasies, experiment with erotic outfits and satisfy your desires with intimate encounters.
Spice offers a vast array of facilities, services, privacy and freedom for you to explore with your partner. A totally safe haven in which couples can express themselves openly. Pleasure your mind, body and spirit in this totally liberated resort, just 4 hours away from most European destinations.
Stay Safe
While a generally safe country, as always beware of pickpockets and keep hold of any personal belongings. There are local police stations in all major cities and somewhat frequent police patrols around the streets. Emergency service phone number is the European standard "112".
See Also