Barcelona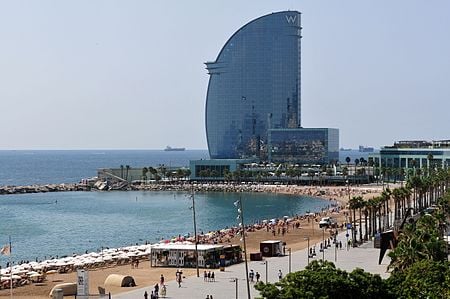 Barcelona Sex Guide advises where to find sex, working girls, prostitution, street hookers, brothels, red-light districts, sex shops, prostitutes, erotic massage parlors, strip clubs and escorts in Barcelona, Spain.
Barcelona the capital and largest city of Catalonia and Spain's second largest city, with a population of nearly two million people. The city, located directly on the northeastern Mediterranean coast of Spain.
Sex and Prostitution in Barcelona
Prostitution is kind of legal in Spain, the truth is that prostitution exists in a legal vacuum. Sex workers are not penalized, instead the pimps are the ones who are punished. With 90% of prostitutes in Spain said to be illegal immigrants (many coming from South America), brought into Spain through illegal human trafficking, the circumstances of many prostitutes leave them in legal limbo.
Brothels have been illegal since 1956, but the vast majority of brothels are loosely disguised as whiskerías or 'clubs' and are left to function as normal.
The most popular street in Spain La Rambla at night is a particularly daunting place to be, intimidating with a sense of impending bag snatch. Pick pocketing is an endemic problem in Barcelona and you struggle to enjoy yourself at times knowing that you have to be on constant alert. Within the street's bustling atmosphere, vendors will approach you, offering various drugs or products—products recently purchased at the local Spar which have since falling into their hands doubled in price. My personal favourite was, 'Hashish, cocaine, Fanta limon?' Go in with the class B, go up to A and take the edge off with a citrus soft drink.
See also: Barcelona Escorts
See Also: Prostitution in Spain
Female Escorts
As in any other European big cities, you can find a good variety of different kind of female escorts in Barcelona.

Red Light Districts
Red-light districts in Barcelona:
La Rambla, this red-light district can also be called Las Ramblas. The prostitutes start to appear at around after dark, but it gets very busy once the bars start closing. At the good night there can be as many as 100 whores on the street corners and alleys, mostly blacks and transexuals. At day time you wouldn't at first think that this would be a red-light area.
Prostitutes and Sex Workers
Where in the centre of La Rambla you have the small time entrepreneurs, the edges of the street are lined with hookers and pimps. A pimp restlessly paces up and down, hurrying his troupe to latch onto the passing tourists and drag them into the dimly lit alleyways and streets. To see girls turning tricks in such a blatant and overt manner was compelling and horrifying in equal measures.
There is lots of prostitution at Las Ramblas. Hookers can be found closer to the harbour side of the street. You can find Latin American, Black African and also Caucasian prostitutes from Las Ramblas. Price for blow job is 10 - 35 euros and for sex 25 -75 euros depending of negotiation skills. Overnight sex with a whore is 75 - 150 euros. Be aware some of them can be a bit aggressive, but normally you don't need to stress.
Street Hookers
In the heart of Barcelona, the Ramblas after 2am at, totally transforming Barcelona from day to night. If you are a group of guys walking through the Ramblas, it is almost guaranteed that at least one streetwalker will grab you and ask if you need sexual services.
So definitely the best and easiest place to pick up a prostitute in Barcelona is La Rambla street. You can find Black African, Latin American, Caucasian and many many more races from there to have sex for money. Most girls (sex workers) come from poor Eastern European countries such as Romania and Ukraine, but there are also many from Nigeria. It is really easy to get paid sex from Las Ramblas. The girls will approach you and tell you the starting price and then you can start to negotiate. Normally these prostitutes provide a place and it is included to the price. Usually there is no need to give any tips and they wont ask anything more as agreed.
Price for quick sex starts from 25 euros and goes up to 50 euros. For a blowjob you can get it even cheaper. Overnight with a girl can cost 75 - 150 euros.
Another great place to find street walkers is the neighborhood around Camp Nou, near to the FC Barcelona stadium. A lot of street hookers come there when night falls.
Transsexuals and Shemales
Finding someone for transsexual dating when you're on the road can be a bit tricky, so your best bet is to sign up for a dating site before you go so you can find locals ahead of time. TSdates.com is a dating site designed to help you find exactly what you are looking for in your hookup in Barcelona. Take advantage of site features like live chat and member to member webcams so you can begin flirting before arranging a face-to-face meeting. With over 40 million members, and thousands of transsexual members around the world, TSdates.com is the world's largest site of sex-minded friends for discreet encounters and will help you find your next transsexual play partner.
Thousands of trannies all around the world are making their living by acting as a webcam model. You can watch transsexual live sex shows also in Barcelona as long as you have internet connection. Check it out: Tranny Live Sex Video Chat

Where to find trannies, ladyboys and shemales in Barcelona:
There are lots of trannies / Tgirls around La Rambla. They hang around closer to the harbour side of the street. You can find Latin American, Black African and also Caucasian tranny prostitutes from Las Ramblas. Price for blow job is 10 - 35 euros and for sex 25 -75 euros depending on negotiation skills. Overnight sex with a tranny can be 75 - 150 euros. Be aware some of them can be a bit aggressive, but normally you don't need to stress.
Other areas where you can find Shemale prostitutes are Camp Nou near the stadion of FC Barcelona and the Monument of Columbus.
TS houses or brothels are legal in Spain and quite safe to visit. Two of the most know in Barcelona are Lady Julia and Dalila Travestis

Sexual Services for Women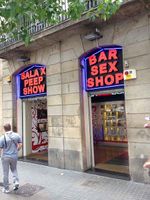 Barcelona is really easy place for women to get laid for free. Women can also check different online escort sites. There are also lots of African guys if you are interested in black mamba.
Male Escorts

Sleeping and Girl Friendly Hotels
Be sure that bringing a street hooker or an escort to your place is OK. Best choice is to rent an apartment. 5 star hotels also usually accept prostitutes in the room in Barcelona. If you're booking a hotel for your trip, ask them before that is it OK to bring your "local girlfriend" to visit.
Barcelona Accommodation Statistics
3 star and below price range: $35 - $295
4 star price range: $68 - $552
5 star price range: $133 - $612
Prices in US Dollars.
Barcelona offers a great arrangement of accommodations, from cheap, decent apartments, hostels and guest-houses to five-star hotels.
See also: Global list of girl friendly hotels
Stay Safe
Be very careful in the Barcelona Sants train station where thieves pray on new arrivals, even on the platforms.
Women traveling alone should exercise caution while exploring the more isolated parts of Montjuïc. The city beaches, particularly the ones adjoining Barceloneta, have proven to be quite lucrative for bag snatchers. Anything that one would rather not lose is best left, locked, in one's hostel or hotel.
Men traveling alone should expect the prostitutes on Les Rambles, St. Antoni, and Raval in the early hours to be very aggressive and in league with pickpockets and robbers.
Also, people need to be careful when leaving the bars of the Olympic Port late as there are many pickpockets around.
Women should be wary of wearing exposed jewelery such as gold chains and necklaces. People walking down a street may be attacked from behind by a thief who may grab the necklace and try to rip it off the woman's neck before quickly running away, often down a convenient side street. Be especially careful of seedy looking men on bicycles as there have been many grab and snatch assaults in recent years.
In the event of such a robbery, people will need to find the local police station to report the incident, especially if a travel insurance claim is going to be made. Don't expect any police action beyond the report though as these types of events are par for the course and arrests, even when made almost never lead to prosecution due to a slow, antiquated, and overburdened legal system.
Parts of Barcelona are covered by closed circuit TV surveillance, but only the more popular spots.
Pickpockets
Barcelona is Europe's pickpocketing capital. Never keep your wallet, cash or important documents in trouser pockets or in bag pockets: a money belt is an easy and inexpensive way to prevent being robbed. As always, be alert in crowded places, such as public transport, train and bus stations, La Rambla and Raval. People may approach you asking for change, or to change money. Just ignore them. If you are asked to change money, then official looking police may approach you afterwards to 'check' your wallet for ID, etc. These are not police, so be at your most vigilant or you might find they have taken a few cards or cash upon returning your wallet. If you are in a crowd of spectators watching street entertainment, beware of anyone getting suspiciously close to you.
Pickpockets use the football trick as the local specialty. At certain tourist hotspots, there are people who will try to show you a 'magic trick'. This involves tying a piece of string around your finger. While you are distracted (and your arm is effectively disabled), an accomplice will pickpocket you. It is also possible that criminals will pose as tourists and ask directions to approach their victims. Keep your distance and be careful in tourist places.
The subway is a hotbed for pickpocketing activity, which can range from simple opportunistic thefts to coordinated attacks. Be especially wary on the subway platforms at Sants train station and Sagrada Família. A group of men will come out of seemingly nowhere while you attempt to enter a subway car and block your entrance and exit in a coordinated manner, effectively pinning you against the doors while they close. They will act as if the car is just crowded and they are trying to get on as well, but, in reality, they have already gone through your pockets.
Once they take stuff, they quickly return to the platform and walk off calmly while you are trapped in the departing subway as they make sure they exit just before the doors cannot be reopened. Violence in these situations is rare, and in most cases the goal of the thieves is to rob you undetected. Stay vigilant: do not leave anything in a back trouser pocket (except maybe a map of the city). Hold on to your bag or purse at all times. Do not leave anything unattended while you sit in a cafe or restaurant.
One guy acts like reading a newspaper and is about to go into the subway gate (he's scanning his target). While you insert your subway card to enter and before the gate opens, that guy immediately enters his subway card also, which causes the gate to jam and alarm sound. Immediately 3-4 other people appear and, while acting like trying to help, (pointing to the gate telling you 'the door is jam') will try to snatch your backpack or wallet while you are still surprised. Check and make sure no one tailgates on you, or, simply, just let the guy go first.
While you are at an outdoor table of a café, don't leave your smartphone on the table. Someone will try to steal it. For example, a guy babbling for change with an unreadable poster in his hands, getting closer and closer to the smartphone until he eventually picks it up, passes it to a second guy that will run away with it.
Directories
AdultBarcelona One of the biggest escort and adult advertisement portals in Barcelona. Unique and revolutionary in its design.
PhotoEscorts started business in 2006, transforming the directory market online adult. Bringing professionalism to this segment of adult classified ads to a new level so far in Spain. Currently, the portal has announced more than 700 professionals and to date more than 14,000 have hired escorts advertising their services. Highlighting our interactive filters and certify the girls, to avoid false photos.
Noted for use the interactivity giving emphasis to images. It's one of the few pages of the segment that seeks and eliminates false photos in this segment of professionals.
FAQescorts.com is a blog that aims to show a friendly face of sex work. Free and voluntarily exercised by professionals, for customers looking for different services to the street prostitution. This digital space is born to manifest that there is another type of prostitution. With this idea will provide data regularly that can demonstrate that there is another reality in relation to this sector reviled when speaking of him in the media.
This page offer a directory of services for adults with related escorts.
See Also