Tenerife
From WikiSexGuide
Tenerife Sex Guide advises where to find sex, working girls, prostitution, street hookers, brothels, red-light districts, prostitutes, erotic massage parlors, strip clubs and escorts in Tenerife, Canary Islands, (Spain).
Tenerife is the largest of the Canary Islands (belongs to Spain) and is a great place to travel. British and German tourists come in their tens of thousands every year to visit its spectacular beaches and lively nightlife. It is also very popular among holidaymakers from the Spanish peninsula, especially during Easter time. It offers lush forests, exotic fauna and flora, deserts, mountains, volcanoes, incredibly beautiful coastlines and spectacular beaches.
Sex Scene and Prostitution
Prostitution is kind of legal in Spain, the truth is that prostitution exists in a legal vacuum. Sex workers are not penalized, instead the pimps are the ones who are punished. With 90% of prostitutes in Spain said to be illegal immigrants, brought into Spain through illegal human trafficking, the circumstances of many prostitutes leave them in legal limbo.
Tenerife Female Escorts
Escorts listing
Red Light Districts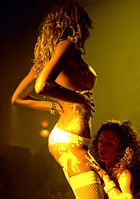 There is no official red-light district in Tenerife, but prostitution has again become a huge issue in Playa de las Américas. Once again, it's concentrated in Calles de Llanos de Troya and Arquitecto Gómez Cuesta, say residents of the area, according to whom sex is being offered, and practised in the open from around 9pm to 7am.
Prostitutes
Street Hookers
Puerto de la Cruz:
Some street walkers near Jardin beach. They were hanging around in the park next to the beach after dark. You can reach the park by foot 500m from the centre. Never negotiated down nor accepted any offer, but they were asking 60€ for a quickie.
South Tenerife:
There were 3 or 4 street walkers hanging near the roundabout close to the hotel Catalonia Ore negro. In the interest of research I asked one of them for a Quote. 40 Euro for a quickie and 20 Euro for a BJ.
Strip Clubs / Sex Clubs
South Tenerife: There were 5 clubs on the main road of the Hotel Catalonia Ore Negro.
Night and Day. Night And Day seems to be the Best deal, as it does have a sauna and jaccuzi. Prices, were 80 Euro for half hour. Lady drinks were 30 Euro.
Eden, and 2 other ones further down the road.
Club Matrix. They have a menu with drinks & services, which both are overpriced. €180 EUR for an hour which was really about 40 mins.
Lap dance clubs with extras are a plenty, dotted all over the place.
Brothels
Erotic Massage Parlors
Massage & Body Rubs
Escorts listing
Swinger Clubs
Close to hotel Las Palmeras. Although it says it is a swingers lounge bar, they do allow single guys there on certain nights. 30 Euro to get in, and was told there are some working girls on some nights as well. http://www.mystique-tenerife.com/
Transsexuals / Shemales
Gay & Lesbian
Sexual Services for Women
Sex Shops & Adult Stores
Sleeping
Stay Safe
Tenerife is generally a safe place to visit but as always, beware of pickpockets. Walking alone late at night in certain suburbs is not advisable, although the inner parts of town aren't problematic. Taxis are widely available, and not too badly priced though a taxi from the southern airport to Puerto Cruz is VERY expensive.
Camping and sleeping at the beach is only permitted at allowed zones. Doing so in frequented beaches may lead to arrest.
Take note that when walking through Playas De Las Americas there is a lot of clubs round here and some drunkenness in the night hours.
There are no scorpions or snakes to worry about. Mosquitoes can bite at night, especially away from the coast, but they do not carry malaria.
Do not take electrical items, credit cards or large amounts of cash to the beach if you plan to leave your goods unattended while swimming.
The sun is extremely strong this close to the equator so use plenty of high factor sun cream and do not sun bathe between midday and three o'clock (this is when the beaches are busiest anyway).
See Also