Rome
From WikiSexGuide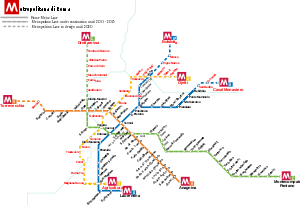 Rome Sex Guide advises where to find sex, working girls, prostitution, street hookers, brothels, red-light districts, prostitutes, erotic massage parlors, strip clubs and escorts in Rome, Italy.
Rome (Italian: Roma), the Eternal City, is the capital and largest city of Italy and of the Lazio (Latium) region.
Sex Scene and Prostitution
Rome's top security official suggested the city needs a Red-light district to keep prostitutes off the streets, saying in an interview published Saturday citizens complain daily about prostitutes working the streets of the Italian capital.
In Saturday's editions of the Rome newspaper La Repubblica, Serra suggested a district like those Hamburg and Amsterdam "where one can exercise the world's oldest profession without disturbing the citizens."
"In Italy, prostitution is not a crime but this doesn't mean that you must continue to make believe (the problem) isn't there," Serra was quoted saying.
Prostitution is not illegal in Italy but pimping is and police have been cracking down on prostitution rackets they say exploit illegal immigrants, including many from Eastern Europe.
Rome Mayor Walter Veltroni stressed he respected Serra for wanting to deal with "a grave problem. But the idea of a Red-light district is a mistaken answer to a real problem," he said in a statement, urging more such crackdowns.
In response to the criticism, Serra was quoted by the Italian news agency ANSA saying approaches by other European cities at least deserve consideration.
Italians have the unusual habit of preferring to consume the sexual act in a car, because its cheaper than going to an escort waiting in an apartment. However, women standing in streets not only feel more vulnearable, humilated, but are also exposed to dangerous violent criminals who will demand protection money from them, eg Albanian criminial gangs. Therefore, if you are a foreigner they will be afraid of you !
Italy had legal brothels until 1958, when they were closed and prostitutes took to the streets. There are an estimated tens of thousands of prostitutes in Italy. In Rome, among the streets where they are visible are a stretch near the Foreign Ministry and roads leading to a seaside suburb where many families go to picnic.
Proposals to legalize brothels again have foundered.
See also: Rome Escorts
Rome Female Escorts
Check out WikiSexGuide Adult Classifieds!
Red Light Districts
There is not real Red-light district in Rome, but there use to be one. Via dei Capocci is indeed a sort of Red-light district street.
As you walk past the whores you can hear them saying something like "ti vuoi divertire un pò?" (You want to have little fun?) or "che occhi belli" (beautiful eyes). They will also give you dirty and naughty looks so you will know they are whores. Average charge for a whore here starts from 30€.
Prostitutes and Sex Workers
From San Basilio to Colombo and the Pineta di Ostia, by way of Boccea the Flaminia, the streets are lined - and not just after sunset - hundreds of young foreign women, many of which are smuggled into Italy and kept into slavery by ferocious tormentors.
Street Hookers
Unless you have a car and some local knowledge and are willing to take the chance on the cops busting you with a heavy fine or even maybe confiscation of the car. If you still want to go for it "Via Salaria" leading out/in of Rome is probably the best street in Rome to pick up young girls from Russia, Bulgaria and Romania, Sex with a street prostitute costs 30-40 euros in the car and its a quick affair but most of the girls are friendly and not more than 20 years old.
Via Prenestina driving outside of rome during the day
Tiburtina from Rebbiba station to about 10km outside of the ring at night time.
Viale Palmiro Togliatti has good selection of girls. Blow job in car costs 30€, fucking at girls own place 80-120€ and takeaway to your own hotel 100 to 200€. In the past year quality of street girls has gone down, more narcotics and othervise problematic girls.
Via Pontina need to drive outside the ring road to find street hookers. Mostly the streetwalkers are standing on the roadside where you can't miss them. Most of the girls are black Africans.
Strip Clubs & Lap Dance
Check out WikiSexGuide Adult Classifieds!
Here is a list of strip clubs in Rome, Italy. Please fill in alphabetical order.
Via Concordia 44 (Piazza Zama - S. Giovanni)
A famous Private Club situated in the S. Giovanni. The Club is divided into several sections, a discoteque, a sex zone erotic show and a dark room…and free open bar.
Via Prato della Corte 1511 . (CASSIA)
Tel. 0633616997 – 340-7809548
Private club for couples and singles, the largest screen in Europe. Open every night. Friday and Saturday there is a party for couples and a buffet dinner for everyone. Sunday there is a Sexy Sunday for nudists and couple exchanges. Monday theres a Slip party and a trip as a prize for the best imagination.
Tuesday there's fetish and sadomaso.
www.atlantideclub.com
Via Mazzamagna 58 Marino (Rm) Tel 338 6692042 – 06 93547816
3 storey Villa with bar, music and discoteque with table dance and dance in cages. A dark room is at the disposal of the clients and private rooms. Dinners and buffet. In summer they offer an erotic terrace.
Closed on Sunday.
www.babiloniaclub.it
Batik, Piazza Marianna Benti Bulgarelli 41
Via dei Quattro Cartoni (CENTRUM Via Cavour)
Tel 06-4743936
This is the only erotic theatre of Eva Henger in the Capital.
Every day the porno stars of his club give shows in live dance, table dance and lap dance as well as showing video projections.
Hours 16.00 – 1.00 am
Via dell'Umiltà 77 (CENTRUM)
Tel.066785475
Famous night club in French style, in the heart of Rome close to Trevi Fountain. 2 strip tease shows between midnight and 2:00. Warm atmosphere and soft lights with international Stars.
Closed on sunday.
California Club, Via Lanciano 36
Champagne 2, Via della Caffarella 7
Cica Cica Boom, Via Liguria 38
Divafutura Fans Club, Via Sardegna 27
Elios Night Club, Via S. Martino ai Monti 51, Esquilino
Elite Fans Club2, Via Sicilia 57
Harem Club, Via Francesco Cilea 55
Hollywood Club, Via Lanciano 56
II club di Cicciolina, Via Del Tritone 132
Jessica Rizzo Discobar, Via Velletri 30
Lo Scambio, Vicolo S. Rufina 49
Meeting Club 2x2, 36 Arco Degli Acetari
New Age, Via A.Dulceri 30
No Limits, Via Montebello 102
Planet Multisex, Via Galletti 13
Viva Las Vegas, Via Appia Nuova 1279
Brothels
Check out WikiSexGuide Adult Classifieds!
781, Via Della Gustiniana (CASSIA) tel: 06 30362835 A three storey villa which is immersed in a park. It has a Bar, a lounge and six bedrooms which are elegantly furnished and very hospitable, even though it is less mysterious than other Private Clubs of this kind
Erotic Massage Parlors
Check out WikiSexGuide Adult Classifieds!
Via Acqui 21, 00183 Rome, RM 067-061-4249
Escort Service & Agencies
Check out WikiSexGuide Adult Classifieds!
Swinger Clubs
Swinger clubs in Rome:
BACCHANALIACLUB, VIA JACOPO PASSAVANTI 69. Tel.392 6405836.
Transsexuals / Shemales
There are transexual hookers in a park close to Sheraton Roma (Viale Del Pattinaggio, 100 Rome,00144). You can find about 5-10 there every night and they charge about 20-40€ for blow job and 30-60€ for fuck.
Gay & Lesbian
Via Monte Testaccio 44 -Open Thursday to Sunday. Historical gay club in the capital, which has a mixed clientele, gay, bisex and trans and large heterosexual following. Nice music, two floors, with a large terrace for summer nights. http://www.alibionline.it/
Via di Portonaccio 212. At the disco Qube. It is a club which has seen better days in its history, very characteristic and very much loved for its ambience with a loft, recycle and industrial. Traditionally the events take place only on Friday except for extra appointments (Halloween, Wordl Day for the fight against Aids, New Years, Once Night preholiday).
Sexual Services for Women
Many Italian male escorts advertise online and offer sex for both men and women for 50€-200€ an hour.
Sex Shops & Adult Stores
Afrodisiaca - via Aversa 34 tel. 0645424927
Beautiful - Vai A. Neroni, 9 Tel. 066140422 - Tel. 0661520079 Viale Palmiro Togliatti 1561 tel. 064078636
Il Capriccio Sexy Shop - Roma (RM) via Zuccoli 63 tel. 0687137352
Red Passion 00010 - Fonte Nuova (RM) via degli Abeti 12-14 tel. 0690023982
Rouge et Noire - Roma (RM) via G.B. Ferrari 17 tel. 065214484
Sexy Shop Moment D'Amour 04100 - Latina (LT) SS 148 Pontina tel. 0773258350
Sexy Moon - Via Nobel, 38 Tel. 065594376
Tentazione Sexy Shop - Roma (RM) viale Giustiniano Imperatore 179 tel. 065414570
Video Max - Roma (RM) via Conte di Carmagnola 12 tel. 06273286
Sleeping
Viale Marconi 905, 00146 Rome, Italy (Ostiense)
This hotel has lots of prostitutes hanging out in the nearby street at night time. So it is a good place to stay if you don´t want to walk far away to find a hooker. Usually hookers in the nearby streets charge 30-70€ for a suck and fuck.
See also: Global list of girl friendly hotels
Stay Safe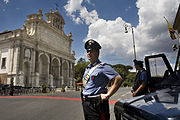 Rome is generally a safe place, even for women traveling alone. However there have been rape cases around the Roma Termini train station, so be careful especially at night time. There is very little violent crime, but plenty of scams and pickpocketing that target tourists. As in any other big city, it is better if you don't look like a tourist: don't exhibit your camera or camcorder to all and sundry, and keep your money in a safe place. Consciousness and vigilance are your best insurances for avoiding becoming a victim of a crime in Rome. Remember, if you are pickpocketed or victim of another scam, don't be afraid to shout, "Aiuto, al ladro!" (Help, Thief!) Romans will not be nice to the thief.
Members of the Italian public are likely to be sympathetic if you are a crime victim. Police are also generally friendly if not always helpful. Carabinieri (black uniform, red striped trousers) are military police, and Polizia (blue and grey uniform) are civilians, but they both do essentially the same thing and are equally good, or bad. If you are robbed, try to find a police station and report it. This is essential to establishing a secure insurance claim and to replace documents: the chances of it resulting in the return of your possessions are, however, fairly remote.
Rome is home to two rival Serie A football clubs, A.S. Roma and S.S. Lazio, and there is a history of conflict, and even rioting, between the two. Never wear anything that shows that you support either of them, especially during the Rome Derby (when the two clubs play each other): avoid even wandering into groups of supporters of the other club, or you may be subject to heckling or even confrontation. Play it safe and refrain from openly supporting either club unless you are very familiar with the rivalry. If you are a fan of a foreign team that is playing in Rome, be very careful as a number of supporters have been stabbed over the past few years.
Pickpocketing
Since Rome is incredibly popular as a tourist destination, a great deal of pickpocketing and bag or purse snatching takes place, especially in crowded locations, and pickpocketers in Rome can get pretty crafty. A 2010 study found that Rome was second only to Barcelona for pickpocketing of tourists.
As a rule, you should pretty much never carry anything very valuable in any outside pocket, especially the front pocket of your pants is one of the easiest and most common targets. Keeping your wallet in your front pocket or in your bag is far from safe. You should consider using a money belt and carry only the cash for the day in your pocket.
Also, beware of thieves—one popular technique that they use is to ride by you on a moped, slice the strap of a handbag with a knife, and ride off. They might also try to cut the bottom of your bag open and pick your wallet from the ground. Others will use the old trick of one person trying to distract you (asking for a cigarette or doing a strange dance) while another thief picks your pockets from behind. Bands of gypsy kids will sometimes crowd you and reach for your pockets under the cover of newspapers or cardboard sheets. It is generally a good idea to be extremely wary of any strange person who gets too close to you, even in a crowd. If someone is in your personal space, shove the person away. As one frequent traveller put it, "Don't be afraid to be a dick in Rome." It is better to be rude than to be stolen from.
Termini (the main railway station), Esquilino, bus line 64 (Termini to San Pietro), and the Trevi fountain are well known for pickpockets, so take extra care in these areas. On the Metro especially, pickpockets are extremely skilled.
Remember that hotel rooms are not safe places for valuables; if your room has no safe, give your valuables to the hotel staff for safekeeping. Even if it does have a safe, hotels normally warn that they have no liability unless items are deposited in the main safe.
Be aware of the danger and take the usual precautions and you should be all right.
Tourist scams
Read up on the legends concerning tourist scams. Most of them occur regularly in Rome and you will want to see them coming.
A particular scam is when some plainclothes police will approach you, asking to look for "drug money," or ask to see your passport. This is a scam to take your money. You can scare them by asking for their ID. Guardia di Finanza (the grey uniformed ones) do customs work.
A recent scam involves men working near the Spanish Steps, around Piazza Navona, and outside of the Colosseum. They approach you, asking where you are from, and begin to tie bracelets around your wrists. When they are done they will try to charge you upwards of €20 for each bracelet. If anyone makes any attempt to reach for your hand, retract quickly. If you get trapped, you can refuse to pay, but this may not be wise if there are not many people around. Carry small bills or just change, in your wallet, so if you find yourself in cornered to pay for the bracelet, you can convince them that €1 or €2 is all you have.
When taking a taxi, be sure to remember license number written on the card door. In seconds, people have had a taxi bill risen by €10 or even more. When giving money to taxi driver, be careful.
Be careful of con-men who may approach you at tourist sights such as the Colosseum or Circus Maximus. A car may pull up next to you, and the driver asks you for directions to the Vatican. He will strike up a conversation with you while he sits in his car and tell you he is a sales representative for a large French fashion house. He will then tell that you he likes you and he would like to give you a gift of a coat worth several thousand euros. As you reach inside his car to take the bag the coat is in, he will ask you for €200 for gas, as his car is nearly empty.
Around tourist sites like the Trevi Fountain, Colosseum and the Spanish Steps there are groups mostly of men trying to sell cheap souvenirs. They may also carry roses and say they are giving you a gift because they like you, but the minute you take their 'gift' they demand money. They are often very insistent and often the only way to get rid of them is to be plain rude. Do the best you can to not take their "gifts" as they will follow you around asking for money. Simply saying "no" or "go away" will get them off your back until the next vendor comes up to you.
Be wary of places to change currency. Read ALL signs before changing money. Oftentimes places set up just for currency exchange will add as much as a 20% service fee on all money being traded. The shops near the Vatican have especially high service fees, whereas places near the Trevi Fountain will be more reasonable. The best bet is to change enough money before you leave your home country. There are few places around the city that are under the table and are just interested in American money. These places charge no service fee.
The best advice to avoid scams is to get way from anyone that you have never seen before who starts talking to you.
Emergencies
In an emergency, call 112 (Carabinieri), 113 (Police), 118 (medical first aid) or 115 (firemen). Carry the address of your embassy or consulate.
On anything else you may need for your rome holiday, you can contact the official help line of the Minister of Tourism 039.039.039. From Monday to Sunday, from 9.00 to 22.00, in seven languages seven days a week.
See Also