World's Best Strip Clubs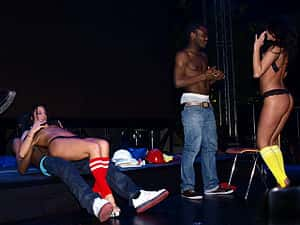 We've handpicked the best of the best strip club cities from around the globe, and presented them to you in this list.
One of the most famous Red-light districts, Patpong is where it all started (Thailand's Go-Go culture). Its two parallel side-streets, found between Silom and Surawongse Roads, house around 100 neon-lit strip clubs offering very naughty shows and the famous pole-dancing entertainment. Patpong has long since been usurped as the 'king of the scene' by Soi Cowboy, its counterpart around Sukhumvit. However, its reputation means it is still a huge tourist attraction, mainly for sightseers more interested in ogling at - rather than indulging in - the carnal delights on offer. But while for men Patpong is likely to mean 'adult', for women Patpong definitely means "Prostitution market".
Currently Las Vegas has 20 gentlemen's clubs where the strippers dance topless, seven clubs where girls dance completely nude, a topless pool that's like a strip club in the sunshine, and half a dozen male hunk shows for the women. You can find world-class pole dancing, lap dances, shower shows, oil wrestling, bikini bull-riding, wet T-shirt contests, Monday night football topless cheerleaders, stripper karaoke, big booty contest and pretty much everything in Las Vegas.
See Also: Nevada Strip Clubs
There are nude bars located all over Montreal and joints are almost always packed with wealthy tourists, hockey players and fans. Set yourself apart, however, by being classy even in the face of all the temptations the Montreal has to offer. Wanda's and Chez Paree are the top strip bars in Montreal.
See Also: Ontario Strip Clubs
For a while now, Portland has claimed the title of most strips barss per capita in the USA. It is hard to discern whether this is an old sexy wives tale or statistical fact, but one thing is certain: Portland has an abundance of eccentric and very naked establishments. The State Supreme Court has long protected the right of Strip clubs to host totally nude entertainment, so, of course, leave it to Portlanders to create a club for every taste: for instance, Casa Diablo serves only vegan food and allows its strippers to shed only non-animal-based clothing, so this nude bar is worth to check out.
See Also: Oregon Strip Clubs
Sydney is, let's not be coy, a very sexy town with great strip clubs. It is worth noting that there are no restrictions on keeping things demure in Sydney either: strippers in Sydney bare it all. Sefton Playhouse, Showgirls and Porkys Nite Spot are the top Strip clubs in Sydney.
See Also: Sydney Strip Clubs
See Also