West Virginia
West Virginia Sex Guide advises where to find sex, working girls, prostitution, street hookers, brothels, red-light districts, sex shops, prostitutes, erotic massage parlors, strip clubs and escorts in West Virginia, United States of America.
West Virginia is a state in the Southern Region of the United States of America. It's often called the "Mountain State", being the only state in the USA to lie completely within a mountain range (in this case, the Appalachians). West Virginia is bordered by five states, on the south and east by Virginia, Maryland to the north and east, the north by Pennsylvania, the north and west by Ohio and Kentucky to the west.
Originally part of the state of Virginia, the residents of the counties that became West Virginia split from the rest of the state in part due to a disagreement over the issues of slavery and secession. These counties elected to remain with the Union, and the new state was born on June 20, 1863. The population of the state today is around 1.8 million people. The capital city is Charleston, and the state motto is "Mountaineers are always free."
Sex Scene and Prostitution
WikiSexGuide Does Not Support Any Illegal Actions.

Prostitution is illegal in the vast majority of the United States, except some rural counties within the state of Nevada. Due to a US law FOSTA/SESTA, WikiSexGuide doesn't publish any ESCORT, MASSAGE or BROTHEL ads in the United States.
Prostitution --exchanging sex for money (or other items of value)-- is illegal in West Virginia. This includes both performing sexual acts for money and living in a house of prostitution (or any structure or camp set up for the purpose of prostitution).
Patrons—people who buy sex from a prostitute—are also punished in West Virginia. You can be convicted of patronizing a prostitute even if you enter and remain in a house of prostitution without buying any services.
Regions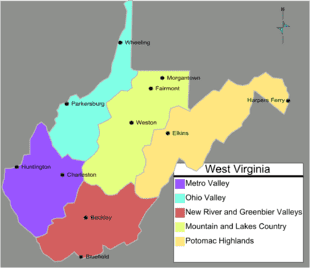 Metro Valley - The state's urban center which includes the capital. This region borders Ohio and Kentucky
Ohio Valley - Bordering the Ohio River and the western panhandle of the state.
New River and Greenbrier Valleys - The southernmost part of the state, with whitewater rafting and beautiful parklands.
Mountains and Lakes Country - West Virginia's technology corridor, bordering the south of Pennsylvania and the central part of the state, with lots of lakes, rivers and streams.
Potomac Highlands - Tucked away in the Allegheny Mountains and the Monongahela National Forest, with much of the state's skiing and caving, this region contains an important part of the state's Civil War heritage.
Cities
Live Sex Cams
Can I watch Live Sex Cams in West Virginia? - Yes, you can! Basically you can watch our online live sex shows for free anywhere in the world if you're connected to internet. You can choose any girl from our trusted WikiSexLive.com! Join to get 10 free private teasers and 9.99 credits for free!
Live Sex Cams are booming at the moment. Webcam models can be found from all over the world and you can find girls, guys, trannies, couples and groups of different ages performing to you. Watching live sex shows is free, but if you buy some credits, you will have much better chances to see adult action as desired! It's possible also to hire a webcam model to a private chat room where you can ask the person to fulfill your fantasies. Try now! WikiSexLive.com
Dating
Dating in West Virginia can be a bit tricky due to cultural differences, so your best bet is to sign up for a dating site before your trip so you can meet a few locals ahead of time. AdultFriendFinder.com lets you meet local members in West Virginia and get to know them on a personal basis before you arrive. Take advantage of site features like live chat and member to member webcams so you can begin flirting before arranging a face-to-face meeting. Since your time in West Virginia may be limited, get to know each other's desires beforehand, so that when you meet you can start having some real fun.
How to find Sugar Babies & Sugar Daddies
If you are looking for an alternative to escorts in West Virginia with a girl who doesn't charge by the hour, sugar dating is the ideal solution. There are thousands of beautiful young women at SecretBenefits willing to do anything for a man who will help them pay their bills.
Often referred to as the "Tinder for Older Guys", SecretBenefits matches hot young women interested in pampering older gentlemen. You don't have to be a millionaire at SecretBenefits.com, you just need to be a respectful gentleman who knows how to treat a woman.
Gay & Lesbian
The Williams Institute at the UCLA School of Law, a sexual orientation law and public policy think tank, estimates that 9 million (about 3.8%) of Americans identify as gay, lesbian, bisexual or transgender (2011). The institute also found that bisexuals make up 1.8% of the population, while 1.7% are gay or lesbian. Transgender adults make up 0.3% of the population.
Escort Services
Finding an escort when you're travelling can be a bit tricky. An ideal solution for having an alternative for escorts is Ashley Madison. There are thousands of horny girls waiting for you. Find all the beautiful young women at AshleyMadison.com!
Pricing in each American city varies, but you can just call a few agencies to get random pricing & see what the average is.
So, if you are looking for more of a whore type escort you will be paying around $200 or less per hour. High-end escort ask around $250-500/hr. usually with a 2 hour min. & then more high end luxury escort prices are from $750 to $5,000/hour & some may require a full day booking & plenty of notice.
Many of the people do not recommend the cheap hooker type escorts. They give a very bad name to the escort industry, some rip customers off, have mean pimps, are unprofessional ot are not good at their job. If this is your first time, you could end up having a very negative escort experience.
You should always screen every escort before hiring her (or him) and now the precautions. See Also: Precautionary Steps When Ordering Escorts
As for strippers for your bachelor party, some escorts will do that, but most won't. There's a huge difference between a exotic dancer & an escort. Most strippers do not escort & most escorts do not strip.
Stay Safe
Be careful when driving on mountain roads, especially in the winter. The roads can be very steep, hairpin turns are common, most roads outside main traffic routes are unpaved, and if you're driving in the mountains, you may find yourself on the edge of a very steep drop with at most a guardrail to protect you. In the winter, West Virginia is susceptible to fairly large snowfalls, which can make the roads treacherous if not impassable, particularly if your car doesn't have good traction on the inclines.
As you're driving, you'll also notice road signs at certain locations advising you to be alert for rockfalls in the vicinity. Many of the roads in the state were cut right through the mountains, giving you interesting geological sights as you drive, but bad weather and erosion can lead to rocks coming loose and tumbling down onto traffic below. It's not at all common, but it does occur, so pay attention to the signs and keep alert.
If you're in the state to partake of its outdoor adventures, be sure you follow the usual precautions. During hunting season, wear hunter's blaze orange clothing if you go into the woods. If you're canoeing or whitewater rafting, be sure to keep a lifejacket on. And if you're into extreme sports, don't take unnecessary risks; more than one experienced BASE jumper has perished at the annual Bridge Day festivities, most recently in 2006.
Unleashed dogs are abundant, especially on back roads. Carry a large walking stick and pepper spray when hiking and don't venture uninvited onto posted property.
In the woods, it's also wise to take precautions against insect-borne diseases. Lyme disease and Rocky Mountain spotted fever are both spread by ticks, and West Nile virus is transmitted by mosquitoes, both of which are common in West Virginia forests. Fortunately, the diseases themselves are fairly uncommon in the state, but it never hurts to stay safe. Wear long clothes that cover your skin, use a good insect repellent, and check your body for ticks as soon as you return indoors.
Stay out of abandoned coal mines, which can be full of hazards such as rotten timber supports, unstable ground, rats, snakes, undetonated explosives, blasting caps, explosive methane gas, and pockets of "blackdamp" or air without enough oxygen to support life.
In terms of natural disasters, West Virginia is quite a safe place to be. Earthquakes are practically nonexistent, it's far enough inland that hurricanes are rarely a major problem, and the mountain range seems to discourage tornadoes from forming, although the state does average about two per year. The most common type of natural disaster in the state is flooding, which can be a serious problem, so pay attention to news bulletins during periods of heavy rain, and stay away from affected areas.
See Also