Spring Break
Spring Break sex guide advises where to find hookers, erotic massage parlours and escorts in Spring Break destinations.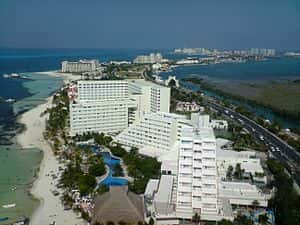 Spring break (also known as March break, spring vacation, Mid-Term Break, study week, reading week, reading period, or Easter holidays in the United States and some parts of Canada) is a recess in early spring at universities and schools in various countries in the northern hemisphere.
History and timing
Canada
Canada gives a week-long break to its elementary school and secondary school students in the month of March, with the time varying from province to province; New Brunswick and Quebec, for example, place their March breaks during the first week of March; Ontario, Nova Scotia and British Columbia schedule theirs during the second or third week; and the break in Alberta and Manitoba usually occurs in the last week of March.
In a 1995 study of Canadian students who had traveled to Florida for spring break, found the key elements of a spring break vacation to include a group holiday with friends traveling and rooming together, a perpetual party atmosphere, high alcohol consumption, sexually suggestive contests and displays, and the perception that casual sex is common. Overall, there was a perception that sexual norms are far more permissive on spring break vacation than at home, providing an atmosphere of greater sexual freedom and the opportunity for engaging in new sexual experiences. Of the 681 students who completed a questionnaire after the break, 15% of males and 13% of females had engaged in casual sex during the break.
United States
In the United States, Spring Break at the college and university level can occur from March to April, depending on term dates and holidays such as Holy Week. Many K–12 institutions in the United States schedule a two-week long break known as "Easter Break" or "Easter Holidays", as they take place in the weeks before and after Easter.
In many regions, the break fulfills the function of making up for snow days in January and February. Because instructors are paid during spring break anyway, school districts do not incur expenses by adding extra days to the school calendar at the end-of-term.
Other countries
In Guatemala, it takes place during Easter; schools give students a whole week to rest while the workforce rests approximately three days.
In Japan, the spring break starts with the end of the academic year in March and ends on April 1 with the beginning of a new academic year.
In Mexico, spring break takes place during the Holy Week and the one after it.
Popular spring break destinations
United States
Arizona: Lake Havasu City
Lake Havasu City, Arizona has been a popular spring break destination for the last two decades. Growing in popularity, Lake Havasu City is the only major spring break location in the United States that is not located on the Gulf Coast. Approximately 150,000 college students travel to the city every year during spring break.
Florida: Fort Lauderdale
From the end of World War II until the mid-1980s, Fort Lauderdale, Florida, was a notorious spring break destination in the United States for college students. Fort Lauderdale's reputation as a spring break destination for college students started when the Colgate University men's swim team arrived to practice there over Christmas break in 1934. Attracting approximately 20,000 college students in the 1950s, Spring Break was still known as 'spring vacation' and was a relatively low key affair. This began to change when Glendon Swarthout's novel, 'Where the Boys Are' was published in 1958, effectively ushering in modern Spring Break. Swarthout's 1958 novel was quickly made into a movie of the same title in 1960 Where the Boys Are, in which college girls met boys while on spring break there. The number of visiting college students immediately jumped to over 50,000. By the early 1980s, Ft. Lauderdale was attracting between 250,000-350,000 college students per year during spring break. Residents of the Fort Lauderdale area became so upset at the damage done by college students that the local government passed laws restricting parties in 1985. At the same time, the National Minimum Drinking Age Act was enacted in the United States, requiring that Florida raise the minimum drinking age to 21 and inspiring many college vacationers to travel to other locations in the United States for spring break. By 1989, the number of college students traveling to Fort Lauderdale fell to 20,000, a far cry from the 350,000 who went four years prior.
Florida: Daytona Beach
As Ft. Lauderdale enacted more restrictive laws to discourage college students from visiting during spring break, party goers responded by moving to the more permissive community of Daytona Beach area. Over 350,000 students traveled there each spring at its peak during the 1980s. But, following the same pattern as Ft. Lauderdale earlier in the decade, Daytona Beach's local government undertook similarly restrictive measures and the crowds of the late-1990s and early 2000s had fallen to a point where "a few students still come, but officials don't even estimate their numbers".
Florida: Panama City Beach
Panama City Beach, Florida became the spring break mecca in the early 1990s after Fort Lauderdale and Daytona Beach enacted restrictive measures in order to discourage college students from visiting during spring break. The tiny city remains the most popular spring break destination in the country, due to its relative proximity to many Southern colleges, driving distances and permissive behavior toward spring breakers. The locals in Panama City Beach welcome over 500,000 Spring Breakers every year, and Spring Break is a major factor in the city's economy.
Texas: South Padre Island
South Padre Island, Texas is also a popular Spring Break destination among students from colleges in the south-central and mid-western parts of the country. In the early 1980s, South Padre Island became the first location outside of Florida to draw a large number of college students for spring break. With only a few thousand residents, South Padre Island has consistently drawn between 80,000 and 120,000 spring breakers for the last 30 years.
Overseas
Popular destinations outside the United States include the Caribbean (e.g., Barbados, the Bahamas, Dominican Republic, Jamaica, the Turks and Caicos Islands), Mexico (especially Acapulco, Cabo San Lucas, Cancun, Mazatlan, Puerto Vallarta, Ibiza, Ayia Napa, Chania and Amsterdam, Cuba (for non-US citizens). Tour agencies have cited the lower drinking ages in these places and that even then, they are rarely enforced. Some tour companies put on special chartered flights for spring break at discounted rates.
Corporate marketing
It is common for major brands that cater to the youth market (e.g., Coca-Cola, Gillette, MTV, and branches of the United States armed forces to market at spring break destinations.
Alternatives
Some colleges offer "alternative spring breaks", in which students volunteer community service and charity work during spring break. Habitat for Humanity's Collegiate Challenge program is one example of this.
See also