Pennsylvania
Pennsylvania Sex Guide advises where to find sex, working girls, prostitution, street hookers, brothels, red-light districts, sex shops, prostitutes, erotic massage parlors, strip clubs and escorts in Pennsylvania, United States of America.
Pennsylvania [1] is a state in the eastern United States of America. It is known for its Revolutionary War-era historical sites like Valley Forge, its large cities like Philadelphia and Pittsburgh, its farming regions, some occupied by the Amish, and a (once)-strong industrial history. With equally large swaths of cities and towns as fields and mountains, Pennsylvania is a rich and varied state, as well as a worthy travel destination. Pennsylvania is bordered by the states of New Jersey, New York, Delaware, Maryland, West Virginia, and Ohio. The main cities are the aforementioned Philadelphia and Pittsburgh, along with other smaller cities such as Allentown, Erie, Reading, Bethlehem, and Scranton.
Sex Scene and Prostitution
WikiSexGuide Does Not Support Any Illegal Actions.

Prostitution is illegal in the vast majority of the United States, except some rural counties within the state of Nevada. Due to a US law FOSTA/SESTA, WikiSexGuide doesn't publish any ESCORT, MASSAGE or BROTHEL ads in the United States.
In Pennsylvania, prostitution (engaging in sex in exchange for money) is against the law. It is also a crime to hire a prostitute, or make money from or promote prostitution.
Under Pennsylvania's laws, a person commits the crime of prostitution by:
engaging in sexual activity for money, or
loitering in a public place (or in view of a public place) for the purpose of being hired for sexual activity.
In Pennsylvania, only people who sell sex can be convicted of the crime of prostitution. People who buy sex can be convicted of patronizing (see below). The penalties for prostitution and patronizing are the same.
Regions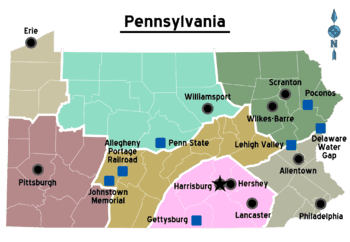 | | |
| --- | --- |
| | Alleghenies and Susquehanna Valley |
| | |
| --- | --- |
| | Pennsylvania Dutch Country |
| | |
| --- | --- |
| | Poconos and Endless Mountains |
Cities
Live Sex Cams
Can I watch Live Sex Cams in Pennsylvania? - Yes, you can! Basically you can watch our online live sex shows for free anywhere in the world if you're connected to internet. You can choose any girl from our trusted WikiSexLive.com! Join to get 10 free private teasers and 9.99 credits for free!
Live Sex Cams are booming at the moment. Webcam models can be found from all over the world and you can find girls, guys, trannies, couples and groups of different ages performing to you. Watching live sex shows is free, but if you buy some credits, you will have much better chances to see adult action as desired! It's possible also to hire a webcam model to a private chat room where you can ask the person to fulfill your fantasies. Try now! WikiSexLive.com
Dating
Dating in Pennsylvania can be a bit tricky due to cultural differences, so your best bet is to sign up for a dating site before your trip so you can meet a few locals ahead of time. AdultFriendFinder.com lets you meet local members in Pennsylvania and get to know them on a personal basis before you arrive. Take advantage of site features like live chat and member to member webcams so you can begin flirting before arranging a face-to-face meeting. Since your time in Pennsylvania may be limited, get to know each other's desires beforehand, so that when you meet you can start having some real fun.
How to find Sugar Babies & Sugar Daddies
If you are looking for an alternative to escorts in Pennsylvania with a girl who doesn't charge by the hour, sugar dating is the ideal solution. There are thousands of beautiful young women who are willing to do anything for a man who will help them pay their bills.
Often referred to as the "Tinder for Older Guys", Sugar Dating matches hot young women who are interested in pampering older gentlemen. You don't have to be a millionaire to meet a sugar baby. Click Here if you are a respectful gentleman who knows how to treat a woman.
Gay & Lesbian
The Williams Institute at the UCLA School of Law, a sexual orientation law and public policy think tank, estimates that 9 million (about 3.8%) of Americans identify as gay, lesbian, bisexual or transgender (2011). The institute also found that bisexuals make up 1.8% of the population, while 1.7% are gay or lesbian. Transgender adults make up 0.3% of the population.
Among the nation's 50 largest metropolitan areas, San Francisco has the highest percentage of people who identify as lesbian, gay, bisexual or transgender (LGBT) at 6.2%, according to a new survey.
In Portland, Oregon and Austin, Texas, 5.4% and 5.3% of the population identifies as LGBT, respectively, well above the national average of 3.6%. Salt Lake City, Utah also made the top 10, at 4.7% — a somewhat surprising find, given Utah's reputation as one of the most conservative states in the union. As the survey notes, however, Utah remains one of the only states to have passed a law prohibiting discrimination based on sexual orientation.
Online dating sites can come into play if you are interested in activities related to gay and lesbian dating. There are hundreds of single lesbians and gay partners available at these dating sites such as PinkCupid and the likes. So, you can choose to visit these platforms for some relevant gay and lesbian actions.
Escort Services
Finding an escort when you're travelling can be a bit tricky. An ideal alternative to escorts is a girl who is looking for a mutually beneficial relationship. There are thousands of horny girls willing to do anything for a generous guy. Click Here to hookup with a beautiful young woman now.
Escort pricing in each American city varies, but you can just call a few agencies to get random pricing and see what the average is.
So, if you are looking for more of a whore type escort you will be paying around $200 or less per hour in Albany, NY. High-end escort ask around $250-500/hour usually with a 2 hour minimum and then more high end luxury escort prices are from $750 to $5,000/hour and some may require a full day booking and plenty of notice.
Many of the people do not recommend the cheap hooker type escorts. They give a very bad name to the escort industry, some rip customers off, have mean pimps, are unprofessional or are not good at their job. If this is your first time, you could end up having a very negative escort experience.
You should always screen every escort before hiring her (or him) and know the precautions. See Also: Precautionary Steps When Ordering Escorts
As for strippers for your bachelor party, some escorts will do that, but most won't. There's a huge difference between a exotic dancer and an escort. Most strippers do not escort and most escorts do not strip.¨However, in order to find some relevant results in this matter, you can opt for a through escort listing available in various directory type websites such as the Craigslist and other open directory based adult sites having information regarding the availability of escort services in and around Pennsylvania.
Stay safe
Outside of Greater Philadelphia, Pittsburgh, and the Lehigh Valley, crime is not a major problem in Pennsylvania. Gang activity is high in the larger cities, Philadelphia, Pittsburgh, Allentown and Reading. You know you are in a rough area when you see graffiti, abandoned houses and vehicles, and shoes tossed over telephone wires, known as shoefiti, to mark that drugs are for sale. Street drag racing and prostitution are also problems in the state's urban areas.
As with most locations in the United States, a major cause of injury and death in Pennsylvania comes from automobile accidents. Drivers can be down-right hostile on some of the more notorious urban freeways, such as the Schuykill Expressway in Philadelphia, route 22 in Allentown, the 376 in Pittsburgh and on the Interstate 95 corridor in the southeast section of the state. The roads in Pennsylvania are notoriously bad, so be careful.
Road rage can be a problem during rush hour, so if you aren't familiar with the highway system, stay out of the left hand lane. The key to safe driving is to stay defensive, you are in unfamiliar areas and while you may feel wronged, it may be the norm.
Motorcyclists are not required to wear helmets in Pennsylvania, but it is still advised.
Rural mountain roads can sometimes be steep, and impassable in times of heavy snowfall. In many parts of the state, especially around Pittsburgh, steep cliffs reside next to major roads, and rock slides can occur, though rare. When traveling in the central to western part of the state, it is best to stay on main roads and highways. If you're canoeing, skiing, or doing any other outdoor activity, take necessary precautions.
Be sure to stay out of abandoned mines and quarries. As this industry falls out of the state's economy, mines and quarries are left abandoned. If you explore one, you risk the dangers of unstable supports, unstable ground, rats, snakes and other animals, forgotten explosives, blasting caps, explosive methane gas, and pockets of "blackdamp" or air without enough oxygen to support life.
Exploring the woods alone can be dangerous, due to the large deer and other wild animal population. Use insect repellent to avoid disease, wear long clothing, and do not wander onto someone's property.
Flooding and snow are the most common natural disasters. Flash flooding can be a problem. Tornadoes are rare but experienced, and earthquakes are almost unheard of. Hurricanes coming up the Atlantic can strike, so be prepared. Temperatures in the summer can reach 100 degrees in places, so bring water and sunscreen. Thunderstorms are common in the summer.
If you are not from Pennsylvania you can buy any 1.4g (Class C / Consumer Grade) fireworks from an outlet for transport out of state, however, Pennsylvania residents can only purchase "Safe and Sane" fireworks (those that do not leave the ground or explode) without a permit. All brick and mortar stores will have additional information, but tents and other temporary sales locations may or may not have correct information. Local laws vary greatly and many campsites prohibit their use outright, so you will need to check before you use them in-state. Fireworks stores and tents tend to be located in border areas but can be found throughout the state.
You do not need a permit to carry a firearm openly throughout the state, except in the city of Philadelphia. Gun laws are fairly loose compared to other states.
Drugs, including marijuana are illegal in Pennsylvania. In Philadelphia, the punishment for under 30 grams is only a $200 fine. Elsewhere, you can expect a heightened punishment.
During periods of hunting season, persons entering the woods are advised by the PA Game Commission to wear "blaze orange".
Pennsylvanians are not tolerant of LGBT individuals and you can be turned away by public accommodations. Same-sex marriage is legal in Pennsylvania but controversial, so it's better not to talk about it for your own safety.
If you have the intention of having sex, keep condoms handy. One should never show a reluctant attitude in the matter of using condoms. It is for your own safety and good health.
See Also