Varna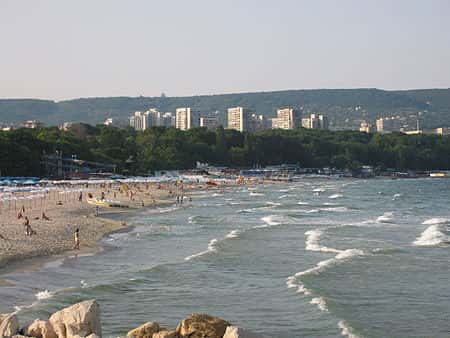 Varna Sex Guide advises where to find sex, working girls, prostitution, street hookers, brothels, red-light districts, sex shops, prostitutes, erotic massage parlors, strip clubs and escorts in Varna, Bulgaria.
Varna (Bulgarian: Варна) is the third-largest city in Bulgaria after Sofia and Plovdiv. Commonly referred to as the marine (or summer) capital of Bulgaria, Varna is a major tourist destination, business and university centre, seaport, and headquarters of the Bulgarian Navy and merchant marine.
Sex and Prostitution in Varna
Prostitution is illegal but tolerated. Bulgaria sexual attitudes are fairly liberal. Prostitution is rampant, especially in resort towns and seaports.
Check out also Golden Sands, which is located 17 km north of downtown Varna. Golden Sands (Bulgarian: Златни пясъци, Zlatni pyasatsi) is a major seaside resort town.
Varna Female Escorts
Check out WikiSexGuide Adult Classifieds!
Red Light Districts
There is no official red-light district in Varna. Street prostitution is concentrated in few areas, but gentlemen´s clubs and escort girls are located all over the city.
Prostitutes and Sex Workers
Prices for female prostitutes and escorts depend of type of service and club (or freelancer) you use. The sex prices start from 20-30BGL (about 10-15 euros) for cheapest street freelancers (usually Gypsies woman) per act and can reach to 750 BGL (1500 EUR) per night for elite escort or sex service.
The standard average prices of sex in Varna are:
20 - 50 BGL - oral sex or sex with a street prostitute
50 - 100 BGL per hour for standard sex at the apartment brothel or with independent escort
150 - 200 BGL per hour for not standard sex with an escort - anal, group, BDSM, etc.
The prices of some escort agencies can be higher and depend from the period, the girl, the service, etc.
Street Hookers
Street prostitution is common in certain areas of Varna. You should be careful when dealing with Varna streetwalkers as many of them are do pickpocketing and other common scams. Price to have sex with a street whore in Varna is about 30 to 50 BGL (15 to 25€). Prices are always higher for foreigners, but you should always try to negotiate.
You can find many beautiful street prostitutes from the road 9 south of Varna. You can check out the following GPS locations example: 43.1478992,27.8729265 or 43.1396889,27.8355439
There are quite a few street prostitutes to be found at the beach resorts and especially at the Golden Sands. You will recognize them, they look like stereotype prostitutes! At night they will also chat you up and ask if you are "looking for company for the night".
Many streetwalkers, often gipsy ladies can be spotted in front of the big hotels like the 3 stars hotel Cherno More on Slivnitsa Boulevard 33.
You can find highway prostitutes standing on the roads leaving Varna. Mostly these street hookers can be found from E87, E70 and A4.
About 20km outside of Varna, close to the village of Avren. Attractive young girls line the roadside touting for trade from passing drivers. These girls are often wearing tiny dresses and flashy outfits.
Live Sex Cams
Can I watch Live Sex Cams in Varna? - Yes, you can! Basically you can watch our online live sex shows for free anywhere in the world if you're connected to internet. Join to get 10 free private teasers and 9.99 credits for free! You can choose any girl from our trusted Live Sex Cams!
Live Sex Cams are booming at the moment. Webcam models can be found from all over the world and you can find girls, guys, trannies, couples and groups of different ages performing to you. Watching live sex shows is usually free, but if you buy some credits, you will have much better chances to see adult action as desired! It's possible also to hire a webcam model to a private chat room where you can ask the person to fulfill your fantasies.
Where to Get Sex Now
It is easy to get sex online in Varna. You just need to find the best available girls. See Girls Online Here!
Adult Locations
Escort Services and Agencies
Unfortunately we don't list in this category!
Finding an escort when you're travelling can be a bit tricky. An ideal alternative to escorts is a girl who is looking for a mutually beneficial relationship. There are thousands of horny girls willing to do anything for a generous guy. Click Here to hookup with a beautiful young woman now.
Escort services and agencies are getting more popular in Bulgaria all the time.
Erotic Massage Parlors
Unfortunately we don't list in this category!
Easiest way to get erotic massage in Varna is to hire an escort who does Happy Ending massage]]s or go to a brothel and give a tip for the girl and ask her to do a sensual massage. There are few good massage parlours in Varna where you can get a massage and a HJ, during the touristy season you can also get sexy massage at the Golden Sands.
Brothels and Sex Clubs
Most salons and bordellos in Varna are usually hidden and not so easy to find from Varna. Studio brothels are the most common option in Varna. These whore houses are located in apartment complexes and sex at these places is always cheaper than in sex clubs or kontaktbars. Usually sex at these residence brothels cost 50 to 100 BGL (35 to 50€).
Here are some clubs worth checking out if you are looking for sex in Varna:
Interclub Lilly, Slivnitsa Boulevard 145
Hard Erotic Club, Slivnitsa Boulevard 79
Sex Club Maya, Stefan Stambolov street 6
Interclub Fresh, Macedonia street 123
Some sex clubs in Varna:
Hard Erotic Club - 79 Slivnitsa Blvd., phone: +359 / (0)887 799566
Interclub Fresh - 123 Macedonia Str. phone: +359 (0)52 / 626373, +359 / (0) 899 756182
Interclub Lilly - 145 Slivnitsa Blvd., phone: +359 (0)52 / 616106, +359 / (0)888 758279
Sex Club Maya - 6 Stefan Stambolov Str., mobile: +359 / (0) 888 229354
Sex club Ely - +359 (0)52 604969
Strip Clubs and Striptease
There are many great nude bars, gentlemen´s clubs and erotic clubs in Varna. Most of the you need to pay an small entrance fee and drinks are fairly priced as long you do not order champagne or buy drinks for the dancers. You should always ask the drink prices before making an order and never leave your valuables unwatched. Also do not use credit card at the Varna strip joints.
Some of most popular strip and erotic clubs in Varna are:
Dalila, Radko Dimitriev street 7
Peep Show Bar - Maria Luiza Blvd 8 .,phone: +359 (0)52 607 736 - 20 topless girls, 50 seats, open: 16.00-04.00. In here you can enjoy different erotic shows.
Playboy Bar - 57B Osmi Primorski Polk Bvld., phone: +359 (0)52 610 939 - VIP Escorts, 70 seats, open: 22.00-04.00. This is the best known striptease club in Varna. You can enjoy erotic entertainment provided by beautiful showgirls.
Famoso Club - #21 Drazki str., phone: +359 (0)52 632 361
Strip-tease bar Dalila, #7 Radko Dimitriev str.
Karaoke and KTVs
KTVs (hostess karaoke bars with beautiful female staff) are popular in some parts of Asia but you cannot find any of them from Varna.
Swinger Clubs and BDSM
ALT.com is the best place for local singles, swingers, and couples in the BDSM community to connect with those interested in submissive sex, power exchange, locating persons for new slave roles, erotic BDSM, bondage & fetish sex, as well as live sex dates. Find thousands of play partners for whatever your fetish may be; bondage, foot, cockold, spankings, role-play, electric or water play, sadism and masochism. So whether you have the desire to explore your unrealized fetish fantasies, or you are extremely experienced and would love to train someone new, ALT.com is a community designed for people with like-minded interests to find and connect with each other.
Swinger clubs (lifestyle clubs), are formal or informal groups that organize sex-related activities or establishments where patrons can engage in sex acts with other patrons.
Sex Shops and Adult Stores
If you don't feel like visiting or cannot find any local sex shops in Varna, you can easily order adult products from Online Sex Shop.
Adults shops in Varna carry a good variety of sex toys. There are not many of them, but best ones are often located near the center. Viagra and other potency pills can be purchased from the pharmacies.
Sex shop Neron (#13, Preslav str., Varna)
Sexshop Cupidon Сексшоп Купидон, ulitsa "Preslav" 47, Varna, Bulgaria +359 88 880 0307 http://www.sexshop.bg
Sexshop Cupidon, ulitsa "Preslav" 47, Varna, Bulgaria
Sex Shop Sexwell, ulitsa "Tsar Kaloyan", Varna, Bulgaria
Love Hotels and Short Time Hotels
Love hotels are popular in some parts of Asia, especially in Japan. There are also many love motels and short-time hotels in South America. Unfortunately you cannot find any real love hotels in Varna.
Nightclubs and Bars
There are many nice nightclubs and bars in Varna where you can try your luck to find sex for free.
Planet, 26, Tzar Simeon Str., tel.: 089 788 6978
Makalali, Coastal alley, tel.: 0898/58 13 85
La Playa, South Beach, tel.: 0885 11 21 21
Chas Pik, Coastal Avenue, tel.: 088 494 91 00
Horizont, Sea Alley, Akaciite Station, tel.: 0885 004 372
Gay and Lesbian
Gay modeling in internet is getting more popular all the time and it's a big market alongside with gay porn. You can watch gay live sex also in Varna as long as you are connected to internet. Check it out: Gay Live Sex Video Chat
Varna is not an ideal gay tourism destination. During the touristy season, your chances to find other gays are highest at the Golden Sands, which is packed of foreign tourists.
In Bulgaria the age of consent is set at 14 for both homosexuals and heterosexuals. In certain cases, sex between men under the age of 18 is illegal. Registered partnership does not exist.
Gay places in the region of Varna:
ID Club Varna (before: Mix Club Alexander), 33 Slivnitsa Blvd +359 88 660 7669.
Kamchia Park Hotel, Kamchia Resort (25 km south from Varna. Bus twice a day from Varna main bus station).
Popular gay summer destination where you can also enjoy a good massage. Unique combination of dense forest, Kamchia river and widest Black Sea beach.
Mix Club Alexander, Варна, бул. Сливница 33, х-л Черно море, Bulgaria +359 88 660 7669.
Momo Exterior Club (CLOSED) - Varna Sea Garden - Open-air gay friendly disco.
Panorama Beach Club - Kabakum Beach, Varna, before Journalist bus stop - Every Thursday - gay parties.
Other Adult Services
Dating
Dating in Varna can be a bit tricky due to cultural differences, so your best bet is to sign up for a dating site before your trip so you can meet a few locals ahead of time. AdultFriendFinder.com lets you meet local members in Varna and get to know them on a personal basis before you arrive. Take advantage of site features like live chat and member to member webcams so you can begin flirting before arranging a face-to-face meeting. Since your time in Varna may be limited, get to know each other's desires beforehand, so that when you meet you can start having some real fun.
How to find Sugar Babies and Sugar Daddies
If you are looking for an alternative to escorts in Varna with a girl who doesn't charge by the hour, sugar dating is the ideal solution. There are thousands of beautiful young women at SecretBenfits willing to do anything for a man who will help them pay their bills.
Often referred to as the "Tinder for Older Guys", SecretBenfits matches hot young women interested in pampering older gentlemen. You don't have to be a millionaire at SecretBenfits.com, you just need to be a respectful gentleman who knows how to treat a woman.
Transsexuals and Shemales
Finding someone for transsexual dating when you're on the road can be a bit tricky, so your best bet is to sign up for a dating site before you go so you can find locals ahead of time. TSdates.com is a dating site designed to help you find exactly what you are looking for in your hookup in Varna. Take advantage of site features like live chat and member to member webcams so you can begin flirting before arranging a face-to-face meeting. With over 40 million members, and thousands of transsexual members around the world, TSdates.com is the world's largest site of sex-minded friends for discreet encounters and will help you find your next transsexual play partner.
Where can I find shemales in Varna? You can watch transsexual live sex shows in Varna as long as you are connected to internet. Check Now: Tranny Live Sex Video Chat
You can try to find transexuals or cross dressers in the Varna Gay clubs. There are also some t-girl escorts in Varna who charge around 100 to 200 BGL an hour. Overall tranny scene in Varna sucks. Occasionally you may find a transvestite street prostitutes, but very rarely.
Sexual Services for Women
There are few semi-pro male escorts in Varna. Prices start from 100 BGL an hour. But it is also very easy for women to find companionship from the local clubs and Golden Sands gets very busy during the touristy season and many tourist men are looking to get laid over there.
Sleeping and Girl Friendly Hotels
Easiest way to take girls to your place is to rent an apartment. Of course some hotels accept bringing guests as well. Also most receptionists at the Varna hotels are quite helpful and give you an advice if you ask where to find escorts in Varna. Some of the hotel bars have prostitutes.
Stay Safe
Varna is in general a fairly safe place, though special caution should be taken in regards to the mafia. There have been several cases of tourists being assaulted by the mafia for improper behavior, such as the brutal beating of an Icelandic teenage girl in the summer of 2007. Try not to give anyone who might be driving a black sports car, wearing a suit with glasses a bad eye. Common sense, courtesy and respect is always the best thing you can pursue. Stay away from people offering money change on the street they are all cheaters. They usually are located in the area of the Cathedral(kozirkata) and also it's a typical place for pickpocketers so be careful. If you are driving a car be careful where you stop because if you violate the parking restrictions, your car may be removed by the authorities and you will need to pay a penalty fee, not to mention losing a lot of time.
See Also