South-central China
The Southern Central Region of China is largely an agricultural area, but it has some quite large cities and considerable industry as well. This area is generally poorer than the coastal provinces on the eastern and southern coasts and is the main source of migrant laborers for those provinces.
The regions of Sichuan and Chongqing are sometimes referred to as Western China by Chinese, because they are the edge of China proper (the area historically inhabited by Han Chinese) even though they are near the center of the modern Chinese state. Western Sichuan was once part of a Tibetan Empire; it lies at edge of the region and is the gateway to the frontier/minority regions of Tibet and Xinjiang.
Chongqing is historically and culturally part of Sichuan, but is now administratively a separate municipality and a mega-city in its own right. With a population of almost 30 million counting suburbs, it is China's largest city.
Regions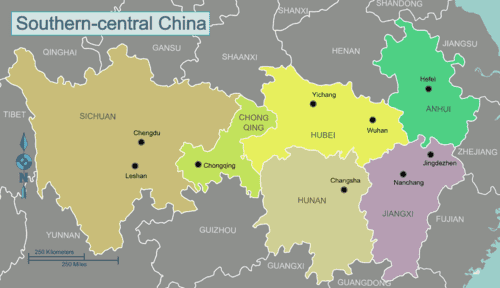 Cities
Stay Safe
According to UNAIDS, 0.5% of Chinese sex workers are infected with HIV. One study reported that 5% of low-cost sex workers were infected. In one part of Yunnan province, the infection rate is estimated to be as high as 7%. The Chinese government has initiated programs to educate sex workers in HIV/AIDS prevention.
Rising HIV/AIDS rates among Chinese's elderly has been partially attributed to the use of sex workers.
China is a huge country that shows a huge regional difference in crime rates but in general it poses no more risk than most western countries. Although you may hear locals complaining about increasing crime rates, violent crime remains rare. Many tourists will more likely feel safer in China than in their home country.
Healthcare for foreigners
Most major Chinese cities have clinics and hospitals that are more appropriate for foreigners, with English speaking and Western qualified staff. Although expensive, it is worth identifying them whenever you plan to stay in an area for a significant time. For non-urgent medical treatment, you may want to consider traveling to Hong Kong, Taiwan or South Korea for a higher standard of treatment which may not be particularly more expensive.
Emergency numbers
The following emergency telephone numbers work in all areas of China; calling them from a cell phone is free.
Patrol Police: 110
Fire Department: 119
(Government-owned) Ambulance/EMS: 120
(some areas private-owned) Ambulance: 999
Traffic Police: 122
Directory inquiries: 114
Consumer Protection: 12315
See Also