Serbia
Serbia Sex Guide advises where to find sex, prostitution, street hookers, brothels, red-light districts, sex shops, prostitutes, erotic massage parlors, strip clubs and escorts in Serbia, Europe.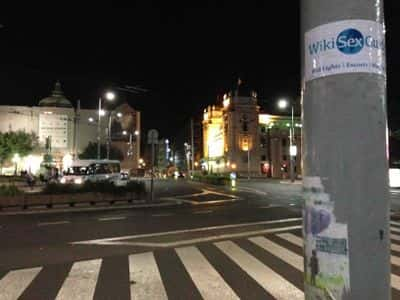 Serbia (Serbian: Србија, Srbija) [1] is a country located in the Balkans, in Southern Europe. It was a founder and one of the six republics forming the former Socialist Federal Republic of Yugoslavia. It is surrounded by Montenegro to the south, Bosnia and Herzegovina to the west, Bulgaria to the southeast, Croatia to the northwest, Hungary to the north, Macedonia and Albania (through Kosovo) to the south, and Romania to the northeast. It is situated on one of the major land routes from Central Europe to Turkey and further on to the Near East.
Sex Scene and Prostitution
Prostitution in Serbia is illegal and can incur a prison sentence of between 5 and 10 years. It is estimated there are 40,000 Serbian prostitutes in Serbia alone. Many of the prostitutes in Serbia are from the Roma groups, but there are also many high-end escorts who work on the private flats. How ever most high-class escorts of Serbia go to work abroad to Austria and Germany where they make better money.
Regions
Serbia can be divided into five regions and one de facto independent republic: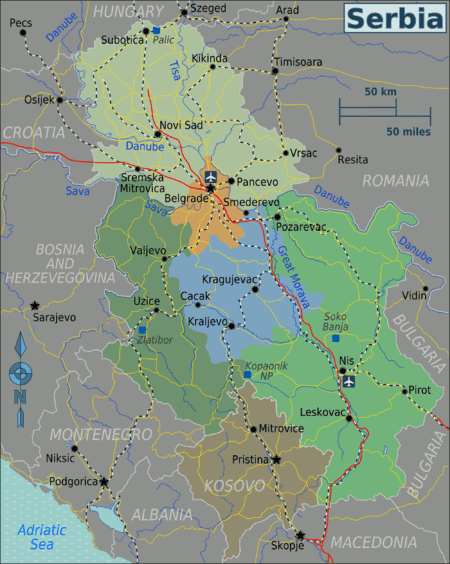 Belgrade and Vojvodina are relatively economically prosperous and have a Central European influenced culture, while the southern regions are more impoverished.
Cities
Belgrade (Beograd / Београд) — the capital of Serbia.
Kragujevac (Serbian Cyrillic: Крагујевац)— The first capital of modern Serbia, industrial hub and the 4th largest city in Serbia. Kragujevac is located in the region Šumadija, 120 km south of Belgrade. Kragujevac passes through a small river Lepenica. Near the town is Lake Gružansko (Гружанско Језеро). The city has a university, and important cultural and medical buildings. It has a rich history and many cultural and historical monuments.
Kraljevo (Serbian Cyrillic: Краљево)-Kraljevo is an important economic center in Serbia, located south of 170 Beograda.It lies on two rivers, the Morava and The Ibar river.In the outskirts of the city is very famous monastery "Žiča" (Жича) with a rich history, and in addition to the monastery and the famous Mataruška spa (Матарушка бања), and a little further Bogutovačka Spa (Богутовачка бања).
Čačak (Serbian Cyrillic:Чачак)-Čačak is a city in central Serbia. It is the administrative center of the Moravica District of Serbia. Čačak is also the main industrial, cultural and sport center of the district.Cacak is one of the major cities in the territory of the Srbiji.On the wider city area there are two well-known spas and Spa Gornja Trepča (Бања Горња Трепча) and Ovčar Spa (Овчар Бања). Nearby is the famous Očarsko-Kablar Gorge, which is located 10 old monastery (the small Holy Mountain). "Trumpet Festival" in Guca village located 20 km from the town of Cacak (Čačak). During the festival in this small town a few days to go over half a million visitors.
Niš (Serbian Cyrillic: Ниш) — The third largest city in Serbia. Niš is a great car and railway junctions in that part of Serbia and the Balkans, with great industry and a rich history and cultural-historical monuments.Niš has a large university, there are important cultural and medical buildings.Nearby is the famous Niska Banja (Нишка Бања). Among other things, Niš is the birthplace of Constantine the Great, where are the remains of his summer home, etc.
Novi Sad (Serbian Cyrillic: Нови Сад) — Provincial Capital of Province of Vojvodina and second largest city (after Belgrade). Novi Sad is located about 80 km north of Belgrade on the Danube river.The city is an important industrial, cultural, educational, health, sports and tourist center with many cultural and historical monuments and museums.There are well-known church, Novi Sad fortress, an interesting National Park "Fruska Gora" is rich with vineyards and Serbian monasteries (over 16, called the Holy Mountain). South of town, on the side of Srem, "old road" to Belgrade, there is a small town of Sremski Karlovci, which has a rich history, famous churches, buildings, museums, and famous wine cellars.
Užice (Serbian Cyrillic: Ужице)-is a town in western Serbia in the Zlatibor district, 200 km southwest of Beograda.Grad lies between the hills on the river Đetinja. It is an important transportation, economic, cultural, sports center, with a rich history. Near the town (Uzice) of the famous tourist destinations Zlatibor, Tara, Mokra Gora (Drvengrad) narrow gauge railway "Sargan Eight" and so on.
Požarevac (Serbian Cyrillic: Пожаревац) — One of the oldest cities in Serbia with a large historic heritage.An important commercial and cultural center, in addition to the Velika Morava river, is situated about 80 km east of Belgrade. Near the town is a small town of Stari Kostolac where is the famous archaeological site Viminacium. In Pozarevac was born former president of the Republic of Serbia - Slobodan Milosevic (he was also buried there). Pozarevac is also known for Ljubicevo Equestrian Games.
Sremska Mitrovica (Serbian Cyrillic: Сремска Митровица) - one of the oldest cities in Serbia and in Europe. It was once known as Sirmium in the Roman Empire, and was one of the four capitals during the tetrarchy period.
Subotica (Serbian Cyrillic: Суботица) — has been rated as one of the most beautiful cities of Serbia. It is in North Serbia, and is the closest city to Palic.An important commercial and cultural center with a rich history. The main languages are Serbian and Hungarian.In the vicinity of Subotica is a famous resort and lake Palic, and Ludoško lake.
Vranje (Serbian Cyrillic: Врање) -is located in southeast Serbia closer to the FYRM (Skopje), at 340 km from Belgrade and 100 km from Nis, in the South Morava River valley. It is an important commercial and cultural center, with a rich history. Nearby is known Vranjska spa, and mountain Besna Kobila.
Vršac (Serbian Cyrillic: Вршац) — One of the most beautiful cities in Serbia. Located at 80 km northeast of Belgrade, near Romania. Vrsac has developed economic and cultural and sports center, rich in vineyards.
Live Sex Cams
Can I watch Live Sex Cams in Serbia? - Yes, you can! Basically you can watch our online live sex shows for free anywhere in the world if you're connected to internet. You can choose any girl from our trusted WikiSexLive.com! Join to get 10 free private teasers and 9.99 credits for free!
Live Sex Cams are booming at the moment. Webcam models can be found from all over the world and you can find girls, guys, trannies, couples and groups of different ages performing to you. Watching live sex shows is free, but if you buy some credits, you will have much better chances to see adult action as desired! It's possible also to hire a webcam model to a private chat room where you can ask the person to fulfill your fantasies. Try now! WikiSexLive.com
Dating
Dating in Serbia can be a bit tricky due to cultural differences, so your best bet is to sign up for a dating site before your trip so you can meet a few locals ahead of time. AdultFriendFinder.com lets you meet local members in Serbia and get to know them on a personal basis before you arrive. Take advantage of site features like live chat and member to member webcams so you can begin flirting before arranging a face-to-face meeting. Since your time in Serbia may be limited, get to know each other's desires beforehand, so that when you meet you can start having some real fun.
How to find Sugar Babies & Sugar Daddies
If you are looking for an alternative to escorts in Serbia with a girl who doesn't charge by the hour, sugar dating is the ideal solution. There are thousands of beautiful young women at SecretBenefits willing to do anything for a man who will help them pay their bills.
Often referred to as the "Tinder for Older Guys", SecretBenefits matches hot young women interested in pampering older gentlemen. You don't have to be a millionaire at SecretBenefits.com, you just need to be a respectful gentleman who knows how to treat a woman.
Gay & Lesbian
There is widespread intolerance against homosexuals. But you can still meet local gays in Serbia and hook up easily. There are also some trans and gay escorts operating in Belgrad.
Escort services
Serbia doesn't have the best selection of escorts but you can still find many escort ads online in the major cities.
Stay safe
Serbia is generally quite safe and is ranked 31st of 162 on the list of the safest and most dangerous countries. Locals are very kind and happy to help, and tourists especially shouldn't encounter any trouble in Serbia. Street robberies, murders, or attacks are highly unusual, even in dark or remote parts of the city. Organized crime is common, but doesn't target tourists or the general population.
See Also