Pigalle
Pigalle is a Red Light District (also known as Montmartre) in Paris. Pigalle is famous for being a tourist district, with many sex shops on Place Pigalle and the main boulevards. The neighborhood's raunchy reputation led to its World War II nickname of "Pig Alley" by Allied soldiers. The Divan du Monde and the Moulin Rouge, a world-famous cabaret, are both located in Pigalle, as well as topless and nude shows.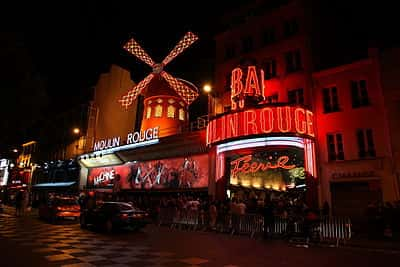 On day time the are lots of tourists, even families looking what is going on. At night time it gets little bit seedy and you can find street prostitutes in this area. Pigalle is well known to tourists who want to experience "Paris by night". It is home to some of Paris' most famous cabarets as well as topless and nude shows.
Pigalle has a reputation as Paris's centre for sleaze. Peep shows and sex shops still do line the boulevard, but a younger, hipper and resolutely more wholesome crew line the pavements nowadays, queuing to get into cool music clubs like the Boule Noire, La Cigale and La Machine du Moulin Rouge which is a hotbed of electro sound next door to the Moulin Rouge cabaret.
Strip Clubs and Cabarets
Pigalle is famous for having a great selection of strip clubs and cabarets. Some strip clubs or cabarets are very famous like Moulin Rouge but there are always few rotten apples among the good ones.
Scams
Strip clubs in Pigalle area have sometimes a bad reputation to scam tourists. Some strip clubs attract tourists inside and after few drinks they might bring you a huge bill. If you are not willing to pay this scam bill the bouncers might show up and frighten you. Some strip clubs also offer private dances but when you enter to the room with the dancer, she may not strip at all. If you don't pay the private show for this, you will get in trouble again with the bouncers.
Sometimes the strippers insist you to buy them drinks. If you agree they might show up with a bottle of champagne few minutes later. Then you're in trouble because you're bill will be ridiculous. It's always safer to enter the strip club with a group than just yourself or with just a one friend.
How to Get There
Every taxi driver in Paris know Pigalle and it's so famous tourist destination that you have no problem to find it. Pigalle can be also reached by Paris Metro.
See Also