Northeast China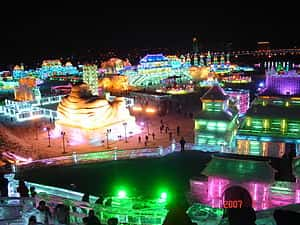 North East China (东北; dōng​běi​; historically known as Manchuria). In ancient times, this was an area of steppes and fierce nomadic tribes, outside the Great Wall built to protect China from those tribes. In 1644, the Manchus from this region crossed the wall, conquered China, and founded the Qing Dynasty which lasted until 1911.
From the 19th century until the end of the Second World War, Manchuria was the main prize in a complex territorial squabble mainly between China, Japan and Russia. After that, the area came firmly under Chinese control, began to be called dong bei (the Northeast), and became China's "rust belt", the area where various five-year plans put most of the heavy industry. The largest ethnic group is now Han Chinese; there are substantial Manchu, Mongol and Korean minorities.
Since the "reform and opening up" policies of Deng Xiao Ping went into effect in the late 1970s, this area has seen considerable economic growth but, except perhaps for the area around the region's main port, Dalian, growth here has not been as furious as in Southern provinces.
Regions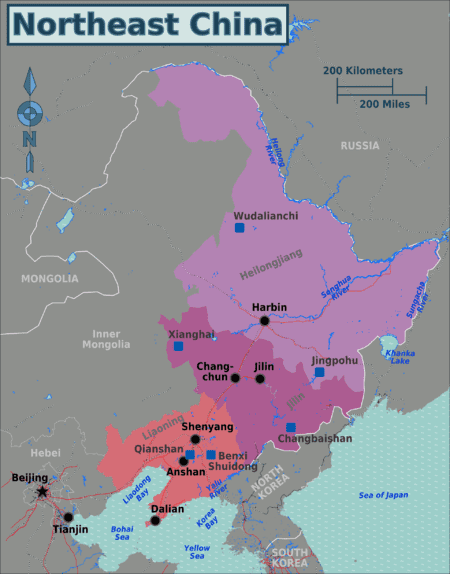 Heilongjiang
Fierce winters with snow and ice festivals and characteristic Russian buildings.
Jilin
Winter resorts, nature preserves and the imperial palace of the last emperor.
Liaoning
Coastal cities, water cave and imperial palace.
Cities
Stay Safe
According to UNAIDS, 0.5% of Chinese sex workers are infected with HIV. One study reported that 5% of low-cost sex workers were infected. In one part of Yunnan province, the infection rate is estimated to be as high as 7%. The Chinese government has initiated programs to educate sex workers in HIV/AIDS prevention.
Rising HIV/AIDS rates among Chinese's elderly has been partially attributed to the use of sex workers.
China is a huge country that shows a huge regional difference in crime rates but in general it poses no more risk than most western countries. Although you may hear locals complaining about increasing crime rates, violent crime remains rare. Many tourists will more likely feel safer in China than in their home country.
Healthcare for foreigners
Most major Chinese cities have clinics and hospitals that are more appropriate for foreigners, with English speaking and Western qualified staff. Although expensive, it is worth identifying them whenever you plan to stay in an area for a significant time. For non-urgent medical treatment, you may want to consider traveling to Hong Kong, Taiwan or South Korea for a higher standard of treatment which may not be particularly more expensive.
Emergency numbers
The following emergency telephone numbers work in all areas of China; calling them from a cell phone is free.
Patrol Police: 110
Fire Department: 119
(Government-owned) Ambulance/EMS: 120
(some areas private-owned) Ambulance: 999
Traffic Police: 122
Directory inquiries: 114
Consumer Protection: 12315
See Also