Luang Prabang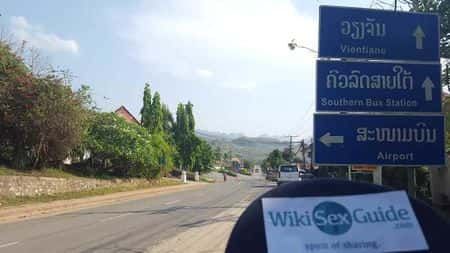 Luang Prabang Sex Guide advises where to find sex, working girls, prostitution, street hookers, brothels, red-light districts, sex shops, prostitutes, erotic massage parlors, strip clubs and escorts in Luang Prabang, Laos.
Luang Prabang (ຫຼວງພຣະບາງ), also Luang Phabang, Luang Phrabang and Louang Phrabang is the former capital of Laos and is now a UNESCO World Heritage city.
Sex and Prostitution in Luang Prabang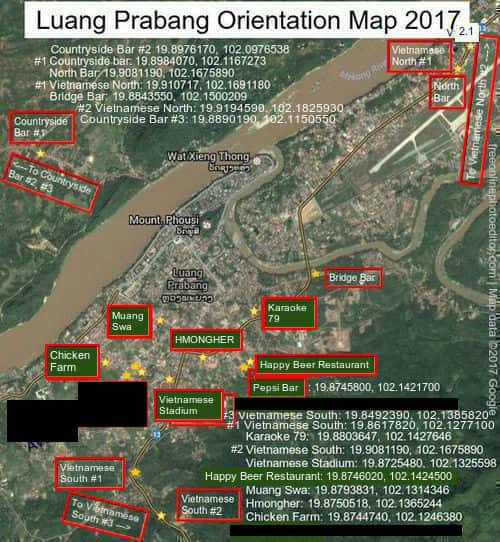 Hookups:
With other travelers: The area in the crossroads of Kingkitsarath Road and Phommathat Road (the main road leading to Kao bridge), is filled with bars and that's where backpackers go get drunk. Places like Lao Lao Garden and Utopia Restaurant and Bar seem to be the most active. Utopia is located in the hidden alley but there are many street signs pointing towards it so its not too hard to find.
With local girls: This is a very traditional society with stiff sexual codes regarding boy-girl relationship. Lao girls most of which are virgins, are all married by age 22-24. A big bar next to the University at GPS 19.8761970, 102.1418539 is most popular with Lao students. Dao Fa night club and U Pub are favourite with locals. Maybe possible to try and hit something there. Dao Fa and U Pub could maybe also be a spot where a local girl goes freelance for a night to make extra income. Dating apps are maybe a possibility to try and catch something in Luang Prabang.
Pay 4 Play:
See orientation map for GPS coordinates (V2.0 updated February 2017). The current price (2017) is between 150,000-250,000 kip for ST, 300,000-600,000 kip LT, which you pay up front.
Red light district: Is next to a chicken market aka Chicken Farm, 3-4 buildings with Lao girls. Age of girls 18-25, (Boom Boom, No BJ) hygiene of place is very poor.
Brothels: Six brothels with Vietnamese girls ages 24-30 (Boom Boom and BJ); Two in the North fringes of town marked #1 & #2 (#2 is close to Souphanouvong University). One next to the Stadium. Three in the South fringes of town marked #1, #2 & #3 (#1 has a Vietnamese restaurant sign. #3 is next to the dirt road leading to Tad Thong waterfall). Recognize them by the "Karaoke/Massage" signs written in Lao, English and Vietnamese.
Hostess Bars: Two bars next to each other in the student area (3-4 different academic campuses); Happy Beer Restaurant (yellow Happy Beer Restaurant sign in English) and Bo-Bee Beer Bar (blue Pepsi sign with Lao text) marked on map as Pepsi bar. Three bars across the Mekong river in the countryside marked #1, #2, #3 (#1 outdoors bar, they have a pétanque gravel court. #2 yellow Lao food pictures sign indoors bar. #3 outdoors bar) and another bar in the North fringes of town. They all offer hostesses (Phusau ຜູ້ໃຊ້ , pronounced Pusa-u) for drinking/company and then back room ST. Lao girls age 18 may offer Boom Boom but no BJ. In hostess bars some girls may be underage and causion is advised (See Warnings below).
Hotels: Villa Muang Swa hotel & night club (big legit massage signs but really only boom boom) and Hmongher motel (go where a big pink banner in chinese at Hmongher) offer in house prostitutes. Muang Swa also offers room by the hour.
Karaoke: Karaoke 79 offers girls for massage or boom boom. One large bar complex with many Petanque courts just before the big Nam Khan bridge has Karaoke rooms with beds and offers girls (probably active at night).
General Info: The official time that everything closes up is at 23:30, but some of these places could be operating in some capacity up until somewhere between 24:00-03:00 AM especially in the weekends.
Many tuk tuk drivers in the city center offer single men "concierge" services for boom boom, drugs etc.
Vietnamese WG (Brothels and Hmongher motel) are usually ~24 year old and above and offer BJ with FS, and Laosian WG (Chicken Farm and Hostess bars) are usually 20 year old and below and offer only FS.
Warnings:
Premarital cohabitation with foreigners:
"Sexual relationships between foreigners and Lao citizens who are not legally married are not permitted under Lao law".[1]
There is one big problem with the hotels in Laos, that is that technically speaking Laosian girls are not supposed to be in hotels with foreigners and some of the more traditional hotels will not let you in if you show up with a Laosian girl, especially late at night. Make sure your hotel is on the same page as you before you pay.
WARNING!!! - WARNING!!! - WARNING!!!
Underage prostitution:
Lao Penal Law, Article 131 states: "Human  trafficking  means  the  recruitment,  moving,  transfer, harbouring,  or  receipt  of  any  person  within  or  across  national  borders  by means  of  deception,  threats,  use  of  force,  debt  bondage  or  any  other  means [and  using  such  person  in]  forced  labour,  prostitution,  pornography,  or anything  that  is  against  the  fine  traditions  of  the  nation,  or  removing  various body organs [of such person], or for other unlawful purposes. Any  of  the  above-mentioned  acts  committed  against  children  under  18 years  of  age  shall  be  considered  as  human  trafficking  even  though  there  is  no deception, threat, use of force, or debt bondage. Any  person  engaging  in  human  trafficking  shall  be  punished  by  five years  to  fifteen  years  of  imprisonment  and  shall  be  fined  from  10,000,000  Kip to 100,000,000 Kip".[2]
Lao Law  on  Development  and  Protection  of  Women, Article 24 states: "If  these  acts  are  committed  against  children under  18  years  old,  then  even though  there  is  no  deception,  threat,  force,  or  debt  bondage,  trafficking  shall  be regarded  to  have  occurred. Any  individual  who  co-operates  with  the  offender  [who  commits]  an offence  mentioned  above[,]  whether  by  incitement,  providing  assets  or  vehicles to  the  offender,  the  provision  of  shelter,  or  the  concealment  or  removal  of  traces of  an  infraction,  shall  be  considered  as  an  accomplice  in  trafficking  in  women  and children".[3] Incitement & Providing assets means client as well.
Police corruption, a weak judicial sector and the population's general lack of understanding of the court system impedes the anti-trafficking law enforcement efforts. Corruption also remains a problem with government officials susceptible to involvement or collusion in trafficking in persons.[4]
The capital Vientiane and Luang Prabang are designated by international bodies dealing with commercial sexual exploitation of children (CSEC) as hotbeds for child sex tourism.[5] At least 44 countries have extraterritorial laws relating to child sex tourism.[6] Citizens of the United States,[7] Canada,[8] United Kingdom,[9] Australia,[10] New Zealand,[11] the European Union,[12] Russian Federation,[13] Japan,[14] Israel,[15] South Korea[16] and Singapore[17] are prosecutable in their respective countries for being involved in commercial sex with a person under the age of 18 in any country in the world. With INTERPOL actively perusing offenders.[18]
For a better understanding of the underage prostitution situation that goes on in Luang Prabang and generally in Laos, you can read articles such as Survey Shows Grim Reality of Lao Sex Trade, or from 'Destiny Rescue NGO Nine year old girls rescued in Laos & Laos rescue gains momentum. A similar situation in Northeastern Thailand published at Child Rights International Network (CRIN) - "Thailand: Sex trade lures girls in early teens" gives another angle to the subject . In Luang Prabang the girls are from extremely poor rural families (we're talking living in straw huts poor).
Red Light Districts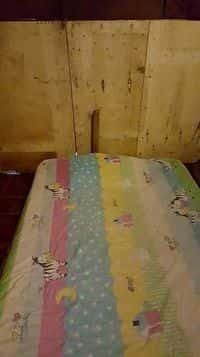 Luang Prabang´s red-light district is located close to a chicken market therefore called the Chicken Farm it is situated in a muddy shack area. This prostitution area is filled with small shack brothels each having about 3 young working girls. Sex with these girls cost around 150k kip. Sometimes the mamasan will ask more than that; example 200k or 300k, but usually you should always get a quick 20 minute sex session with the girls for 150k kip. It is also possible to take girls to your hotel if you like and take out costs usually around 500k and up. The place is active afternoon till 03:00 am.
See GPS coordinates for the Chicken Farm in Orientation map 2017
Prostitutes and Sex Workers
In addition, most Lao girls who work as freelance prostitutes speak decent English, and are often more interesting and fun to talk with than most professional bar hostesses in Thailand with their silly "Hello sexy man!" approach. Many Lao girls also have their own motorbikes and may readily invite you for a joyride to a disco, or offer to take you back home to your room?
For some odd reason, on certain days, there's an abundance of single Lao girls hanging about at the notorious places, whereas on other days, there are hardly any girls around, or those you see might not be interested in you? The reason for this unpredictability is obvious: Working freelance in Luang Prabang's inofficial sex trade, it's basically "up to them" when they want to make a few extra Kip. Many women also have regular jobs during the day and "sell pussy" only when they're short of money. Or they simply have a night out with friends and prostitute themselves only when they happen to come across a potential client, by accidence rather than by professional courting.
Most Lao girls will be satisfied with anything between 15 and 50 euros, while some stunners (and there are a quite a few in Luang Prabang!) may ask for even more. As in Thailand, it's up to you to negotiate.
Street Hookers
In Luang Prabang, there are no street prostitution activities. You can find sex from the indoor brothels and redlight area of Luang Prabang.
Hookup with Local Girls
Meeting local girls and getting laid for free is fun! Read more on how to pick up girls in Luang Prabang: https://hookuptravels.com/wiki/Luang_Prabang
Live Sex Cams
Can I watch Live Sex Cams in Luang Prabang? - Yes, you can! Basically you can watch our online live sex shows for free anywhere in the world if you're connected to internet. Join to get 10 free private teasers and 9.99 credits for free! You can choose any girl from our trusted Live Sex Cams!
Live Sex Cams are booming at the moment. Webcam models can be found from all over the world and you can find girls, guys, trannies, couples and groups of different ages performing to you. Watching live sex shows is usually free, but if you buy some credits, you will have much better chances to see adult action as desired! It's possible also to hire a webcam model to a private chat room where you can ask the person to fulfill your fantasies.
Where to Get Sex Now
It is easy to get sex online in Luang Prabang. You just need to find the best available girls. See Girls Online Here!
Adult Locations
There are quite a few adult locations in Luang Prabang such as the red-light brothel district, vietnamese brothels, in house hotel hookers, Bars that offer hostess and sex, massage parlors that mabye provide extras and couple nightclubs.

Escort Services and Agencies
Unfortunately we don't list in this category!
Finding an escort when you're travelling can be a bit tricky. If you are looking for escorts in Luang Prabang, Escort Directory is the ideal solution. There are thousands of beautiful young women at EscortDirectory.com waiting for your call!
Many of the Luang Prabang escorts advertise online, wechat and in other social media sites. Cost is more through the agencies and there are no really any escort agencies in Luang Prabang. Some of the tuktuk and moto drivers act like pimps as they will try to take a small commission sometimes if they hook you up with the girls.
Erotic Massage Parlors
Unfortunately we don't list in this category!
Finding erotic massage in Luang Prabang is not as easy as it is in somewhere else in South-East Asia. There are many small massage shops in Luang Prabang where you can get 1 hour oil massage for around 60k-80k. Most of the massage girls are young and pretty but only a handful of them do hand jobs or other happy ending services. You should tip around 200k for a handjob.
Brothels and Sex Clubs
No strip club or sex clubs in Luang Prabang. Maybe in next 20 years they will have one, but many people wish it would stay as a silent city forever. Vietnamese Brothels are available One north of town, one next to the Stadium and one south of town. (see orientation map)
Strip Clubs and Striptease
Unfortunately there are no nude bars or striptease shows in Luang Prabang.
Karaoke and KTVs
You can find some bars in Luang Prabang where locals sing karaoke, but non of them are similar to the ktv sex clubs in other Asian countries.
Karaoke79 (see orientation map) advertises Karaoke and Masssge, which means sex in Laos
Swinger Clubs and BDSM
ALT.com is the best place for local singles, swingers, and couples in the BDSM community to connect with those interested in submissive sex, power exchange, locating persons for new slave roles, erotic BDSM, bondage & fetish sex, as well as live sex dates. Find thousands of play partners for whatever your fetish may be; bondage, foot, cockold, spankings, role-play, electric or water play, sadism and masochism. So whether you have the desire to explore your unrealized fetish fantasies, or you are extremely experienced and would love to train someone new, ALT.com is a community designed for people with like-minded interests to find and connect with each other.
People in Laos are very shy about their sex lives and there are no swingers clubs in Luang Prabang.
Sex Shops and Adult Stores
If you don't feel like visiting or cannot find any local sex shops in Luang Prabang, you can easily order adult products from Online Sex Shop.
You can find condoms from the basic shops in Luang Prabang. Pharmacies do also sell condoms and potency pills such as viagra without a prescription.
Love Hotels and Short Time Hotels
Luang Prabang´s red-light district has small shack rooms for fucking. Muang Swa hotel and Hmongher motel (see orientation map) have prostitutes in house. Most hotels in Luang Prabang are guest friendly as long you have paid a room for two. Mostly 1 person room cost about the same as 2 person room.
Nightclubs and Bars
Popular bar and restaurant in Luang Prabang is called Utopia. It is open until 23:00 and is usually packed with young backpackers looking for hook-ups or make friend. Wealthier local girls also tend to visit this place.
Locals Go to the Dao Fa night club and U Pub night club. U Pub is open until 01:30 am.
In the student area next to the University, are two bars offering female drink buddy and sex in rooms inside (see orientation map) across the Mekong river in the country side a similar bar is operating on the same basis. (See orientation map for coordinates).
Gay and Lesbian
Gay modeling in internet is getting more popular all the time and it's a big market alongside with gay porn. You can watch gay live sex also in Luang Prabang as long as you are connected to internet. Check it out: Gay Live Sex Video Chat
There are few gay location is Luang Prabang such as Lao Lao Garden Utopia is also gay friendly. Boat Bar, Chez Matt, La Pistoche and Pack Luck Wine Bar are also gay friendly venues. Dao Faa disco near stadium has also plenty of youn guys like Muang Xuo disco which is kind of far from the city. Few of the massage parlors in Luang Prabang are also gay friendly.
Other Adult Services
Dating
Dating in Luang Prabang can be a bit tricky due to cultural differences, so your best bet is to sign up for a dating site before your trip so you can meet a few locals ahead of time. AdultFriendFinder.com lets you meet local members in Luang Prabang and get to know them on a personal basis before you arrive. Take advantage of site features like live chat and member to member webcams so you can begin flirting before arranging a face-to-face meeting. Since your time in Luang Prabang may be limited, get to know each other's desires beforehand, so that when you meet you can start having some real fun.
How to find Sugar Babies and Sugar Daddies
If you are looking for an alternative to escorts in Luang Prabang with a girl who doesn't charge by the hour, sugar dating is the ideal solution. There are thousands of beautiful young women at SecretBenefits willing to do anything for a man who will help them pay their bills.
Often referred to as the "Tinder for Older Guys", SecretBenefits matches hot young women interested in pampering older gentlemen. You don't have to be a millionaire at SecretBenefits.com, you just need to be a respectful gentleman who knows how to treat a woman.
Transsexuals and Shemales
There are no transsexual prostitutes in Luang Prabang.
Sexual Services for Women
Utopia is a popular backpacker bar among travellers.
Sleeping and Girl Friendly Hotels
Please note that, according to a "secret" Lao law, in most guesthouses and hotels, you won't be allowed to entertain female Lao guests in your room, i.e. unless you are legally married to them. The reason for this puritan policy: Sexual relationships between foreigners and local women (who are not their legal wives) are prohibited by Lao law.
Stay Safe
To prevent the development of a sex trade industry, which is so prevalent in neighbouring Thailand, Laotian law bans foreigners from having sexual relations with Laotian nationals other than their spouses. This law is enforced by the village chief and, given the fines, the incentive to enforce is high. The penalty is US$500 for the first offence, though as the text of the law is not available, the fine could be much more (the U.S. Embassy says US$5,000); the foreign offender can face prison or deportation and the Lao woman prison. A Laotian prison is the last place anyone would want to be. If you take a girl to your room and she robs you, this law makes it almost impossible to obtain police assistance. Foreign women should note that, while rare, Laotian police enforce this law on both sexes. Bartenders are happy to provide stories of angry tourists confronting girls at the same bars they picked up the night before. Most hotels also do not allow foreigners to take girls to their rooms as it is officially prohibited.
Penalties, if "caught in the act", may be severe, and the foreigner may be jailed and deported, on top of paying a hefty fine. Or how about getting married quickly, just in order to belatedly legalize your "dirty deeds"? Police raids may not be very common but, if you take a girl to your room and the lady should rob you during your sleep, this unwritten law makes it virtually impossible to obtain assistance from the police and your landlord, i.e. if he decided to bend the rules in your case. Therefore (namely to avoid legal hassle or trouble with the authorities) most guesthouses will not allow foreigners to take Lao girls back to their rooms.
See Also