Havana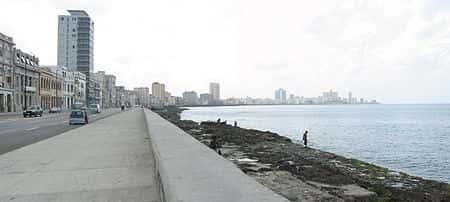 Havana Sex Guide advises where to find sex, working girls, prostitution, street hookers, brothels, red-light districts, sex shops, prostitutes, erotic massage parlors, strip clubs and escorts in Havana, Cuba.
Havana (/həˈvænə/; Spanish: La Habana, [la aˈβana]) is the capital city, province, major port, and leading commercial centre of Cuba.
Sex and Prostitution in Havana
Cuban girls who sell sexual services to foreign men are called Jineteras (litterally, it means a "horse rider" or "jockey"). In Cuba it is impossible to you to not get in touch with Cuban girls. Basically most girls in Cuba are seeking for a western man to support them. There is so much variety to choose from! So many beautiful girls, big booties, beautiful lips, big tits etc. Here is a great guide to Havana's P4P scene. If you want to get little bit deeper to the local scene, try to learn some Spanish!
There are very few tourists in Cuba visiting from USA because of the conflicts these two countries have had. Now the situation might be changing because of the new politics and agreements between Cuba and USA. Update 2015: USA and Cuba are developing a new friendship. This might change Cuban culture permanently. Some locals think it's good but some think it's bad.
An excellent guide book is on Amazon for the P4P scene in Havana
Good documentary about how to get laid in Cuba: Cuba Prostitution
Red Light Districts
In Havana there is no such a thing as a proper red light district. However, there are several areas where hookers can be easily found . The Malecon is one of them, packed with girls, transvestites and male escorts roaming the streets at dark. Most will approach you if you are walking alone. Malecon is a long beach road where people like to walk and meet friends. There are also lots of normal local people hanging around and some even with their families so don't assume that everyone is a sex worker. Another good place is La Rampa, in Vedado: plenty of boys and girls available for hiring.
Prostitutes and Sex Workers
It's not just your average prostitution, which consists primarily of professionals hookers. Apparently, a significant percentage of normal Cuban girls, those with jobs as secretaries, assistants, hotel receptionists, you name it, sell themselves on the side. To tourists. Capitalism at work.
Moreover, in Cuban society it is commonly believe that it is the man's duty to take care of the material needs of his woman. As a result, money love and sex are deeply entangled in the Cuban culture. For Cuban men too it is perfectly normal to reward his girl-friend with banknotes or other gifts, be her a prostitute or not. In every day male-female relationships, the man "helps" financially the woman. A man who doesn't support his girlfriend adequately, is locally known as "tacano" (stingy) and as a result "no sirve" (he's useless).
As a result, in Cuba it is increasingly difficult to draw a clear line between love and prostitution.
Street Hookers
Prostitutes still prowl the working-class Centro Habana neighborhood at nighttime. But a bigger and tougher police presence has driven them into alleys and backstreets and away from daylight hours. Average cost in the street is 20-40CUC for quickie and 40-80CUC for all night.
Malecon is a hotspot for prostitution by men (transvestites, transsexuals, or traditional) and women.
Hookup and Pick Up Local Girls
Meeting local girls and getting laid for free is fun! Read more on how to pick up girls in Havana: https://hookuptravels.com/wiki/Havana
Live Sex Cams
Can I watch Live Sex Cams in Havana? - Yes, you can! Basically you can watch our online live sex shows for free anywhere in the world if you're connected to internet. Join to get 10 free private teasers and 9.99 credits for free! You can choose any girl from our trusted Live Sex Cams!
Live Sex Cams are booming at the moment. Webcam models can be found from all over the world and you can find girls, guys, trannies, couples and groups of different ages performing to you. Watching live sex shows is usually free, but if you buy some credits, you will have much better chances to see adult action as desired! It's possible also to hire a webcam model to a private chat room where you can ask the person to fulfill your fantasies.
Where to Get Sex Now
It is easy to get sex online in Havana. You just need to find the best available girls. See Girls Online Here!
Adult Locations
There are not that many adult venues in Cuba but you can still find lots of sex workers. If you are in to the strip clubs and erotic massage parlours, then it is better to visit Dominican Republic. Cuba is more like an old fashion vacation romance and prostitute hot spot tourism country.

Escort Services and Agencies
Unfortunately we don't list in this category!
Finding an escort when you're travelling can be a bit tricky. An ideal alternative to escorts is a girl who is looking for a mutually beneficial relationship. There are thousands of horny girls willing to do anything for a generous guy. Click Here to hookup with a beautiful young woman now.
Escort agencies are not popular yet in Cuba. But when internet using will increase in near future, it's pretty sure that also escort services are starting their businesses.
Anyway, many of the hotel staff will help you to call a girl to your room. But be discreet and start by asking for example "do you know where are the beautiful girls in Havana?" or "where should I go to meet local good-looking girls?".
Erotic Massage Parlors
Unfortunately we don't list in this category!
Almost every Massage Salon in Cuba has some hot girls working and they all need money. So when they give you a massage, you could just try to show them a stack of bills or talk them to give you a handjob or sex. Just negotiate well. Usually 10-30CUC is enough for handjob. If you speak Spanish, negotiating will be much easier.
Brothels and Sex Clubs
Salon Rojo (red room across from National Hotel) is great hot spot and must for top talent mongering. You should try to get in before 11pm or after 2am because the line will be 150 deep. Average price girl charge here is 80-120CUC. The women here are very beautiful. The selection in there is amazing and you can pick whatever kind of Cuban girl you can imagine. Price of 80-120CUC gives you all night and if your not going to come a few times in that evening it's pointless to pay a girl to watch you sleep if you just fuck once. Take the girls number and call them next day and have a daytime special for 20-40CUC.
Don't pay upfront for the evening when your in the bedroom because as soon as you look away she will be gone for her next guy.
Strip Clubs and Striptease
Stripclubs are basically the same thing as brothels in Cuba. They are just dance clubs with full of girls and all of them are prostitutes. But the girls at the Havana clubs do not really get naked. So if you want to have naked striptease dance in Havana. Then hire a girl, bring her to your room and put some sexuy music on!
Karaoke and KTVs
KTVs (hostess karaoke bars with beautiful female staff) are popular in some parts of Asia but you cannot find any of them from Havana.
Swinger Clubs and BDSM
ALT.com is the best place for local singles, swingers, and couples in the BDSM community to connect with those interested in submissive sex, power exchange, locating persons for new slave roles, erotic BDSM, bondage & fetish sex, as well as live sex dates. Find thousands of play partners for whatever your fetish may be; bondage, foot, cockold, spankings, role-play, electric or water play, sadism and masochism. So whether you have the desire to explore your unrealized fetish fantasies, or you are extremely experienced and would love to train someone new, ALT.com is a community designed for people with like-minded interests to find and connect with each other.
Swinging in Cuba is not very common and there are no swingers parties. Best choice to find swinging action is to find some open minded tourist couples.
Sex Shops and Adult Stores
If you don't feel like visiting or cannot find any local sex shops in Havana, you can easily order adult products from Online Sex Shop.
In Havana you need to buy your condoms from the pharmacy and there are no sex shops. It's better to carry good quality condoms from your home country than buy them in Cuba. Good branded condoms in Cuba are also very pricy, just like any other imported items. So pack your bag with high-quality condoms, lubricants and also sex toys if you are in to the kinky stuff. Many Cuban hookers and freelance girls are often happy to try different sex fantasies with handcuffs, ropes and other sex toys.
Love Hotels and Short Time Hotels
There are 'love hotels' nearby National Capital Building which rent for about $10-20 for an hour or two. You can also rent private apartments with a very affordable price in Havana. These are much better than the hotels, since the hotels may questions you if you bring girls to your room. Also many Cuban girls may be shy to join you in your hotel room, but the private apartment is usually never a problem with the Havana chicks!
Nightclubs and Bars
There are many nice nightclubs, salsa clubs and bars in Havana where you can try your luck to find sex for free. Many local girls are searching for better future (western guys). You can also meet tourist girls at these places but they are probably hunting for some Cuban cock. The best option when visiting Cuban nightclubs and bars in Havana, is not to be shy! If you are a terrible dancer, then do not worry! Nobody will laugh at you and the local Havana girls are very happy to teach you sexy dances and take the control! Then when you get in to the bed with the Cuban ladies, you can be the one who wears the pants!
Gay and Lesbian
Gay modeling in internet is getting more popular all the time and it's a big market alongside with gay porn. You can watch gay live sex also in Havana as long as you are connected to internet. Check it out: Gay Live Sex Video Chat
Gay life in Havana has expanded noticeably in recent years, although gayl venues remain subject to cops crackdowns. There are no established gay clubs or clubs, which are illegal, and the gay "scene" revolves around "hangout" street locales. Most venues attract male hookers, called pingueros (from the Spanish word pinga, or prick).
Most nights there's one or more queer parties known as fiestas de diez pesos at private venues (entrance typically costs 2-10CUC). Havana society is non-exclusionary, however; everyone is welcome, and the mix usually includes a sprinkling of straight, lesbian, and even transexuals. Private parties often feature drag shows. The "floating party" venues change nightly as they try to stay one step ahead of the cops.
You can find gay and tranny prostitutes from the central park at anytime of the day, or they are just locals hanging out in there and looking for extra cash. Most of the guys are very feminine looking. Cops will come and tell them to go away every once a while. You can find some action here very easily and if you are good looking, you can get laid for as cheap as 10-20 CUC. Just make an eye contact towards the person you like and go talk to them.
At the nighttime best spots to find gay rentboys is at the intersection of Avenida 23 and Infanta, where most transvestites also hangout. You should also check out the Avenida 23 and Calle L. Average cost for sex in here is 10-50CUC again depending your looks. If you do not have place to go, then the boys will usually take you to the stairways of the apartment complex buildings and have sex with you there.
Bars, Cafés, and Clubs
A drag show is hosted at the Sociedad Cultural Rosalía de Castro (Av. de Bélgica #504 altos, e/ Máximo Gómez y Dragones, 07/862-3193).
In Vedado, Café Fresa y Chocolate (Calle 13 y 12, Vedado) and La Arcada (Calle M y 23, open 24 hours) are effectively the only gay bars in town. The cramped, humid Club Tropical (Línea, esq. F, 07/832-7361, daily 10 p.m.–3 a.m.) occasionally acts as a gay venue, as does the steamy cellar bar, Club Saturno (Línea, e/ 10 y 12, 07/833-7942, daily 11 p.m.–2:30 a.m.).
Bar de las Estrellas (Calle A #507, e/ 15 y 16), in the Lawton district, south of Cerro, is a paladar (private restaurant) with a transvestite cabaret at 10 p.m.
Other Adult Services
BDSM
There are no BDSM venues in Havana. But nowadays with internet opening more and more, while tourism is also growing in Cuba, these kind of things are getting more popular. Many Havana girls have also seen the movie "Fifty Shades of Gray". So they will be more ready to try a little spanking and role plays! Just bring your own toys, since the Cuban prostitutes do not have any kind of role play toys, unless some foreign man have given them as a gift for them. So it is also recommended to give your sex toys as a gift for the local girls once you leave Cuba, so they can use them in the future!
Dating
Dating in Havana can be a bit tricky due to cultural differences, so your best bet is to sign up for a dating site before your trip so you can meet a few locals ahead of time. AdultFriendFinder.com lets you meet local members in Havana and get to know them on a personal basis before you arrive. Take advantage of site features like live chat and member to member webcams so you can begin flirting before arranging a face-to-face meeting. Since your time in Havana may be limited, get to know each other's desires beforehand, so that when you meet you can start having some real fun.
How to find Sugar Babies and Sugar Daddies
If you are looking for an alternative to escorts in Havana with a girl who doesn't charge by the hour, sugar dating is the ideal solution. There are thousands of beautiful young women at SecretBenfits willing to do anything for a man who will help them pay their bills.
Often referred to as the "Tinder for Older Guys", SecretBenfits matches hot young women interested in pampering older gentlemen. You don't have to be a millionaire at SecretBenfits.com, you just need to be a respectful gentleman who knows how to treat a woman.
Transsexuals and Shemales
Finding someone for transsexual dating when you're on the road can be a bit tricky, so your best bet is to sign up for a dating site before you go so you can find locals ahead of time. TSdates.com is a dating site designed to help you find exactly what you are looking for in your hookup in Havana. Take advantage of site features like live chat and member to member webcams so you can begin flirting before arranging a face-to-face meeting. With over 40 million members, and thousands of transsexual members around the world, TSdates.com is the world's largest site of sex-minded friends for discreet encounters and will help you find your next transsexual play partner.
Where can I find shemales in Havana? You can watch transsexual live sex shows in Havana as long as you are connected to internet. Check Now: Tranny Live Sex Video Chat

You can find transexuals from the central park at anytime of the day. There are usually around 3-10 sexy shemales and crossdressers hanging out in the park seats. Occasionally cops will come and tell them to go away. You can find some action here very easily and if you are good looking, you can get laid for as cheap as 10-20 CUC. For not attractive people, transgirls will charge more for sex, such as 20-50 CUC. If you see an tranny you like, then just make an eye contact and go talk to them.
At the nighttime best spots to find transexuals for a good fuck is at the intersection of Avenida 23 and Infanta. Also from this intersection, you can walk Infanta road for a few minutes up and there is a popular transvestite hangout bar on your right. There is action after 10PM usually. Occasionally there is some shemales in the intersection of Avenida 23 and Calle L.
Average cost for sex in here is 10-50CUC again depending your looks. If you do not have place to go, then the tranny hookers will usually take you to the stairways of the apartment complex buildings and have sex with you there.
Sexual Services for Women
In Cuba every woman will get cock if they want. Hot Cuban men are willing to fuck and lick the pussies of fattest and ugliest women in the world if you pay their meals and give them some dollars. Many western women tell that they visit Cuba just because of the "salsa" dancing culture. Besides salsa the main reason is often just to go and get laid with local macho men. You can see older tourist women hanging out with about 20 to 25-year-old guys in Havana.
Have you ever wondered why some of your female friends are visiting Cuba every year? Now you know. Of course some of the girls are visiting Cuba also because of dancing salsa and Cuban culture, but often it's an excuse just for having sex and short relationships with local men. Cuba for tourist women is quite same as Thailand for tourist men - a sex paradise!
Sleeping and Girl Friendly Hotels
There are 3 main areas that travelers generally stay in: Old Havana is the liveliest (some would say hectic and dirty), Central Havana is slightly quieter and parts can be a bit seedy, and Vedado is the quietest with more greenery, and is the place to find the large hotels and nicer casas particulares.
Hotels vary. Don't be surprised if you have no hot water and bad TV-reception in a hotel that still goes to the effort of having an in-hotel doctor and hosting extravagant shows of synchronized swimming in the hotel pool.
There are listings of chica friendly housing options available.
Chica's in Cuba are not allowed to your hotel without a big tipping, and sometimes not even then.
Best option is to rent a Casa Particular. They cost around 20CUC a night to 50CUC. Some better quality Casas go for 80CUC to 100CUC. Casa landlords are quite use to gringos bringing girls to the casas, so you should not have any problems. In any case, Cuban girls are often reluctant to follow the tourist to his casa, for prostitution is illegal. The Cuban law obliges landlords to register on a special book cuban citizens who stay in the Casa Particular with a tourist. The guest book is periodically reviewed by immigration officials. When a girl is caught getting registered in too many Casas with different tourists, then she might have to face dire legal consequences, including spending up to 4 years in a special prison for Jineteras. For this reason, many girls (hookers or not) may not want to follow the tourist to his casa particular, especially if he shares the property with the landlord. For this reason it is becoming increasingly popular among tourists to rent whole, independent flats, whcih guarantee higher levels of privacy and freedom as compared to the regular casas particulares which only offer rooms inside the landlord's own dwelling.
Stay Safe
Havana is quite safe for a large city. Heavily dependent on tourism, Cuban police are everywhere and pay especial attention to spots where travelers congregate (Habana Vieja, El Malecón. etc.), so you don't have to be afraid of being accosted in the daytime. Prison sentences for crimes involving tourists are extremely harsh, a fact which residents are well aware of, which adds an extra layer of deterrence. At night, however, there have been muggings in the dark streets of Centro Habana. While this part of town is perfectly safe to explore in the daytime, and can be crossed safely while going to Habana Vieja or Vedado, it's best not go there at night. If you are going to walk, do so along El Malecón, where there are lights and a lot more people. Be wary of hustlers (jinteros/as) offering to show you a place to eat or offering a tour of the city, as you'll be stuck paying hefty prices to cover their commission. Just walk away and continue walking - soon enough they will leave you alone. In local restaurants, ask for menus or prices before ordering anything; there can be special 'tourist price menus' that get pulled out after you have consumed food or drink. If you're male, expect to be accosted regularly by prostitutes and/or their pimps, especially in Habana Vieja. While technically illegal, erstwhile mandatory jail time for prostitution filled prisons so quickly that the regime had little choice but to start looking the other way. The result is a steady, depressing stream of solicitations that can wear down even the most cynical traveler unless he's prepared for it.
See Also