Denizli
Denizli Sex Guide advises where to find sex, working girls, prostitution, street hookers, brothels, red-light districts, sex shops, prostitutes, erotic massage parlors, strip clubs and escorts in Denizli, Turkey.
Denizli is a growing industrial city in the southwestern part of Turkey and the eastern end of the alluvial valley formed by the river Büyük Menderes, where the plain reaches an elevation of about three hundred and fifty meters. Denizli is located in the country's Aegean Region.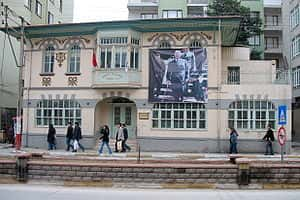 Sex Scene and Prostitution
Prostitution is legal and regulated in Turkey. Women do not get punished for selling sexual services and men do not get punished for buying them. Pimps and agencies do get punished when caught.
Where to Get Sex Now
It is easy to get sex online in Denizli. You just need to find the best available girls. See Girls Online Here!
Red Light Districts
Red-light district of Denizli is near the organized industry (organize sanayi), take minibus to the organized industry and get out at the last stop. You will see all type of prostitutes in the area.
Prostitutes and Sex Workers
Local sex scene includes all types of prostitutes:
Street workers. The cheapest sex providers whom you can find in the Red Light area;
Prostitutes from brothels. Prostitutes of all kinds wait for you in one place!
Elite prostitutes. The most expensive babes who work for themselves and for escort agencies.
Street Hookers
To pick up a street prostitute, you need to go straight to the Red Light area. You can use public transport or your own. If you have a car you can have a quickie there.
Strip Clubs & Lap Dance
Unfortunately, there are no striptease clubs in Denizli.
Brothels
You can see the locations of brothels and Red Light Districts of Turkey from here: Red-light Districts in Turkey
Erotic Massage Parlors
Denizli travesti, Fesleğen Mahallesi, tel.: +90 507 163 07 94
Live Sex Cams
Can I watch Live Sex Cams in Denizli? - Yes, you can! Basically you can watch our online live sex shows for free anywhere in the world if you're connected to internet. You can choose any girl from our trusted WikiSexLive.com! Join to get 10 free private teasers and 9.99 credits for free!
Live Sex Cams are booming at the moment. Webcam models can be found from all over the world and you can find girls, guys, trannies, couples and groups of different ages performing to you. Watching live sex shows is free, but if you buy some credits, you will have much better chances to see adult action as desired! It's possible also to hire a webcam model to a private chat room where you can ask the person to fulfill your fantasies. Try now! WikiSexLive.com
Dating
Dating in Denizli can be a bit tricky due to cultural differences, so your best bet is to sign up for a dating site before your trip so you can meet a few locals ahead of time. AdultFriendFinder.com lets you meet local members in Denizli and get to know them on a personal basis before you arrive. Take advantage of site features like live chat and member to member webcams so you can begin flirting before arranging a face-to-face meeting. Since your time in Denizli may be limited, get to know each other's desires beforehand, so that when you meet you can start having some real fun.
How to find Sugar Babies & Sugar Daddies
If you are looking for an alternative to escorts in Denizli with a girl who doesn't charge by the hour, sugar dating is the ideal solution. There are thousands of beautiful young women at SecretBenefits willing to do anything for a man who will help them pay their bills.
Often referred to as the "Tinder for Older Guys", SecretBenefits matches hot young women interested in pampering older gentlemen. You don't have to be a millionaire at SecretBenefits.com, you just need to be a respectful gentleman who knows how to treat a woman.
Swinger Clubs and BDSM
ALT.com is the best place for local singles, swingers, and couples in the BDSM community to connect with those interested in submissive sex, power exchange, locating persons for new slave roles, erotic BDSM, bondage & fetish sex, as well as live sex dates. Find thousands of play partners for whatever your fetish may be; bondage, foot, cockold, spankings, role-play, electric or water play, sadism and masochism. So whether you have the desire to explore your unrealized fetish fantasies, or you are extremely experienced and would love to train someone new, ALT.com is a community designed for people with like-minded interests to find and connect with each other.
Transsexuals / Shemales
Finding someone for transsexual dating when you're on the road can be a bit tricky, so your best bet is to sign up for a dating site before you go so you can find locals ahead of time. TSdates.com is a dating site designed to help you find exactly what you are looking for in your hookup in Denizli. Take advantage of site features like live chat and member to member webcams so you can begin flirting before arranging a face-to-face meeting. With over 40 million members, and thousands of transsexual members around the world, TSdates.com is the world's largest site of sex-minded friends for discreet encounters and will help you find your next transsexual play partner.
Where can I find shemales in Denizli? You can watch transsexual live sex shows in Denizli as long as you are connected to internet. Check Now: Tranny Live Sex Video Chat
Gay and Lesbian
Gay modeling in internet is getting more popular all the time and it's a big market alongside with gay porn. You can watch gay live sex also in Denizli as long as you are connected to internet. Check it out: Gay Live Sex Video Chat

In Turkey you are only considered gay if you are the one getting fucked. Most men are rough and top. Make sure to have condoms with you because Turkish men do not usually carry them.
Sexual Services for Women
Some Turkish men are really serious in their intention to fall in love with a European woman and get married. If your intentions are different, you should choose other men.
Sex Shops and Adult Stores
If you don't feel like visiting or cannot find any local sex shops in Denizli, you can easily order adult products from Online Sex Shop.
Midnight Blue Erotic Shop, 15 Mayıs Mahallesi, Gazi Mustafa Kemal Blv., tel.:
+90 258 261 61 81
Denizli Erotik Shop Damla, Saraylar Mahallesi, Hastane Cd. No:2
Escort Services & Agencies
Finding an escort when you're travelling can be a bit tricky. An ideal solution for having an alternative for escorts is Ashley Madison. There are thousands of horny girls waiting for you. Find all the beautiful young women at AshleyMadison.com!

Today a hot and smart prostitute can be ordered in a click of a button! Ladies who provide escort services place their ads online and wait for a text or a call from you! Some of them work only on out-calls.
Sleeping
You will find around 15 hotels in the city. Most of them are situated near the main park. An average price for one night is 40 dollars. For this price you will receive a limitless wi-fi access, a clean room with a comfortable bed and tasty breakfasts.
Stay Safe
Dial 155 for police, from any telephone without charge. However, in rural areas there is no police coverage, so dial 156 in such a place for jandarma (Military Police) , a military unit for rural security.
Big cities in Turkey, especially Istanbul, are not immune to petty crime. Although petty crime is not especially directed towards tourists, by no means are they exceptions. Snatching, pickpocketing, and mugging are the most common kinds of petty crime. However, recently with the developing of a camera network which watches streets and squares –especially the central and crowded ones- 24-hour a day in Istanbul, the number of snatching and mugging incidents declined. Just like anywhere else, following common sense is recommended. (Please note that the following recommendations are for the big cities, and most small-to-mid size cities usually have no petty crime problems at all) Have your wallet and money in your front pockets instead of back pockets, backpack or shoulder bag.
You should drive defensively at all times and take every precaution while driving in Turkey. Drivers in Turkey routinely ignore traffic regulations, including driving through red lights and stop signs, and turning left from the far right lane; these driving practices cause frequent traffic accidents. Drivers should be aware of several particular driving practices prevalent in Turkey. Drivers who experience car troubles or accidents pull to the side of the road and turn on their emergency lights to warn other drivers, but many drivers place a large rock or a pile of rocks on the road about 10-15 meters behind their vehicles instead of turning on emergency lights. You may not use a cell phone while driving. It is strictly prohibited by law.
Don't exhibit your camera or cellphone for too long if it is a new and/or expensive model (they know what to take away, no one will bother to steal a ten-year-old cell phone as it would pay very little). The same goes for your wallet, if it's overflowing with money. Leave a wide berth and move away from the area quickly if you see two or more people begin to argue and fight as this may be a ruse to attract your attention while another person relieves you of your valuables. Be alert, this often happens very quickly. Watch your belongings in crowded places and on public transport, especially on trams and urban buses.
Avoid dark and desolate alleys at night. If you know you have to pass through such a place at night, don't take excessive cash with you but instead deposit your cash into the safe-box at your hotel. Stay away from demonstrating crowds if the demonstration seems to be turning into an unpeaceful one. Also in resort towns, when going to beach, don't take your camera or cell phone with you if there will be no one to take care of them while you are swimming. If you notice that your wallet has been stolen it is wise to check the nearest trash cans before reporting the loss to the police. It is often the case that thieves in Turkey will drop the wallet into the trash to avoid being caught in possession of the wallet and proven a thief. Obviously it is highly likely that your money will no longer be in it, but there is a chance that your credit cards and papers will be.
See also scams section of Istanbul article to have an idea about what kinds of scams you may come across with in other parts of the country too, especially the touristy ones, not just Istanbul.
Upon entering some museums, hotels, metro stations, and almost all shopping malls, especially in larger cities, you will notice security checkpoints similar to those found in airports. Don't worry, this is the standard procedure in Turkey and does not imply an immediate danger of attack. These security screenings are also conducted in a much more relaxed way than the airports, so you will not have to remove your belt to avoid the alarm when walking through the metal detector.
Though slightly off-topic be advised to carry passport or other means of identification at all times. One may not be requested to show them for a long period, then all of a sudden a minibus is checked by the traffic police (or the military, particularly in Eastern Turkey), or one runs into an officer of the law with time on his hand, and one must show papers. Some government buildings may ask you to temporarily surrender your passport in return for equipment such as headphones for simultaneous translation etc. and you may find your passport stored in an open box along with the locals ID cards which may be a little disconcerting. Hotels may request you to hand your passport in until you paid the bill, which puts you into an awkward situation. Referring to the police always made them hand the passport back, once the registration procedure was finalized. Showing a personal visiting card, one or two credit cards or knowing the address of a respectable hotel may solve the no-papers situation, but any self-respecting officer will tell you that you are in the wrong, and will be sorry next time. If treated politely however police and military can be quite friendly and even offer rides to the next city (no joke intended).
If you intend to travel to Eastern or Southeastern Anatolia, stay ahead of the news. Although it offers many beautiful sights, the situation is far from secure due to ethnic strife and protests, sometimes resulting in violence. The region is far from a war zone, but take precaution when visiting this volatile place. The real risk of threat is not very big though, if you stick on major routes and follow common sense rules (such as avoiding demonstrations).
Animals – Turkish wilderness is home to both poisonous and non-poisonous snake (yılan) species. In fact, humid forests of northeastern Black Sea region is habitat of a small-sized but one of the most poisonous snakes in the world. Southern]] and especially southeastern parts (even cities!) of the country has large numbers of scorpions (akrep), so exercise caution if/when you are sleeping on open rooftops, which is common in southeastern region in summer. If you are bitten by one, seek urgent medical aid.
As for wild mammals, presumably the most dangerous ones are wolves, bears and wild boars. All of these animals live only in mountainous areas (of almost all regions) and your chance of sighting one is very low (except boars which are not so rare). Wolves and bears do not attack if you don't follow or disturb them (or, particularly, their youngs) aggressively, however boars are known to attack even with the slightest provocation.
The biggest animal threat comes from stray dogs (or sheepdogs in rural areas). Don't assume you will come across gangs of aggressive stray dogs next to the gate of Hagia Sophia, or the beach club however. They are mostly found in rural areas and non-central parts of the cities. They are usually discreet and are usually afraid more of you than you are afraid of them. Rabies (kuduz) is endemic in Turkey (and most of the world) [1], so anyone bitten by a dog or other carnivore should seek urgent treatment, despite what you may be told by your hotel or other well meaning strangers.
Many stray dogs you'll see in the cities bear plastic "ear rings". Those ear tags mean the dog is cleaned up, vaccinated (against rabies and a number of other diseases), sterilized, and then returned back to the streets as this is the most humane treatment (compare with keeping them in a cage or a cage-like environment or putting them to sleep). The process is going on, so we can assume stray dog problem in Turkey will disappear in natural ways sometime in future.
Tourism Police
There are "Tourism Police" sections of the police departments of Ankara, Antalya, Istanbul (in Sultanahmet), and Izmir providing help specifically for tourists, where travellers can report passport loss and theft or any other criminal activity, they may have become victims of. The staff is multilingual and will speak English, German, French, and Arabic.
See Also