Anal douche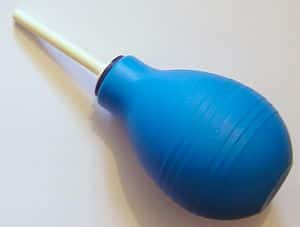 This is the Beginner's Guide To Anal Douche and Enema
Anal douching (also known as rectal douching) is the act of rinsing the rectum with intent to clean it, typically in preparation for anal sex. An instance of this rinsing or a tool used to perform the cleaning may be called a rectal douche.
Today, anal douching remain popular among the homosexual communities and women looking to experiment with anal sex. Gay guys as a demographic are more likely to engage in anal sex than many other broad demographics, and because of this, anal douching practices and effects are more studied in relation to gay guys than other populations. And while safe to use, anal douches can harm you if used incorrectly.
Overview
Ideal for anal play and anal sex, anal douches, similar to vaginal douches, eliminate filth from hard-to-reach areas inside your body. Except in the instance of an anal douche, the device removes any impurities to prevent infections and diseases.
Because the anal lining is very delicate, any tears to its tissue can cause infections. Eliminating filth can stymie the chances of your catching an infection. And because these devices come in a variety of shapes and for differing experience levels, they offer the ideal choice for cleaning the anus before having a sexual intercourse.
How To Use an Anal Douche
Clean the anal douche before using. The tissue of your rectal cavity tears easily, and any filth on the device can further the possibility of an infection.
Fill the device with clean tepid water. Do not use scolding water, or water with soap/body wash. Soap can irritate the anal cavity and cause infections.
Lubricate the anal douche and the anal cavity.
Insert the anal douche into the anal cavity and squeeze the bulb to release the water into the rectum. Squeeze the bulb with ease. Notice how your body reacts to the water prior to squeezing more water into the body.
Remove the douche and release the water inside your rectum.
Continue the process until the water remains clear and free from any dirt.
Anal Douching at a Glance
Use a douche a minimum of 30 minutes prior to intercourse.
Avoid ice cold or scolding water.
Wash a anal douche before and after using.
Make sure you use lubrication prior to anal douching and during intercourse.
Product Comparison: Finding What's Right for Me
Anal douches present a viable option for people attempting anal sex. These devices offer a quick, simple solution to cleaning the anus, and while very cheap, the demand continues to increase for these products. With a higher market demand, more products continue to appear. With so many options, here are the features that you want to look for when buying an anal douche:
Spray Pattern: A vital part to any anal douche is its spray pattern. Some use a straight spray pattern, while others include a wide spray pattern. A wider spray cleans the anus faster and improves the effectiveness of removing filth from the sphincter.
Nozzle Design: Some products use a basic nozzle, and some include a grooved or beaded nozzle. The advantage (or disadvantage) is the grooves add pleasure for some, but for others can create discomfort. Meanwhile, the length and width of the nozzle too can prove useful for some. Longer, thicker nozzles can provide a more precise cleaning than shorter, thinner nozzles.
Anal Douche vs Enema?
Anal douches hold less water than enemas. Douches, unlike enemas, do not include adjustable water valves nor do douches offer nozzles for providing deeper intestinal cleansing.
See Also