Top 10 Red-Light Districts in The World
A red-light district is a part of an urban area where there is a concentration of prostitution and sex-oriented businesses, such as sex shops, strip clubs, adult theaters, etc. There are red-light districts in many major cities across the world, not all of them necessarily legal yet some actual must-see tourist attractions. The phrase was based in the Bible where Rahab, a prostitute in Jericho, aided Joshua's spies with a red light.
Here is a list of Top 10 red-light districts in the world. The following red-light areas might be very different from each other. Synonyms for red-light districts are "red-light area", "red-light zone" or "tolerance zone". In Spanish speaking countries they are often called as "zona de tolerancia" or "zona roja".
De Wallen, Amsterdam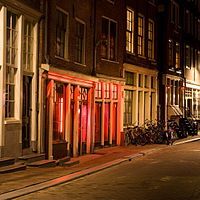 The Red Light District, De Wallen consists of several canals, and the side streets between them, south of Central Station and east of Damrak in Amsterdam. You can't miss the Red Light District when in Amsterdam. The Red Light District is pretty much of a must do in Amsterdam. It is the entertaining area to be at all night. Saturday nights are very busy and most of the girls want you in and out, talk to the girls and ask them what you get for your 50 euros.
For visitors, it offers more than just sex for sale: nestled in Amsterdam's Oude Zijde (Old Side), its lattice of narrow streets also contains museums, restaurants and boutiques, as well as the medieval Oude Kerk (Old Church), Amsterdam's oldest parish church. Some Amsterdammers even call it home: believe it or not, De Wallen doubles as a residential area, with families happily ensconced in its historic rowhouses. You can stroll through the narrow roadways, admire the city scenes, canals and just simply enjoy this community that is so different from the rest of the world.
Read more: De Wallen
Geylang, Singapore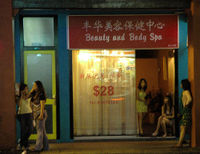 Geylang is by far the biggest Singapore's red light district. Thousands of prostitutes and massage girls from various countries offer their bodies and services in a small area of 10 side streets of the Geylang Road. The typical freelance streetwalker in Geylang is 26 years old, services four clients a day for $70 each on average, and earns about $3,200 a month after deducting rent and other expenses. Geylang is an atmospheric quarter on Singapore's east coast that bristles with great period architecture, leggy street walkers and some of the best local food on the island.
If you do not want to this place by a car, it is also very easy to arrive in Geylang. Several MRT stations are located nearby; namely the Aljunied, Kallang and Paya Kebar MRT stations. The Geylang Lorong 1 Bus terminal that serves the district roads is located in the Kallang Planning area.
Read more: Geylang
Kabukichō, Tokyo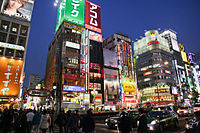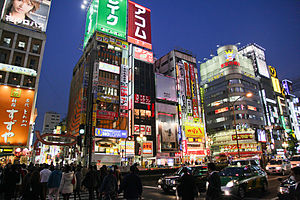 Kabukichō, a red-light district in Tokyo. Originally, the area was known as Tsunohazu and was a swamp. Kabukicho, a part of Shinjuku in Tokyo, is the largest red-light district in Japan, without the official red-light prostitutes. Instead, it is full of host and hostess clubs, bars, and love hotels. It's an area of approximately 100 square blocks near JR Shinjuku Station's east exit. At night, all the fun starts. Just the best place in Tokyo to get wasted and wake up with a huge headache.
Explore with caution and beware of exorbitant cover fees and drink spiking resulting in loss of cash and credit cards. The latter typically occurs at establishments run by non-Japanese patrons and is initiated by touts targeting foreign tourists.
Read more: Kabukichō
Reeperbahn, Hamburg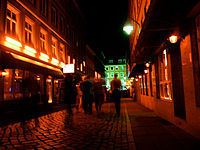 The Reeperbahn in Hamburg (or Reperbahn as it's often misspelled) is a street in the city district of St. Pauli. It's famous for beeing Hamburg's Red Light District with many strip clubs and brothels. Reeperbahn rubs shoulders with restaurants, bars, theatres and nightclubs. The street's nightlife has something for everyone and is the first stop for every nightowl.
"On the Reeperbahn at half past midnight...". Almost everyone in Germany knows the song by Hans Albers and can draw a conclusion about the variety of pleasures on Hamburg's "sexy mile" (Udo Lindenberg).
The Reeperbahn doesn't come to life before the evening; a good time to visit is after 9 p.m. It gets very crowded on the weekends; the area is safe thanks to the police presence, but you should still be cautious and beware of pickpockets. If you are lured into a strip bar with a free entry, expect to shell out around $20 for your first drink. Getting there: Metro Stop "Reeperbahn" or "St. Pauli".
Read more: Reeperbahn
Sonagachi, Kolkata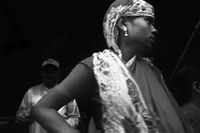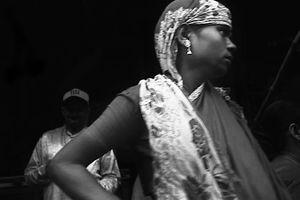 The largest red-light district in Kolkata (India) is Sonagachi. The area came to be known as Sona Gachi from a Sufi saint Sona Ghazi whose tomb (mazaar) is located in the locality. It is an area with several hundred multi-story brothels, and around 10,000 sex worker hookers. Sonagachi has narrow alleys, lined with small 'apartments' and corner stores form a confusing and nightmarish maze. The buildings lean into the street, the roads are crowded, it's hot. The city seems to want to eat itself. The area came to be known as Sona Gachi from a Sufi saint Sona Ghazi. The place got globally known, when an American documentary film, 'Born into Brothels: Calcutta's Red Light Kids' won the Academy Award for Documentary Feature in 2004.
Mostly Nepalese, Bangaldeshis, and Rajasthani prostitutes have dominated this area, which accounts for the total estimated population of sex workers in this area to be 10,000.
Read more: Sonagachi
Soi Cowboy, Bangkok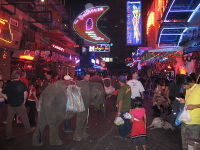 Soi Cowboy is a red-light district in Bangkok, Thailand. A short (400 meter long) street with some 40 bars, it is similar to Nana Plaza and Patpong and caters mainly to tourists and expatriates. Soi Cowboy was named after the cowboy hat-wearing African-American who opened the first bar here in the early 1970s. More bars set up and the soi became known as Soi Cowboy.
Be prepared to be tugged on by dozens of ladies as you enter the threshold of Soi Cowboy. This widely popular red light zone was just recently renovated and enjoying a surge in visitors as a result. Soi Cowboy runs immediately behind Sukhumvit Road and is located between Sukhumvit Soi 23 and Asoke Road (Sukhumvit Soi 21).
Read more: Soi Cowboy
Zona Norte, Tijuana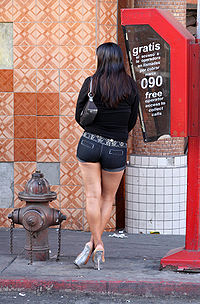 Zona Norte in Tijuana (Mexico) is adjacent to the tourist zone in the Zona Centro, to the north, and just south of the U.S. border. This zone is primarily residential and also includes the local red light district. Prostitution is legal in this zone and very visible. La Zona, also known as La Zona Norte also known as La Coahuila (actual name of the street) is one of the city's oldest neighborhoods and home to Tijuana's infamous red light district. La Zona Norte is sandwiched between Tijuana's downtown and The United States border, making it the first or last (depending how you see it) neighborhood in Latin America.
Prostitutes stand in dimly lit doorways and outside of bars, lining the sidewalks while whispering to potential customers strolling past. Many are young and many are pretty, leggy, and skimpy both in terms of weight and clothing. If you plan to visit Tijuana and focus your time on the Zona Norte red light district, do your homework! A simple mistake can be very costly. You are not in the U.S. and you do not have rights. You are in Mexico. You should bring at LEAST $200 in cash, with denominations between 20, 10, 5, and 1 bills. Do not forget your passport!!
Read more: Zona Norte
Jalan Bukit Bintang, Kuala Lumpur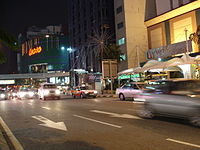 Jalan Bukit Bintang in Kuala Lumpur is a place for sex workers. Regarded by some as the city's heartbeat, Jalan Bukit Bintang is a hub of buzzing energy that never seems to sleep, where all sorts of dining, entertainment, shopping and accommodation options can be found.
Higher class prostitutes or call girls (sometimes also called escorts) normally ply their trade at nightspots in Jalan Bukit Bintang, Jalan Sultan Ismail, Jalan Horley and Jalan Imbi.
Read more: Jalan Bukit Bintang
Wan Chai, Hong Kong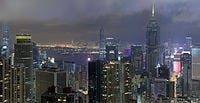 Action in Wan Chai in Hong Kong has shifted considerably in recent years. Now it's likely to be found inside a handful of bars blaring canned dance music or the raucous sounds of a Filipino cover band. Entering one of these bars, one soon understands the dimensions of Hong Kong's unregistered sex trade. The girls are mainly Filipino, with a significant percentage of Thais. You can also find a mix of other nationalities (e.g. Cambodia, Eastern Europe). Wan Chai is all things to all people, depending on the time of day. Sure, it is Hong Kong's most popular red light district, but that light does not turn on before dark.
Wan Chai remains famed as the city's red light district – and it's a reputation that's well earned – but there is more here than mama sans and saunas. Wan Chai is second only to swanky Central for skyscrapers. During the day, you will encounter nothing offensive there.
Read more: Wan Chai
Bahnhofsviertel, Frankfurt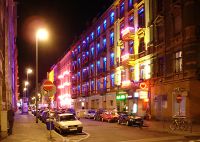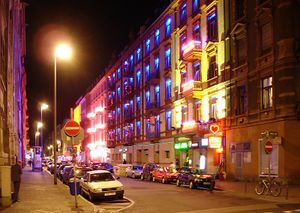 Bahnhofsviertel streets in Frankfurt are lined with large walk-in whore houses, adult arcades where gay and bi-curious guys have sex and a range of chat-up clubs that offer pole or lap dancing, as well as strip bars – it is a young city and the atmosphere is exciting and energetic. The Bahnhof­s­vier­tel — roughly trans­lated into "scary red light dis­trict full of drunk men, junkies, deal­ers and women turn­ing tricks' — is usu­ally avoided by every­one who's in their right mind.
It's reputed to be dirty and dangerous at night – but the Red Light District has transformed a lot over the past years and somehow it attracts me and it always means a fun night. It's these contrasts, the colours, the liveliness, the many people in the street, the unseen world of the city that makes it exciting. Here are a number of Eros Centres, strip clubs, sex shops and chat-up bars (where women will talk to you while sipping the €50 glass of water that you're paying). Beware of unscrupulous people hanging around this area, and be careful when entering an Eros Centre, bar or strip club. Always make sure you know the cost of anything you purchase before doing so, and employ as much common sense as you have left. Obey those rules and all will be fine; Frankfurt's red light district is as safe, professional and organised as the sex industry gets.
Read more: Bahnhofsviertel
See Also