Mexico Sex Guide advises where to find sex, working girls, prostitution, street hookers, brothels, red-light districts, prostitutes, erotic massage parlors, strip clubs and escorts in Mexico, North America.
Mexico (Spanish: México), officially the United Mexican States (Spanish: Estados Unidos Mexicanos), is a country in North America, lying between the United States of America to the north, and Guatemala and Belize to the southeast. Its extensive coastlines include the Gulf of Mexico and the Caribbean Sea to the east and the Pacific Ocean to the west. Mexico has nice and warm weather, unique food, art and archeology, pyramids, museums, Haciendas, 6,000 miles of shoreline, superb architecture and 21st century cities, weather from snow mountains in the Sierras, to rainy jungles in the Southeast and desert in the Northwest, lots of golf courses throughout the country, excellent fishing, world top destinations like Acapulco, Cancun, Cozumel, Los Cabos, and Mazatlan. Mexico is ranked 7th major destination for foreigner visitors, according to WTO.
Sex Scene and Prostitution
Prostitution is legal in Mexico but pimping and soliciting on the street are not.
At present, only 18 of the 32 states of Mexico regulate prostitution. Each big city has a red zone (zona roja) where prostitution is allowed. Prostitution cannot take place in public places - such as public buses, subways, or in public property. It is allowed on private property only with the approval of the owner.
Prostitutes have to be registered and have to pay for and receive weekly health checks and have to carry a health card to prove it. There is a more complete account of the legal situation available. The age of consent is 18, however, most things in Mexico do not go by the law.
Percentage of estimated prostitutes working:
• On the streets: 48% • At bars: 38% • At bordellos: 14%
Mexico is one of the most popular tourist countries on the planet. Much of the tourist industry is centered around the beach resorts as well as the altiplano in the central part of the country. Visiting the northern interior allows visitors to get off the beaten path a bit. American tourists tend to predominate on the Baja peninsula and the more modernized beach resorts (Cancun, Puerto Vallarta), while European tourists congregate around the smaller resort areas in the south like Playa del Carmen and colonial towns like San Cristóbal de las Casas, Guanajuato.
Regions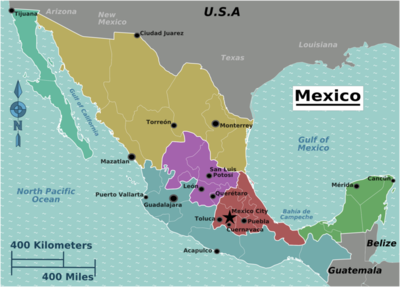 Baja California (Baja California, Baja California Sur)
The western peninsula, which borders the U.S. state of California
Northern Mexico (Chihuahua, Coahuila, Durango, Nuevo León, Sinaloa, Sonora, Tamaulipas)
Includes the expansive deserts and mountains of the border states; mostly ignored by tourists, this is "Unknown Mexico"
The Bajio (Aguascalientes, Guanajuato, Zacatecas, San Luis Potosi, Querétaro)
Historic states in a traditional silver-mining region
Central Mexico (Hidalgo, Mexico City, Mexico State, Morelos, Puebla, Tlaxcala, Veracruz)
Center, surrounding the capital city
Pacific Coast (Chiapas, Colima, Guerrero, Jalisco, Michoacan, Nayarit, Oaxaca)
Tropical beaches on Mexico's southern coast
Yucatan Peninsula (Campeche, Quintana Roo, Tabasco, Yucatán)
Jungle and impressive Mayan archaeological sites, along with the Caribbean coast
Cities
Other Destinations
Gay & Lesbian
In many respects, Mexico is still a developing country, and attitudes towards LGBT travelers can at times be hostile. However, Mexico City legalized same-sex marriage and the supreme court ruled that these marriages must be recognized by all states in the rest of the republic, thus tacitly making same-sex marriage legal in the whole country (provided the wedding takes place in Mexico City). Just as it is not wholly accepted in the rural United States or rural Canada, it is not accepted in rural Mexico. But within cities, there is a much more relaxed atmosphere.
Escort Services
Stay Safe
The rate of AIDS/HIV infection in Mexico is lower than in the US, France and most Latin American nations. However, if you plan on having sex, be sure that you use a latex condom to reduce your risk of contracting or spreading the virus.
Vaccination against Hepatitis A & B and Typhoid fever is recommended.
See Also