Nottingham
From Wikisexguide
Nottingham Sex Guide advises where to find sex, working girls, prostitution, street hookers, brothels, red-light districts, prostitutes, erotic massage parlors, strip clubs and escorts in Nottingham, England.
Nottingham is a city in England, affectionately known as the "Queen of the Midlands". It is famed for its links with the world-renowned legend Robin Hood and has a wealth of history, with a settlement existing in the area since pre-Roman times.
Today, Nottingham is a premiere shopping destination and one of the top ten most visited cities in England by overseas tourists.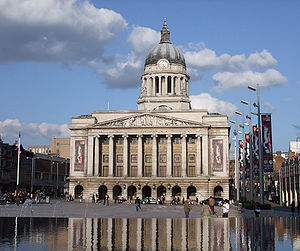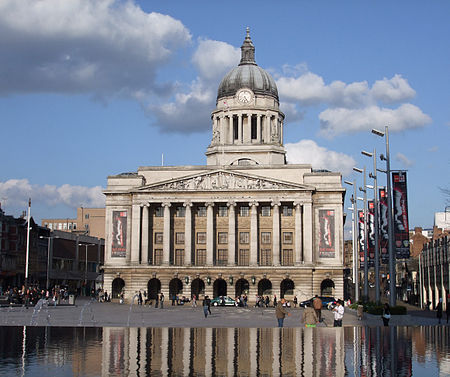 Sex Scene and Prostitution
In the United Kingdom, prostitution itself (the exchange of sexual services for money) is legal but a number of related activities, including soliciting in a public place, kerb crawling, owning or managing a brothel, pimping and pandering, are crimes.
Red Light Districts
Prostitutes
Street Hookers
You can find streetwalkers around Forest Road West, Forest Road East and Mapperley Road. A quicky costs £20 £30. Most of the British girls are below average and have drug addictions, but there are some nice ones. There is white and black prostitutes mixed. Recently there have been a number of very attractive Romanian street prostitutes working in the area.
Strip Clubs
Strip clubs in Nottingham:
Señoritas • Isis, Redfield Way, Lenton, Nottingham, Nottingham • 0115 986 3211
Brothels
Erotic Massage Parlors
Bubbles Spa, 6-8 Bath Street, Nottingham, NG1 1DF
Tel: 0115 9411415
5-10 nice looking girls working, you can get erotic massage or a full service. Two girl massage is also offered. Website: http://www.bubblesmassage.co.uk/
Transsexuals / Shemales
Gay & Lesbian
The age of both heterosexual and homosexual consent is 16 throughout the United Kingdom. The law supports LGBT rights and are some of the most progressive in the world. You cannot be discriminated against in any area of the UK for your sexuality.
Sexual Services for Women
Sex Shops & Adult Stores
Escort Services & Agencies
Sleeping
Check out Park Plaza on Maid Marion Way. The hotel bar has usually few girls looking for company at night time on weekends. Price is usually £100 an hour.
Girl Friendly Hotels
To be sure that it is okay to bring street hooker to your place? Best choice is to rent apartment. 5 star hotels also accepts to bring prostitutes to room in England.
England offers a great arrangement of accommodations, from cheap, decent apartments, hostels and guest-houses to five-star hotels.
Stay Safe
Nottingham has been highlighted by the media for gun and knife crime although the actual incidence in 2004/5 was 19 offences per 100,000 population (compared to 50 per 100,000 population for both Greater Manchester and London) [54]. The reality is that Nottingham is not a dangerous city in spite of its reputation, and, provided you act sensibly, you will be safe. It is best to avoid walking late at night through St Ann's (a council estate northeast of the Victoria shopping centre) and The Meadows (between the railway station and the river), although the Victoria Embankment along the river is quite safe.
Pickpocketing is an ongoing problem around the city square and on the transportation system.
Also, the wearing of Derby County shirts should be avoided due to the rivalry between the main football team Nottingham Forest and Derby County. The rivalry is strong. Derby Country shirts worn in Nottingham have been known to lead to stabbings and attacks.
Keep in the tourist areas. At night, outside the city centre, are some dangerous areas ie Radford to the west, St Anns to the east, Meadows to the south. Radford is unfortunately known for knife crime, illegal drug use, stabbings etc. Pick pocketing in the city centre comes from organized gangs from places listed above and target tourists. Just be careful.
In any emergency call 999 or 112 (from a land-line if you can) and ask for Ambulance, Fire, Police or Coast Guard when connected. If you need more than one service that includes an ambulance (e.g. a road collision) then ask for Ambulance and they will contact the relevant services themselves.
See Also