Birmingham (England)
Birmingham Sex Guide advises where to find sex, working girls, prostitution, street hookers, brothels, red-light districts, prostitutes, erotic massage parlors, strip clubs and escorts in Birmingham, England.
Birmingham, in the West Midlands, is Britain's second largest city (by local authority district). Known in the Victorian era, as the "City of a Thousand Trades" and the "Workshop of the World", Brum as locals call the city, is enjoying a 21st-century resurgence as a great shopping and cultural destination.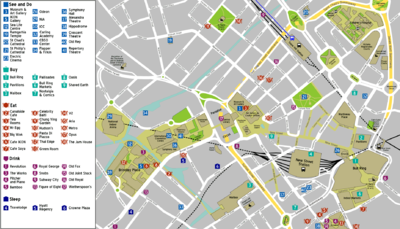 Sex Scene and Prostitution
In the United Kingdom, prostitution itself (the exchange of sexual services for money) is legal but a number of related activities, including soliciting in a public place, kerb crawling, owning or managing a brothel, pimping and pandering, are crimes.
Birmingham has always had a prostitution problem. That's if you regard it as a problem. Prostitution in Birmingham used to be concentrated around Balsall Heath. Concerted efforts by the locals succeeded in driving most sex workers out of the area. However, this is no solution as the problem just went elsewhere.
Birmingham Female Escorts
Check out WikiSexGuide Adult Classifieds!
You can find escort ads from local newspaper and internet escort directories. Some girls have regular clients and work from home. Many operate only via a mobile phone.
Red Light Districts
Prostitution is concentrated around the Edgbaston area of the city in several streets off the Hagley Road. It seems to get more near the Oratory by the Plough and Harrow. There are also reports of girls still operating around Speedwell Road, Hockley and the Jewellery Quarter. Competition and the dependency on drugs has driven the going rate down to around £20 for a quickie in the back of the car.
Prostitutes and Sex Workers
There are very different kind of prostitutes working in Birmingham. Here are few examples:
Some are drug addicts and working on the streets. They lead miserable lives as a result and may even be maimed or killed in this dangerous trade.
Many girls in massage parlours.
Some girls have regular clients and work from home. Many operate only via a mobile phone.
Street Hookers
Authorities say that many of the sex workers in Birmingham are beaten up, abused by pimps and addicted to drugs. Some have even been murdered. Many are under aged.
If you want to find street walkers in Birmingham, check out Red light district in Birmingham section above. Street hookers ask usually £20 - £50 for their services. If you want to do everything safer, go to one of the many massage parlours where you will be less likely to get arrested for kerb crawling.
Strip Clubs & Lap Dance
Here is a list of strip clubs in Birmingham:
Adult World • 1 Hinckley Street • 0845 6020511
Angels Birmingham • 303 High Street • 0121 525 9991
Legs Eleven • 30 Ladywell Walk Chinatown Birmingham • 0121 666 7004
Medusa • 142 Suffolk Street • 0121 643 2442
Rouge Gentlemen's Club • John Bright Street • 0121-633-7456
Sensations • 450 Moseley Road • 44 121 683 8899
The Rocket Club • 258 Broad Street • +44 (0)121 643 4525
Brothels
Oasis, 01217739292. 104 Liverpool Street
Erotic Massage Parlors
There are lots of erotic massage parlours in Birmingham. Here are some of them:
Stars, 01217732265. 1166 Coventry Road
Garden of Eden, 01217066010. 1254 Coventry Road
Heavenly Bodies, 01217074362. 572 Warwick Road
Studio 189, 08444147420. 189 Hagley Road
The Bunnys, 01214202722. 497 Hagley Road
Manyana, 01214727281. 27 Oak Tree Lane
Penny's -Tonal Therapy-, 01214721626. 642 Bristol Road
First Class Suite, 01214728561. 614 Bristol Road
Libra Sauna Massage Club, 01212332614. 39-40 Summer Hill Road
Ronelle & Co. Massage Parlour, 01214203498. 351B Hagley Road, 1.Floor
Lucy's Sauna, 01217722417. 399 Coventry Road
Escort agencies
There are a number of escort agencies located in Birmingham:
Check out WikiSexGuide Adult Classifieds!
Massage & Body Rubs
Check out WikiSexGuide Adult Classifieds!
Transsexuals / Shemales
You can find trannie escorts online.
Gay and Lesbian
The age of both heterosexual and homosexual consent is 16 throughout the United Kingdom. The law supports LGBT rights and are some of the most progressive in the world. You cannot be discriminated against in any area of the UK for your sexuality.
Here are some places to visit in Birmingham:
Gay saunas and bathhouses (men only):
Unit 2 Sauna, 78, Lower Essex Street, Far East Buildings
Spartan Health Club, 127 George Road
Gay Bars, Pubs and Clubs (men only):
Boltz Club, 40 Lower Essex Street
Eden, 116 Sherlock Street
The Fountain Inn, 102 Wrentham Street
Bars, Pubs and Clubs (mixed gays and lesbians):
Queens Tavern, 23 Essex Street
The Core Club, 135 Sherlock Street
The Village Inn, 152 Hurst Street
The Loft Lounge, 143 Bromsgrove St
Bar Jester, 42 Holloway Circus
Missing Bar, 48 Bromsgrove Street
The Nightingale Club, 18 Kent Street
The Victoria, 48 John Bright Street
Equator Bar, 123 Hurst Street
Club DV8, 85-87 Lower Essex Street, 16 Kent Street
The Fox Bar (women only), 17 Lower Essex Street
Sexual Services for Women
Sex Shops & Adult Stores
There are lots of sex shops in Birmingham. Here are just few of them:
Night Trips, Adult Shop, 01216223736. 39 Horse Fair
Private Shop, 01216333758. Fax: 08444410107. 47 Pinfold Street
Promises Promises, 01212332497. 56 Dale End
Amsterdam Experience, 01216224566. 119-121. Hurst Street
Adult World.co.uk, 01217665120. Fax: 01212121676. 1014 Coventry Road
Ann Summers - SUTTON COLDFIELD, 08700534124. Fax: 08454566948. 162. The Parade, Gracechurch Shopping Centre
Angels & Sinners, 01922635544. Fax: 01922635547. 5. Frederick Street
Private Shop, 08444410106. 1-4 Hockley Hill
The Foxy Lady Adult Cinema and Shop, 01902490898. 146 Oxford Street
Adult Shop, 01902408685. 2-3 Walsall Street
Sleeping
To be sure that it is okay to bring street hooker to your place? Best choice is to rent apartment. 5 star hotels also mostly accepts to bring prostitutes to room in England.
England Accommodation Statistics
3 star and below price range: $35 - $295
4 star price range: $68 - $552
5 star price range: $133 - $412
Price in US Dollars.
England offers a great arrangement of accommodations, from cheap, decent apartments, hostels and guest-houses to five-star hotels.
Stay Safe
Birmingham, like many other large cities, has relatively high incidences of STDs compared to the rest of the UK. Having unprotected sex is extremely dangerous.
As with the rest of the UK, in any emergency call 999 or 112 (from a landline if you can) and ask for ambulance, fire or police when connected.
In general, Birmingham is a safe city. However, like most large cities, there are some good and bad areas. Certain suburbs (see below) have had their share of gun crime problems, but these are extremely unlikely to affect you unless you make yourself part of the larger drug gang problem. Avoid any offers of cheap drugs as you might be lured into a secluded place and then robbed.
Muggers in Birmingham tend to operate in groups of two or three, typically one will ask you a question (to judge whether you are local or likely to hit back) while the others move in behind you so they can force you to the ground. If you find this happening to you, then move to the side, so you have a clear escape path and cannot be grabbed from the rear.
The city centre is well-policed. The only trouble you might witness is a small scuffle on the Broad Street nightlife quarter as the nightclubs turn out in the early hours of the morning. However, take care at either end of Broad Street where the traffic flow speeds up.
It is advisable to stay away from the city centre when football matches between the city's two professional teams occur. Aston Villa and Birmingham City have a violent and raw hatred for each other, and violent clashes between supporters of both teams are a common occurrence on match days. On other days, when the teams are playing at home against other teams, it is a little less unlikely for major violence to occur in the city centre, but you may encounter pubs full of chanting football supporters, and this may be intimidating (and really annoying) for tourists.
As usual, common sense will keep you safe, avoid walking alone in deserted or poorly-lit areas, especially at night, keep your wits about you at cash machines, and do not get into unmarked taxis. The only higher crime-rate areas that tourists might want to visit are Aston and Sparkbrook: even these are fairly safe during daylight. Canal towpaths at night, if relatively near a road access point, can also be hazardous.
Every Friday and Saturday night, unofficial motor-races take place around the city centre ring-road (Queensway). Be aware of the danger that it presents to other road users.
See Also