Patong
Patong Beach in Phuket is famous for its nightlife and 3.5 kilometres (2.2 mi) beach that runs the entire length of Patong's western side.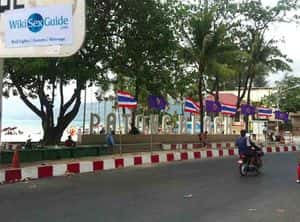 Nightlife is centered on two main areas Bangla Road and Paradise Complex, with Bangla Road being predominantly straight and Paradise Complex gay. Both roads are lined with many bars, discotheques and go go bars. Prostitution in Thailand is illegal but tolerated as is the case with Patong Beach, especially on Bangla Road where there are many older Western men drinking with younger Thai women and ladyboys. Some discos in Patong charge a 200 baht admission fee but rather than being a cover charge, this is partly a drink minimum since you get a voucher for one drink and most clubs charge 150 baht for almost all drinks.
There is no denying that the go-go bars, girly bars and sex shows are a very visible part of the nightlife scene in Patong and to a lesser extent Karon and Kata. In this section we will not attempt to judge the sex industry or the people involved. It is a complicated issue so we only try to describe it to give you an understanding of what is going on.
See Also