Patong
Patong Beach in Phuket is famous for its nightlife and 3.5 kilometres (2.2 mi) beach that runs the entire length of Patong's western side.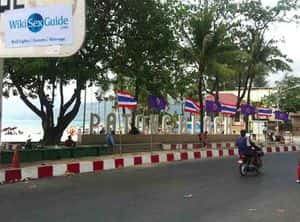 Nightlife is centered on two main areas Bangla Road and Paradise Complex, with Bangla Road being predominantly straight and Paradise Complex gay. Both roads are lined with many bars, discotheques and go go bars. Prostitution in Thailand is illegal but tolerated as is the case with Patong Beach, especially on Bangla Road where there are many older Western men drinking with younger Thai women and ladyboys. Some discos in Patong charge a 200 baht admission fee but rather than being a cover charge, this is partly a drink minimum since you get a voucher for one drink and most clubs charge 150 baht for almost all drinks.
There is no denying that the go-go bars, girly bars and sex shows are a very visible part of the nightlife scene in Patong and to a lesser extent Karon and Kata. In this section we will not attempt to judge the sex industry or the people involved. It is a complicated issue so we only try to describe it to give you an understanding of what is going on.
Street Prostitution in Patong
You will find street hookers in Patong wherever you find people and it is often a case of them coming to find you rather than the other way around. Street whores are easy to spot and picking up, for most guys, should be easier than falling off a log.
Sort time sex from the streets of Patong generally starts at 500 baht and can go up to 2000 baht. The higher end of the scale will generally only be paid to the sexiest street sex workers or paid by those men who are a bit 'green' when it comes to negotiating.
Sex Shops and Adult Toys
Sex toys are technically illegal in Thailand and there are no official adult shops in Patong.
There are several night markets in Phuket and there are always a handful of street traders on Patong who are selling dildos, lingerie, fake viagra and sex films. Patong streets can be quite expensive given what you are buying but remember that this is contraband; however, it will often cheaper than buying from your home country.
Ladyboys on Patong
Patong is probably one of the most densely populated areas in Thailand for ladyboys and you can find them in most of the adult entertainment venues and on the streets.
Patong t-girls offer similar services to their female counterparts, shemales are a common sight in Phuket with many fooling the average farang into thinking they are real girls.
Ladyboys can be found from the main gay strip of Phuket which is based in and around the "Paradise Complex" of Patong. This is literally the Phuket gay area, all nicely concentrated within a few walking streets. More specifically, front of the Royal Paradise Hotel, just off Thanon Ratuthit Songroipi Road.
Soi Kathoey has the best ladyboy bars and cabaret shows.
See Also