Bangla Road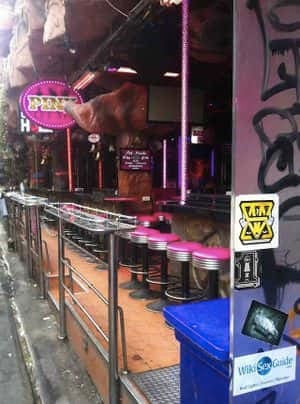 Bangla Road in Patong is the heart of the tourist sex industry in Phuket. This is where you will find the great mass of beer bars and go-gos.
Soi Easy, Soi Gonzo, Soi Crocodile, Soi Eric are all side streets with complexes or beer bars. Tiger Live Band is a large beer bar complex that has quickly become the most popular complex since it opened in 2011. These complexes are full of small beer bars and there are literally hundreds of girls ready to entertain customers.
Soi Seadragon is a wider soi, recently rennovated, with beer bars down the middle and larger bars on each side. This soi has some go-gos and is also the location of the sex shows with ping-pong balls, darts, etc. The famous Suzie Wongs is at the end on the right hand side. They give the customers foam tubes that they can use to slap the girls bums. It is totally painless but makes a load slap sound. This soi also has a number of normal bars with live music.
There are other go-gos at the top of Bangla Road.
There are also a variety of normal nightlife venues in and around Soi Bangla with live music, sports screens, pool tables and food.
The line of bars on the road from Moon Bar down to Ned Kelly's are popular drinking spots to watch the action on Bangla Road. Most of these bars do have working girls but because they are on the street, they are less obvious about wrapping themselves around poles and pushing themselves on potential customers. Many tourists drink at these bars to people-watch.
The discos such as Tiger, Tai Pan, Hollywood, Seduction and Banana are not actively engaged in the sex industry. However, there will be girls freelancing at these bars and men looking for them.
Go Go Bars
There are plenty of different type of Go-Go bars in Bangla Road and not all go-go bars are created equal and there can be differences such as some are targeting tourists and some are targeting locals and expats. Most go-go bars in Patong are clean, but there are some seedier go-go bars which charge high prices for the beer, shots and coctails. Dancing girls dont always go naked or even show their tits in some of the go-go bars.
We've selected some of the best go-go bars in Phuket that cover all kinds of experiences for its punters.
Here is a list of the best go-go bars on Bangla Road:
Crazy Horse Circus, Bangla Road/Soi Tiger 1, Ban Patong, Phuket 83150 - ladies do not show tits at Crazy Horse Circus, but they are smoking hot. This is one of the better go-go bars in Phuket and service is always great.
Suzy Wong's A-Go-Go, 23/17-18 Soi Sea Dragon Bangla Rd Tambon Patong, Amphoe Kathu, Chang Wat Phuket 83150 - Suzy´s is the latest, most trendy and the most high-end Club in Patong, replacing the Exotica Club. Suzy Wong's has become a well known name in Phuket, known for its fun party atmosphere and amazing nights. Suzy Wong's 3 Club is much bigger, a lot more impressive and it will take your party to a brand new unseen level.
Devil's Playground, 23/17-18 Soi Sea Dragon Bangla Rd Tambon Patong, Amphoe Kathu, Chang Wat Phuket 83150 - Bat spanking action is in play to keep clients interacting with the action and there are some smoking hot girls in here.
Ladyboys on Bangla Road
If you are specifically looking for trannies then try the beer bars on the ground floor around the Tiger Night Club on Bangla Road. Soi Freedom and Soi Sea Dragon are also known to be good areas to find ladyboys in the cozy bars. Though most go-go bars in Patong have at least one t-girl working in them as there are no 100% ladyboys only bars in Phuket.
Moulin Rose on Bangla Road has also good ladyboy shows.
Ping Pong Shows on Bangla Road
Some of the go-go bars on Bangla Road will also run a ping pong show. Money Night Bar (or Secret Go Go) which is located on Soi Easy at the eastern end of Bangla Road has very nice ping pong shows.
At the Bangla Road ping pong shows you can see some interesting acts with snakes, cakes and candles, jumping goldfish and with ping pongs off course. When spending a night on the Bangla Road, you should always visit a ping pong show. But, when visiting the ping pong shows, please ask the prices of the entrances, shows, drinks when entering the ping pong show bar. Sometimes the bill can be very high when you are exiting the place!
See Also