Hooker Hill (Seoul)
The most convenient place in Seoul to go for a foreigner would be Hooker Hill in Itaewon.
Hooker Hill is about the easiest place there is to score in Seoul without any effort what so ever. Some of the women lack a lot in the looks and attitude departments, but others are really good all the way around. The Hill seemed to be losing a lot of steam in 2011, but it has since started to regain its former "glory," for lack of a better term.
Hooker Hill, Itaewon, Seoul. Opens around dusk and closes around midnight.
How to get there
Itaewon is the foreigner district of Seoul and you can get there from line 6 to Itaewon Station. The direct way to get there is to take exit 3 out of Itaewon Station, walk to the first corner, make a right up the hill, and make a left at the next corner. You are now on Hooker Hill.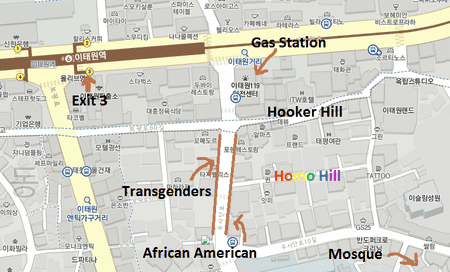 What to expect
Although the stereotype of only American servicemen frequenting this area is well-known, men from all other countries, including Middle Eastern and African, are known to frequent this area as well. Furthermore, because South Korea is not widely socially accepting of homosexuals, there is an underground gay area within this district as well.
After sunset on any given night, Korean prostitutes of varying levels of age and beauty enter the small "bars" on this little street to meet customers. Some will wait out on the road. Others will wait behind the doors. The current level of police pressure seems to dictate how wild their public behavior will be. From your perspective, it's really no worry, as customers are never bothered. If you belong to the US military you may have a problem because you might be banned from this area by your command.
Korean women who work at Hooker Hill's bars speak English and have experience with foreigners. Itaewon itself is a great place for foreigners and more than just for sex scene. It's the only place where you can feel at home. Itaewon has food, bar and 'professional extra services' that cater to foreigners.
The places to have sex in Seoul are either covered up or have tainted windows.
What happens inside
Once inside a bar the girl chit chat with you and ask you if you want a drink. A drink for yourself (and her) will cost around W12,000 total to negotiate. The price will usually be around W100,000 a pop but you can probably negotiate for a better deal. If the girl can tell you are a newbie, you may be quoted a ridiculous price. Some guys say they've been asked 150,000 to 200,000 won ($115 – $140 US). Some have even paid this. This is way above the market average. Once you agree to a price she'll lead you to a room and take care of you. After you finished having sex in Seoul's hooker hill you'll get washed up and send on you way.
The going rate is around 60,000 – 75,000 won ($55 – $70 US) for a short romp. Sometimes it's lower, sometimes higher, but never by much. Stick to your guns and act like you know what you're doing and you will be fine. You can negotiate for nothing more than a blowjob or hand job if that's what you like, but the real name of the game here is pump and dump full service.
Action
After you agree on a price you will pay up, usually to the mamasan. Then the action begins. Some of these bars will let you fuck right on premises. Some have separate rooms for that. Others will have you discreetly run across the street to a guest house style room for the action. You should never have to pay for the room. It's included in the price here.
Don't expect too much in the way of service on Hooker Hill, especially if it's your first visit. The girls are all about making money, so their efforts are aimed at getting you off as soon as possible so they can get to the next customer.
Area
The street is short but it is jam packed with these little bars. Some are open or closed on any given day. At the very top of the hill there is a "regular" bar that is popular with English teachers. If you go beyond this you enter the realm of the transgender bars.
Take your time strolling up and down the hill until you find something you like. You may go with the first hot chick you see only to see an even hotter chick on your way home. Then again, you may walk past a hottie only to find that she's booked up for the next few hours when you try to return. Some of the women are hotter than others. Some are very hot. Some aren't great, but they are dressed well. You won't find out what's underneath until later. None are really terrible. In any case, there are always a good number of choices. When you are ready, leisurely make your way to the bar you've picked.
The bars all offer privacy, their doors usually made of black tinted glass or even metal. They only take one customer at a time. Once you enter, the door is locked behind you to ensure the safety of everyone involved. Sometimes there will be more than one woman. Sometimes there will be a mamasan. Some may ask you to buy them an overpriced lady's drink. Most just want to get down to business.
See Also