Bahnhofsviertel
Bahnhofsviertel Red-Light District Guide advises where to find sex, working girls, prostitution, street hookers, brothels, red-light districts, sex shops, prostitutes, erotic massage parlors, strip clubs and escorts in Bahnhofsviertel, Frankfurt.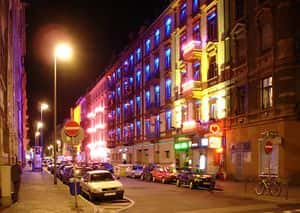 Red-Light Area
Frankfurt´s Red-light district sits just east of the main Hauptbahnhof railway station. The streets are lined with large walk-in whore houses, adult arcades where gay and bi-curious guys have sex and a range of chat-up clubs that offer pole or lap dancing, as well as strip bars – it is a young city and the atmosphere is exciting and energetic. Once you've seen enough of the clubs, try your luck in one of the Frankfurt casinos.
Window prostitutes
Hookers are quite cheap in Frankfurt. Some of the window prostitutes offer "suck, fuck, kissing and pussy licking package" for as low as 20€ ! Average charge is 25-40€.
As a rule Eros Centres are situated on four or five floors, and price tends to get lower the higher you go!
Breite Gasse -Frankfurt red light districts. Price for sex is €25 / 15 min (136 indoor windows)
Taunusstraße -Frankfurt red light districts. Price for sex is €25 / 15 min
Things to do in Bahnhofsviertel
Luna Bar was chosen by Playboy Magazine as Germany's best cocktail bar. There is live music every Monday and a great drink menu.
Imperial offers an erotic variety show that are popular with locals, stag and hen parties, famously incorporating a 65-pound snake into the entertainment.
The Cave Dingy club where entry is €3.
Dr. Mueller Blue Kino Although not technically a Sex museum, the Dr. Mueller Blue Kino has well over 100 adult films for you to watch in private booths or one of the six big screen rooms. Downstairs you will find a wide range of souvenirs, from magazines to DVDs, making it much better than your average museum shop.
See Also